Hugely looking forward to date night at Burnt Orange
Date Night at Burnt Orange.
Walking the dim, near-deserted Lanes late on a chilly January eve, I pass the former glory that was the Brighton Hippodrome and alight upon the mesmerically warm and inviting facade of Burnt Orange.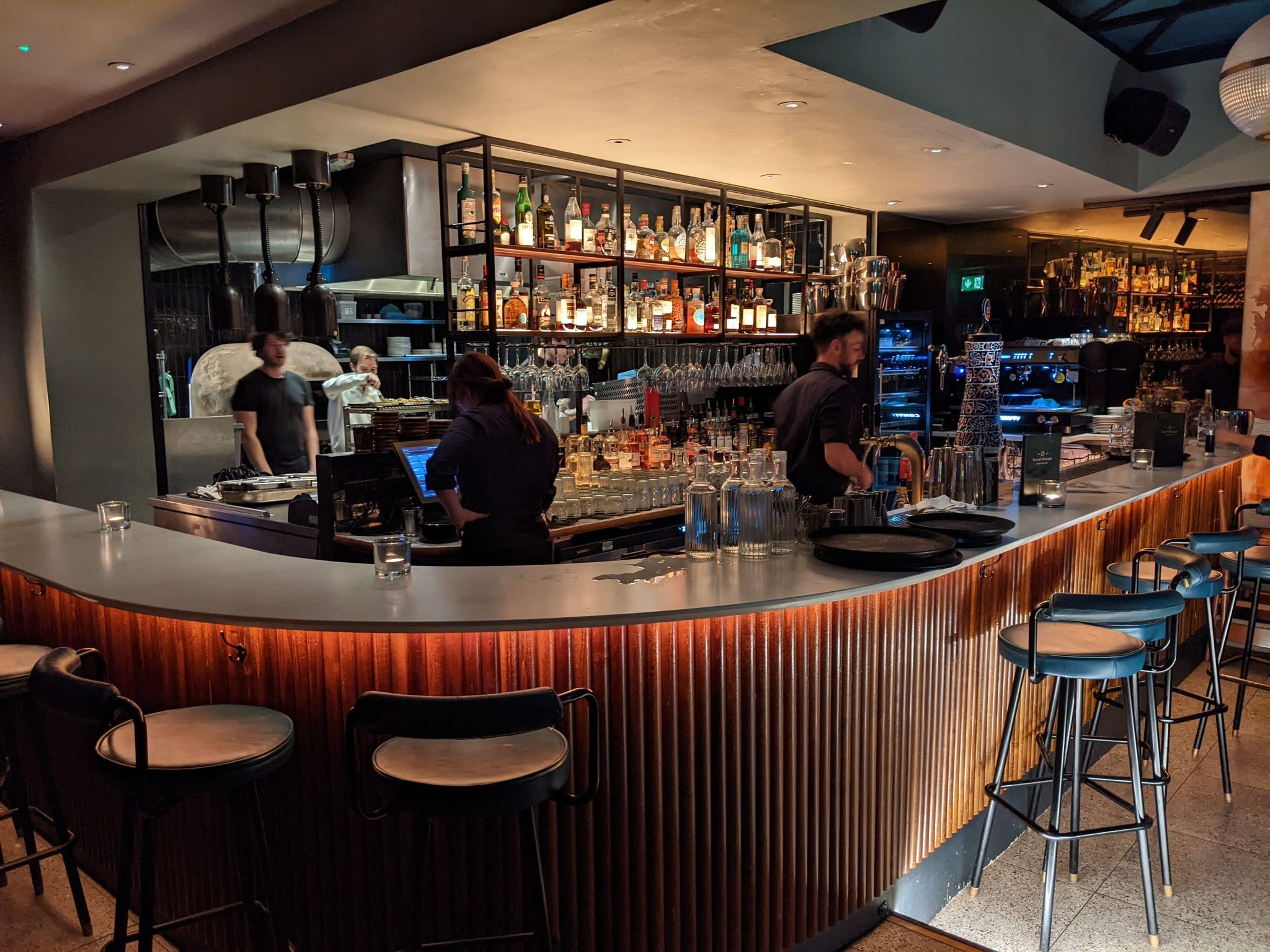 Animated diners chat comfortably framed by the large front window, lit to give the whole place the look of something like… Burnt Orange…it's rather clever. I have been hugely looking forward to a date here with my husband. We've never eaten at Burnt Orange and have heard so many good things from so many good people that our anticipation is palpable.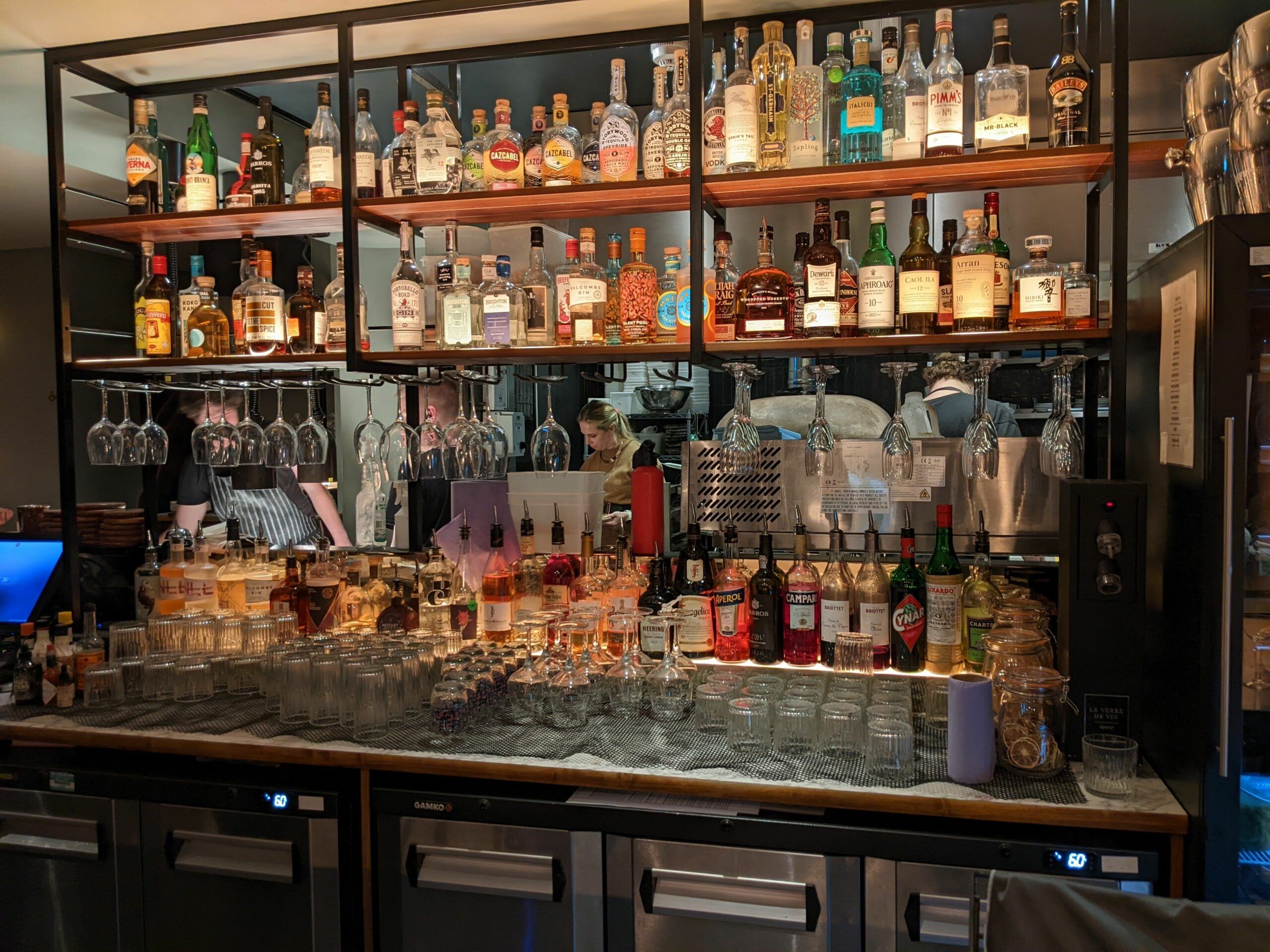 The gorgeous entrance adds delight and drama to your arrival. Passing through iron gates, festooned with twinkling lights and under a sign which reads 'Right Here, Right Now', I am reminded to live in the moment but also given a little 90s raver frisson. Under a striped canopy,  the pretty tables and chairs outside are mostly empty, bar a few hardy diners enjoying a little 'fresh air'. But I imagine the al fresco seating full in summer and make a mental note to rebook – and live in the moment again.
Through the glass doors, I can see the familiar shape of my other half, seated at the bar. It's nice to see him there – waiting for me as usual. I open the door, he turns and smiles. 
Delicious looking cocktails
The front of House team at Burnt Orange is slick, you are met with friendly grace and comfortable attention. We start our night at the bar, enjoying the theatre before us. The bartenders appear in a flow state, dancing around each other as they mix up delicious-looking Brighton cocktails.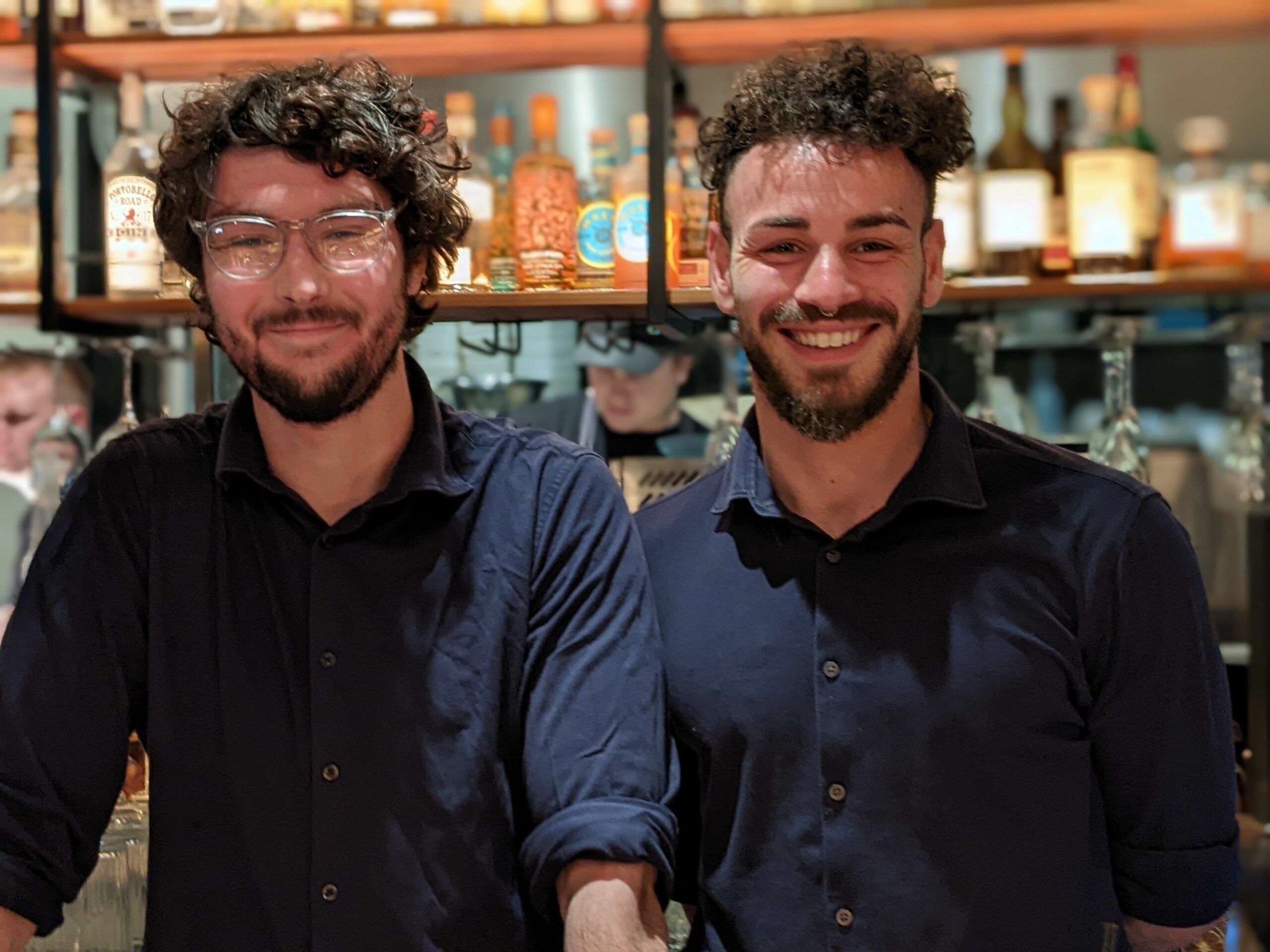 We ask the nearest, Davide, a charming Italian with a wide smile, for his recommendations. After I tell him I am partial to bubbles, he suggests an 'Autumn Cup' a seasonal spritz which mixes Ciroc Apple & prosecco with a warming, but thankfully not too sweet, swirl of cinnamon syrup. He talks my husband into trying the Chocwork Orange. Combining 10 Black Cow Vodka and Cointreau with Mr Black Coffee Liqueur, it's then topped with Vanilla Syrup Foam. It's way out of his comfort zone, but lasts mere seconds – with a little help from me.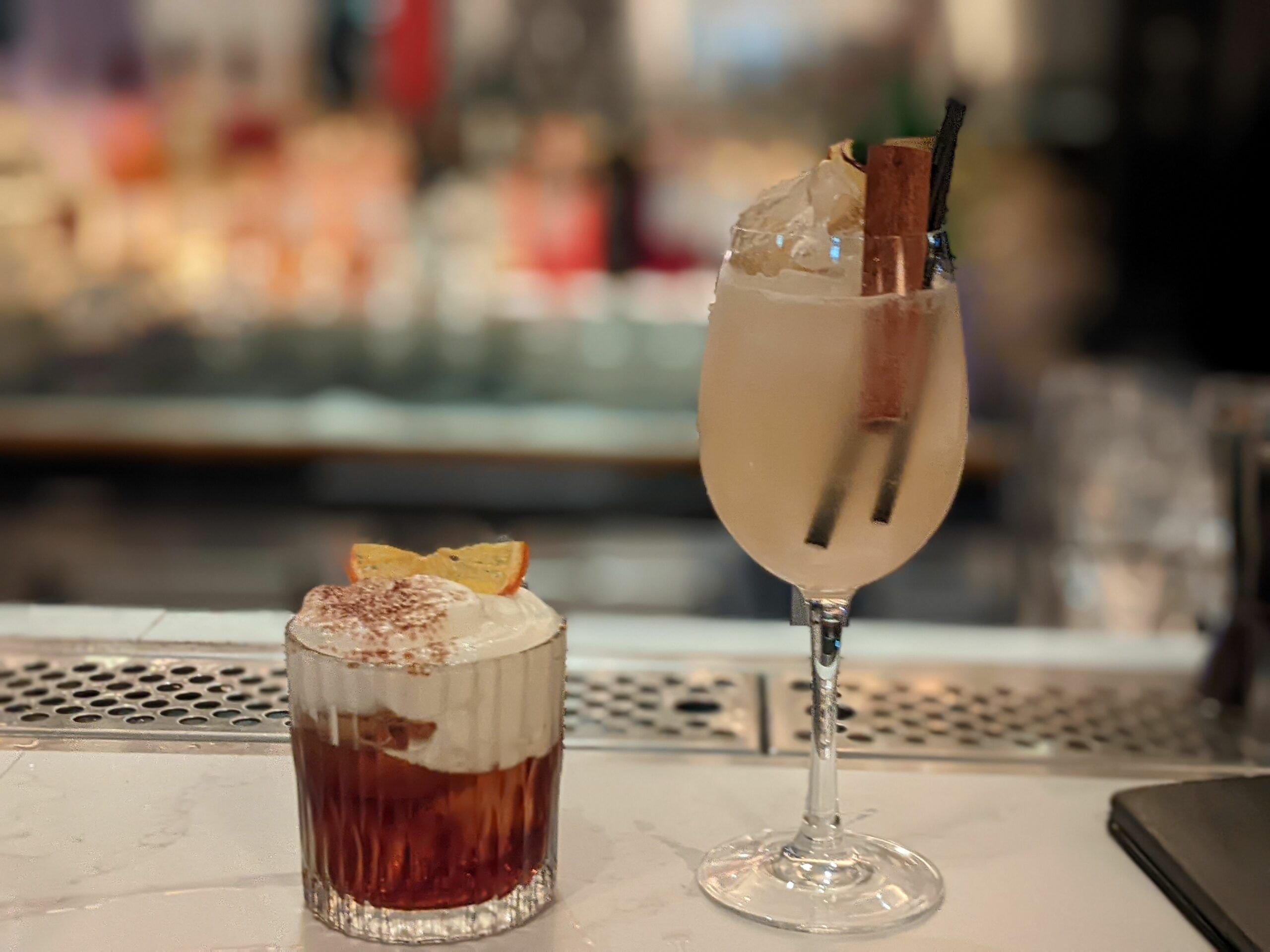 Starting the main event | Date Night at Burnt Orange
Behind the Brighton bar, through the stacked shelves of premium booze, we can see the flames, pots and motion of Burnt Orange's busy kitchen. I sneak a peek at the action from the edge of the pass where plate after plate of tantalising dishes land in a dazzling array. The time comes to move from bar to table, and with a twinge of regret at leaving our casual seat with its grand view, and embrace the start of the main event.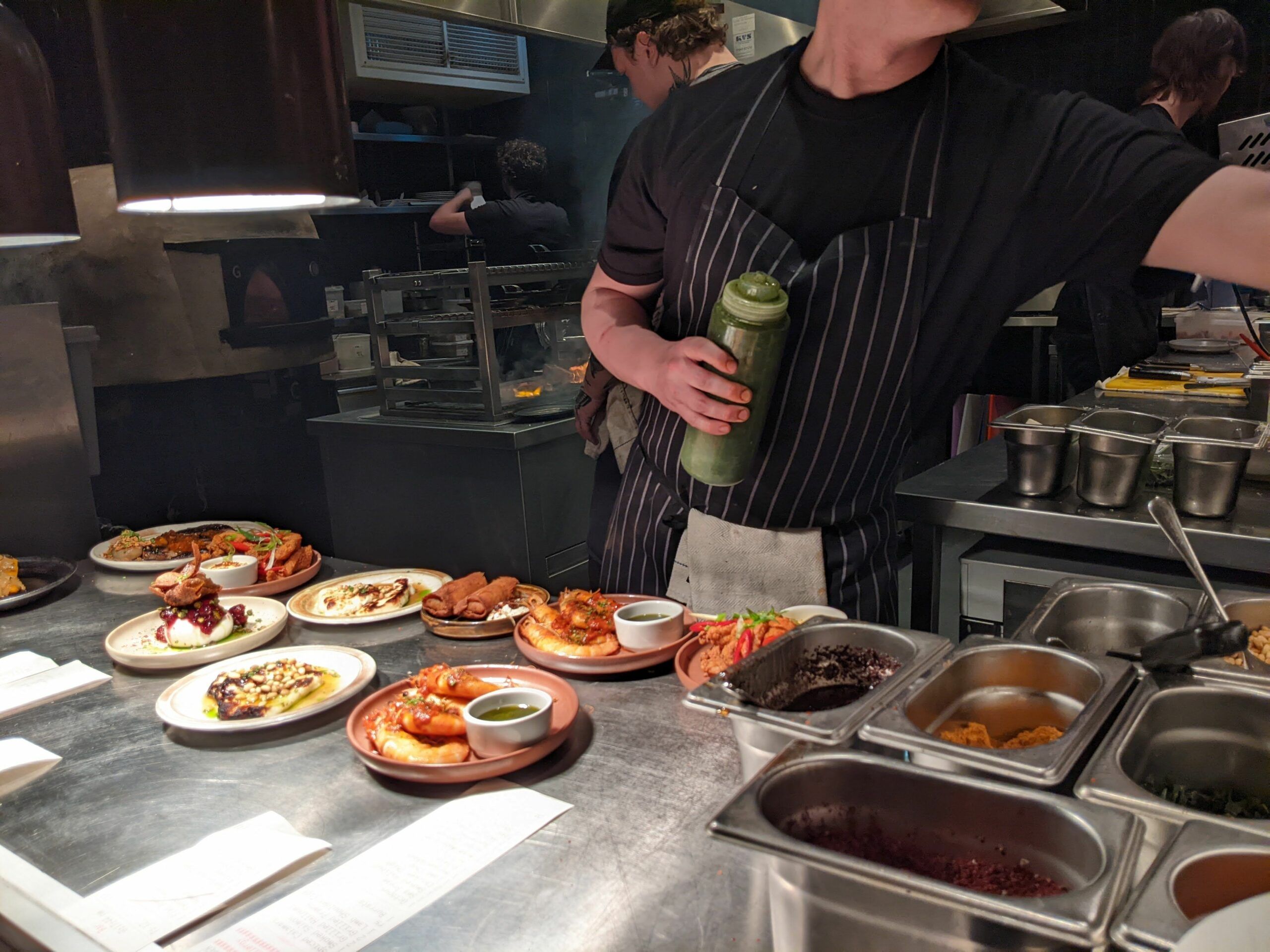 Since we've never been to the restaurant, we opt for the full Burnt Orange Experience, a £37 menu which promises a delicious tour of some of their highlights. There is a vegetarian option available at £35 and it's difficult to choose between the two with so many lovely sounding dishes on both. 
Wine to pair the meal
Tris arrives to discuss the wine menu. We ask him to recommend a glass of white to match the first few dishes. He brings us an Umbrian Grechetto from Roccafiore. Fresh and dry with notes of orchard fruit, the Grechetto's minerality and complexity allow it to pair well with the varied dishes ahead but I would happily drink this just for fun.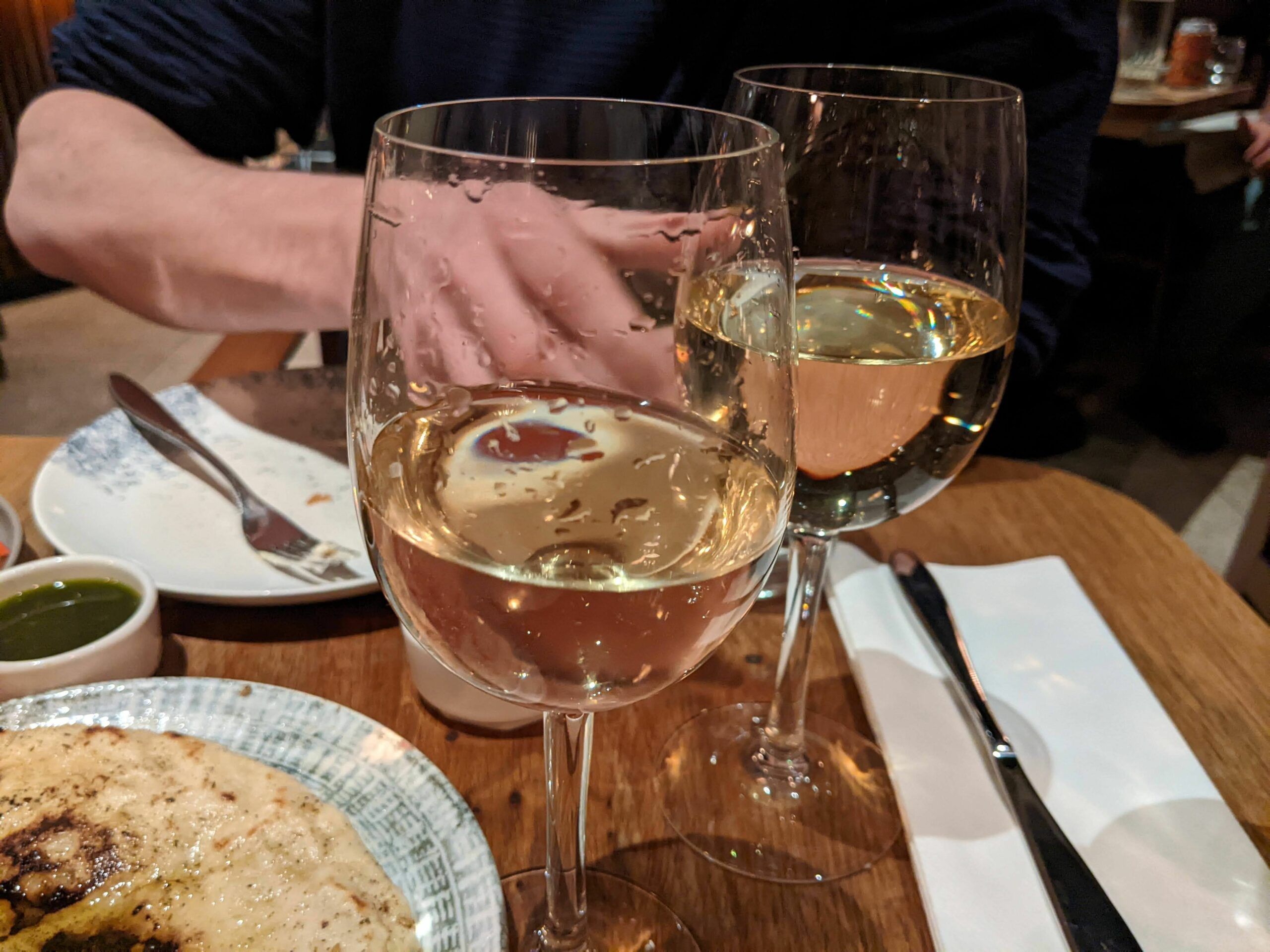 Gently charred flatbread to start
First, a wood-fired flatbread arrives. Blistered and gently charred it makes an attractive centrepiece to the dishes which now come thick and fast. Smoked Pumpkin, Sage and Chilli Hummus is served in a tactile earthenware pot slaked with brown butter. Two smaller pots of Green Herb Zhug and Smoked Chilli Harissa – both exotic hot sauces – are brought to the table to complement almost everything. All this is so tasty that we think about asking for more flatbread. Do not be tempted – you must pace yourself!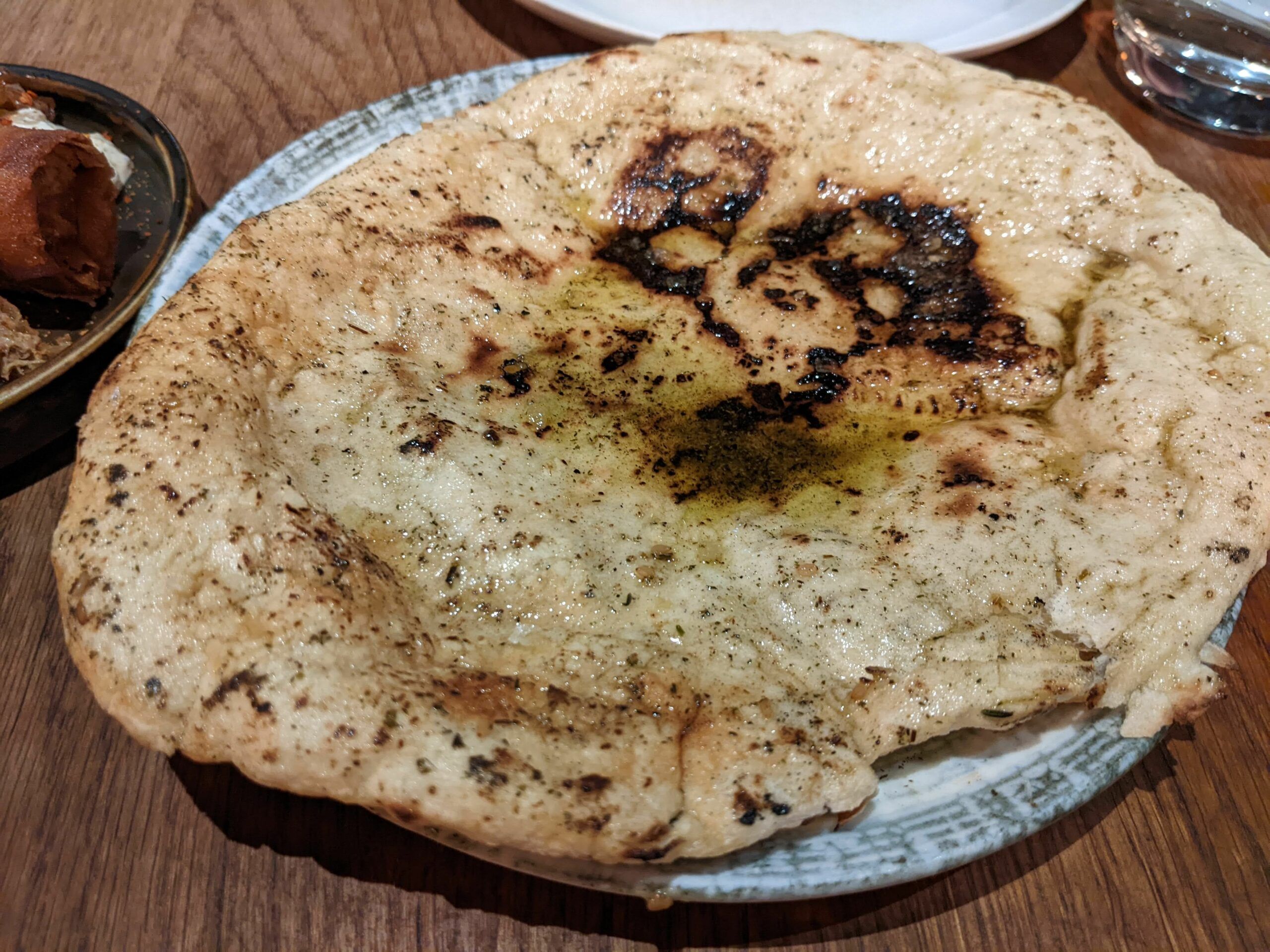 Spiced Calamari Fritti are served so hot they almost burn our greedy fingers. We hardly wait till the plate hits the table before we delve into the pot. Luckily a cool and elevated side of Preserved Lemon Aioli saves the day. Delicious little 'Cigars', the finest pastry, generously stuffed with appetising spiced slow-roasted shoulder of lamb, are a great hit with my other half.
He tries various distraction techniques in an attempt to extract more than his fair share. I'm wise to his methods but let it go – in the true spirit of romance. The dish looks pleasingly simple but you can taste the thought and effort that has gone into its preparation – perhaps this is the motif of the Burnt Orange menu.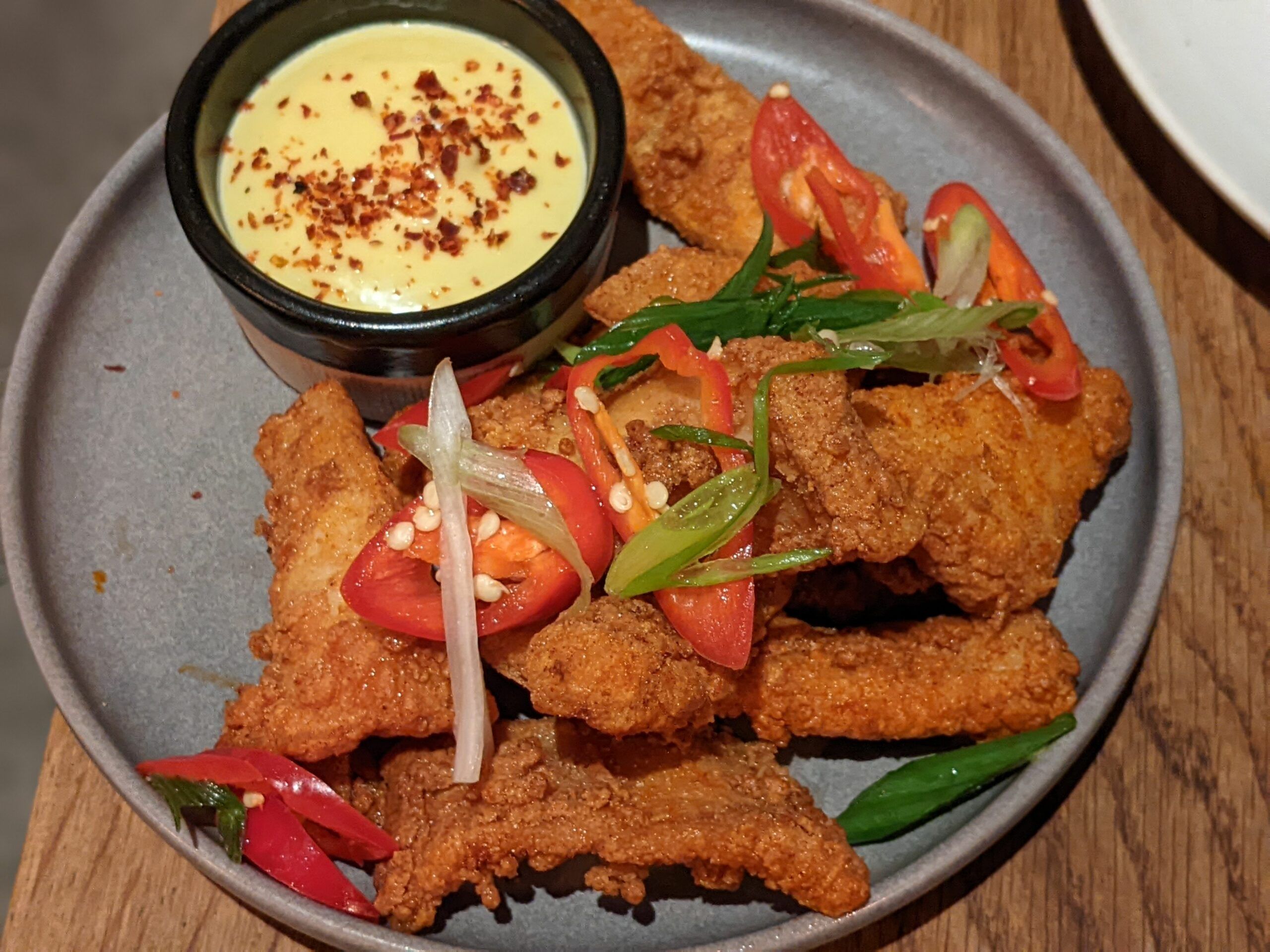 Tailored wine suggestions to personal preference
There is a welcome break here and another visit from Tris. We decide to move onto red. Tris asks about our personal preferences and recommends a different choice for each of us. My husband, who prefers a heavier style, is brought Chianti Classico by Badia a Coltibuono in Tuscany. It is deep red, rich and dense. He is delighted. And for me a more surprising, but nonetheless very enjoyable, glass of Kalecik Karasi from Turkey's Aegean region. A little like a Pinot Noir, it's light but bursting with red fruit. I like it very much.
The next 'course' begins to arrive. Luckily the adjacent table has been vacated – one of the benefits of a late-supper – and we have the luxury to spill out across the two, as one delicious plate after another is presented to us. 
Luxurious chicken and silky umami aubergine
A piece of expertly grilled BBQ Chicken is accompanied by a cleverly spiced bread sauce, unbelievably tasty with a luxurious truffle vinaigrette. Perfectly flakey Sea Bream – the skin-flamed crisp  – is served on waves of basil yoghurt and mango dressing, the contrasting cream and orange fanned beautifully across the plate. An impossibly silky umami cube of aubergine cooked in smoked miso and topped with crispy onions quivers delicately on its way to our open mouths.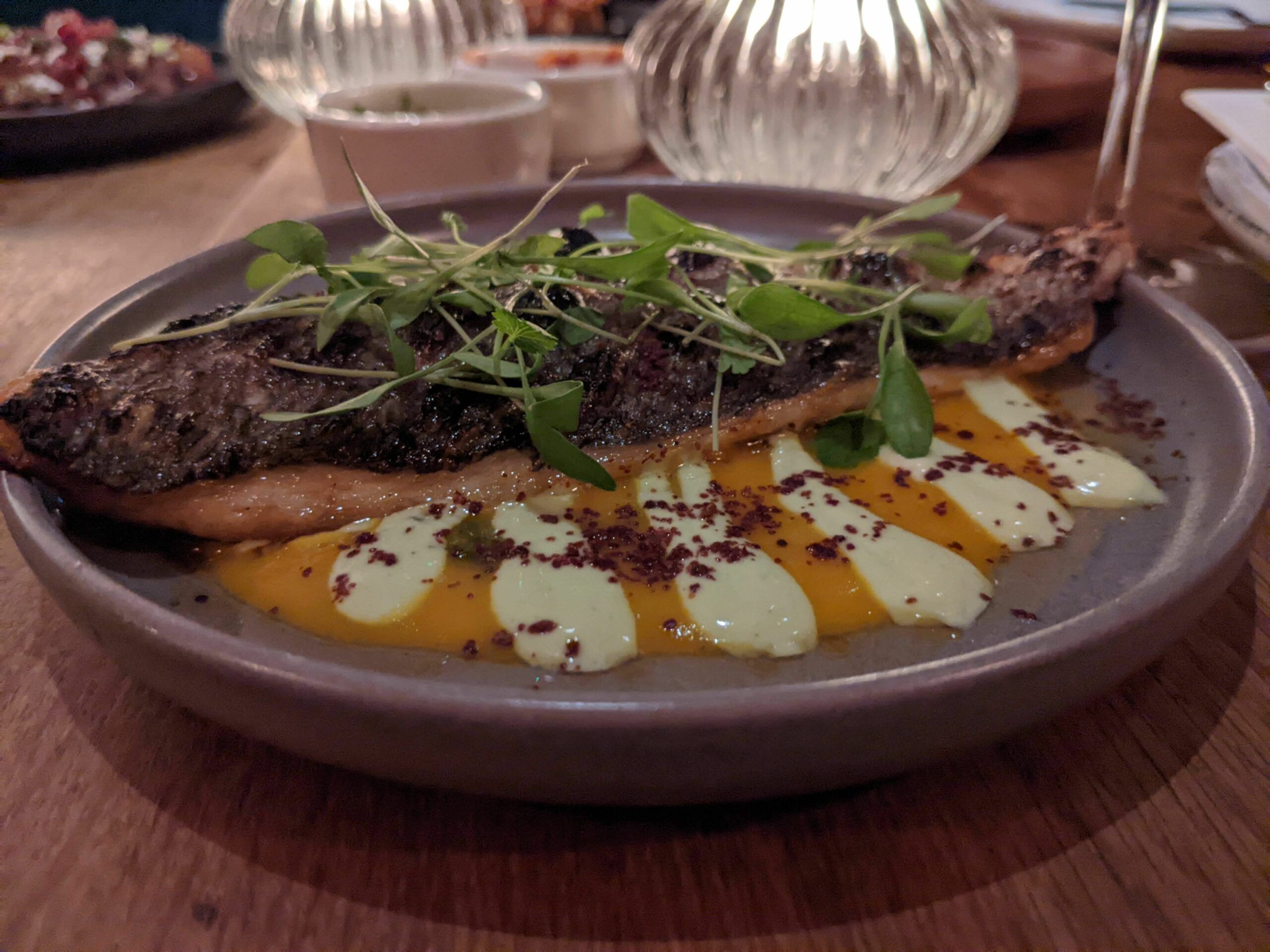 A palate cleanser and creamy potatoes
We're delighted by a palate-cleansing plate of Shirazi salad, crisp, chopped, dressed with pomegranate molasses and finished with feta and the full, fresh taste of parsley. I have to admit to being almost defeated by a bowl of Sour Cream Skillet-Baked Potatoes Herb Cream which some might feel is just a step too far – if it wasn't so damn delicious. I manage a few tasty bites then wonder about coming back one day for a dish of these to myself, just for me.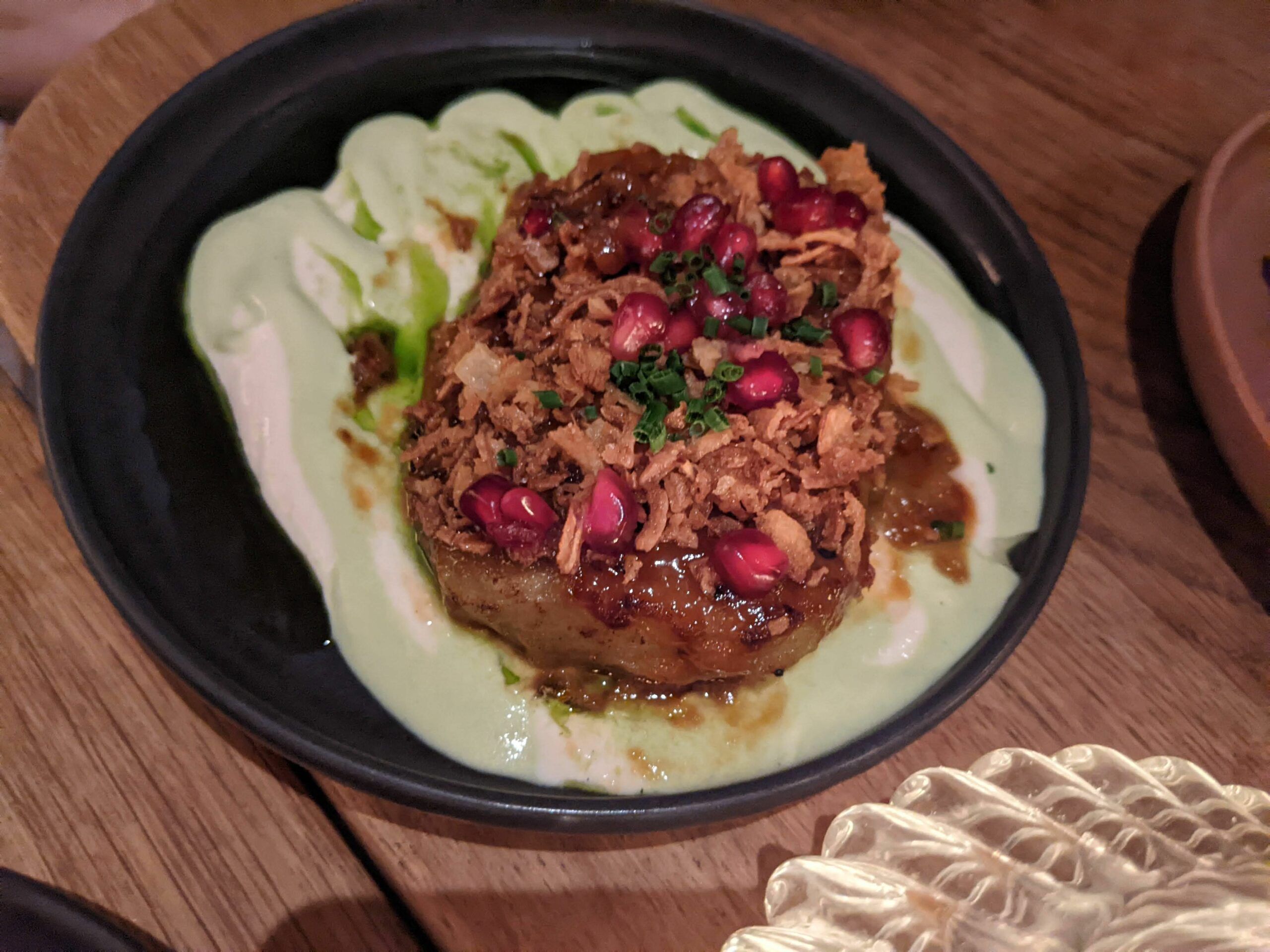 Delectable chocolate and orange mousse with halva
We sit back in our chairs, holding hands over near-empty dishes. The light is low and candles flicker on the tables. There is no doubt that we are both happy and content, having eaten more than enough excellent food. We're offered a look at the dessert menu. "Oh no…no thank-you" says my oft-sensible husband. But as I will always suffer for my art, I ignore him, grasp the menu and order a Dark Chocolate and Orange mouse – with 2 spoons of course. It is studded throughout with tiny chips of white chocolate and sprinkled with halva which brings texture and interest. Not only do we both find space for this delectable dessert in our ever-useful 'pudding stomachs' but we end up negotiating over the final morsels and order fresh mint tea to wash it down.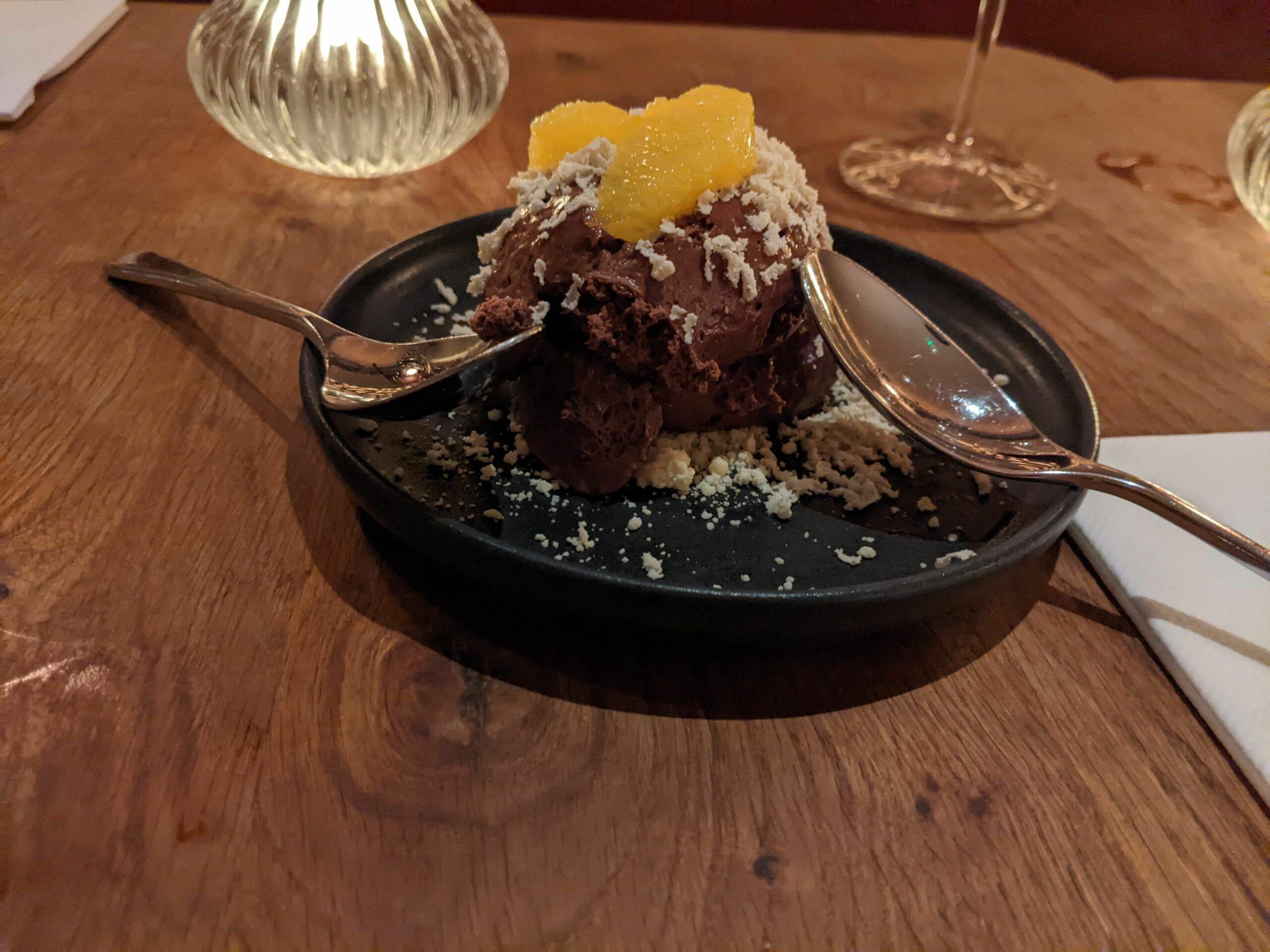 Date Night at Burnt Orange
Burnt Orange is a restaurant in Brighton for people who enjoy life and the experience menu is a full-throated call to the table. It takes time to eat and enjoy and it's a wonderful pleasure to share. You must come hungry – you will leave full.. We thoroughly recommend our date night at Burnt Orange.