Impressive building
The Plough dates back to the 1840s but was rebuilt at the turn of the last century and refaced in 1937. It is an impressive brick building standing next to the duck pond and village green, at the heart of picturesque Rottingdean, surrounded by beautiful old houses steeped in history.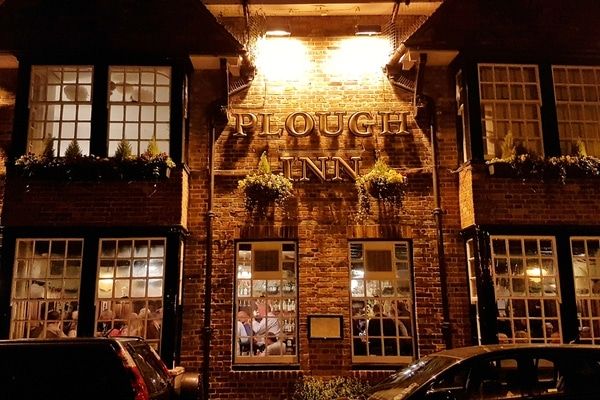 The evening we went, it was dark and bitterly cold and it stood out like a glowing beacon drawing us in like moths to a flame. Looking through the big bay windows, we could see it was already packed to the rafters, clearly it is a very popular place. We made our way in and maneuvered ourselves to the bar, wondering where on earth they planned to seat us. We were warmly greeted and led around a corner, and up a few steps, into a little dining room, entirely decked out in wood panelling, with wooden furniture and an oak beam ceiling. You couldn't fit more wood into that room if you tried!
Local feeling
It very much came across as a local's pub, though without the Royston Vasey creepiness, on the contrary, there was an inclusive, friendly, welcoming vibe. Everyone was in particularly high spirits as we had arrived during the weekly meat raffle. There were waves of raucous cheering as winning ticket holders went up to collect their pork chops and sausages. Love it!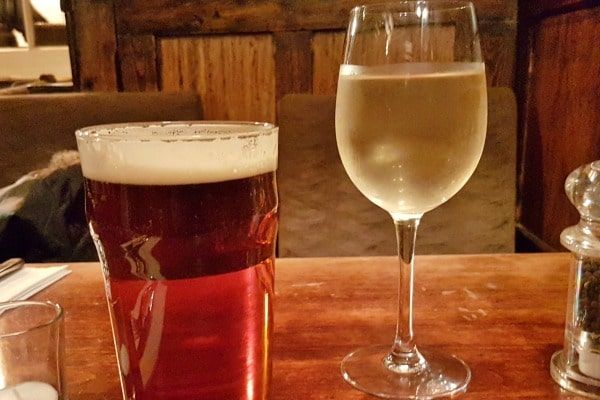 To drink, I had a large glass of Spee'Wah, a South Australian Pinot Grigio. A brilliant name and a great choice as it was lovely, a light, refreshing, fruity little number. Andrew had a pint of Harvey's, a champagne among beers, brewed in nearby Lewes and an absolute local staple.
Classic favourites
There was a weird disconnect between the very traditional look of the pub and the relatively "exotic" European fare featured on the menu, including dishes like arancini, rillettes and moules marineires. Don't panic though, they do all your classic pub favourites too, bangers and mash, steak and ale pie, fish and chips etc. and with vegetarian options and a kiddie's menu, there is something for everyone.
To start, we were seriously tempted by the sharing boards. For the carnivores, there was the Sussex Charcuterie board, featuring Calcot Farm salami, chorizo and ham, Beal's Farm nduja, pork rillettes, arancini, bread, olives and cornichons. And for the herbivores, a Mezze board with roasted red peppers, falafel, olives, halloumi, olive tapenade and hummus with bread. Both sounded amazing but, when it comes down to it, I just can't pass up a good, steaming-hot pot of moules marinieres.
Scrumptious Mussels
I received a big, traditional mussel pot on a board with plenty of fresh, crusty baguette to soak up all those lovely juices. I could have chosen to have fries instead but knew I was going to get chips with my main. The mussels had been perfectly debearded and cleaned so they looked beautiful and I didn't have to contend with any sand or grit, which is a real mood-killer. They had been respectfully cooked and were soft, succulent and scrumptious. The shallot and white wine sauce was mouth-watering, so simple, yet so delicious! Sweet with onions, decadent with cream, salty from the sea and with a hint of parsley to round it out, YUM!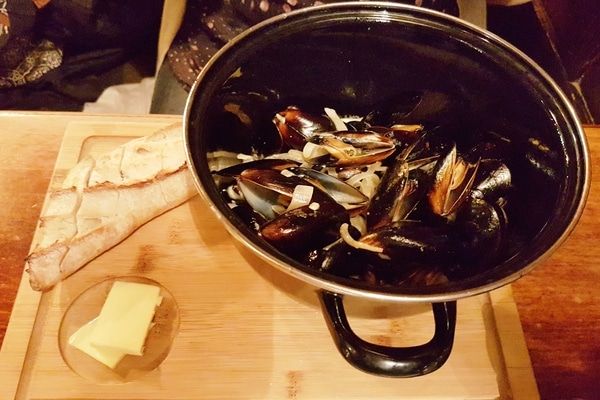 Andrew opted for the pork rillettes, a gutsy, rustic kind of pâté made from shredded, salted, slow-cooked pork, of which he got two generous spoonfuls. It came with lovely, crisp, lightly-toasted slices of ciabatta, a little heap of fresh rocket, artistically dressed with a good quality, thick, sticky balsamic vinegar, some sharp, juicy, crunchy, cornichons, to cut through the fatty richness of the rillettes, and a little dollop of gorgeous sweet onion jam. It was all utterly delicious but the dish could have done with a bit more of that delightful jam and perhaps another slice of that fabulous toast, given that Andrew ended up stealing some of my baguette.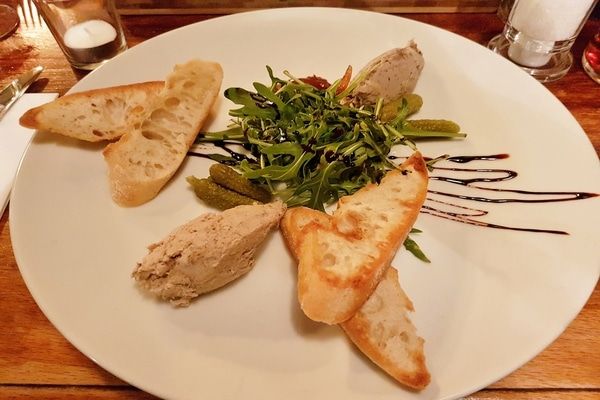 I barely had time to nip to the loo before our mains arrived. A minor misstep as it would have been nice to sit back a while, have a sip of wine, or several, and allow our starters to settle, but, in fairness, I probably took longer than most, slurping every molecule of goodness out of my mussel shells. Besides, the food was so good, all was instantly forgiven!
Vast portions
Both of our mains arrived on vast, hot, spotlessly clean plates and were jaw-droppingly impressive.
Andrew had ordered the Steak & Harvey's Ale Pot Pie with vegetables and mash. The fabulous, crisp, golden puff pastry on top of his pie was almost twice the height of the pie dish itself. Once he made it through the pastry, he found tender chunks of melt-in-the-mouth steak and plump, juicy slices of mushroom in a divine, thick, rich, meaty gravy. Delish! He was also given a substantial mound of well-seasoned mash, and good portions of broccoli, carrots and red cabbage. This is the sort of meal you crave after a long, hard day of physical labour, big, hearty, wholesome and deeply satisfying.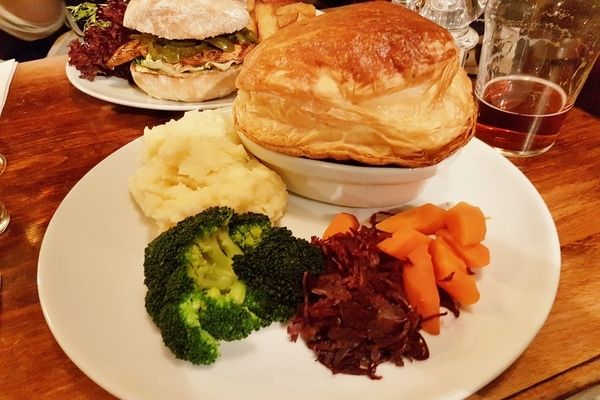 Chicken & Chips
I opted for the Cajun Chicken Burger with barbeque mayonnaise. I've rarely seen so much food on a plate! I got a properly stacked burger with a mouth-watering, succulent, Cajun-seasoned chicken breast, topped with a huge number of juicy, fiery jalapenos, crammed into a toasted ciabatta roll with salad and a tangy barbeque mayo. The jalapenos were an added extra but, if you like a little spice, I would highly recommend it, it was a great combination.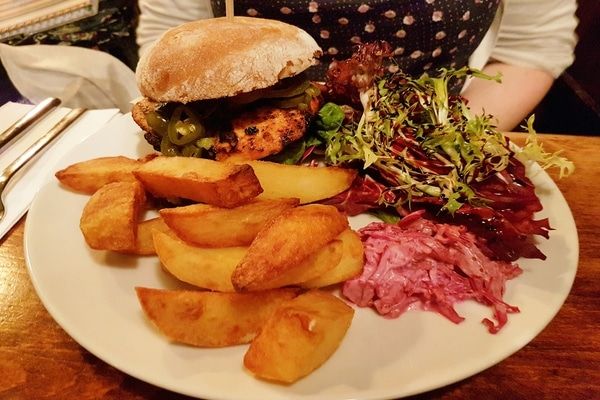 I don't hold with eating a burger with a knife and fork, so I rolled up my sleeves and tucked in. It's definitely not a first date meal, I realised as I sat there with mayonnaise on my cheek and japapeno juice running down my arm, but by gum it was good eating! And that was just the burger, it also came with a huge, fresh, mixed leaf salad, drizzled with balsamic, a good dollop of gorgeous, creamy, tangy, crunchy, red cabbage slaw and chips. I say chips, what I mean is hamster-sized slabs of potato, expertly cooked so that they were perfectly golden and crispy on the outside and fluffy in the middle. It was all absolutely first-rate!
Decedent Dessert
We looked at the desserts and, with waistbands straining, decided we might be able to squeeze one in between us. So, we ordered the pecan pie with ice cream to share. And, even as stuffed as I was, I was so glad we did because it was, hands down, the best pecan pie I have ever had. It wasn't heavy, stodgy and cloyingly sweet as I'd had in the past.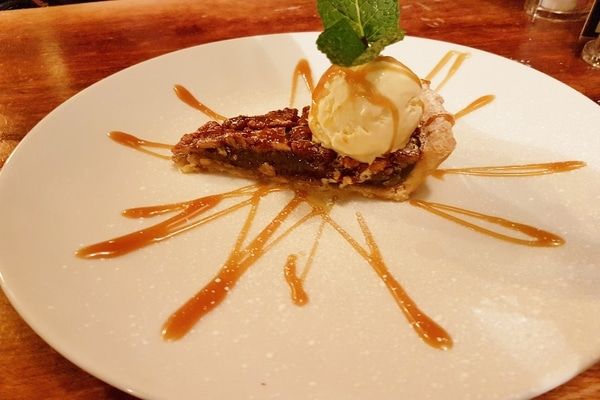 It was soft and moist and packed with nutty pecans. The pastry was light and crumbly and the ice cream was rich and velvety smooth. It was heavenly!
So, in summary, fantastic food, good value and great service!
What Next?
Make a reservation on 01273 390635