Family friendly spot
Taste Sussex a brilliant spot for kid-friendly foodies.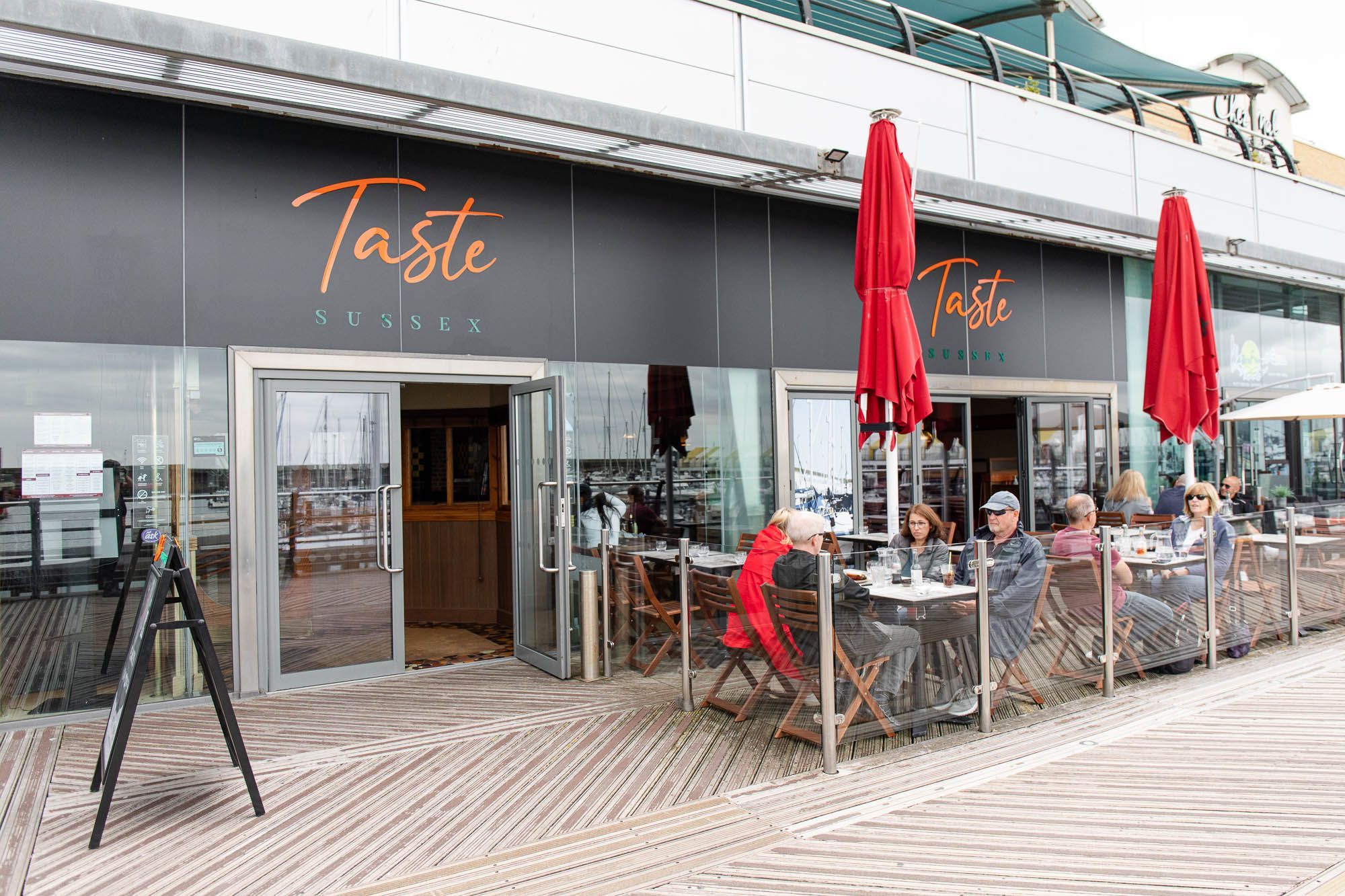 After a wild night of ten pin bowling, arcades, and general overstimulation, our little family was starting to get hangry. As we walked from the Hollywood Bowl, my little ones did the classic pull towards the golden arches, but today we had reservations at Taste Sussex.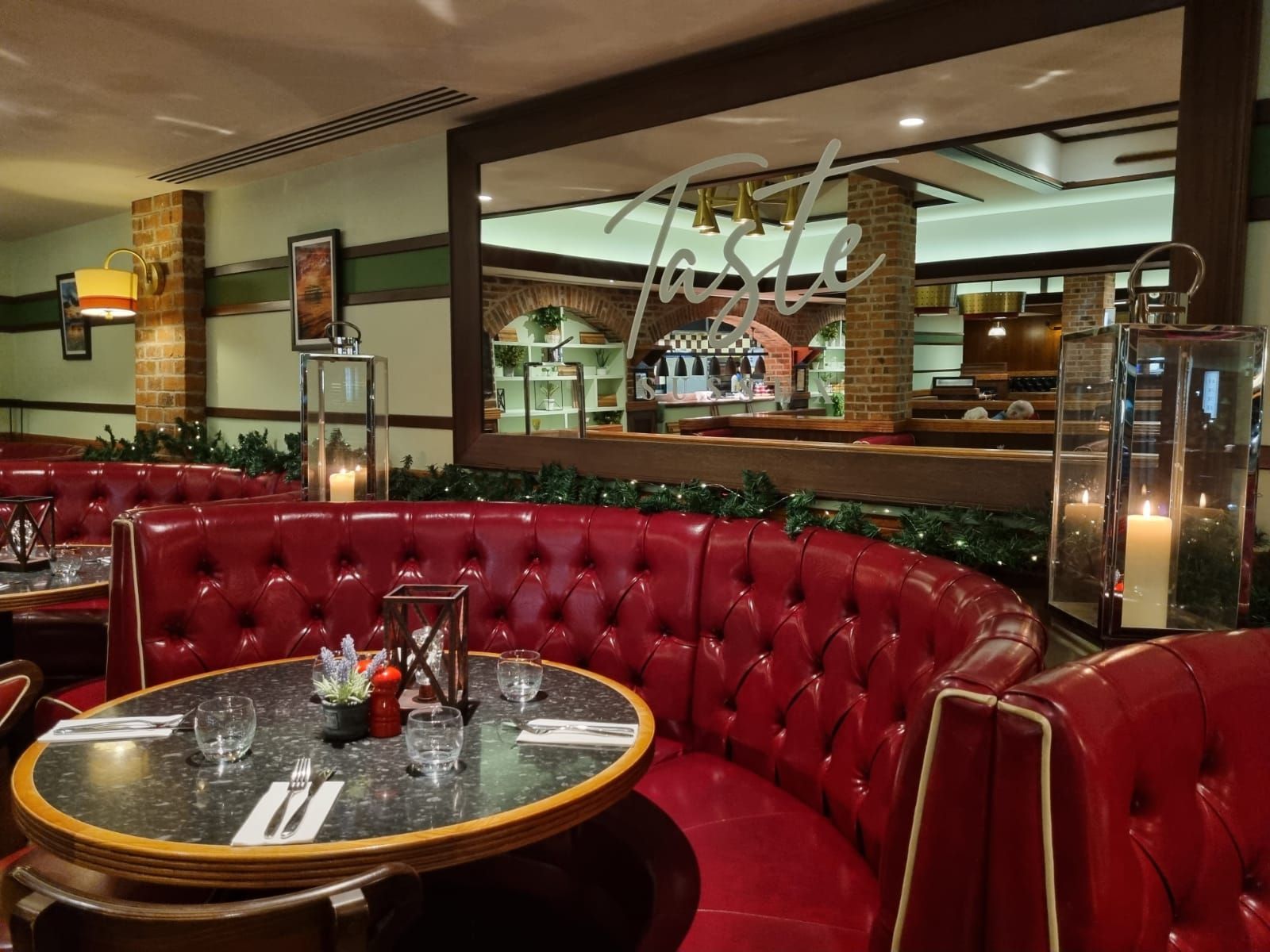 I am the proud Mum of two wild boy creatures that eat their weight in food every day, have the attention span of goldfish, and need to be run like greyhounds regularly, or else they will literally climb the walls. I do mean literally, which has its challenges when trying to have a pleasant sit down dinner without it turning into Parkour! Thankfully we were headed to Taste Sussex, which has a wonderful open floor plan, roomie booths and upbeat music to drown out chatty toddlers, Peppa Pig toys, and tablets, should we need to whip them out. 
Drinks for discerning adults
We were greeted right away and sat in a huge booth. The table was large and perfect for drawing and colouring, while we read our menus and ordered drinks.
The drinks menu is extensive and has something for everyone. Plenty of cocktails and spirits, as well as an excellent selection of wines. Phil Bartley, the owner of Taste Sussex and Great British Charcuterie, collaborates with Steve Pineau, owner of L'Atelier du Vin and his expert wine knowledge makes a great pairing when coming up with an impressive wine list.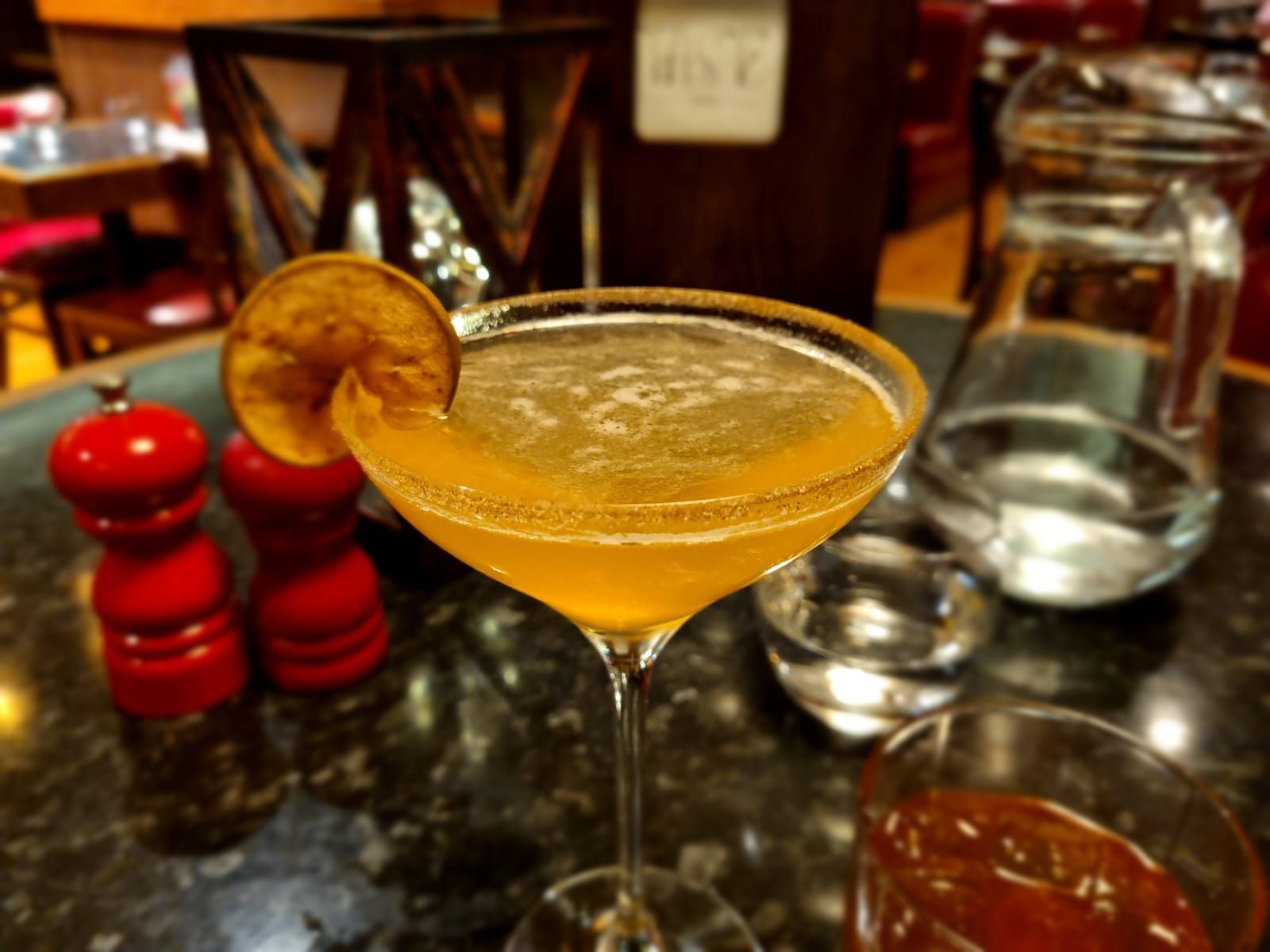 Unsure of what I wanted, our lovely waiter recommended the Toffee Apple Daiquiri, their bartender's own creation and Rich decided on an Old Fashioned. For the kiddo's we ordered milk, which came with short straws, which any parent will know, is a total win (there's nothing worse than trying to battle a toddler who wants to drink from their straw, which is 5 inches too long!)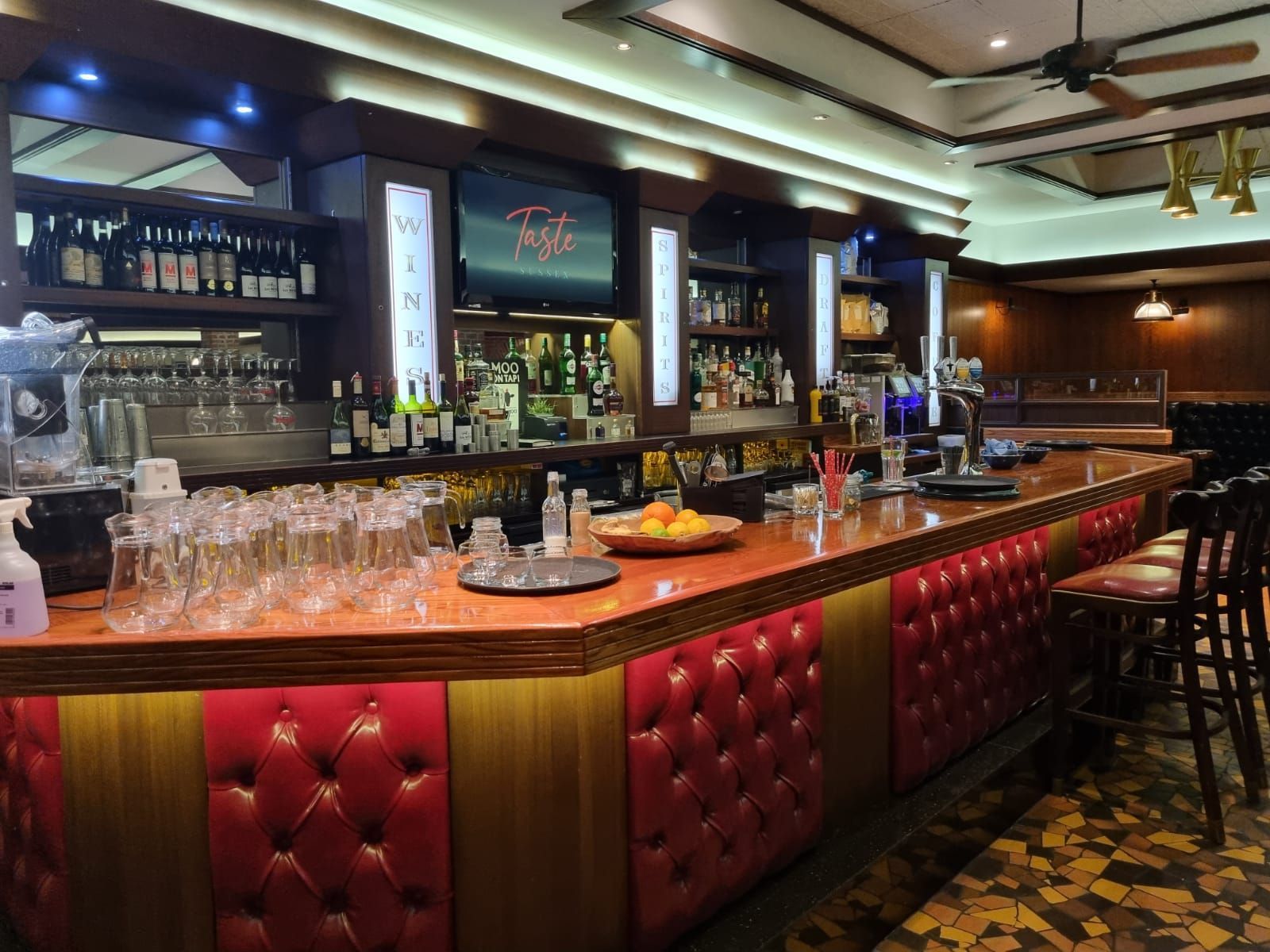 A foodie family feast
As always, we ordered the kids' food with our starters to avoid any meltdowns, and the Taste Kid's menu had plenty of classic kiddie favourites. My two chose the tomato and Parmesan pasta, and the mushroom pizza with extra bacon, and Rich and I shared the Fried Pig Cheeks and the Baked Sussex Feta.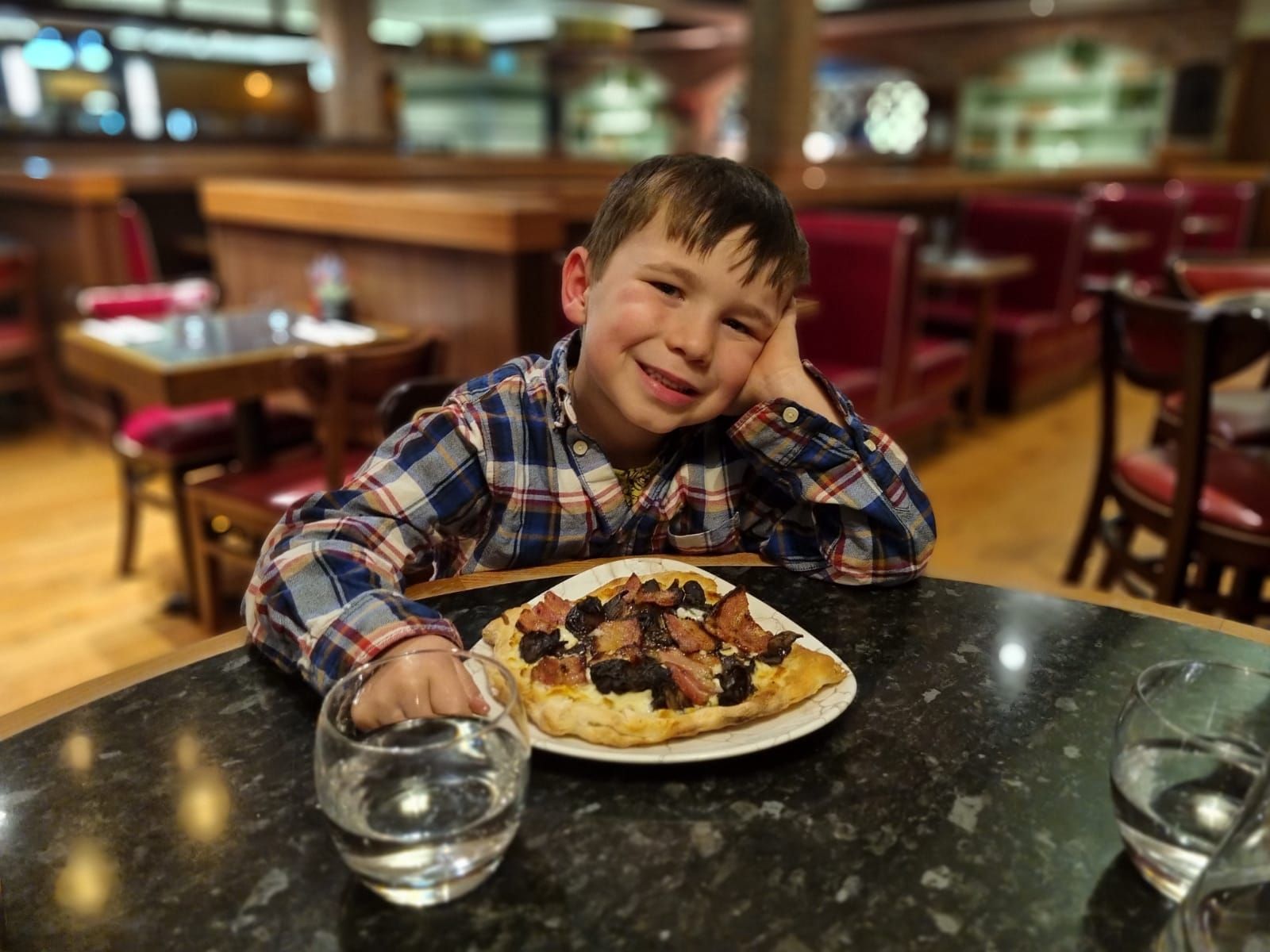 Everything arrived super quick, was piping hot, and looked delicious. The kids got stuck in right away to their very generous portions. They were silent for a solid five minutes with mouths full of food, which left Rich and I to enjoy the starters in relative peace.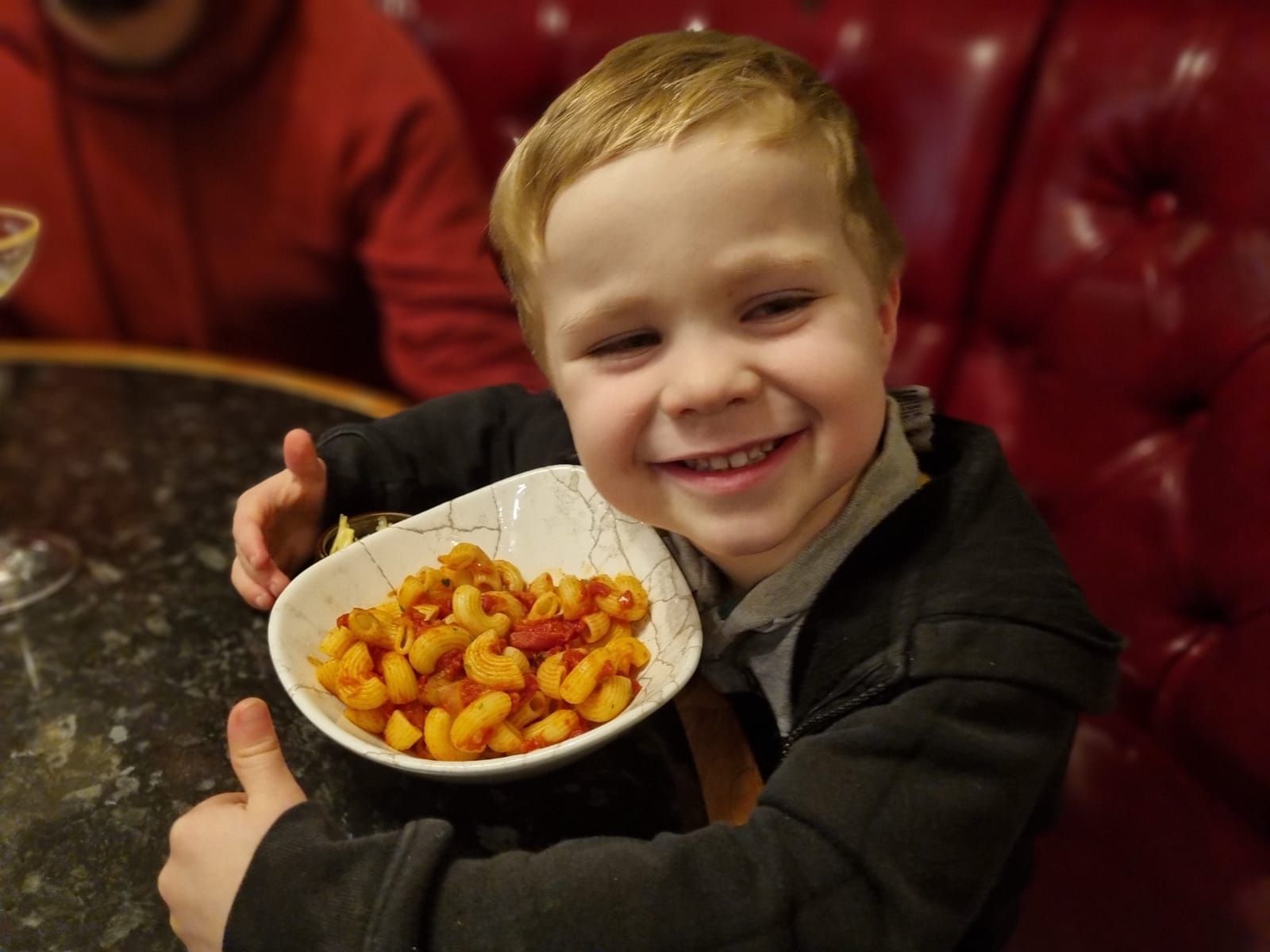 The Korean style fried pig cheeks, sesame seeds and pickled radish were outstanding! Crunchy, sweet, sour, and savoury bites of Asian deliciousness. We both agreed we will absolutely be back for them.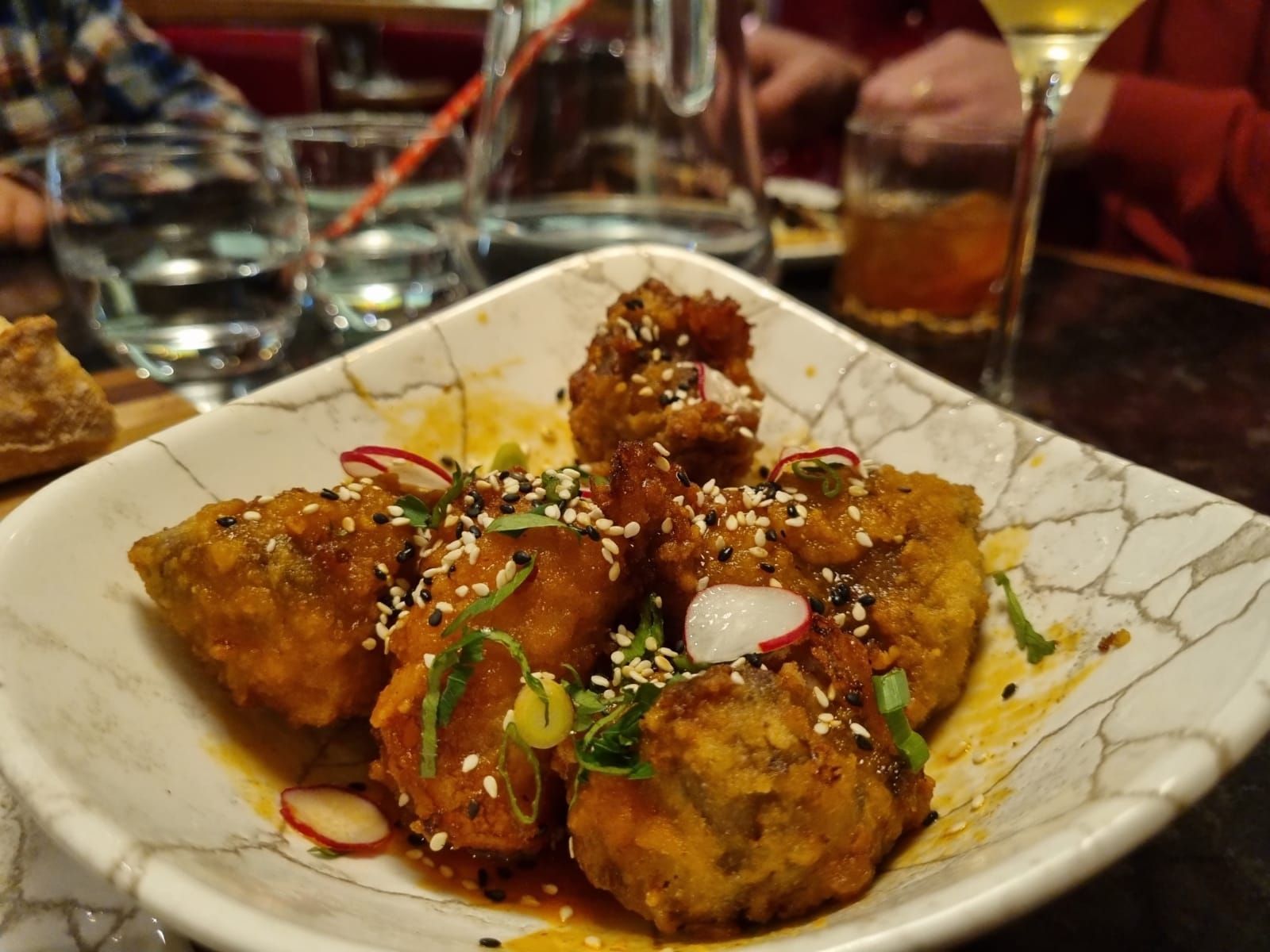 We also ordered one of my favourite things, baked cheese! The baked Sussex feta was covered in fresh chili, honey, and parsley and served with a crunchy baguette. The fresh chili gave it just the right amount of heat and the salty feta with sweet honey was so tasty.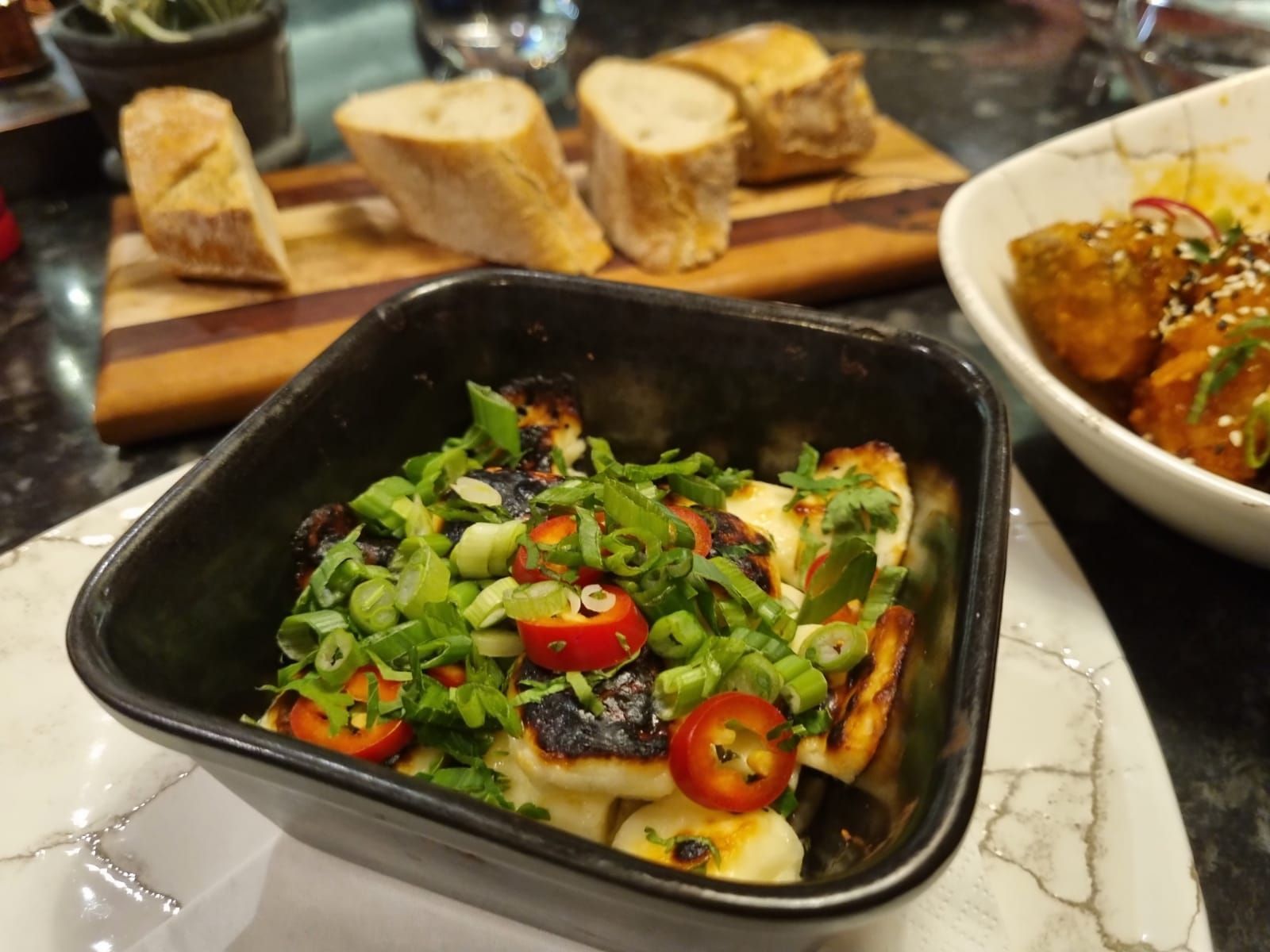 Eventually, the silence was broken by two very happy little men, who licked their plates clean and asked for seconds! This never happens! Our little piglets practically begged us for more pasta, so we ordered a second portion – which they also devoured (the portions were huge, I honestly have no idea where they put it all).
A triumph of local produce
For our mains, Rich and I shared the Trenchmore Farm Wagyu steak served with bone marrow and creamy spinach, and the Taste fish stew served with crunchy bread and full of cured and smoked seafood.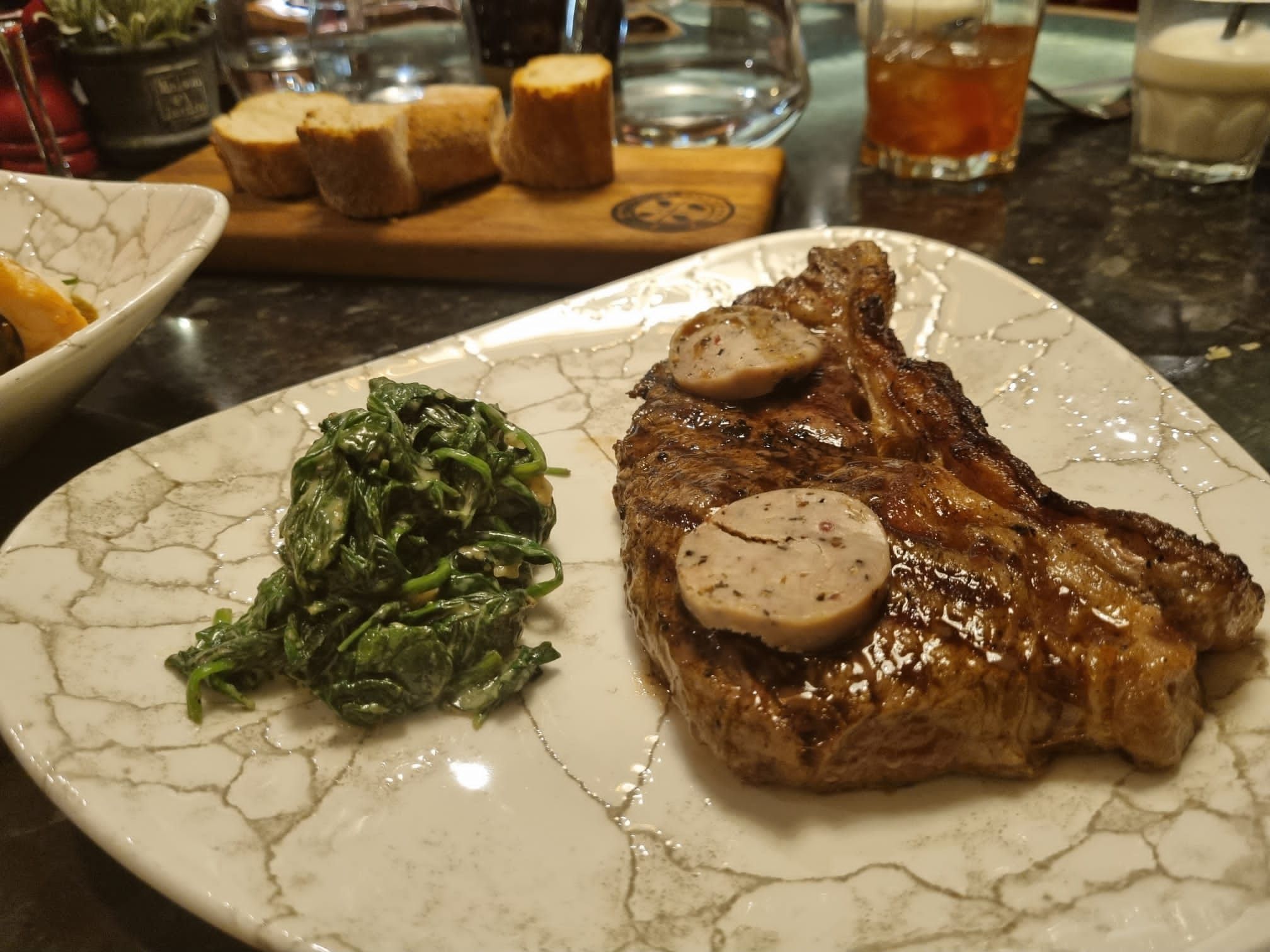 The Wagyu sirloin was expertly cooked to a medium rare, tender and juicy, it was everything you could want from a perfectly cooked Wagyu. The texture of bone marrow isn't usually my favourite, but Rich absolutely loves it and I have to admit it did add to the richness of the steak.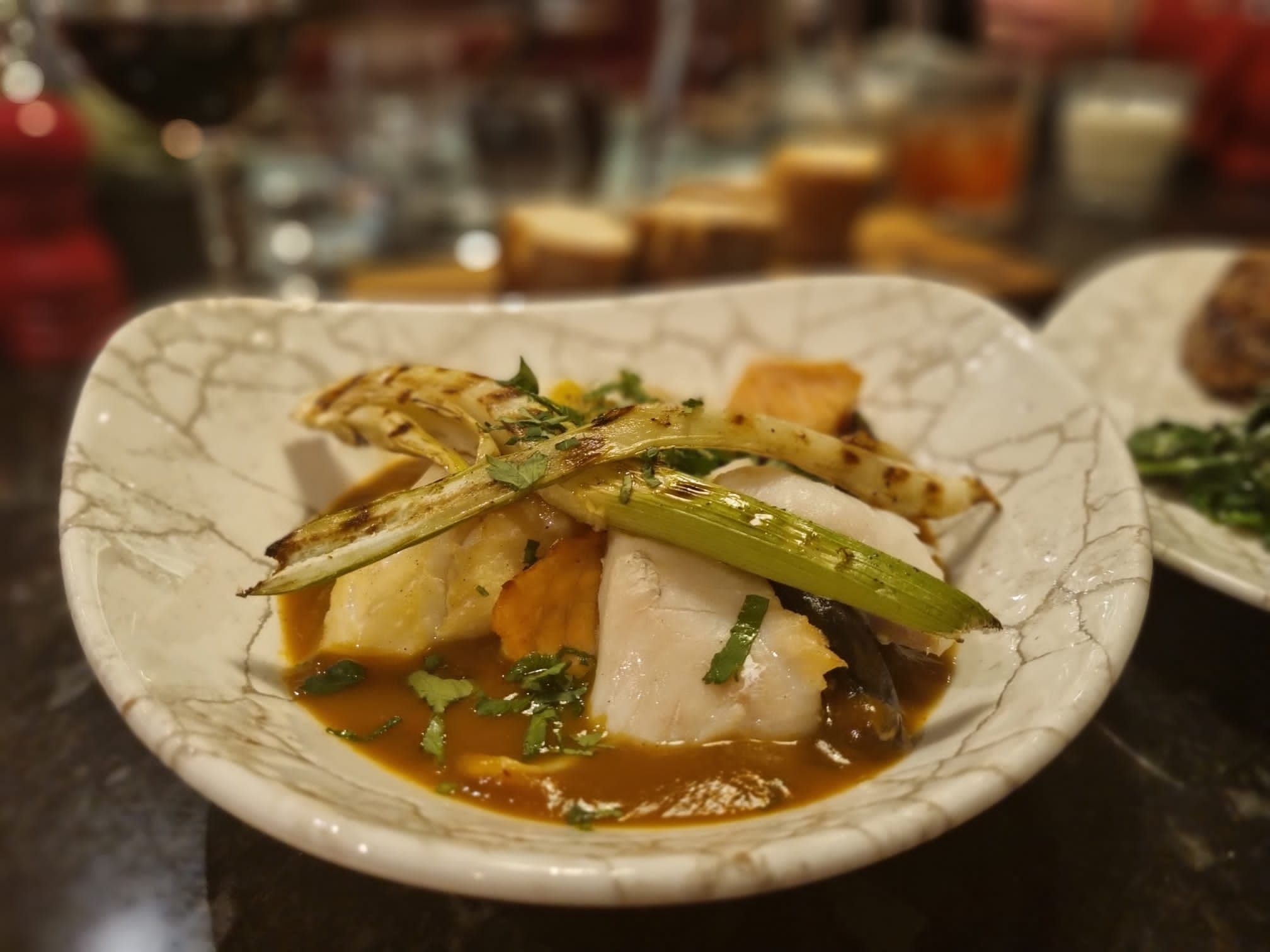 The Taste fish stew was a homage to all things smoked and cured, with a deep smokey flavour and a rich thick bouillabaisse. Filled to the brim with salmon, cod, haddock, and shellfish, it was almost too generous a portion, almost.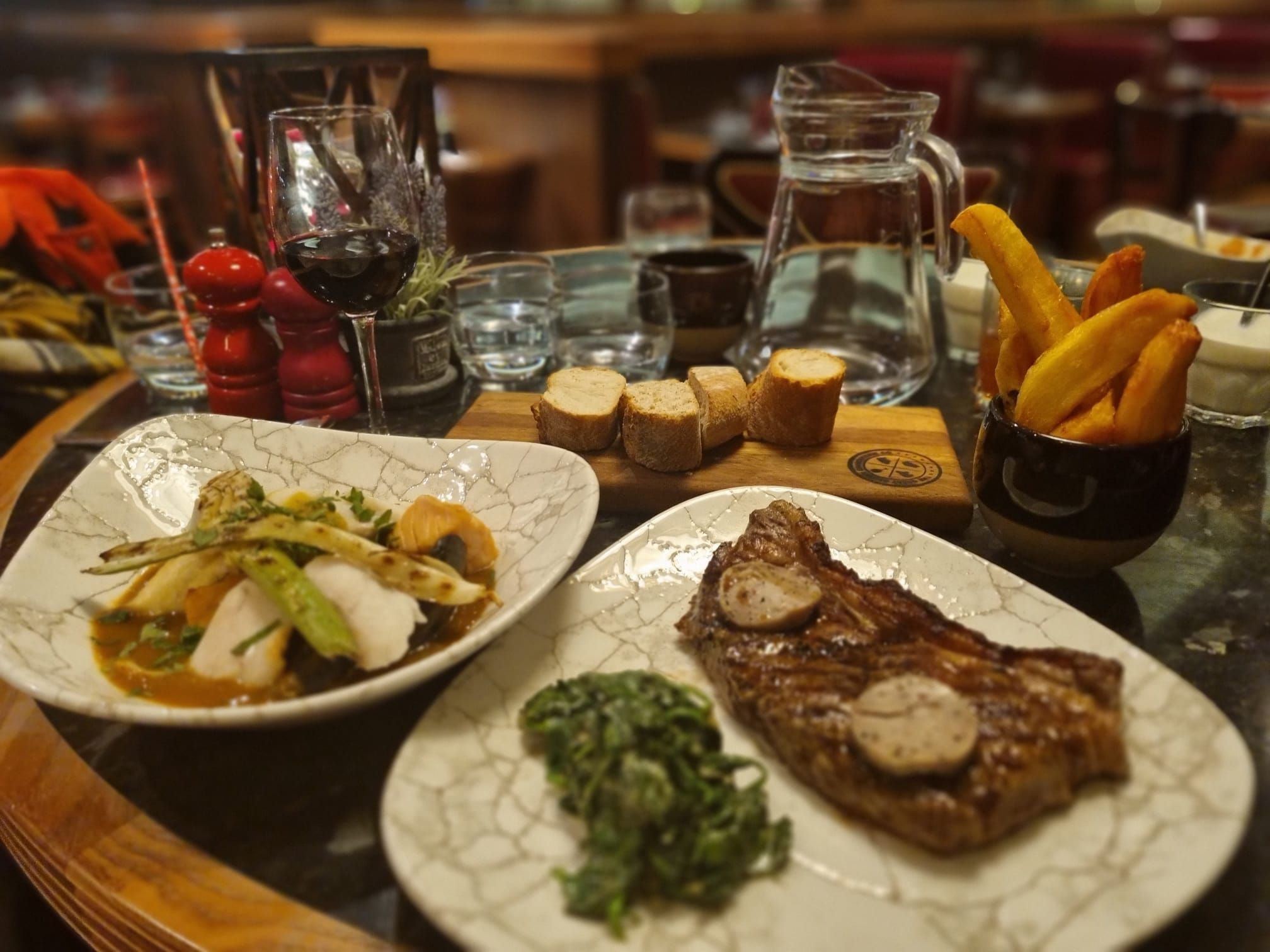 As we tucked into our mains the kids enjoyed their double chocolate brownie with vanilla ice cream, and I managed to sneak a bite or two before it disappeared.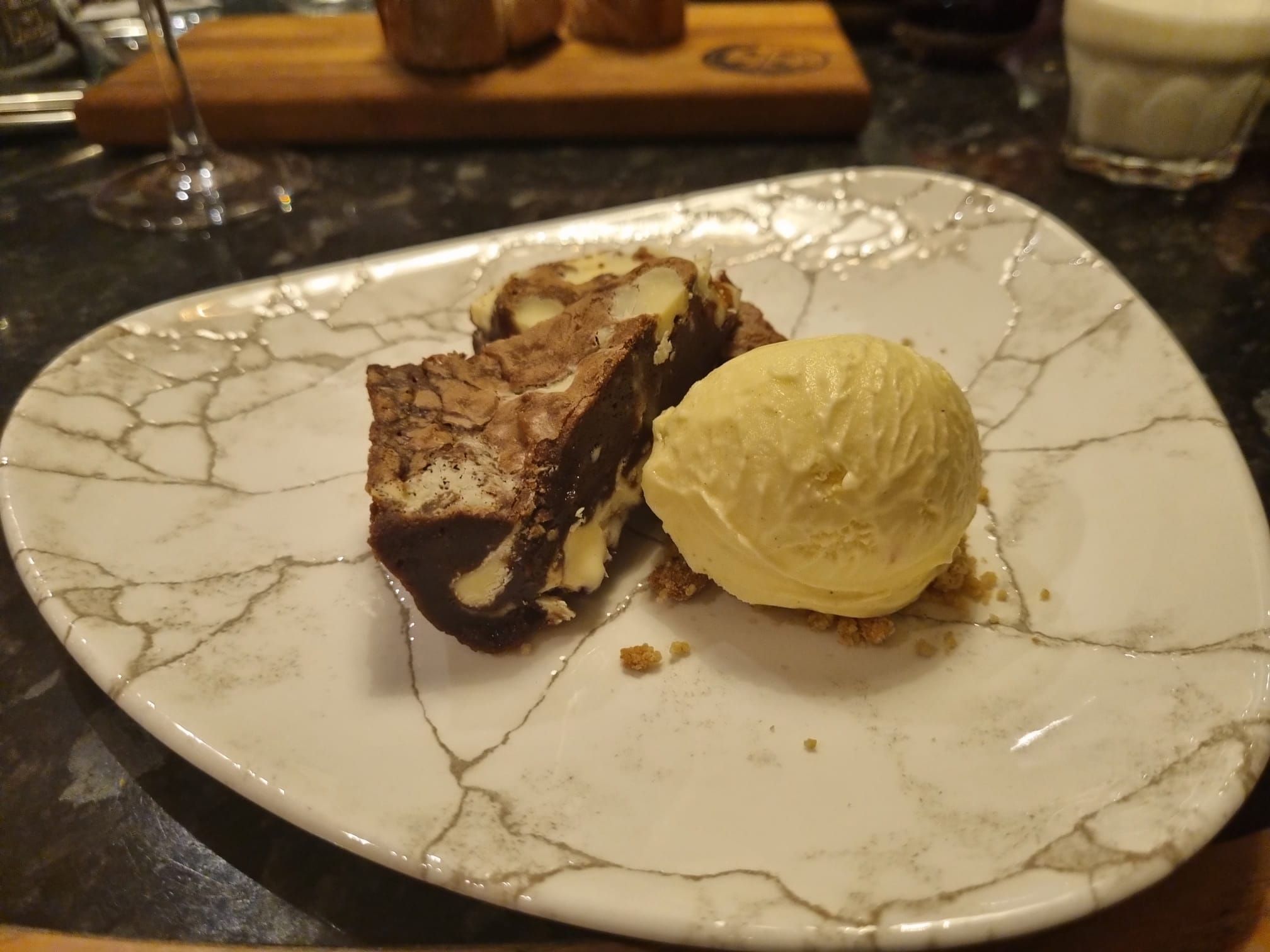 A cheesy family moment
For our next and final course, we absolutely had to have the cheese board.
On any Phil Bartley menu, you can be sure of two things, delicious cured meats, and gorgeous local cheese supplied by Great British Charcuterie. Arguably one of the best suppliers of British meats and cheese around, you will find their stunning selection in restaurants all over Brighton, and for good reason, their product is outstanding and showcases true artisans from across the UK.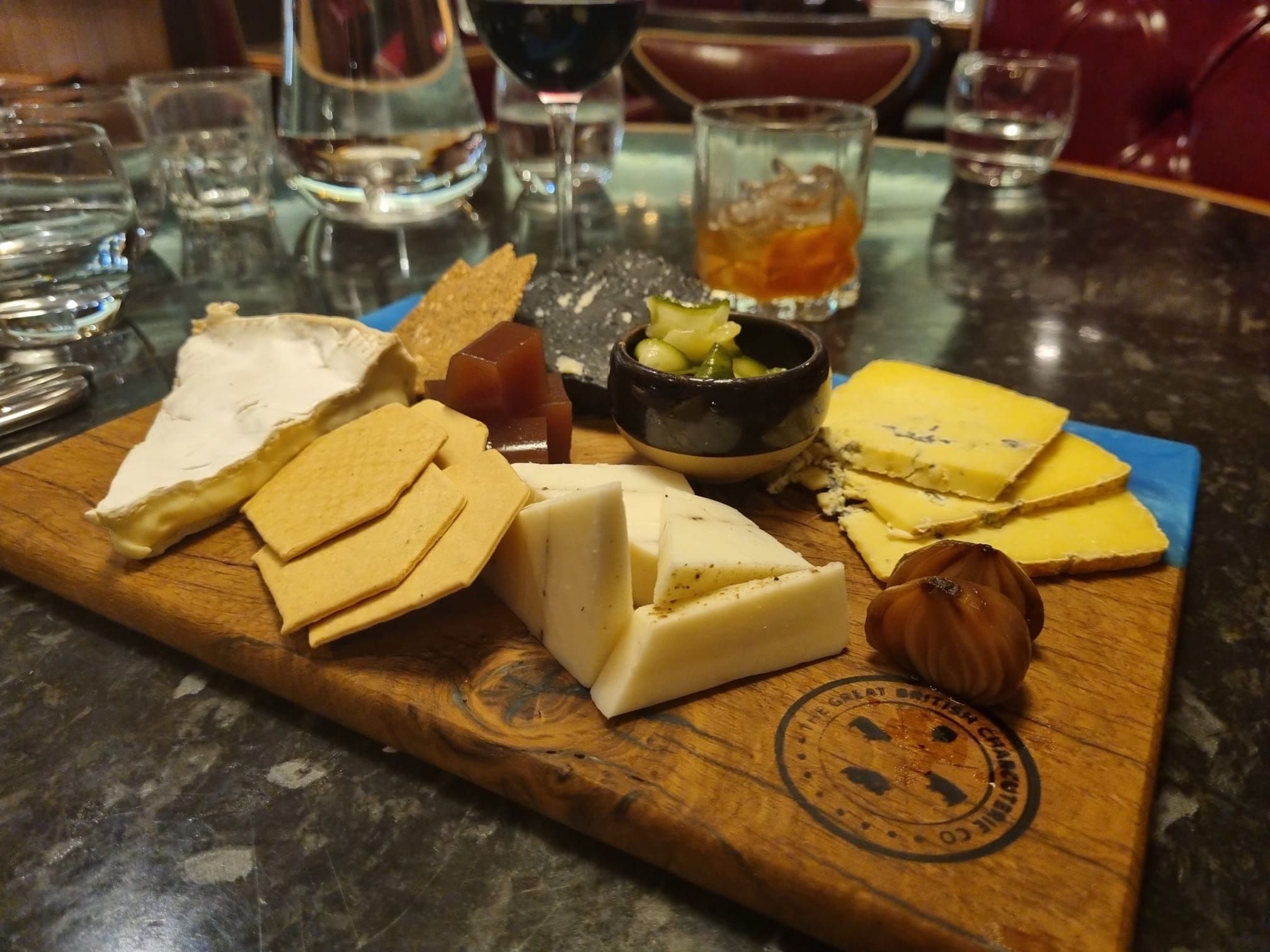 On our board we had a selection of jet black charcoal Cheddar, gooey Sussex camembert, award winning Brighton blue, and a zesty Sinodun Hull goat, all served with local breads, crackers, pickle, chutney, and jelly, the perfect end to an exceptional meal.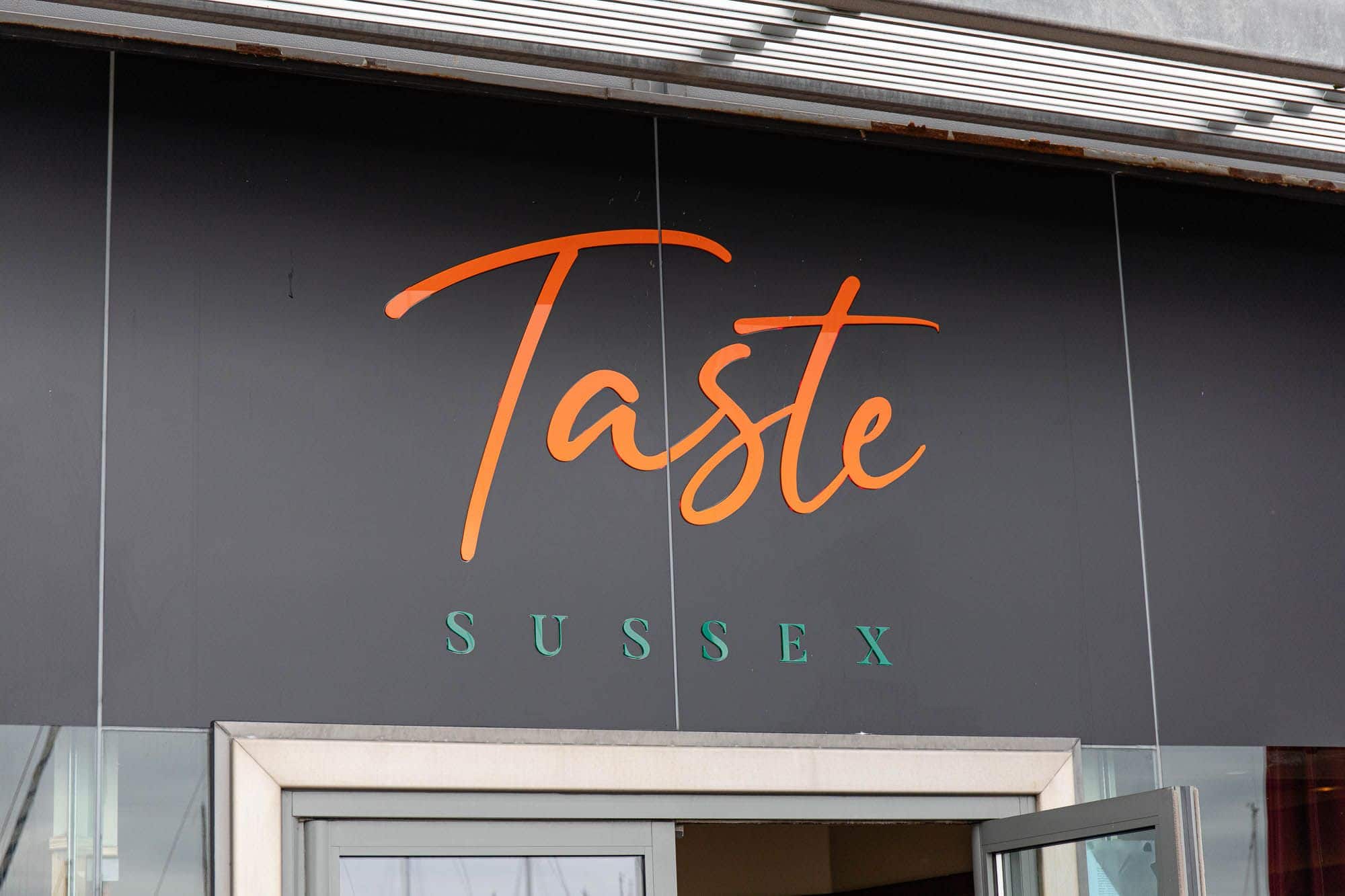 As foodie parents, we are forever trying to find the balance between keeping the kids happy and enjoying a culinary experience. Thankfully at Taste Sussex, you don't have to choose! Happy kids with full tummies, and satisfied foodie parents who can enjoy top-end food and wine in a restaurant that welcomes us all. Thank you for having us and we will be back with the rest of the family soon!