A great new discovery
A few months ago, I came across The Better Half by accident when I was out on a jog through Hove. Having lived here for almost a decade, I was excited to stumble across a new pub that I never knew existed and, more recently, was thrilled to be invited for a review.
A warm welcome
Tucked away on a side street, just back from Hove beach, this cosy drinking and dining hole opened in 2015 in what was formerly the Red Lion. Visiting with my friend Ella, we felt at ease the moment we stepped inside. With a welcoming atmosphere, this dog-friendly pub has a refreshing 'local' feel – something that's often lacking in pubs that are closer to the city centre.
A warm Friday evening, the outside courtyard area was already full but the pub's interior was cool and airy, so we were happy to be seated in a comfy booth for two.
Wonderful New Zealand white
Seeing as it was Friday we started with the wine list. With around 35 whites, reds, roses, sparkling and dessert wines to choose from, it's extensive but not overwhelming. He wasn't wrong. Fresh, light and fruity with a lovely depth of flavour, one glass will leave you wanting more, so I'd definitely suggest a bottle.
A menu with wide appeal
Moving on to the food, Tom explained that their chef had recently overhauled the menu to make it as appealing to veggies and fish lovers as meat eaters. Alongside dedicated meat, fish and veggie dishes, flexible options like the red curry can be served with a choice of proteins.
Finger-licking starters
To start, I chose the crumbed whitebait. Wonderfully crisp, it came with a mouth-watering citrus mayo, which had a good glug of lemon juice and lots of cracked black pepper. With the whitebait served in a little tin bucket, this tasty finger food would also work well as a bar snack.
Ella ordered the goats cheese croquettes with a dressed side salad. Crisp and golden, they were smooth on the inside with a mild rather than overpowering cheese flavour. Caramelised red onions made an ideal accompaniment, along with a honey and mustard mayo for dipping.
More-ish mains
Vegetarians and vegans will be pleased to see lots of meat-free mains on the menu, including the beetroot burger, vegan sausages and a mango and beansprout salad. Meanwhile, carnivores can tuck into the likes of 30-day aged sirloin and the pub's signature burger with a homemade bun.
After much deliberation, I chose the pan-roasted salmon with samphire. A rich pink, my salmon was melt-in-the-mouth tender with seared skin that was crisp enough to eat.
It was served with sautéed potatoes, shredded greens and roasted salsify – a tasty parsnip-like vegetable that I hadn't tried before. My emerald-green samphire had just the right level of saltiness, and the dish was doused in a delicious white wine and dill sauce.
Succulent Sussex chicken
Opting for the Sussex chicken breast with pancetta, Ella's eyes bulged when she took her first taste. "That tarragon sauce is delicious," she grinned. Her chicken, which was almost two inches thick, was served on the bone with seasoned skin. Cabbage, green beans and crushed skin-on potatoes completed the dish. "I'd definitely order this again," she nodded.
Easy-going atmosphere
Taking a break while we digested our mains, we sipped our sauvignon and soaked up the atmosphere. Busy yet relaxed, lively yet laidback, the Better Half has achieved a great balance between dining and drinking – just what a good local needs.
Old & new décor
The décor is a stylish blend of old and new, with wooden flooring, filament light bulbs, market-style tiles and calming soft green walls. Quirky touches add to the character, with framed photos on the ceiling, and a mirror by the toilets that tells you "you look bloody marvellous" – just what I needed to hear after a long week of work.
Comforting desserts
Thanks to the pub's generous portion sizes we didn't have room for a dessert each, so we decided to share. From the chocolate brownie and lemon drizzle sponge, to the vegan-friendly chocolate mousse, everything on the menu sounded good. In the end, we agreed on the poached pear.
Beautifully presented, we both let out an impromptu 'ooo' when it arrived. Taking it in turns to scoop at the warm pear, we spooned-up comforting vanilla custard, ginger biscuit crumb and tangy pieces of stewed rhubarb.
During dessert, Simon the landlord popped over to say 'hi', and the head chef Alex stopped by to ask how our meal was. We both nodded and grinned enthusiastically as we scraped at the last puddle of custard.
A lovely new local
Saying goodbye to Tom and the other bar staff as we left, I felt a warm and fuzzy feeling at having found a lovely new local with great food and wine. If you haven't discovered the Better Half yet, take yourself on a wander through Hove this weekend.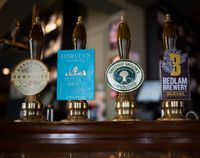 Want to know more about The Better Half Pub – Hove?
Find Out More