GungHo Brighton Talks Sustainability
Julien Barnett, owner of GungHo Brighton and mixologist extraordinaire is also a strong sustainability advocate. We're not just talking paper straws here, with GungHo Julien proves that it is possible to create inspiring and fun solutions to a very real problem.
Right now, it seems the word 'sustainability' is on everyone's lips, for good reason. But what does it really mean and how can hospitality businesses do more to help?
Why not? With a little more hard work and being conscious of how drinks are put together, we can easily reduce waste. Repurposing ingredients means that money can be saved. Most notably, fresher, more natural flavour can be achieved and using new methods and ingredients means that we can create very unique drinks!
It is always best to use produce when it is in its season as naturally, the flavour is at its best. Try sourcing your produce from local farms, allotments or by foraging yourself! We have a wealth of fantastic ingredients to play around within the UK, from elderflowers in May to the delightful quince in October.
Now that you have your fresh, local produce grown in season, here's how to ensure it is available all year round. Use different preserving techniques to capture the amazing natural flavours. Make elderflower liqueur by infusing foraged elderflowers in a sugar syrup and then adding vodka. Make quince jelly by cooking diced quince with a little water, straining well, then cooking again with sugar and leaving to set. Pickling is another great preserving technique; a few of my favourite ingredients to pickle are cucumbers and strawberries. Use equal parts vinegar to water adding in sugar syrup to balance. You will also have a delightfully fresh and tangy cucumber syrup that will last for months!
Give everything a second life! Turn all your produce wastage into liqueurs and garnishes. Don't throw away your used coffee grinds, instead add them to tequila and leave to infuse, then add sugar to make your own coffee liqueur! Dehydrate all your strained out pulp, then smash it up to make a delicious powder to garnish with. You can even infuse your lime and lemon zest with sugar or alcohol to make sherberts.
Find out alternatives with a lower footprint for everything you use. Instead of using imported sugar try British sugar beet which has a lower carbon footprint than the regular kind. Find out where your dairy and egg products come from and if the farms use honest practices (free range etc). Make your own cleaning products and soaps, using vinegar and water you can make a very efficient window cleaner! Change your energy provider, use a provider like Bulb which provides 100% renewable energy. Change your back bar spirits to brands who aim to reduce and repurpose their waste!
Recycle all your glass and cardboard. Print your menus on recycled paper and stock recycled napkins! Target your plastic usage; find alternative products or services to reduce plastic and use refillable containers. Brighton Milk run by Jerry is a fantastic way to reduce plastic intake at home. He delivers in glass bottles and picks them up once they are empty.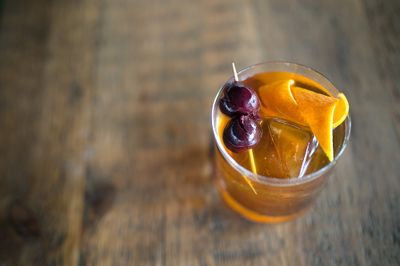 Local produce
Lower your food miles by buying local. Buy locally roasted coffee beans, stock locally brewed beers, use a wholesaler who grows local vegetables and get meat from a local butcher who sources sustainable meat. We are surrounded by resources here in Brighton so shopping local has never been easier! Try growing your own herbs on the windowsills of your stock room as a great way to cut down on produce normally packed in cellophane.