Alfresco small plates, perfect for sharing!
Hove Place is a friendly gastro pub tucked away on the leafy First Avenue in Hove. They have recently revamped their menu to completely change the concept and offer something new. They have always been known for their locally sourced gastro pub meals centred around pub classics, but now they've gone for something a little more unique and special.

Seasonal small plates
The menu is now made of up small plate dishes that will constantly evolve to reflect the seasons, with a huge variety of different options and something for everyone. It's designed for sharing, perhaps 2-4 dishes per person, depending on the occasion and what you can eat! The menu is easy to read as it's broken down into sections – Nibbles, Bakery, Meat, Fish, Vegetables, Trimmings and of course, Dessert. On Sundays they are still serving their famous roasts, with a small selection of their small plate dishes to go on the side.
Sustainable produce
Hove Place are passionate about animal welfare and only use locally sourced, free range meat and eggs across their menu as well as sustainable caught fish. The beef, pork and lamb is all from Sussex and fish is from MBC seafood company that sell fish caught off the boats out of Newhaven. Their website is great for information about all the suppliers they use and have a whole page dedicated to it!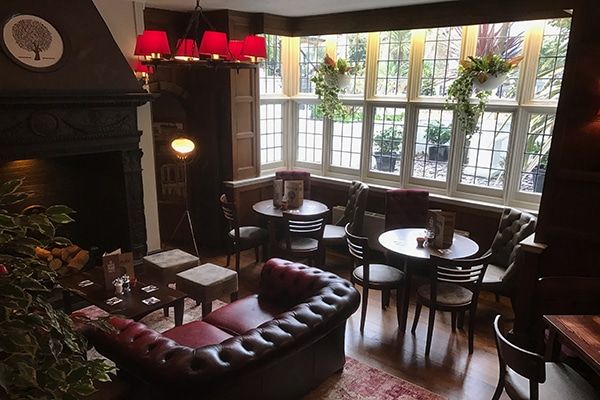 A few to share
The menu recommends 3-4 dishes to share per person, and we were suggested by the manager to order a couple each with a side or two to start with, otherwise your dishes will start to get cold if you have too much. We could then order more if we felt we needed to and I thought this was great advice (as I usually get over excited and need someone to reign me in).
We decided on four small plates and a couple of sides to start with, also going with the recommended dishes given to us by the manager. He did say that it was hard to recommend specifics as they were all very good and after eating what I tried I believe him!
Popular recommendations
One of the recommendations, suggested by a couple of staff members, was the lamb and beef meatballs served with Cornish Gouda cheese and tomato sauce. For £6 the portion was generous, there were 4 large meatballs presented with a layering of melted cheese and a rich tomato sauce. They were well seasoned and the lamb wasn't overpowering at all, with a crispy coating and still ever so slightly pink in the middle. It was very more-ish and I found this one hard to share with my boyfriend.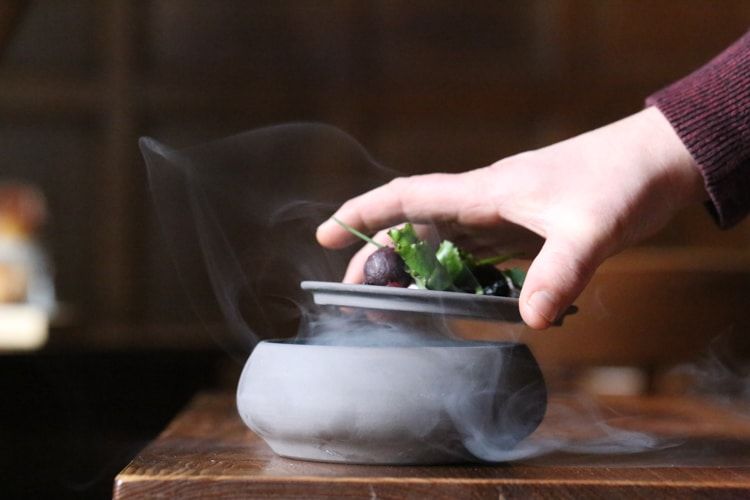 Unique ingredients
Another recommendation was the butter poached skrei cod served with samphire, watercress, leek and buttermilk. Cod skrei is a Norwegian cod that swims thousands of miles each year and is caught in it's teenage years making it a joy to cook as it flakes really well and holds it's shape. This is apparent when the dish is served as the cod came flaked into firm segments, still translucent so not overcooked, with a vibrant green sauce made up of the watercress and swirls of buttermilk. The samphire was lovely and tender and the leek on the side had a nice char to it, I should've asked for a spoon though to get the remaining bits of the sauce from the dish.
Truffle lovers dream
As a side I couldn't resist the Heritage mash with truffled brie and fresh winter truffle. Truffle has a strong place in my heart and if I see it on a menu it has to be mine. It came served in a cast iron dish on a board, all gooey and melted smelling so good my mouth was watering. This is a must have if you eat cheese and are getting a side, the mash was creamy, smooth and buttery and the truffle flavour was in my opinion spot on. I visited a few days later with some friends and ordered this again, this time it came with fresh truffle shavings too which was a plus!
Some of the best I've had…
The ox cheeks also came recommended but I already had my eye on these before we got to the pub. They were braised in coffee and served with a creamy potato mash, roasted carrot, burnt onion and a sticky rich reduced sauce. In terms of best ox cheeks I have had, they were certainly up there. I cooked them myself a lot over the winter they're a very comforting dish.
We also couldn't resist the spicy potato wedges served with guacamole and roasted garlic mayo and I could see these being a real crowd pleaser alongside a few drinks with friends after work or in the weekend.
A real hug of a dish
Last but not least was the smoked haddock chowder that came in a dish with a lid with a haddock croquette on top. This was a warm hug of a dish that was everything you would want a chowder to be. The vegetables were cooked just right with a bit of bite but soft enough, it was really creamy but nice and rich from the smoked fish and seasoning. The croquette in top had a crispy outside and soft filling that was oozing out when it got to the table. A nice surprise for me was the garnish of iced lettuce which is a small green leaf with tiny clear bubbles on it that pop in your mouth and have a slight lemony taste. I love that all the garnishes are well thought out as it went really well with the creamy richness of the fish.
Always room for dessert
We were quite full but after reading the dessert menu I couldn't say no to the sheeps milk pannacotta dessert served with raspberry crumble, milky way, white chocolate, raspberry gel and rosemary. It came in a ominous sphere that provided an element of surprise when you lifted the lid to the carefully presented dessert inside. The milk in the pannacotta was creamy which was balanced by the sharpness of the raspberry gel and crumble. I think the rock like pieces were the milky way? Or white chocolate, but they tasted really good anyway. I didn't eat the rosemary as not sure about eating it raw but the fragrance next to everything else provided a nice match.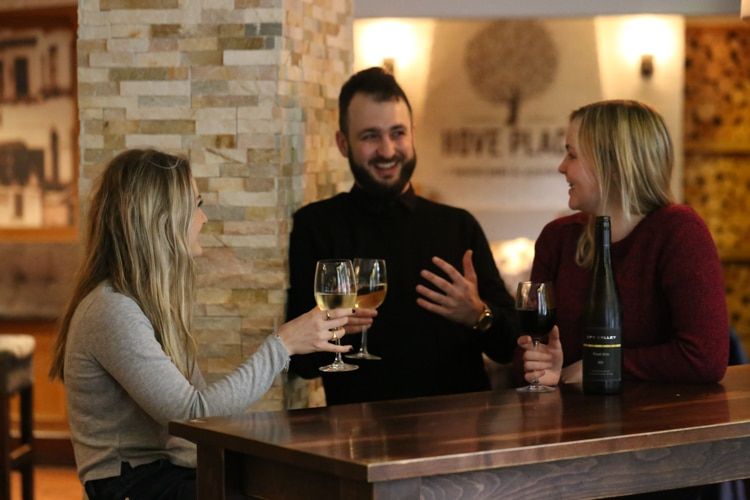 A perfect pair!
I thought the new menu suits Hove Place really well, it's great value and can be adapted to suit whatever the occasion. If you're there for a day in the sun I can see the small plates being great for ordering as you go, as a few to share with your table. As I said earlier, I went back with some friends a few days later and it was perfect for a little pre dinner snack in the afternoon with some drinks. They also work well as we had them if you wanted a full meal and there are some lovely desserts to finish with.
Well done guys, I'll be back soon for sure to try some more of the other plates I had my eye on!
What Next?
Make a reservation on 01273 738266