The Coal Shed Brighton
The Coal Shed Brighton is located in the historic Lanes just a short distance from the seafront. Set on the tucked-away Boyce's Street, between old school watering holes and tattoo parlours you may miss this gem of a restaurant if you weren't looking for it – but that is part of the joy of Brighton!
Lucy tries takeout
Legendary for their charcoal-cooked prime cuts, The Coal Shed are now serving 'finish at home' meals that are just a stir, sprinkle or flash in the oven away from being ready. Basically, they do all the clever stuff – smoking, searing, marinating, charring and hours of slow cooking, plus the careful crafting of secret sauces, glazes, dips and garnishes. All you need to do is follow the simple steps for finishing at home. Each two-course meal is created for two to share. The menu changes weekly and you can also buy wine to match your meal.
My partner Tommy and I chose the Smoked Beef Short Rib with rosemary Charlotte potatoes, maple roasted carrots, spring greens, pickled red onion and chimichurri. Having ordered the day before, we opted for 'click and collect' (any excuse to get out of the house!) and headed over to the Coal Shed restaurant on Boyce's Street to pick up our brown paper bag of goodies.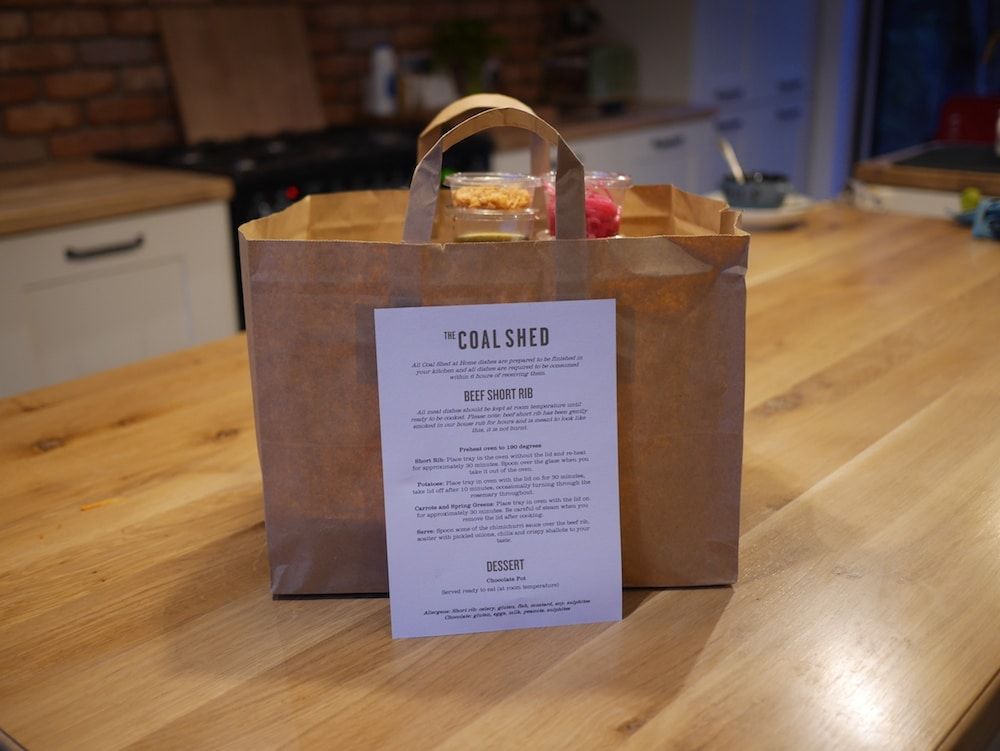 Back home, the instructions for finishing our meal were easy – with each element in an oven-ready tin tray, everything went in the oven at the same temperature for 30 minutes, with a glaze to be poured over the beef after cooking. Still on the bone, our short rib was deeply smoky and melt-in-the-mouth soft. The glaze was sweet and sticky, and the four pots of garnishes it came with meant we could customise our meals.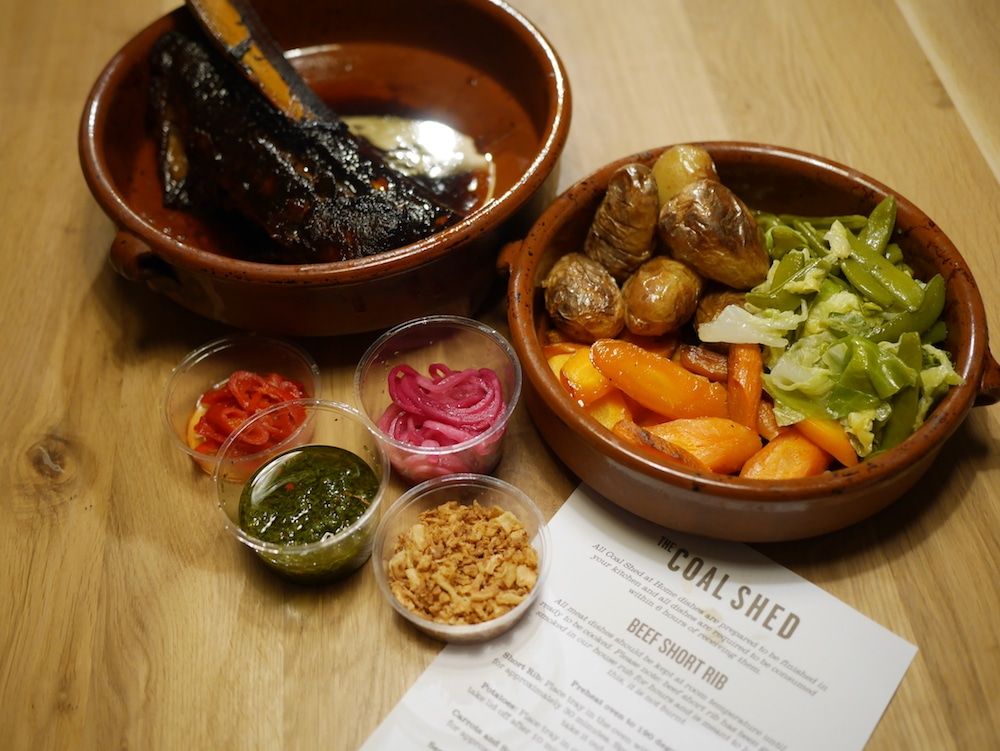 For me, this meant lots of herby chimichurri, red chilli and lightly pickled onions, while Tommy opted for less chilli and more crispy shallots. Our rosemary potatoes were beautifully seasoned, while our greens were still fresh and vibrant, and the carrots had been slightly charred with well-balanced maple sweetness. Portion-wise it was perfect – we managed to finish it all, but only just.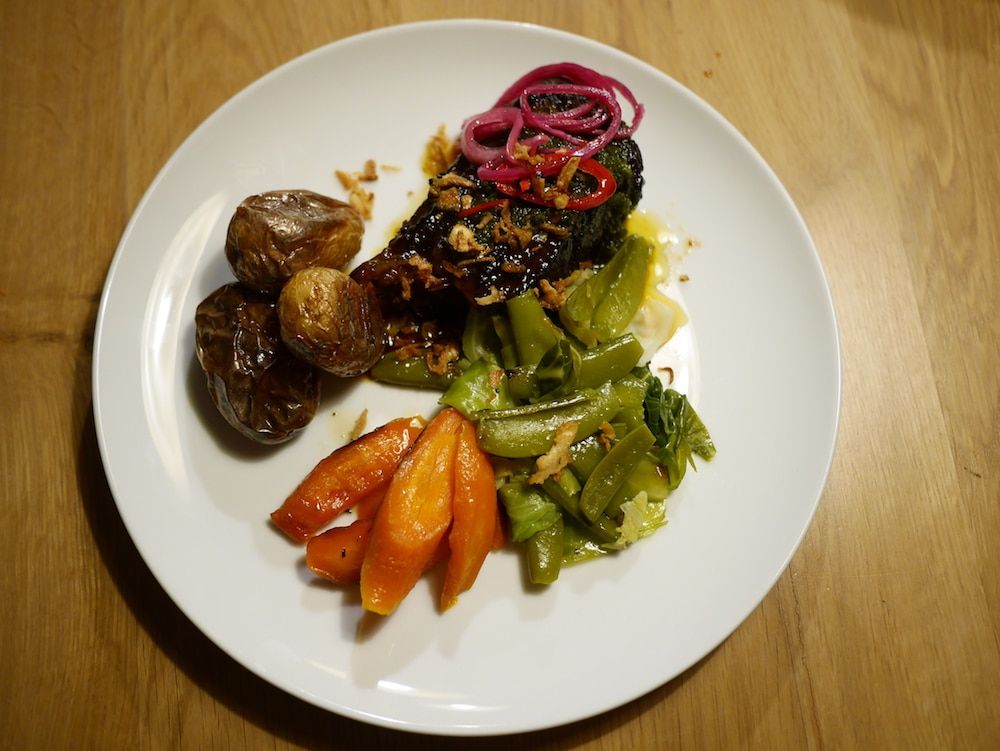 After a top-up of wine and a ten-minute break, dessert was ready to go: two individual chocolate pots with thick, smooth and slightly bitter chocolate topped with sweet/sour morello cherries, mini cookies, biscuit bubbles and whipped cream. It just goes to show: amazing things definitely can come out of lockdown!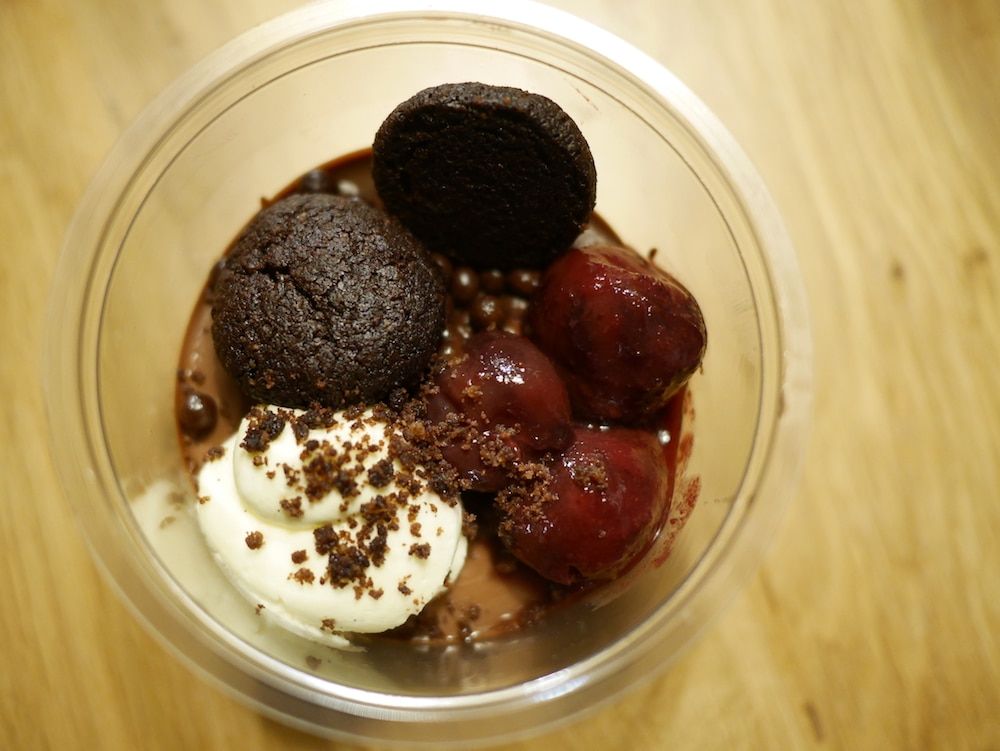 Drooling already? I'm not surprised. Order your Coal Shed at Home meal online before 4pm for next-day collection or delivery this link. If collecting, you'll receive a time slot and instructions by email. Deliveries can be made to BN1, BN2 and BN3 for £5 extra per order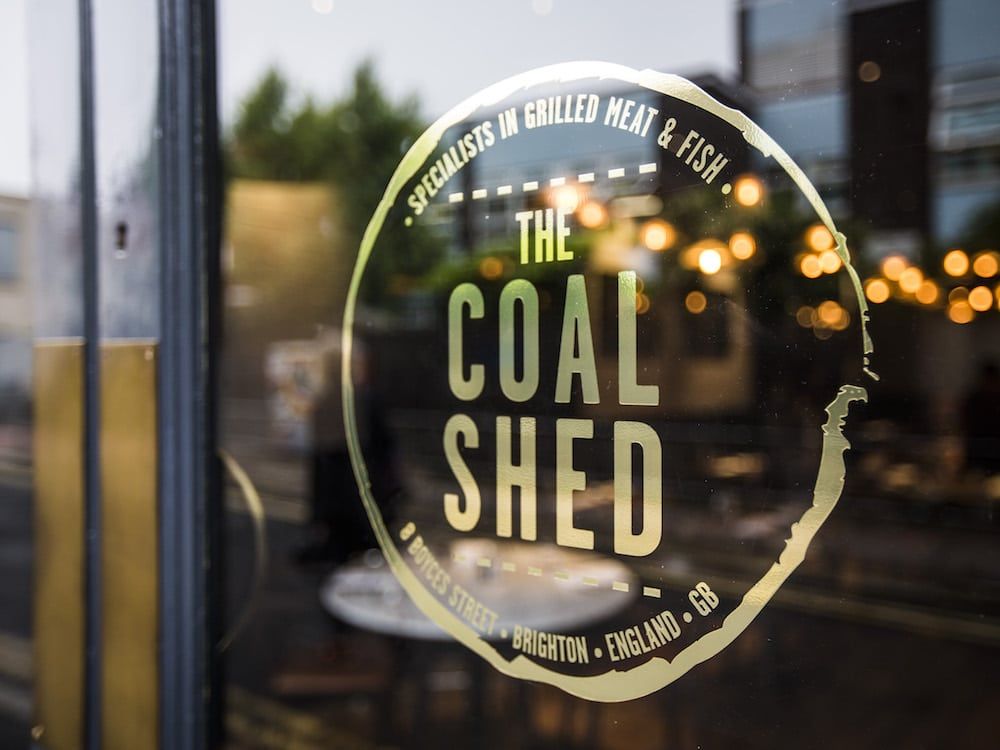 Beyond its unassuming exterior, The Coal Shed is classically and stylishly decorated with exposed wooden floors, dark hues and low hanging lights, creating a sophisticated and intimate ambience. The long bar is the first thing you see on entering, with lines of bottles glittering in the low light. Cotton napkins on polished tables and thick quality curtains all allude to the idea that The Coal Shed Brighton is about quality, treated simply.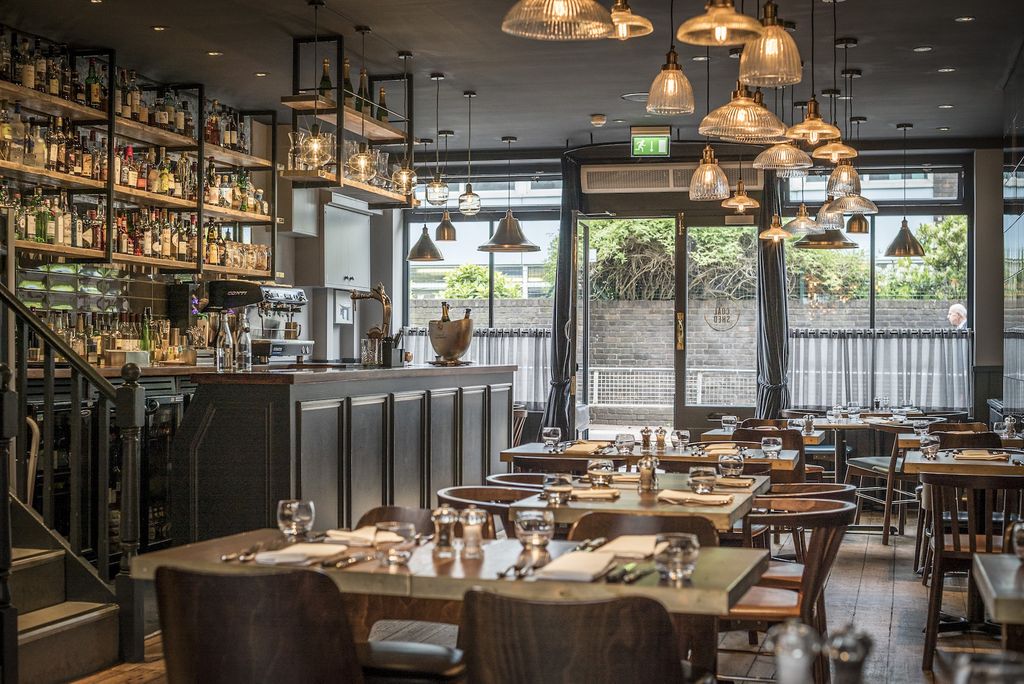 The Menu
The menu at the coal shed centres around the Josper grill, which was specially imported from Spain and is considered the finest in the industry. The coal-fired grill can reach temperatures of 500 degrees celsius, sealing in flavour and moisture to a perfectly charred and smoked surface. For this reason, The Coal Shed Brighton is best thought of as a meat and fish destination, although vegetarians are catered for. The seasonal and locally sourced vegetables are always prepared with creativity and flair.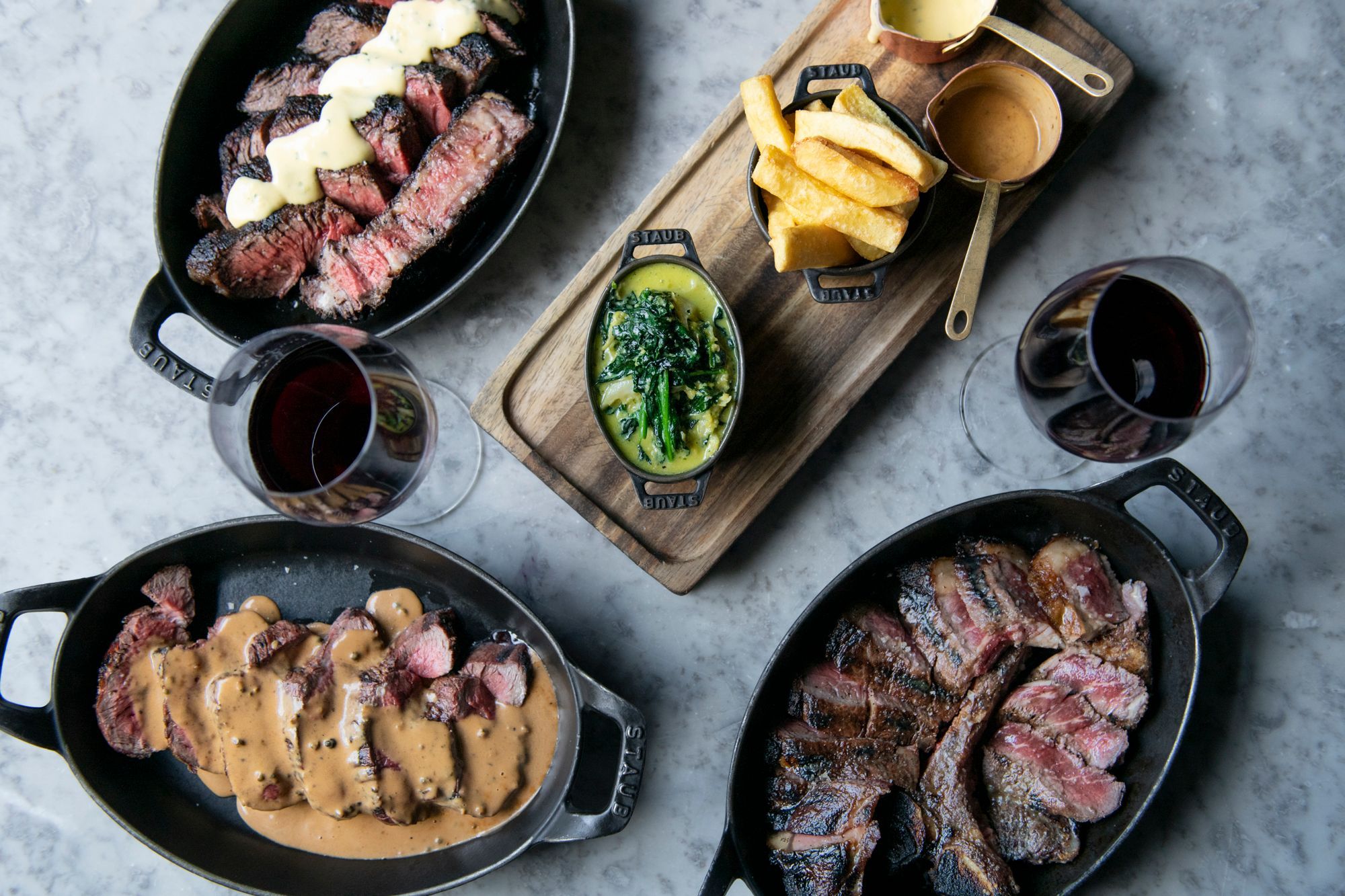 The menu bursts with freshness and distinction with fish is landed in Brighton and Newhaven, seasonal vegetables are locally sourced and meats that focus on high welfare and spare nothing on quality.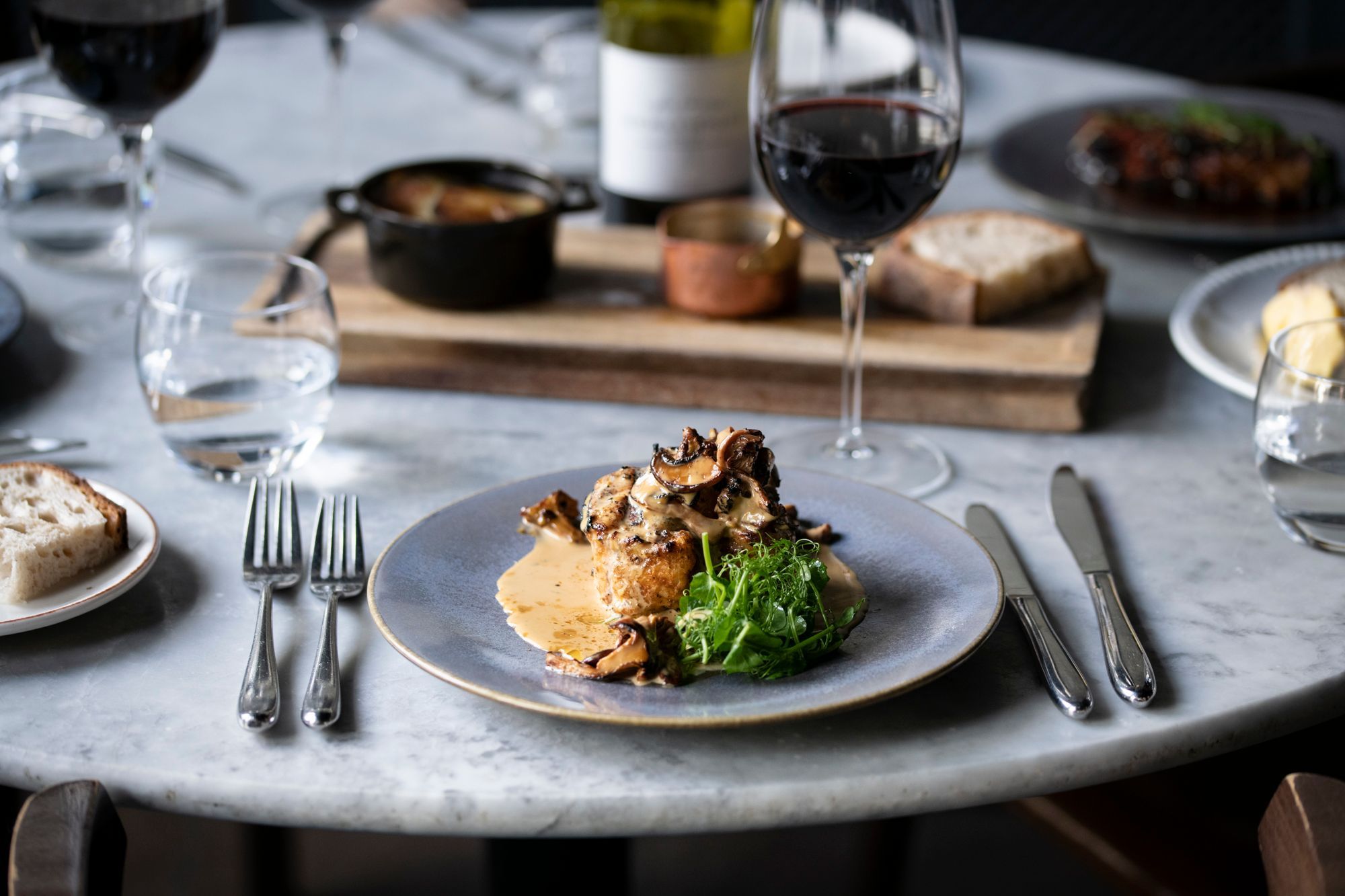 As a great all-rounder, The Coal Shed Brighton caters as equally well for the family as it does for friends enjoying a night of decadent distinction or couples looking for a luxurious, romantic meal. The children's menu is packed with fresh quality goodness, but often disguised in the familiar dishes many kids favour. Plant-based diners can also enjoy a meal at The Coal Shed, with well thought out dishes that don't play second fiddle.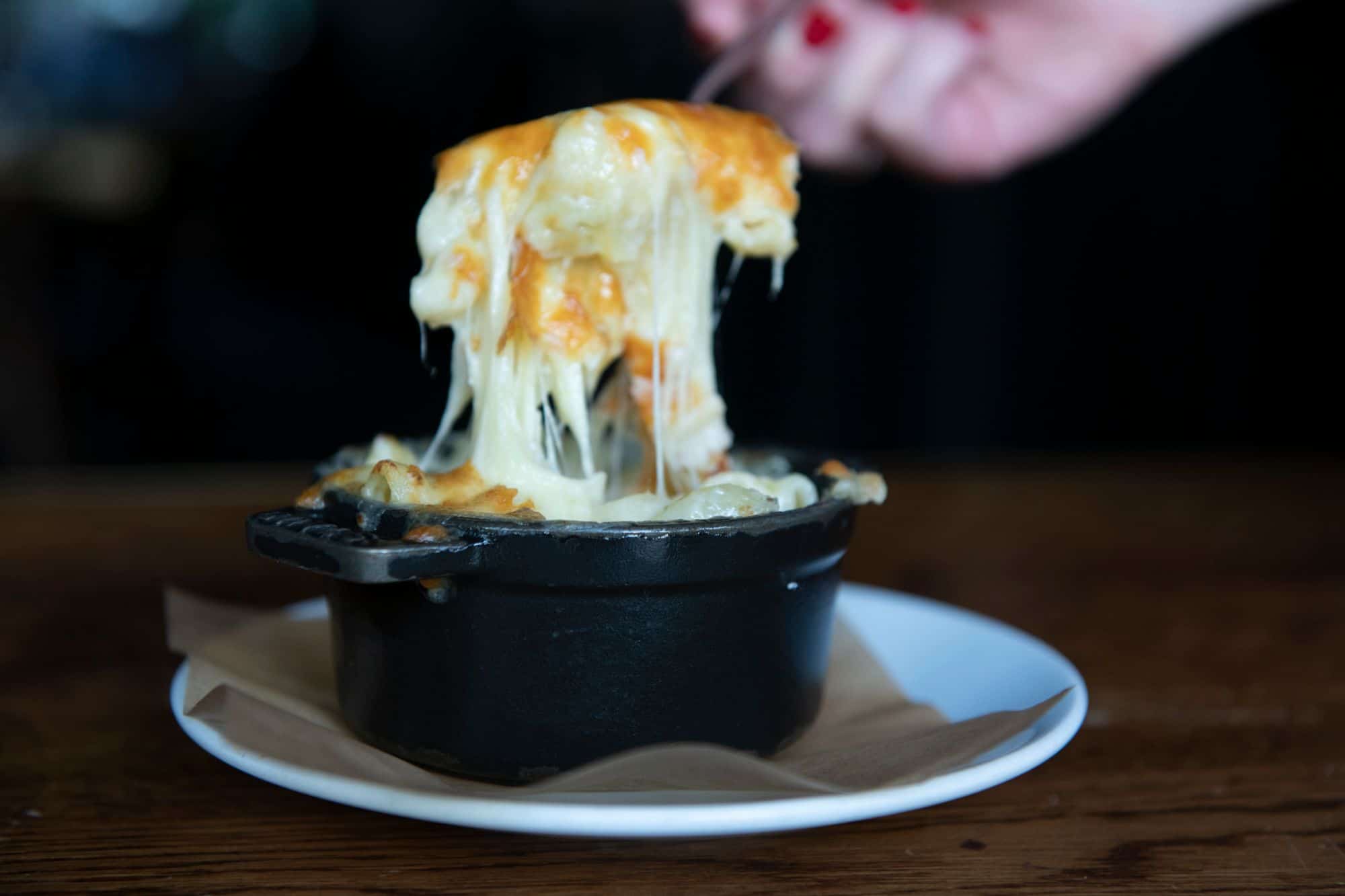 Check the a la carte menu at The Coal Shed here.
Sunday Lunch
The Sunday lunch menu is something of an event in itself and consistently gains a top spot in the BRAVO Best Roast awards. The sharing roast platter of 35-day aged Black Angus sirloin steak is cooked to perfection on the Josper grill and served with a bountiful harvest of seasonal vegetables.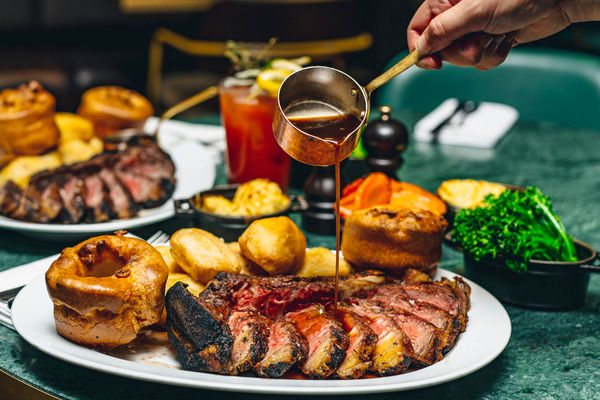 Private Hire
The Coal Shed is available for part and full private hire, with The Chef's Library available for private hire seven days a week. The completely private room seats 15 guests and comes with a dedicated server for the duration of the event. A three-set menu with individual courses or a banquet style sharing menu is available. For larger parties, the main restaurant can be hired to seat 50. Canape and drink receptions can also be catered for.