Restaurant Brighton's guide to
Best Cheese Board in Brighton
There is something about cheese that strikes such a chord with devotees, often sending them into a euphoric state of contentment. We know that feeling, and think that you do too. The cheeseboard is one of the simplest pleasures that any venue can offer. Thankfully there are venues out there who feel the same way so we have tracked down these cheese champions in our round up of Brighton's finest cheese boards.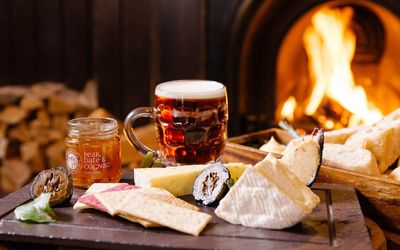 When it comes to variety, you cannot beat GB Charcuterie's cheese offering. They may only stock cheese from the UK, but that does not mean any less choice. Their Marina store and wine bar is a cheese lover's dream. View and sample their selection before committing to your own bespoke cheeseboard, all washed down with a glass of English wine. The knowledgeable and friendly staff are on hand to guide your choices, discovering your preferences or suggesting varieties you may not have heard of. With the largest selection of UK cheese anywhere in Sussex, this is the real connoisseur's choice and one of the top food experiences in the city.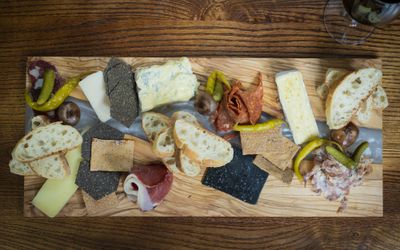 When it comes to cheese and pubs your mind instantly thinks of the traditional ploughman's lunch, but at Hove Place they have taken things up a level. This popular bistro pub in the heart of Hove likes to do things a little bit differently. Alongside their normal pub menu, Hove Place have an extensive deli menu that is bursting with cheesy goodness. The variety of cheese and charcuterie available would put most restaurants to shame, and celebrates the produce of the UK. That is thanks to their supplier being GB Charcuterie, which means you will be getting some of the best produce available on these shores. Grab a pint, peruse the list and then indulge in some glorious cheese based enjoyment.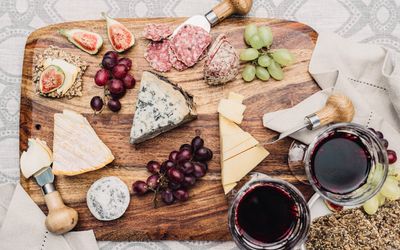 Brighton's newest French restaurant is clearly going to make the most of their cheese offering. In amongst the menu of superb small plate French classics you will find the "Les Assiettes" where a gourmand charcuterie and cheese board or stand-alone fromage board can be found. Their ever-changing range of cheeses always features some classic such as Roquefort or Brie de Meaux, with some less well known varieties such as Beaufort or Fourme au Maury. No French meal would be complete without a cheese course, and Petit Pois are one of the best in Brighton for those looking to dine a la Français.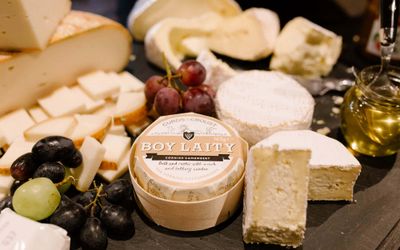 Curds and Whey can be found on the vibrant high street of Western Road, Hove. Phil Bartley, founder of The Great British Charcuterie and Steve Pineau, owner of the very successful l'Atelier du Vin bars have joined forces to create Cases, Curds and Whey. Whilst Steve provides the wines, Phil has brought his cheese and charcuterie expertise to the table, so you can tuck into a delicious cheese board which will be paired perfectly with a fantastic wine. When it comes to cheese there isn't anywhere else quite like it, you can choose from a variety of 150 cheeses including blue, black bombs, cheddars, smoked, soft, hard, creamy – every cheese you can think of!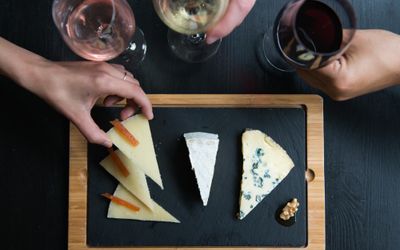 It is best known as one of the top wine venues in Brighton and Hove with a varied and interesting selection and a laid back and relaxed atmosphere, but are you aware that they also serve cheese. Why wouldn't they? Wine and cheese are a match made in heaven, and down at Ten Green Bottles you can pick up a four or six cheese sharing platter to go with your favourite tipple. They have a great selection of cheeses from the UK, France and Spain to choose from, allowing you to perfectly match your wine with your choice. What could be a better way to spend an evening than perusing the many wines on offer and sharing a plateful of delicious dairy delights at Ten Green Bottles.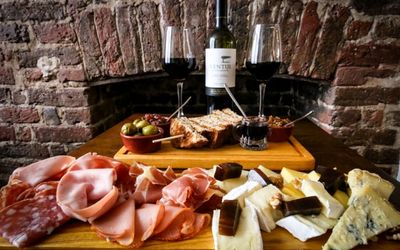 Bringing a slice of Argentina to Church Road, Café Malbec is a must for lovers of food and wine in the city. Their selection of traditional Argentinian empanadas and tapas is excellent, but search and you will find a selection of sharing boards. Cheese lovers will be drawn to the selection of four cheeses with Malbec sauce and crackers, but they should also take note of the "Provoleta con pesto de tomate". As one of the largest suppliers of Argentinian wines, Café Malbec also gives diners the opportunity to experience some superb wines to match with their delightful cheese feast. Café Malbec is a superb casual dining experience that is best loved with good friends and great conversation.