Furna: Fresher, finer and fabulous-er.
The excitement had been building for weeks. We'd walked past chef Dave Mothersill's Furna's gleaming white façade many times since it opened late 2022, wondering what lay beyond. Furna has knockings of Narnia: the frontage is slim yet perfectly formed, but the rear is where the modest 37 covers – and magic – reside.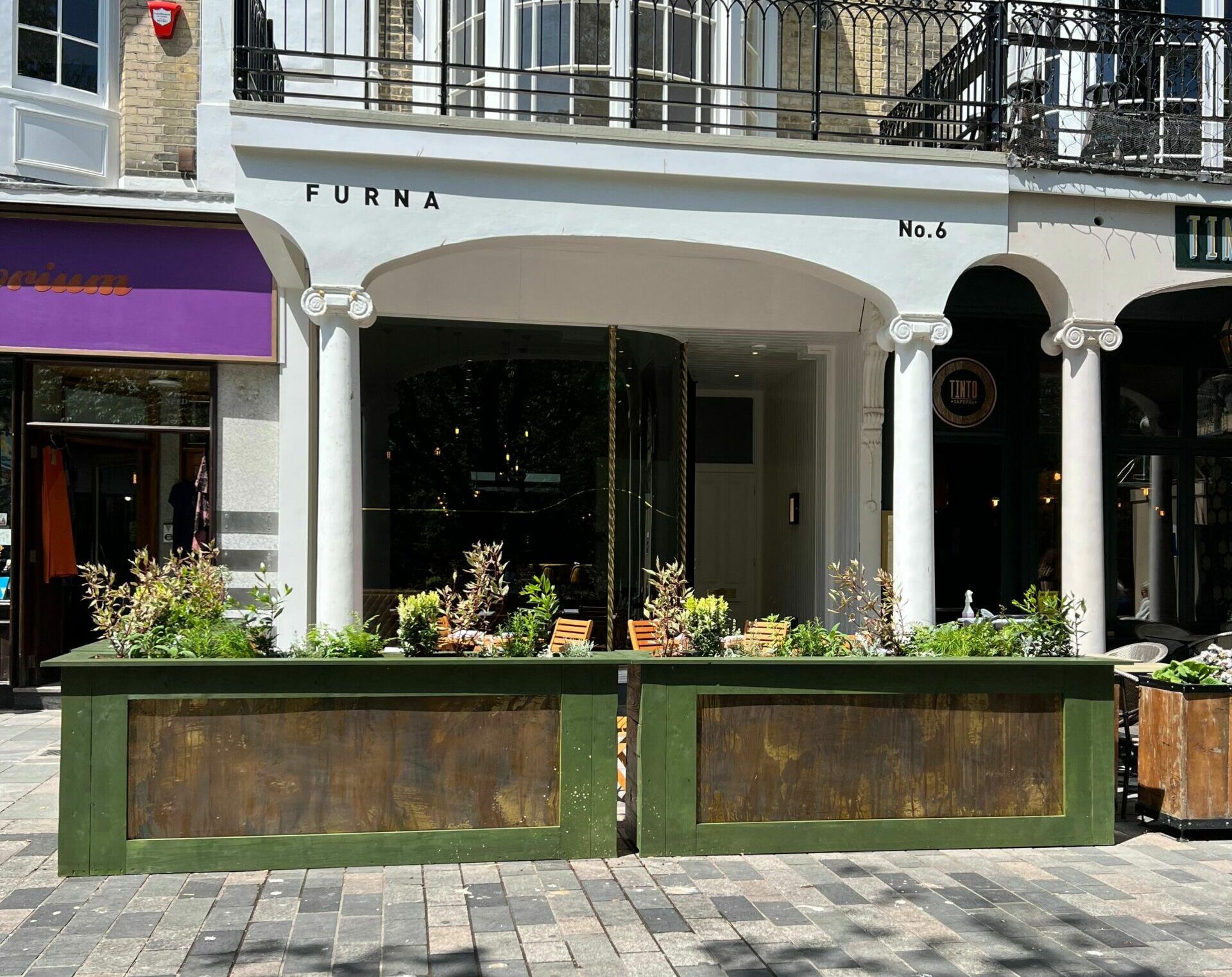 Belfast-born GM Ross (who worked for Gordon Ramsay in Bordeaux before Brighton beckoned) guided us to our table, which turned out to be the comfy counter seating that enables panoramic, bird's eye views of the kitchen and crucially, the chefs at work. It's something of the Royal Box at the Ballet, where the set design is sumptuous and the dancers are precisely choreographed: the team is poised, professional and perfectly turned out.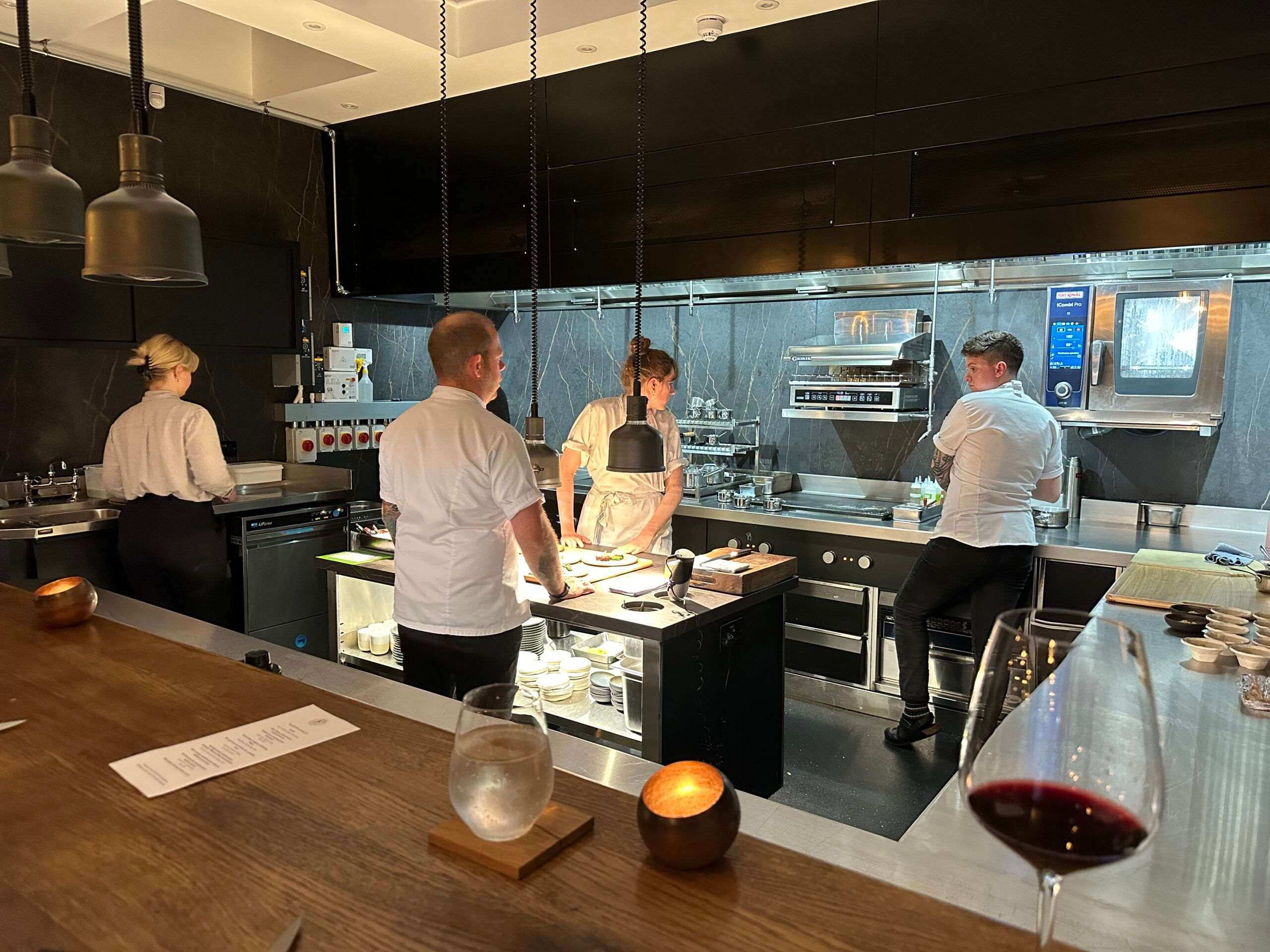 Owner and head chef Dave Mothersill (a stalwart of the city's restaurant scene, crafting dishes at Terre à Terre, The Salt Room and The Gingerman over the years) is the lead, conducting his orchestra as they carefully build dishes that are delicate, intricate and most importantly, a total joy to eat. 
The Tasting Menu
On point, Furna sources sustainable, seasonal, and local ingredients which direct an ever-changing tasting menu. Despite their insistence of an emphasis on simplicity, one look at each dish hits home the ambition, confidence and expertise of the team. There is a wine-pairing option for each course – on our dinner visit, this amounted to seven plus 'snacks' to start – and we'd highly recommend diving in deep. Each course is presented by the maker, and each glass of wine is explained by the sommelier.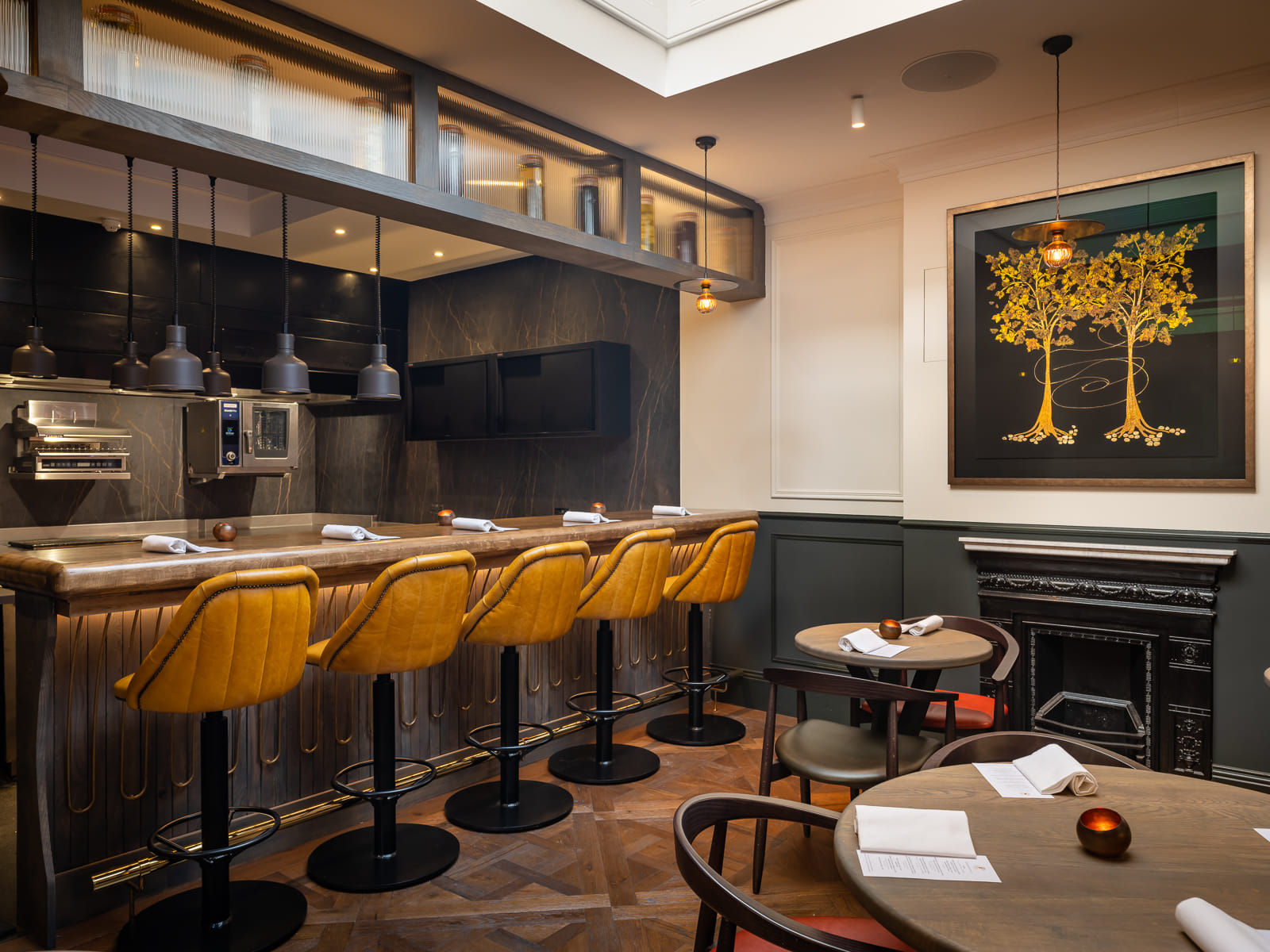 This all might sound uber posh and perhaps daunting but, believe you me, Furna is all about a relaxed setting, comfort, and experience; each plate and bottle is revealed matter-of-factly and at ease. 
Tonight's special specials
On our end-of-July Thursday evening visit, the menu was presented to us upon arrival. One of us had the full meaty monty, the other, the pescatarian array (this actually only amounted to one change: the beef to celeriac).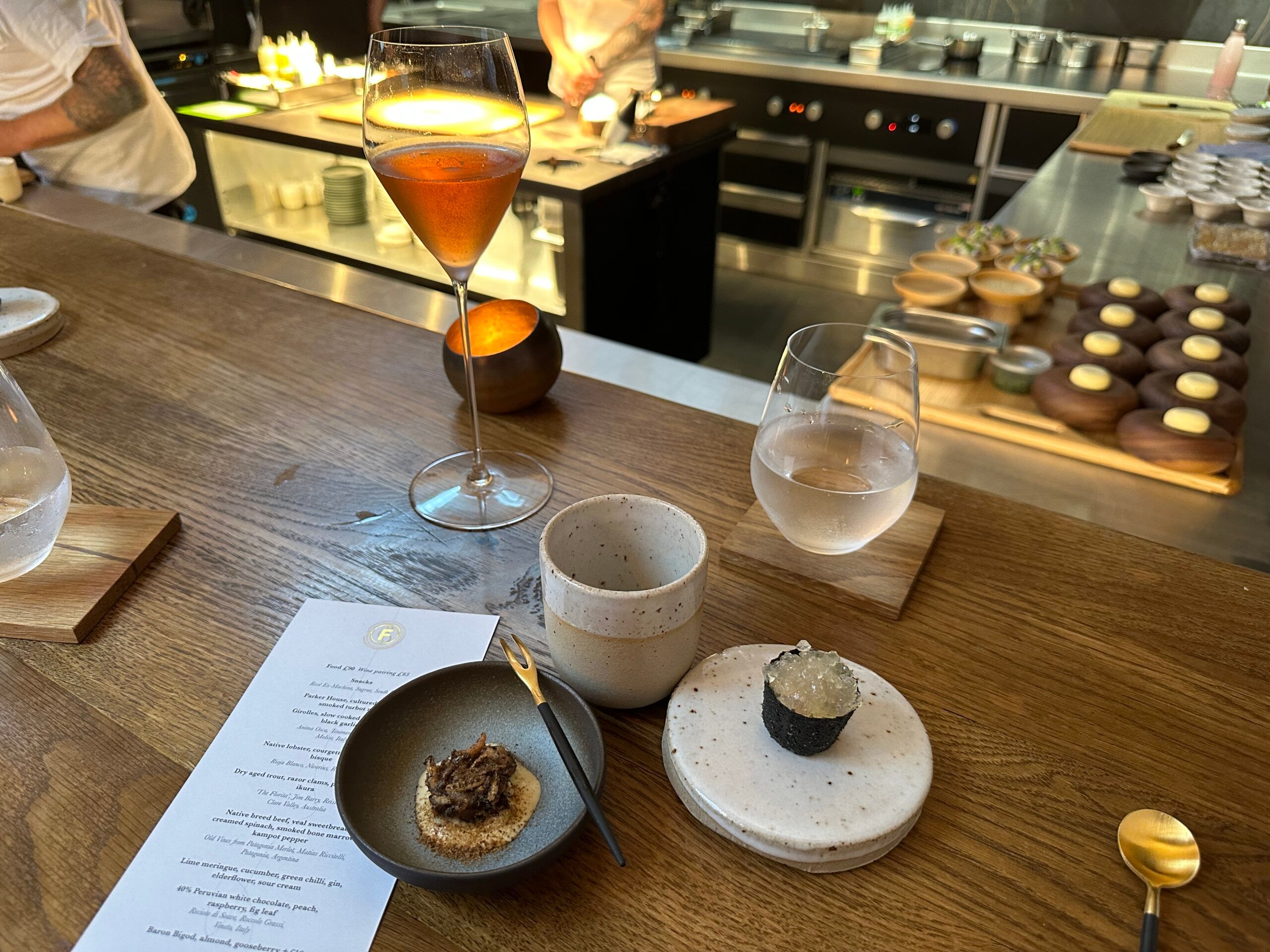 To whet appetites, the chefs kick things off with what they call 'snacks'. Resembling nothing like the Pringles and Bombay Mix we'd rustle up at home, the Furna ones included squid in brown rice and beef tartare. These are mouthfuls of magnificence, paired with a glass of local Sugrue South Downs' Rosé Ex Machina, which sparkles on the tastebuds almost as much as the snacks. A Parker House Roll appeared soon after; soft inside and sweetly glazed out, sculpted to tear and share and scoop up the accompanying three cultured butters. It is, naturally, some of the best bread and butter we've ever tasted and set the tone for what was to come.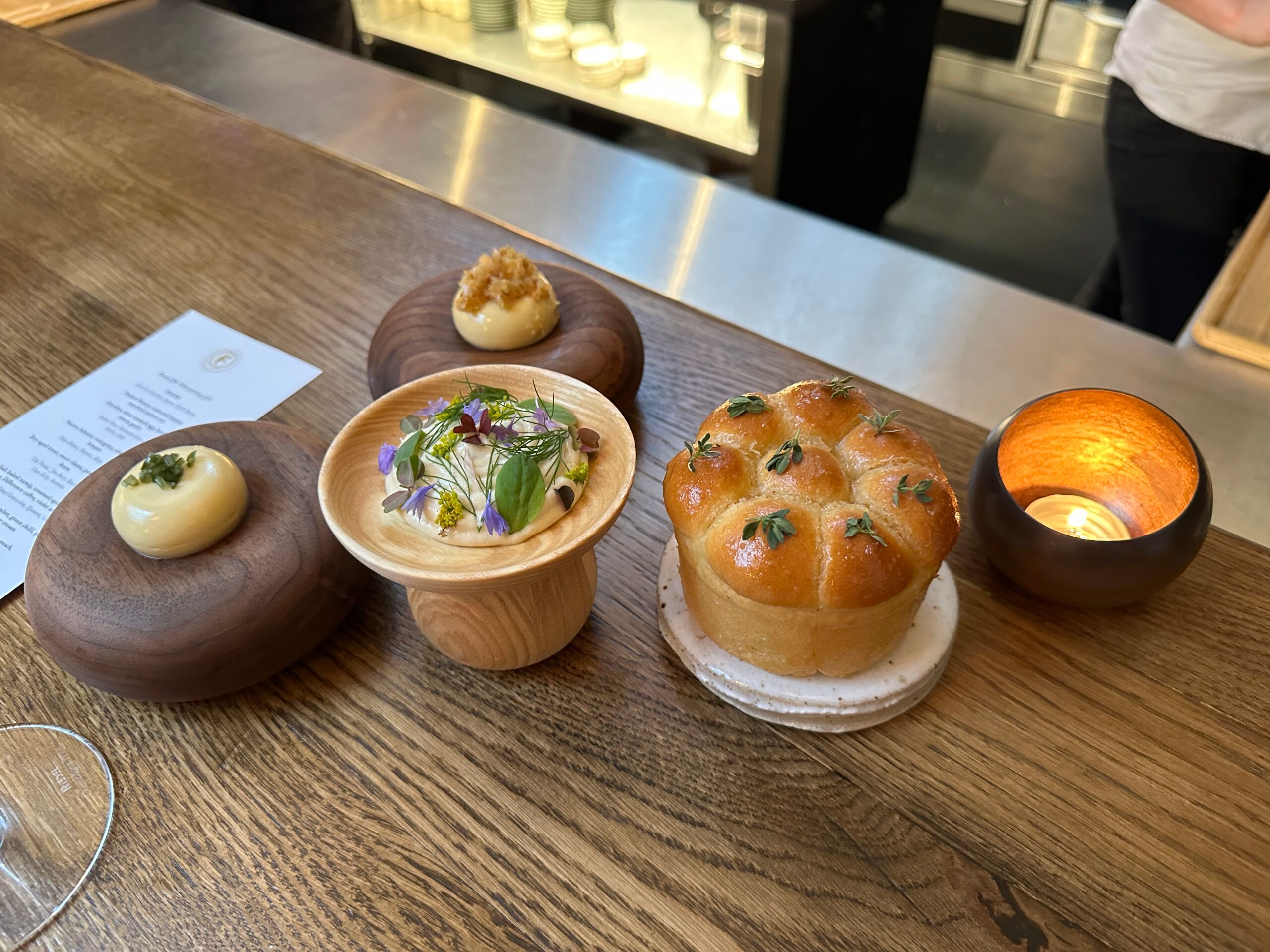 If you like your girolles (chanterelles) garlicky, rich and saucy then the small plate of these fine mushrooms with black garlic, slow cooked egg yolk (which oozes over when spliced) and lardo will be right up your street. The silkiness of the dish is offset beautifully with the paired Anima Osca Tenimenti Grieco white wine, which is refreshing and crisp.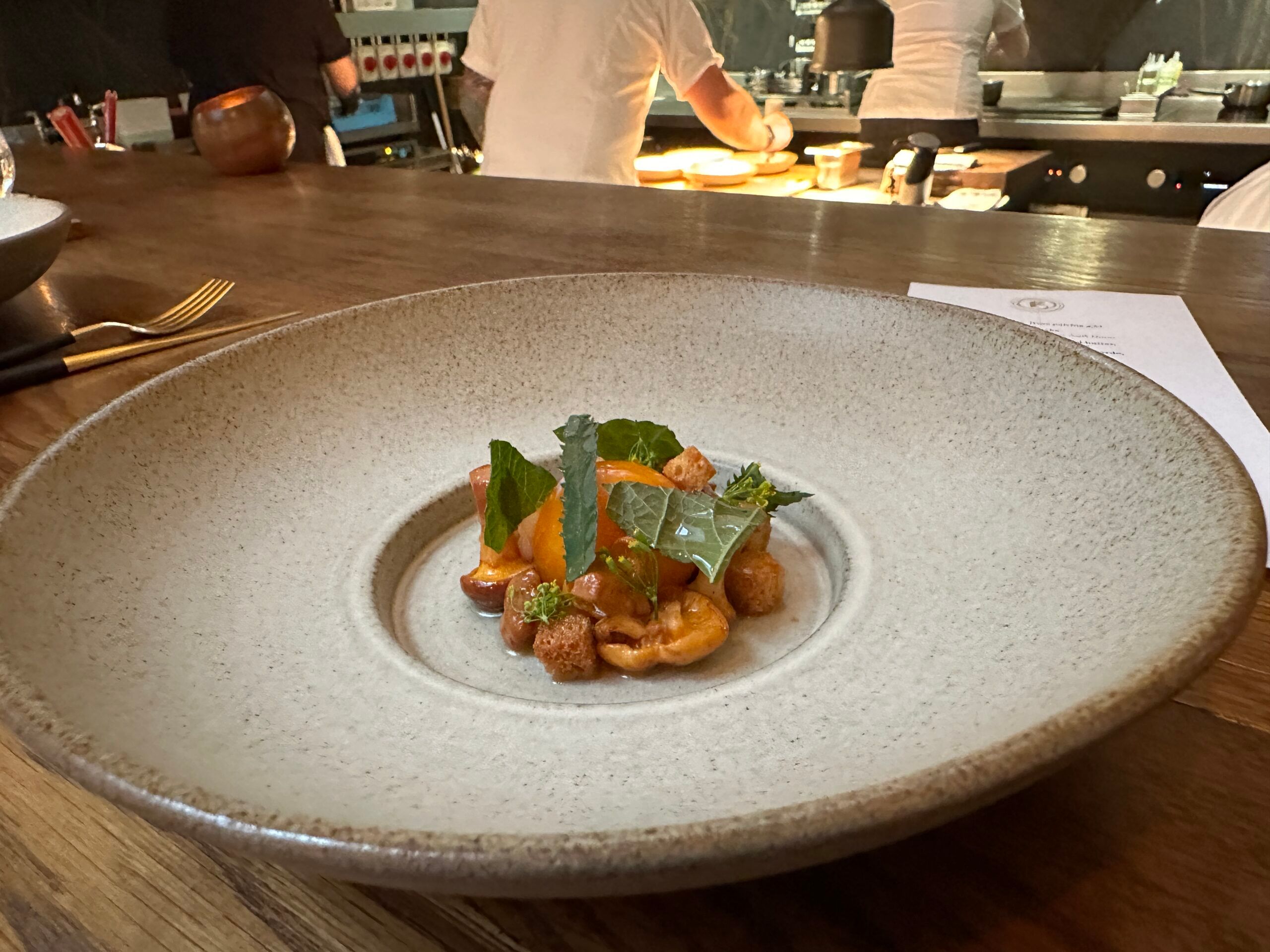 A delicious white Rioja set off the next plate of courgette flower stuffed with lobster mousse and prize cuts atop a bisque with elderflower. This is good, really good.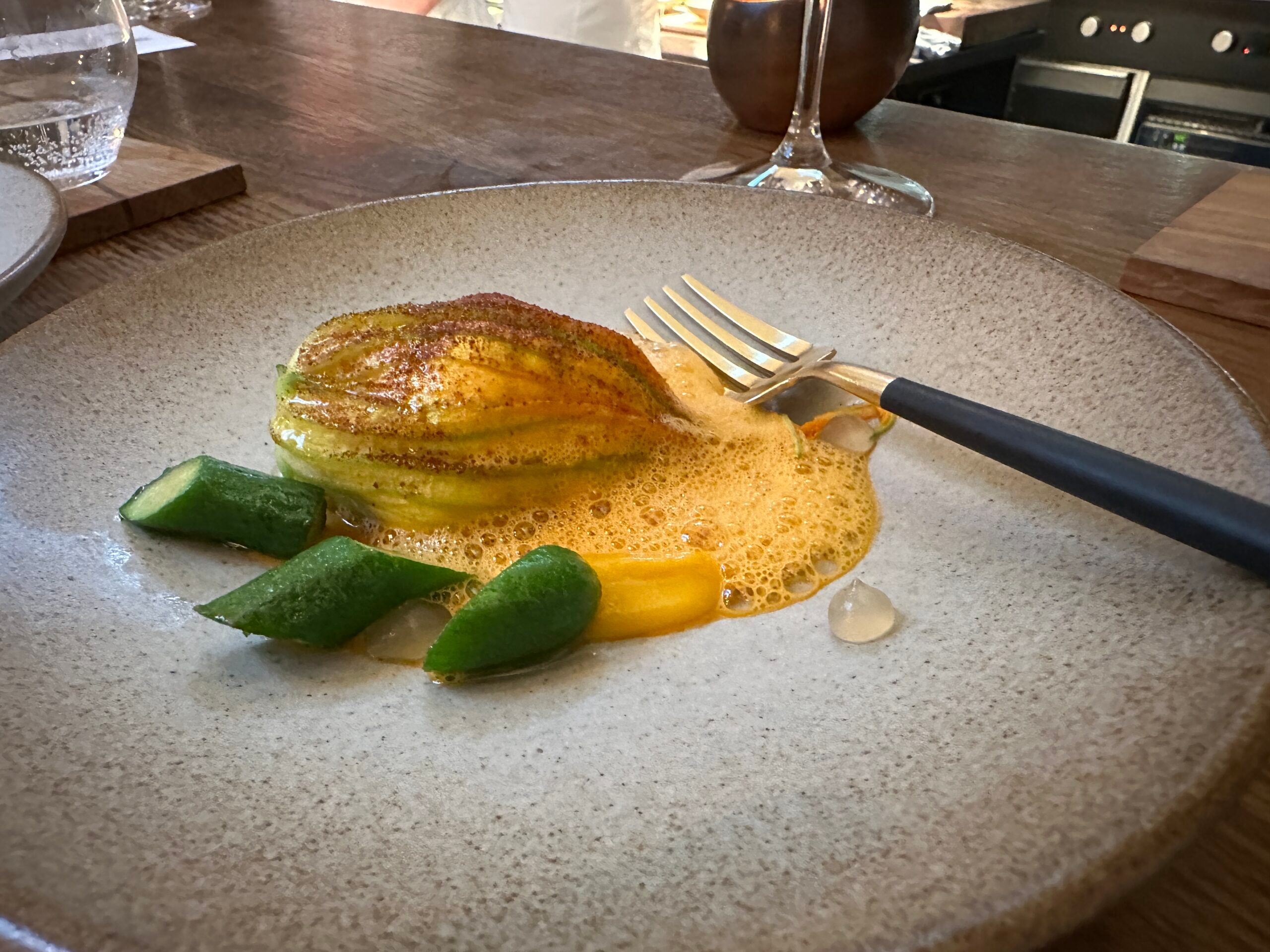 And it got even better, as the dry aged trout with a delicate but rich pea, samphire and ikura (salmon caviar) 'sauce' arrived, layered with flavours. We were compelled to ask how fish could taste this good and were let into the 'slow cooked at 38 degrees under a grill' secret.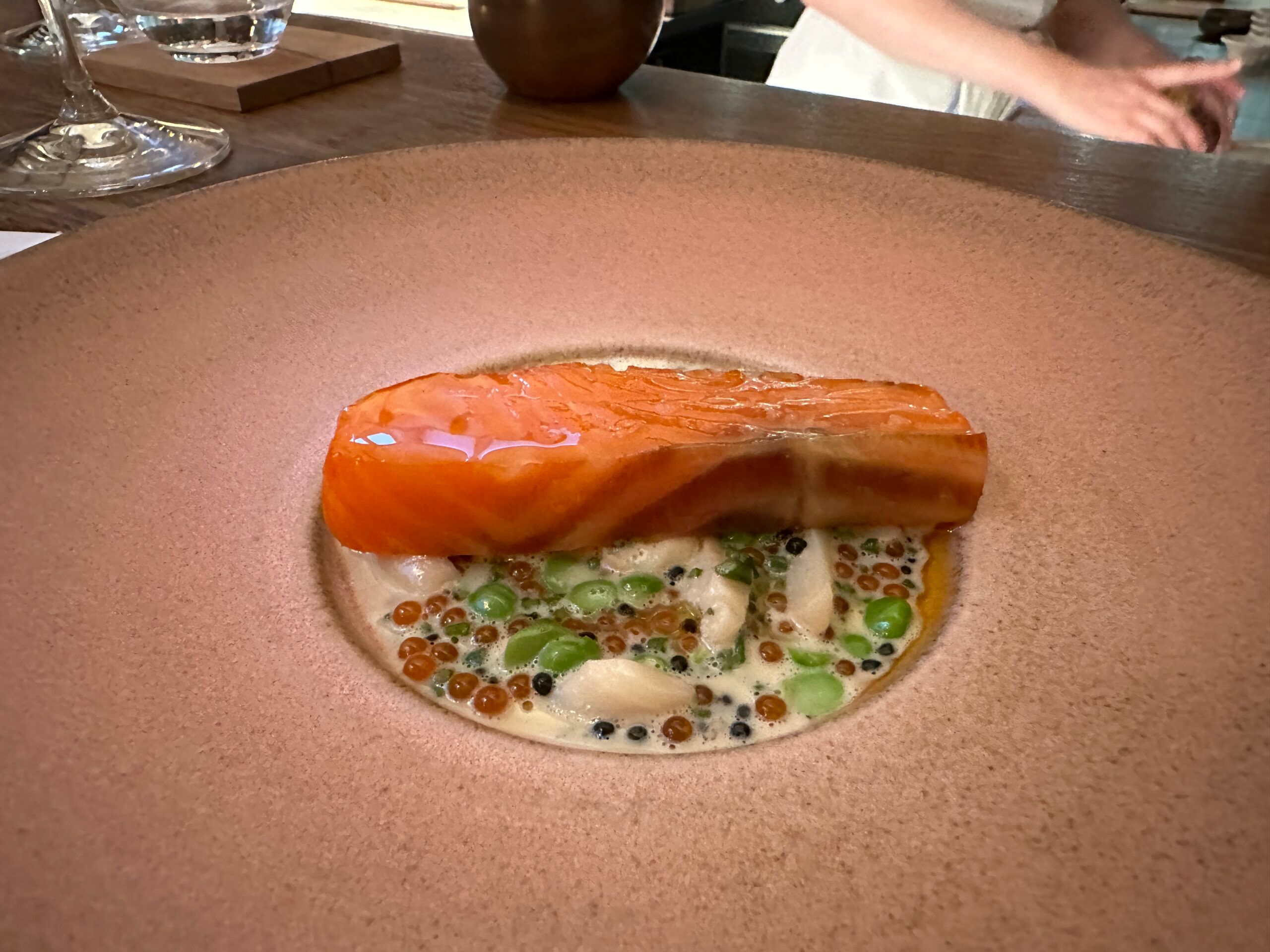 Moving on to the meat, the beef with sweetbread, creamed spinach, smoked bone marrow and Kampot pepper dish with a Patagonian Merlot was out-of-this-world – this might look like a more familiar dish but it was ramped up to the extreme. Everything just tastes better than you would expect, and the attention to detail and flavour of each ingredient comes to the fore. We're told the base for the jus is Jerusalem artichoke rather than onion, and a stem sits on top of the beef. We don't know how this works, but our tongues were in full support.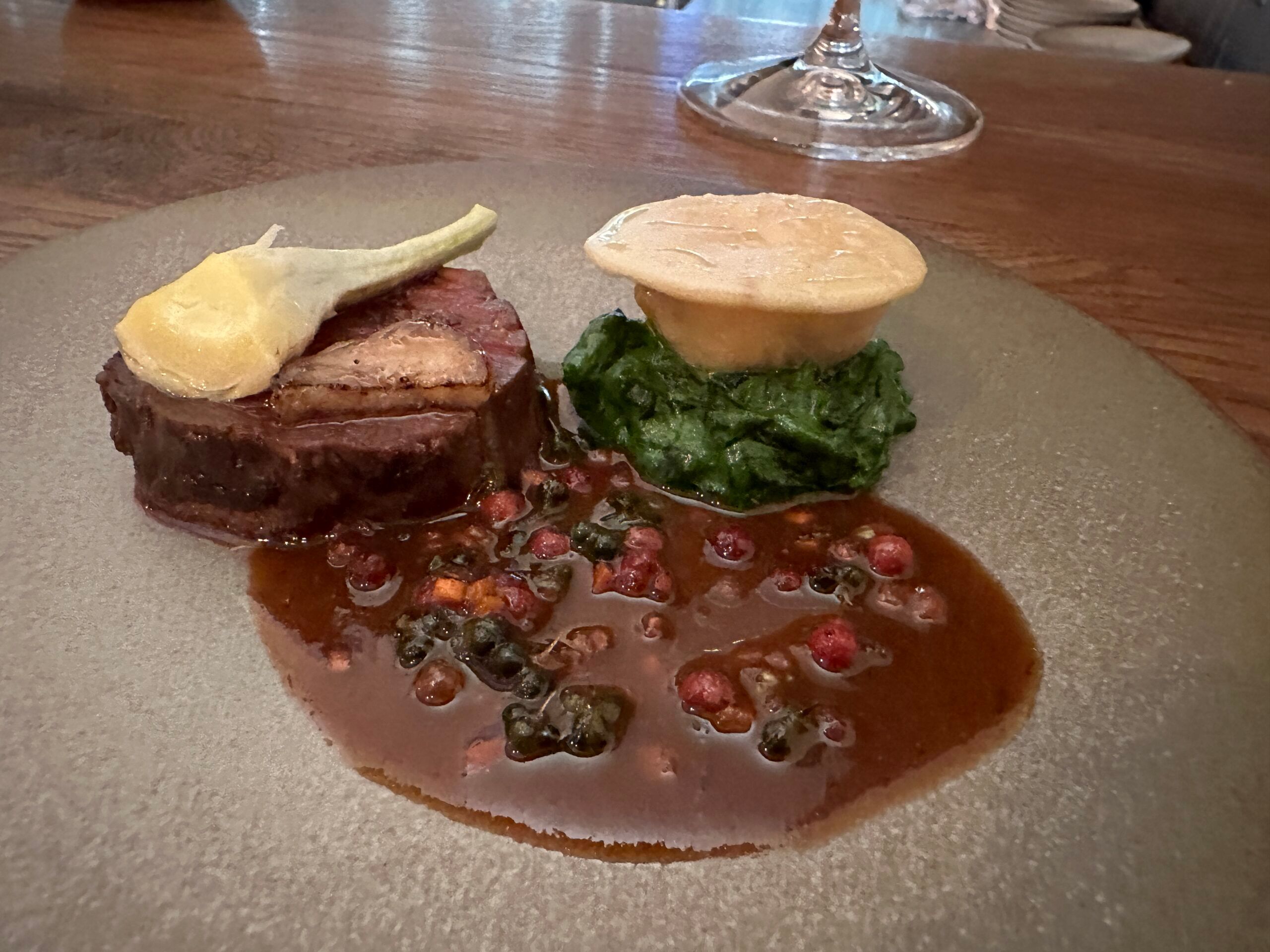 Sweets for my sweet
Presumably presented as a palette cleanser, the first of two (yes!) desserts was a lime meringue with tiny cucumber pieces, green chilli, gin, elderflower and sour cream. It's wonderfully refreshing and spicy at the same time and gears you up perfectly for the sweeter final dessert of 40% Peruvian white chocolate, peach, raspberry and fig leaf. We're told white chocolate usually contains far lower cocoa content, and this explains why the Furna version is so naturally rich and smooth, matched with both the fruit, and the Italian Recioto di Soave dessert wine.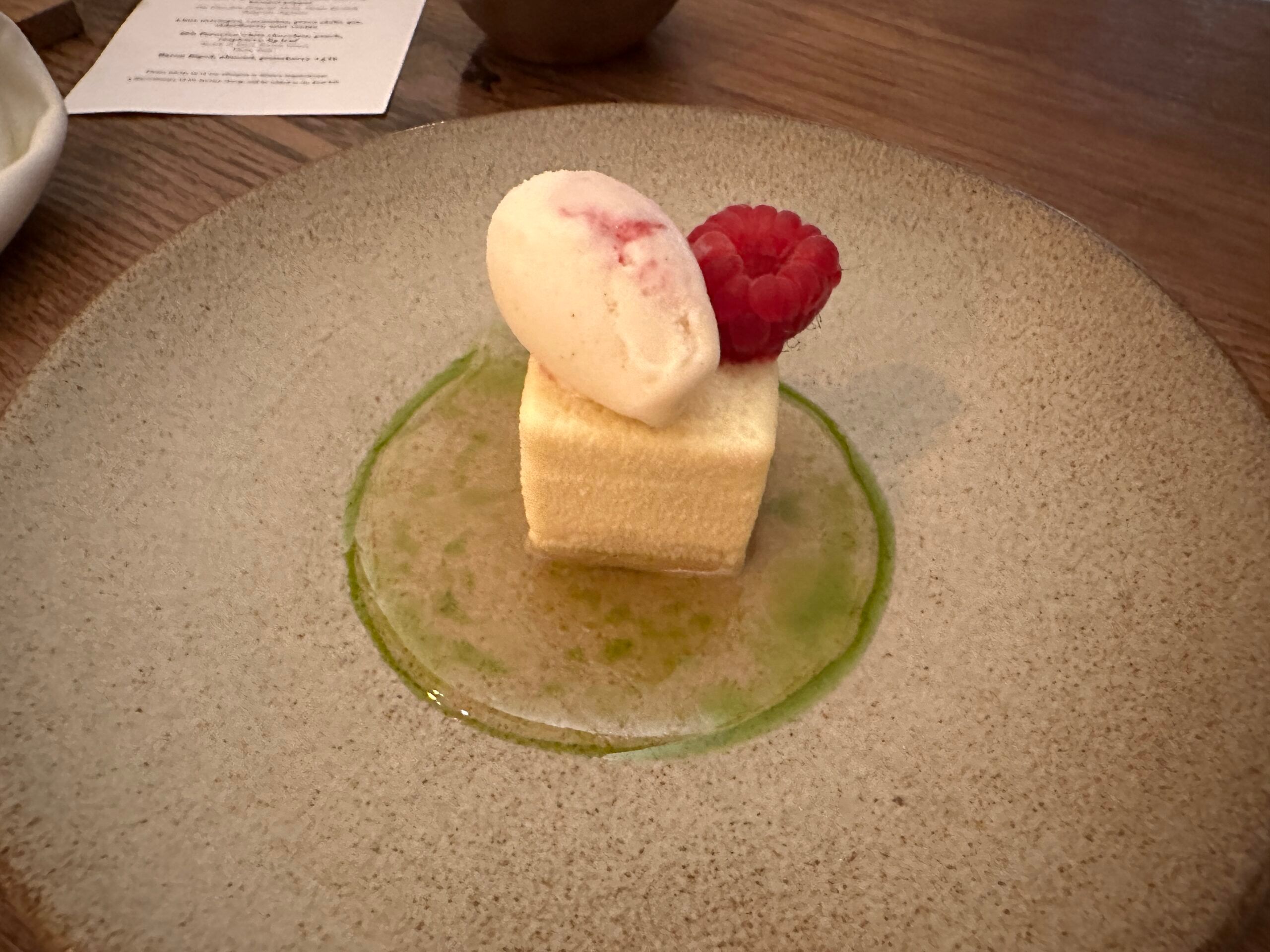 We are so lucky to have chef Dave Mothersill's Furna in Brighton. What a night we had – a true journey, where the food and wine take centre stage, experience is paramount and the team are top of their game. Go and be wowed, and go again – the constant menu changes make a fine excuse to Furna.