Gastronomical Expectations
Who needs meat when there are so many delicious vegetarian dishes that Food for Friends create? Not me.
Food for Friends opened in 1981, and were the very first vegetarian restaurant to open in Brighton. They were awarded Brighton's best restaurant in the Brighton Foodie Awards in 2012, and were included in the Good Food Guide in 2014.
Let's just say they have a pretty good reputation around Brighton, so we did have high expectations, which I'm pleased to say were met.
They are located in central Brighton, on Ship Street in The Lanes, amongst other well known restaurants and pubs,. so it's a great place to begin your night, or just stop by in the day for a 2 course lunch or an afternoon tea.
It was a lovely sunny evening when I visited Food For Friends for the first time with a good friend. It was the first night of the 2014 World Cup, so there was a real buzz in the air.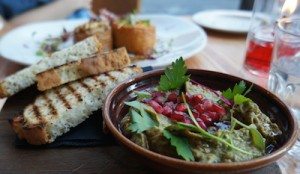 I first thought it was just because everyone was excited for me as I was going to Food for Friends, but I soon realised that was just me that was excited about dinner, and my friend.
When you walk in you are greeted by friendly staff at the bar, and there is a small bench along the window to sit if you need to wait for a table. The walls are decorated with delicious canvas photographs of some of their food, and the white walls and wooden tables give the restaurant a light and airy feel.
We were seated in what I would say was the best seat in the house..
..right at the tip of the restaurant next to the floor to ceiling windows, perfect for people watching on the street. Our waitress kindly advised us of the specials for the evening, which included a starter and a rum cocktail that night.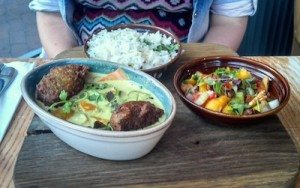 The menus are well labelled for people with dietary requirements, with plenty of vegan and gluten free options.
For drinks, their wine list is extensive, with a fantastic selection of fine wines from all around the world.
They have a choice of cocktails to choose from that are their "own creations, alongside classics with a cheeky twist."
As you may know already, my friend and I both love a good Sauvignon Blanc. We chose the Apello, from Marlborough, NZ, which was full of gooseberry flavour, with loads of depth and delicious notes. This does leave a small dent in the pocket at £8.45 for a large glass, but trust me, it's totally worth it.
We were given complimentary olives and sun dried tomatoes to nibble on while we looked at the food menu. The olives were plump and very flavoursome, as were the sundried tomatoes.
For starters we decided to share the Baba Ganoush with gluten free bread, and the duo of sweet tofu pockets with mirin and tamari dressing.
This is actually the first place in Brighton that I have been to that make their own gluten free bread and I was very impressed.
If you have ever tried making your own gluten free bread, you will appreciate how hard it is to get it right without it ending up like a brick.
It was light and fluffy, with a crispy crust and had poppy seeds throughout.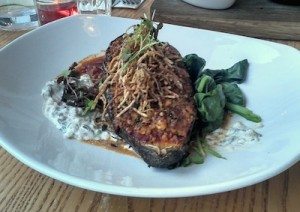 The baba ganoush was garlicy (in a good way) and had a nice amount of spice, with pomegranate seeds and pomegranate molasses drizzled over top. The earthiness of the baba ganoush was complemented by the sour pomegranate seeds and the sweet molasses.
The tofu pockets came two ways – one with shitake mushrooms, rice and pine nuts, and the other with butternut squash, tofu and miso rice. They both had exciting textures and different flavours, and I loved the sesame mirin dressing that came on the side.
For the mains I ordered the coconut curry with vegetables and sesame dumplings, and my friend ordered the marinated roasted aubergine stuffed with bulgur wheat, berries and pistachios.
The presentation was stunning and everything smelt really good, which is always exciting when you are trying something new. My coconut curry was mild, and with delicate notes of lemongrass and the rice was speckled with toasted coriander seeds. The vegetables were plentiful and included carrot, courgette and aubergine ribbons, and fat juicy peas, and the sesame dumplings were kind of similar to falafel with a lovely savoury flavour.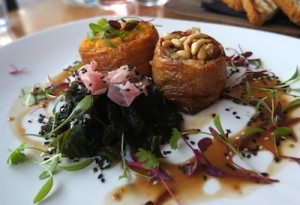 The marinated roast aubergine was large, with a variety of textures and came with a rich, homemade, slightly spicy tomato sauce. The aubergine was perfectly cooked, and had yummy crunchy potato shreds on top.
The dessert was what I had been looking forward to all week.
It is not often that you get to choose something from the dessert menu that is gluten free and isn't sorbet or ice cream. Not that either of those things aren't delicious, but it is nice to have something made specifically for you sometimes, it makes you feel special.
Molten chocolate pudding with salted caramel sauce, cardamom ice cream and crushed pistachios.
This was my idea of heaven – the pudding was soft, but held together well, and when I pressed my spoon into it, the rich, molten chocolate just oozed out of the middle.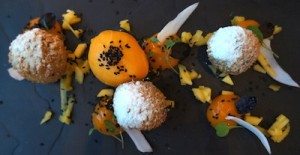 The salted caramel sauce was spot on, with just the right amount of salt and the cardamom ice cream provided a cooling contrast.
There were little flecks of micro coriander on the slate as well which was a nice touch.
My friend ordered the coconut and black sesame arancini, with fresh coconut and a trio of mango.
The arancini was crispy on the outside, and the mango sorbet and puree were both refreshing.
It was a very summery dish and a lovely end to the meal.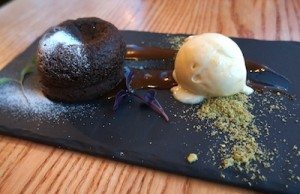 We had a wonderful evening at Food For Friends, and I was very satisfied with their gluten free selection.
Whether you are vegetarian, vegan, gluten intolerant or none of the above,  I would highly recommend heading down there for a creative, and exciting gastronomical experience!
Amazing food, friendly and professional service, and a lovely relaxing environment, Food for Friends will make you think twice about calling vegetarian food 'boring' ever again.
Guest review courtesy of Belle Du Brighton