Small Plates, Big Flavour – One Night at Lucky Khao
It was a balmy September night when we walked into Lucky Khao, a sleek and modern eatery at the heart of the Old Steine, lemon grass scenting the air and neon lighting radiant against the humidity of the day.
We were shown to our table and immediately got swept up in the ambience – everyone around us is thoroughly enjoying each other's company and, of course, their plates of food. It feels like an easy place to have an easy conversation, a place where we are encouraged to forget about the troubles of the day and have a bit of fun already.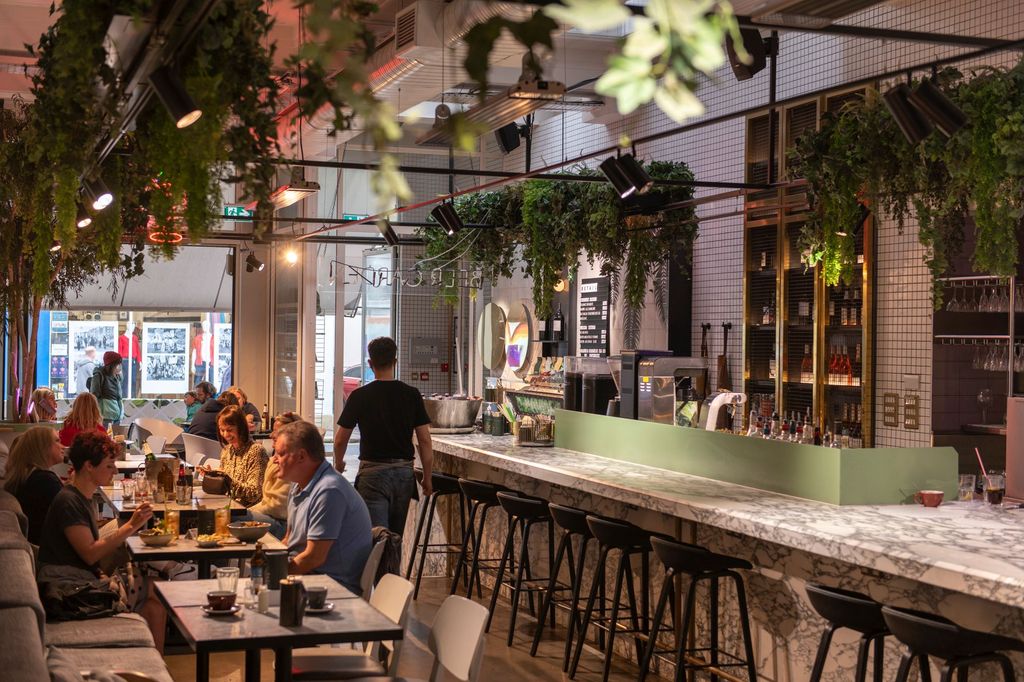 The waitress first explained how to order from the menu. This is no ordinary lark – the trick is to order to share because food shared is food loved. The menu was then broken down from a spice perspective with extra care taken to work out our maximum Scovilles.
The hottest thing on the menu is the English Veg Som Tam and of course, we had to try it. From the outset it was clear that a lot of time and effort has gone into the menu and it has paid off – the dishes have depth and variety and have fused their influences seamlessly.
It is predominantly meat and fish but, don't worry vegans! Even the vegan plates have been planned to offer maximum taste and variation.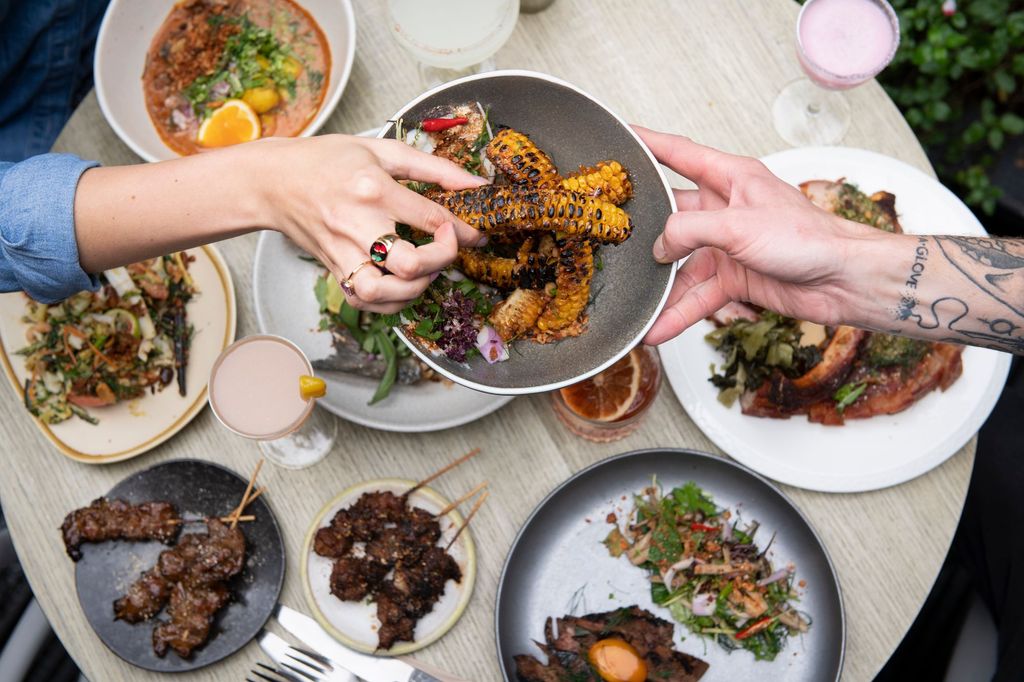 We ordered two 'Stick' plates, a curry to share, two 'For The Table' plates, two 'From The Grill' plates and finished up with one dessert and two spoons. It would be fair to say that it was a lot of food for two people but with a menu as exciting as this, it felt right to indulge our eyes and hope our stomachs could keep up.
  Luckily for us, Lucky Khao brings the same attention to their drinks menu, making it as noteworthy as the food. Cocktails with varying degrees of ABV and an extensive mocktail list for the non-drinkers.
"We started with the waitress' recommended Ugly Baby (garnished with Jelly Baby) and Life's a Peach (no Jelly Baby for you) and spent our pre-food conversation debating over whose cocktail was best.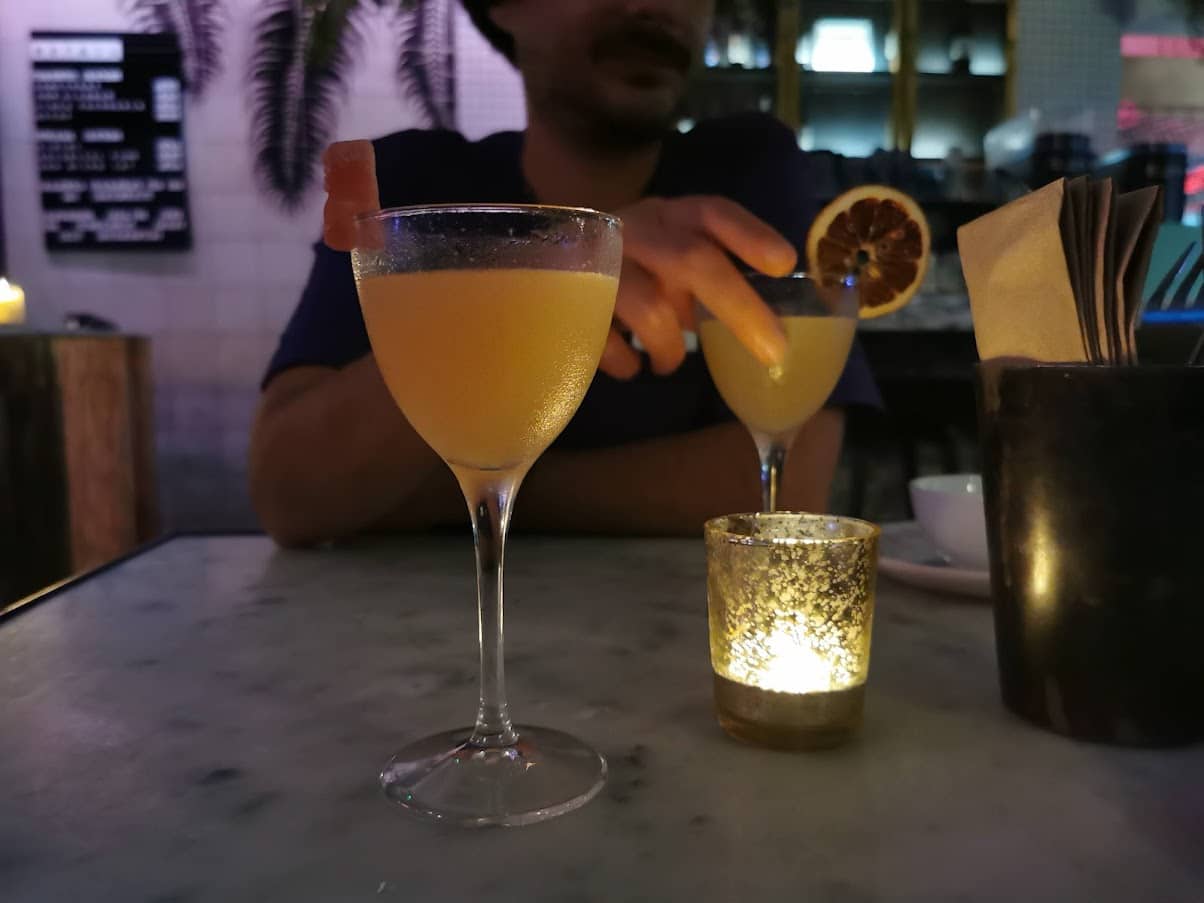 Later we tried the Snapdragon, famed for its spice reducing qualities, which comes with a side of popping candy. This you can either put in your drink or directly on the tongue but a word of advice: if putting in the drink don't put it all in at once as there will be a miniature popping candy explosion, really fun but not good dinner etiquette.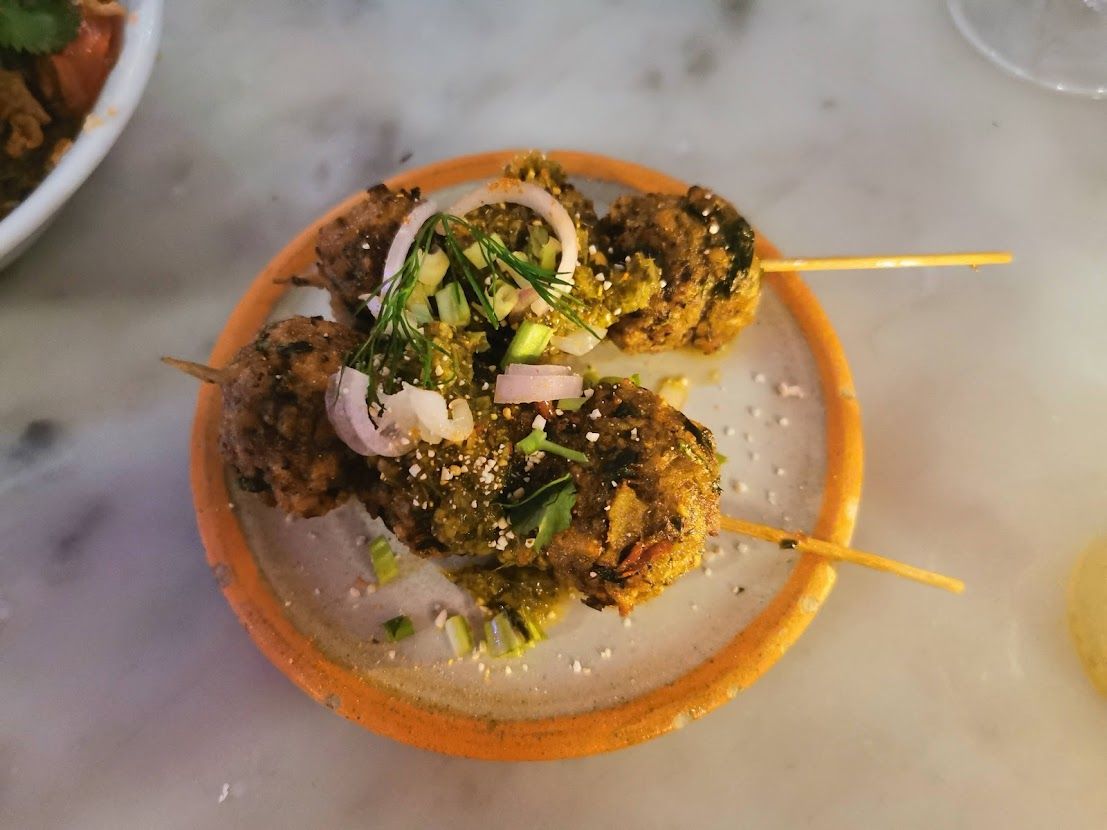 The food comes out the kitchen at a steady pace, first up is the sticks: Grilled Rice Cakes with Mushroom Larb (vg) and Chilli Fish Sauce Chicken (non-vg). My idea of rice cakes is flat discs for diet days but here they are transformed into a sticky coating for whole mushrooms, marinated and fried then served with an enticing drizzle that is made of citrus and spice. In a sign of dishes to come, the chicken is crunch-coated and succulent to the bite, be prepared to get messy.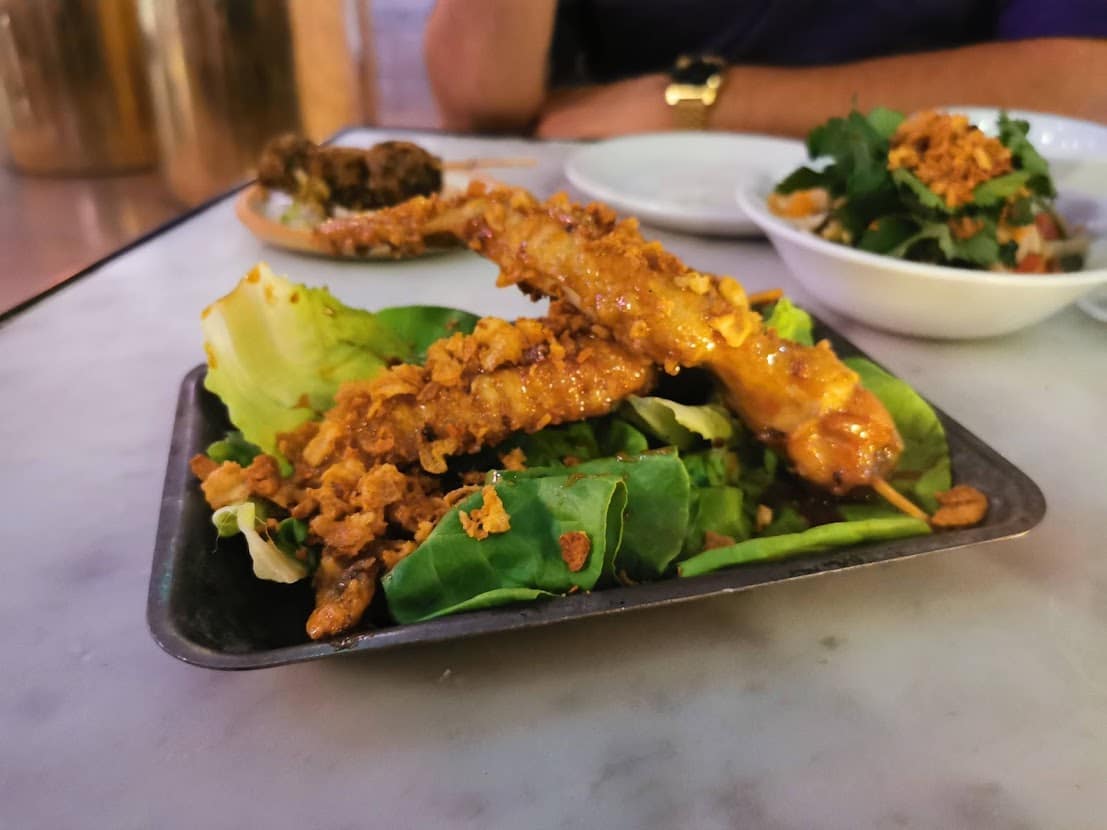 The English Veg Som Tam accompanied the sticks and acted as a Picante palette cleanser between bites; the English vegetables were made to shine on an ambrosial backdrop of flavour.
The Yellow Curry (vg) follows and is a real show-stopper. In a town not lacking in Thai curry, this stands out as one of the best. You can taste the expertise with each mouthful and the combination of wild garlic and smoked aubergine makes heaven seem close enough to touch.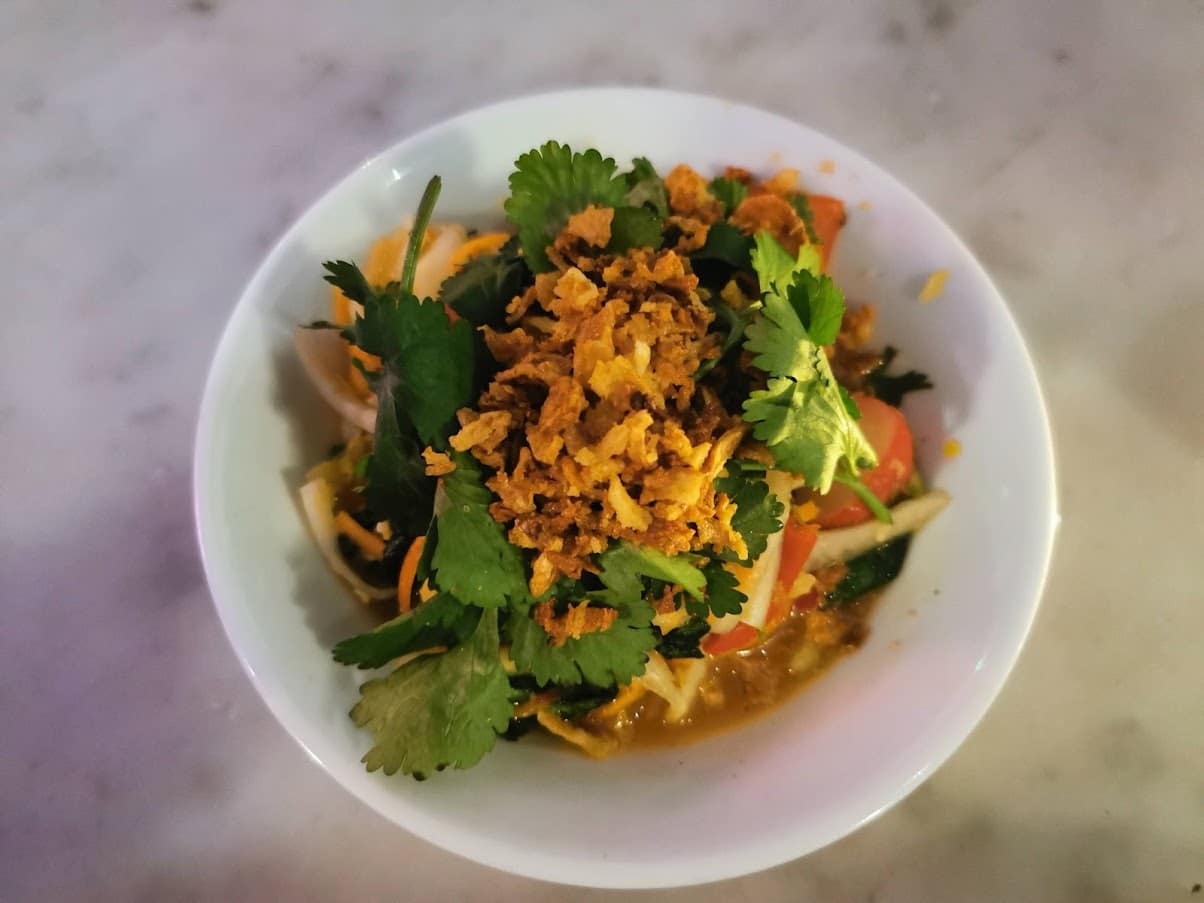 The White Corn Ribs with Coconut Cream and Phirk Larb (vg) were the biggest surprise. The smear of coconut cream enwrapped in aromatic herbs and fresh chilli. The corn presented in malleable rib-like slices, baring their teeth, waiting for you to bite. In the words of my dining partner 'I don't know how they made sweetcorn taste this good'.
Our grill plates come out last meaning they had our full attention. First up was the Cola Ox Tongue with Bitter Herbs, Fermented Red Chilli and Yolk. This is a melt off fork affair, it may be finished on the grill but it feels like it started in the slow cooker. The yolk and the bitter herbs adding to the richness of flavour, the yolk creamy and the herbs cutting through in symphony with the sweetness of the cola marinade.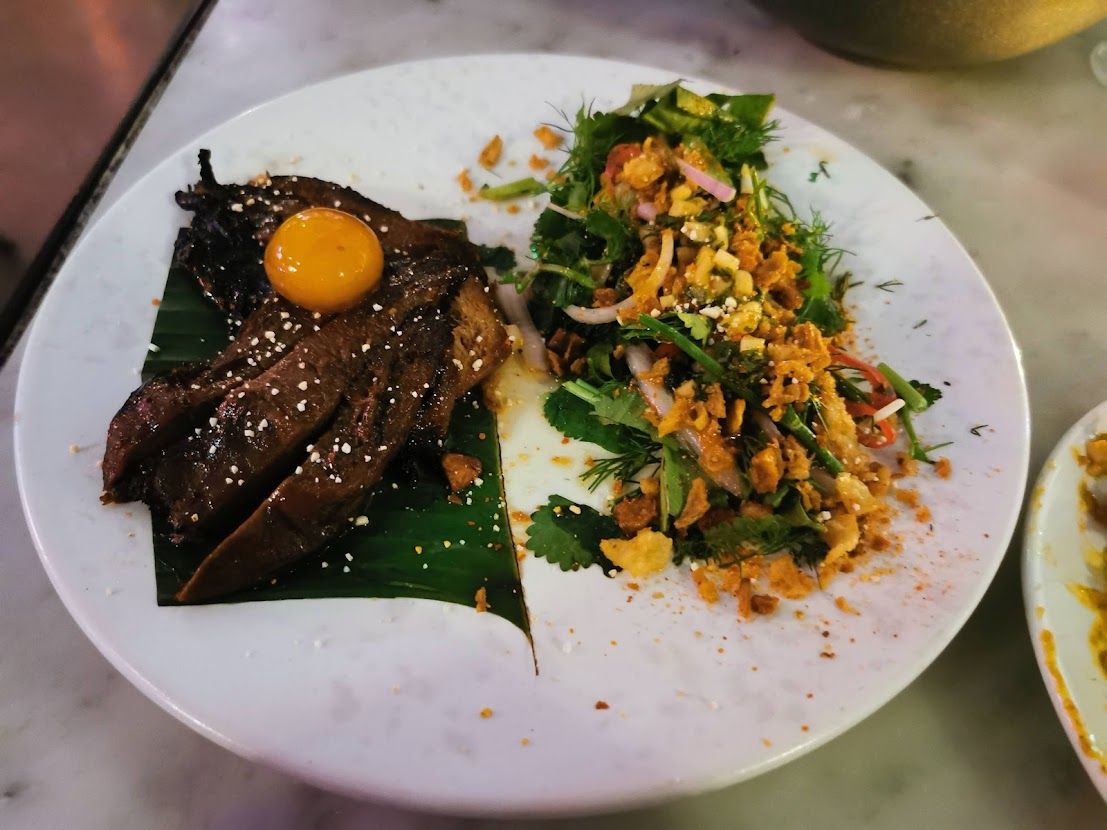 This was followed by the Soured Tomahawk Pork Chop with Ginger Sauce and Fish Caramel. The menu said huge and now I believe it. By this point we abandoned cutlery and ate with our fingers, there was variety even in this singular dish, each bite revealing a new layer of flavour. A must for meat lovers.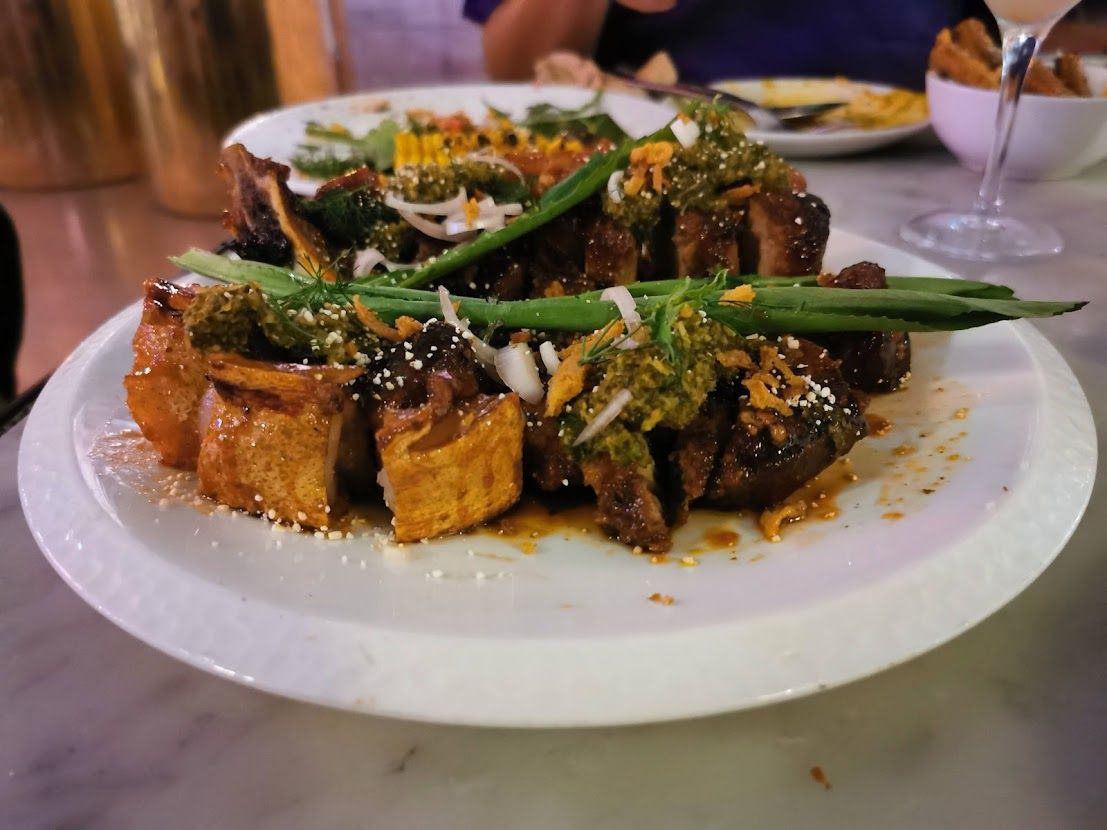 Our dessert came out slowly while we tidied ourselves up. A hedonistic bao was deep-fried and served with coconut ice cream. This is a vegan treat that fulfilled and satisfied our post-dinner sweet tooth.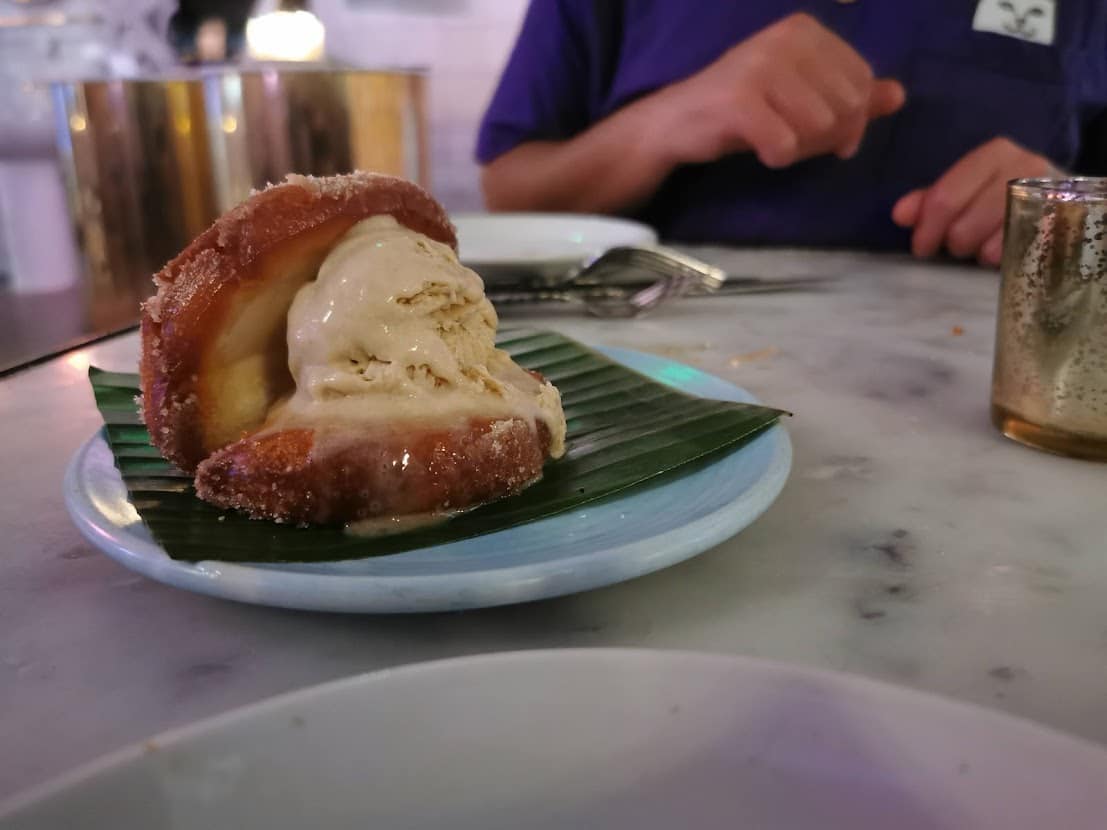 As we left we were asked by the ever-attentive staff if we had enjoyed our meal, all we could say was 'yes' and 'it was amazing' our ability to talk left somewhere at the bottom of an empty grill plate.
Lucky Khao brings Thai BBQ to the heart of the Old Stiene. With its effervescent atmosphere, future-forward cuisine and kick-ass cocktails, it deserves that spot on your must-eat places in Brighton.