The adage small yet perfectly formed is often overused but to hell with it, it's almost like it entered the English language just for Hove's gorgeous, bijou The Little Fish Market. Something of an antithesis to other venues' interior design maximalism, The Little Fish Market has opted for a Scandi-style stripped back white and light wood look, letting the food be the sole focus (pun intended). It seats just 20 per night, for one sitting at 7pm, where diners are delivered a sequence of carefully designed, curated courses simultaneously, and boy is it a treat.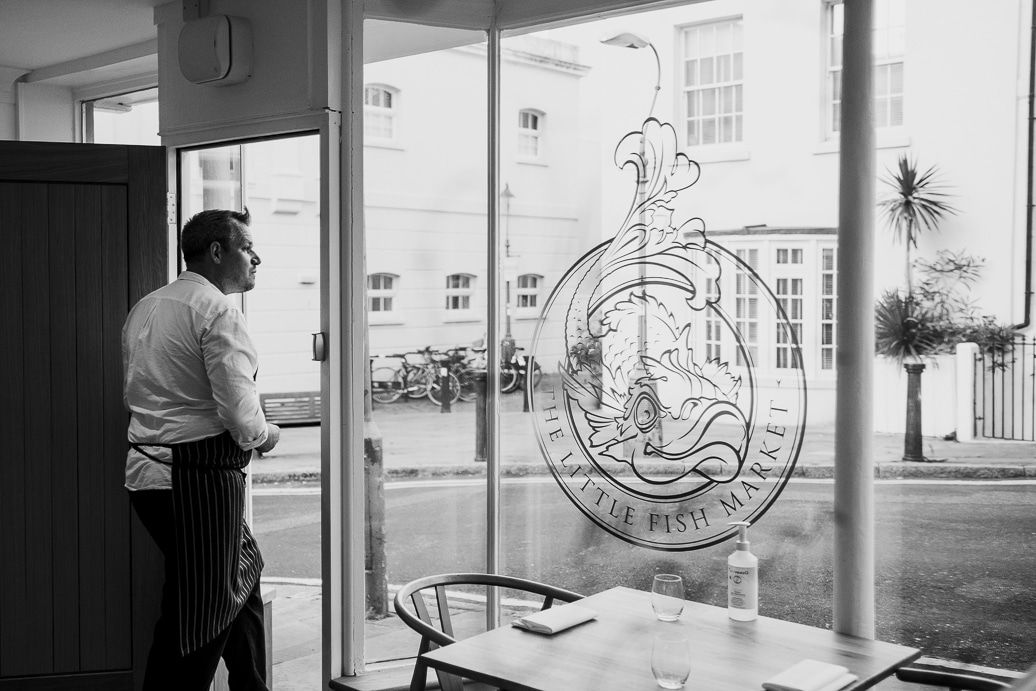 The Little Fish Market (the building was one once, apparently) celebrates its tenth birthday next year and has been wowing critics and customers throughout its reign as fab-fish go-to in the city. Head chef and owner Duncan Ray says he can sum up his cookery and presentation in three words: 'Precision, Restraint, and Simplicity'. Having said that, what you experience is a deep dive into what fish can truly be, do and offer and to the untrained palette, it's pretty complex. Each evening, around 12 courses are caught, conjured and crafted taking you on a journey through tastebud satisfaction. 
Playful pop-art
To whet the appetite, first to the table on our visit was a polished pebble, atop which perched a delicate seaweed crisp with wild prawn, ginger, walnut mayonnaise and coriander. Crunched in one divine mouthful, it's a burst of textures and flavours. The seaweed crisp offers a sea-taste of what's to come, the nutty mayo creaming its way along your tongue as the ginger adds zing to gently lift the succulent prawns nestling within. This course was served with a cheddar cheese Beignet with grated parmesan, warm and gooey in crisp, light pastry and ready to ooze cheese stuffing all down your chin. A nugget of moreish beauty.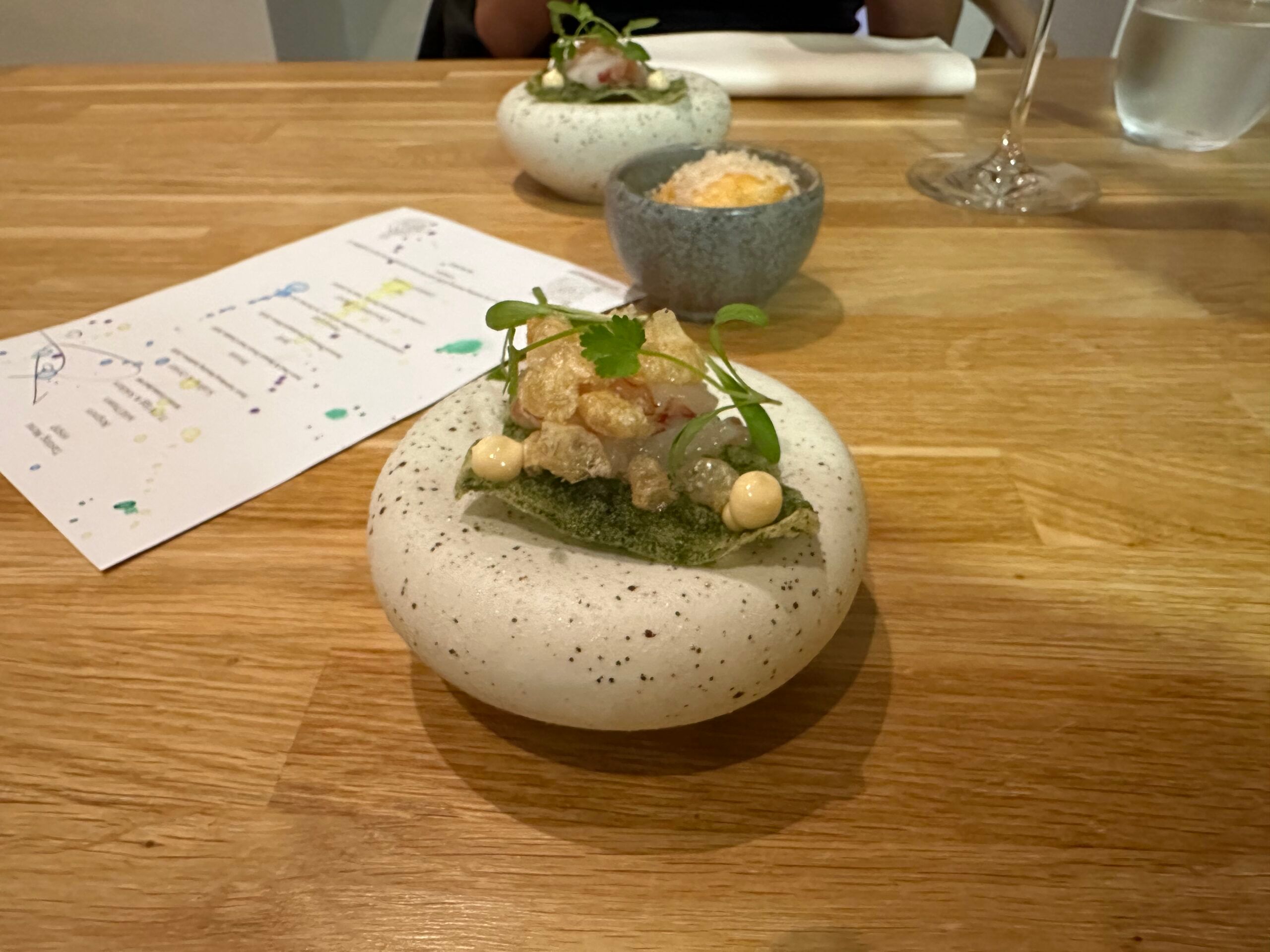 One of The Little Fish Market's most famous dishes appeared next: TLFM Egg & Soldiers. But don't be fooled, your eyes are deceiving you. It's a real eggshell, certainly, but filled with Jerusalem artichoke, egg yolk, smoked haddock, acidulated cream and passion fruit. This is, as you can imagine, a combination worthy of goddess status as you scoop each teaspoon from shell to lips.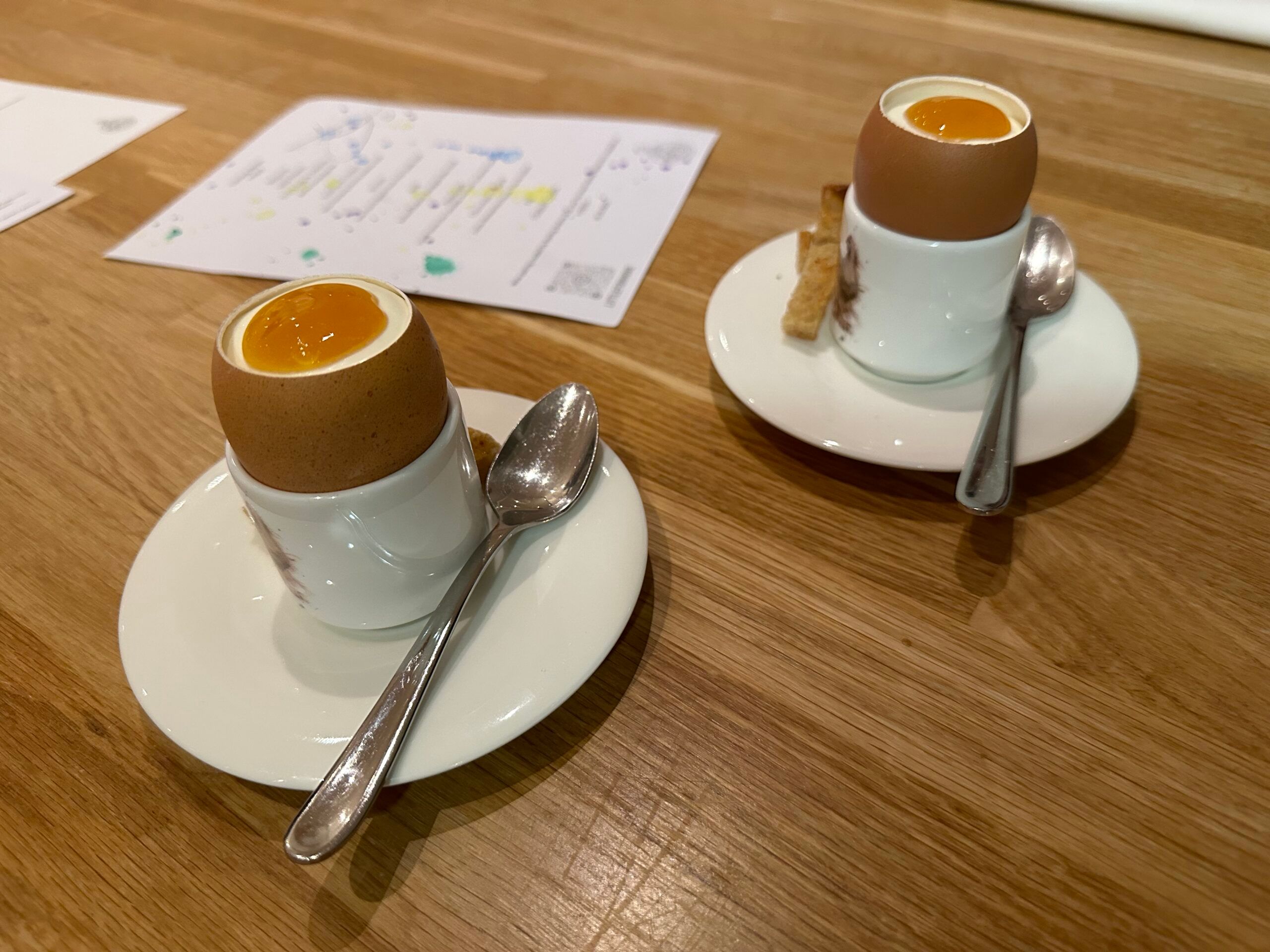 Not finished with the appetisers, entrees, snacks and amuse bouches (we'd lost where we were at this point, amid the oohs and aahs) a baked oyster with jalapeno dill and cucumber slid into view, warm and tingly with the smallest cubes of cooling cucumber we've ever encountered. How they create those without the help of The Borrowers is beyond us. Another delicious twist of flavour combinations gobbled in one. We could get used to this. And we are, as alongside this a silky-smooth oyster velouté envelops a roasted, hand dived scallop, which was perfectly seared on the outside and sweet and juicy in. 
The Big Catch
Bewildered about how the joy of the small dishes could be topped, the fish-fish mains emerged next. A generous slab of bream gleamed in the whiteness of the surroundings, with ribbons of pickled cucumber and a dollop of mackerel pate. Creamy and deeply flavoured, the pate matched perfectly with the vinegar-cooling-cucumber and perfectly cooked Bream.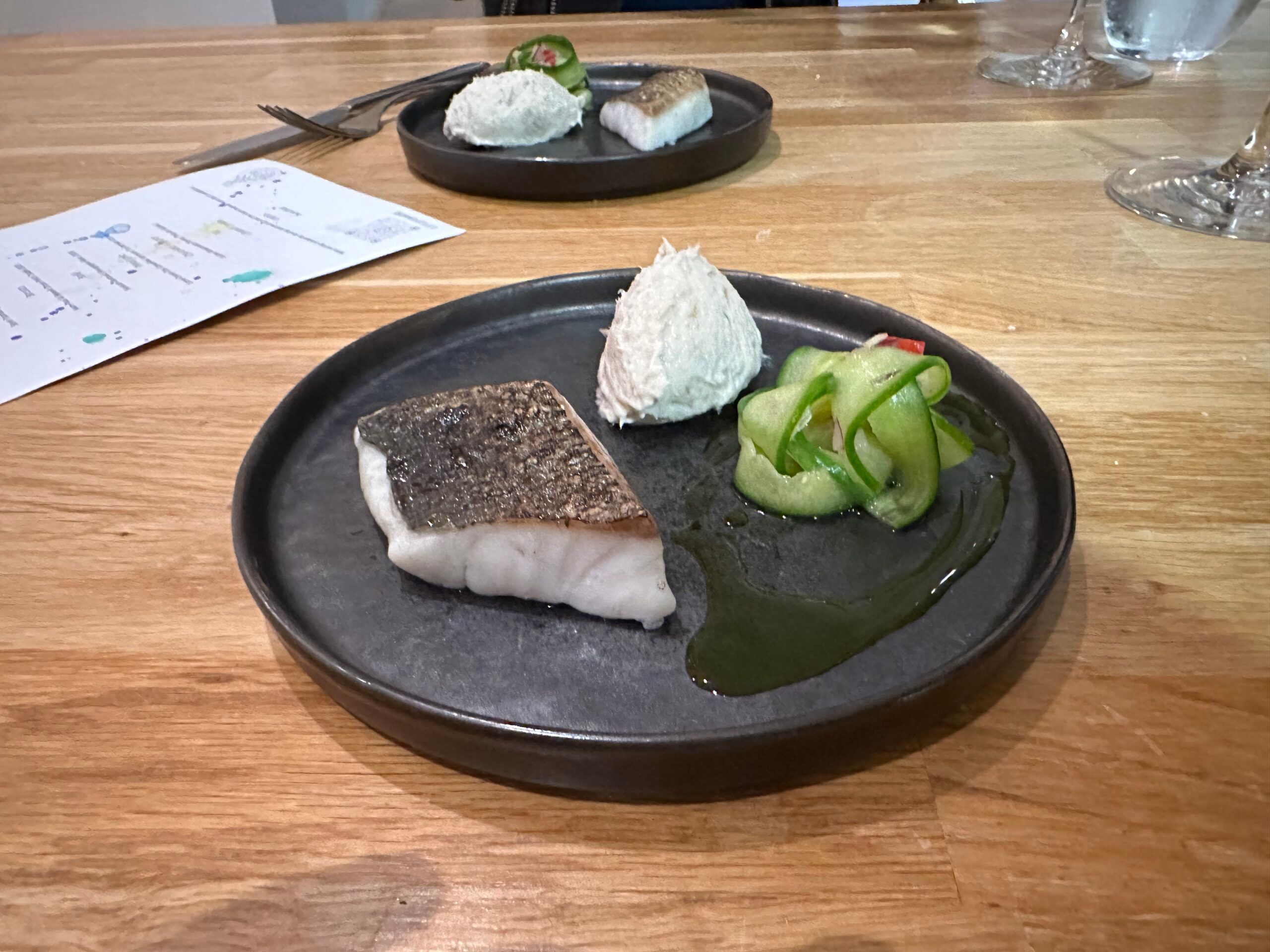 And as brilliant as that was, the Poached Brill was next: an artful plate of perfect presentation, bathing in a red wine caramel and roast chicken sauce with a ring of cep puree. A trio of mushrooms brought earthy goodness to the plate, contrasting with the delicate tartlet consisting of shallot marmalade, mushroom duxelles and a fried quail egg. This is Instagram-able food. This is elevated masterful food. This is Duncan Ray at his best.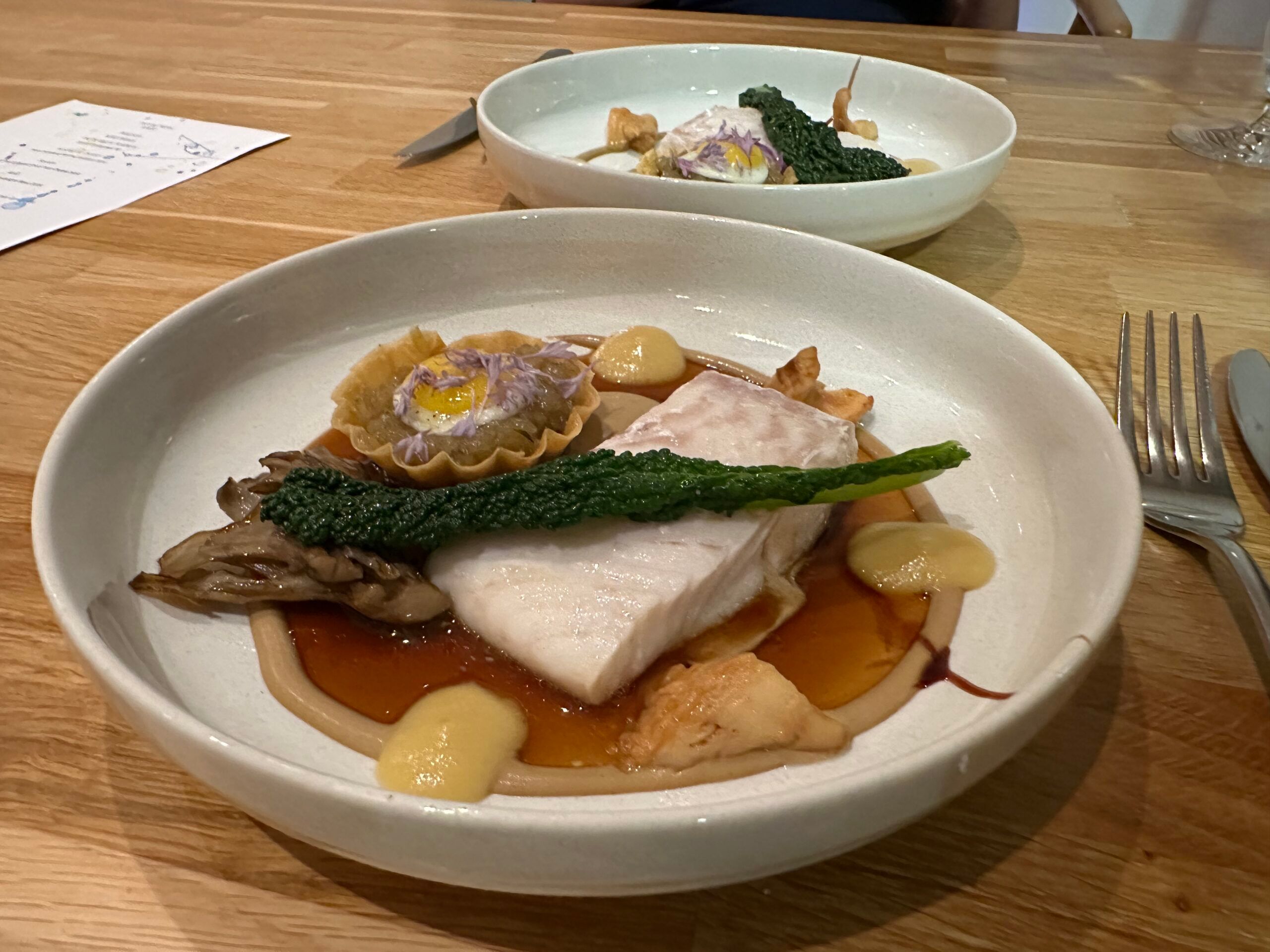 Chocolate and capers?
There's something fishy about The Little Fish Market desserts, and it doesn't involve fish of any kind. What is does focus on is herb, spice and fruit combinations that showcase the skill of the chef. A shiny round of indulgent Honduran 70% chocolate delice is peppered with capers on a praline base. Rich, smooth, surprising to the tongue and ultimately delice indeed. That it's served on a huge white plate just adds to the drama. Continuing the theatrics, the gingerbread ice cream, pineapple ice cream, mint, basil and dried pineapple resembles a flame-haired new friend, with the creamy quenelle of ice cream shining proudly among its minty-basil mates. It's a stroke of sumptuousness.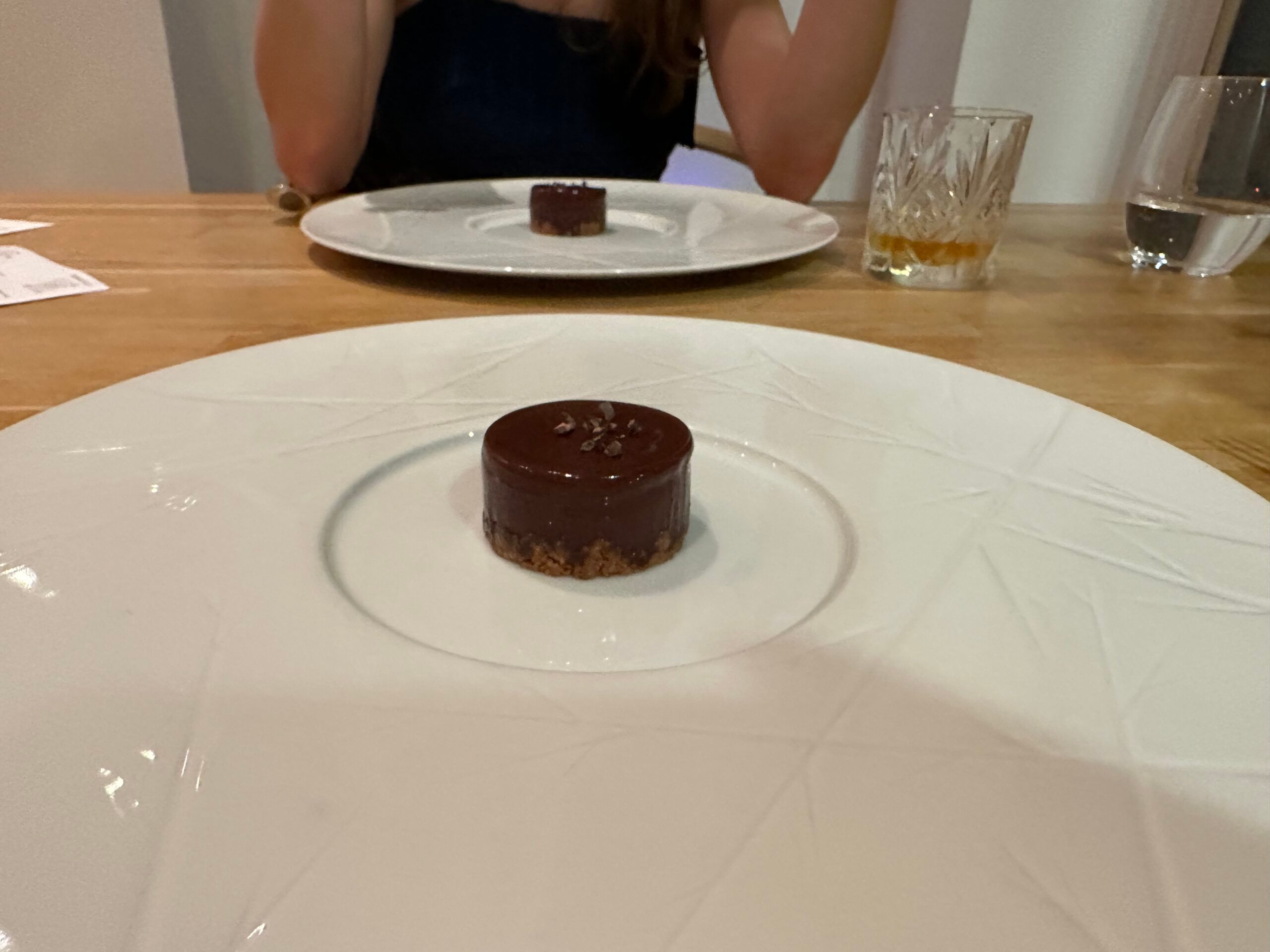 And to close the experience, squares of clotted cream fudge and Fig – Pate de fruit stand proudly atop raised white serving stands, willing you to sample and smile.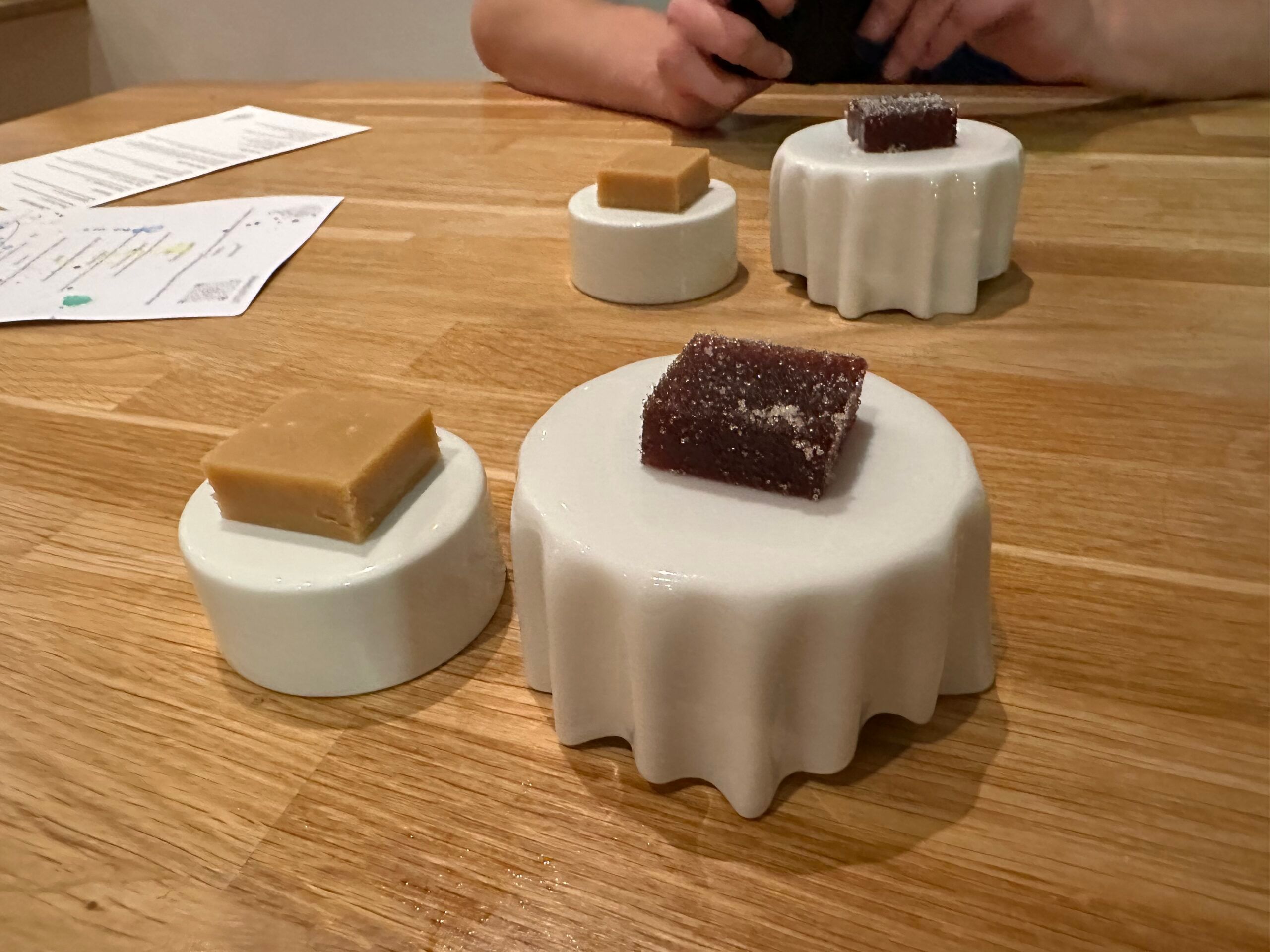 Wine pairing is available for each dish, and there's an enviable wine list if you want to pick you own. 
The Little Fish Market deserves its crown. We're happy it's here in our little city. Catch it as soon as you can.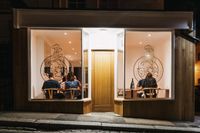 Want to know more about The Little Fish Market – Brighton?
Find Out More