I last visited Smorl's to write a blog in December 2018. I tagged along on a Brighton food tour before being thoroughly overindulged and may have even suggested Sarah and her brother Christian were trying to kill me with a food overdose.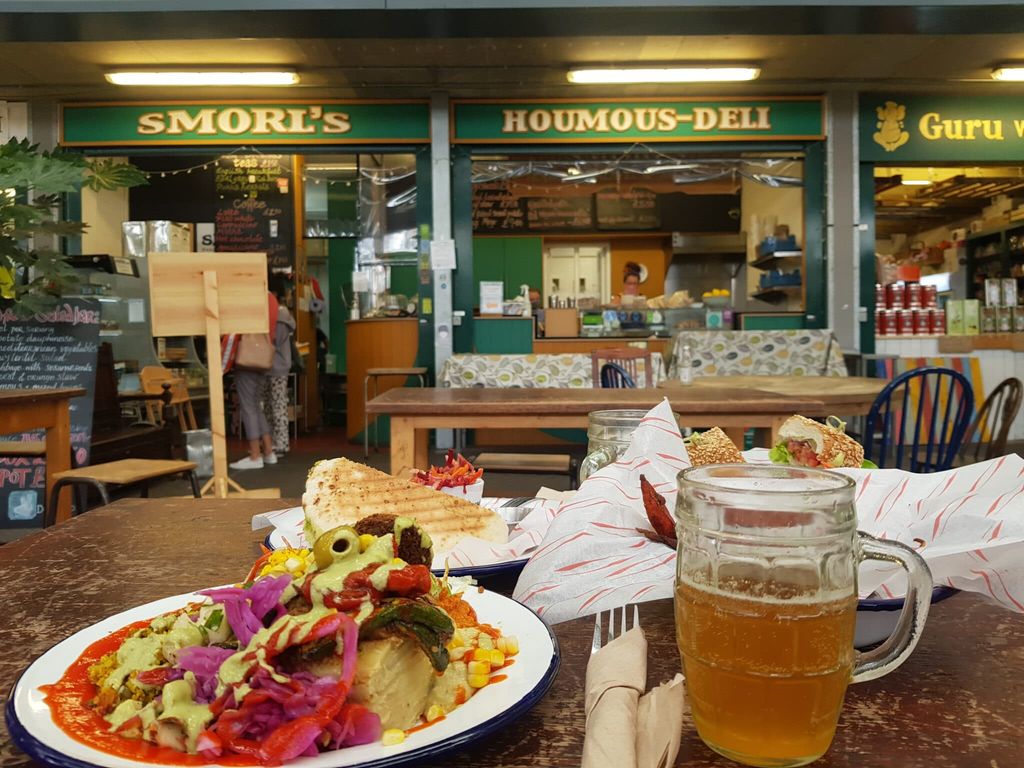 The truth is Smorl's has become a staple part of my eating habit, even during the various stages of lockdown there were ways of getting my falafelly, houmousy fix. During "the year that wasn't", Sarah continued to prove herself the queen of all things chickpea, coming up with new deliciously wholesome and comfortingly homemade dishes.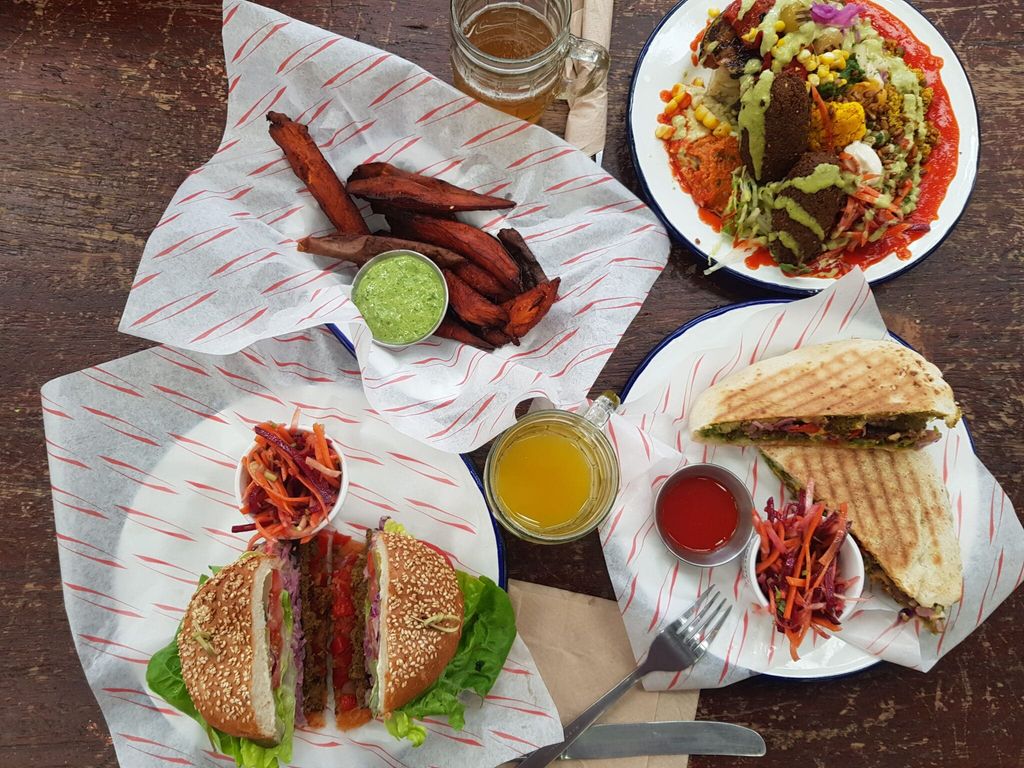 Food as love
Every table at the Smorl's cafe in the Open Market feels like an extension of Sarah's own kitchen table. She's often out and about saying hi to regulars, when not elbow deep in houmous. Talking to Sarah it's clear that her attitude towards feeding people is exactly that. She loves sharing food that's good, wholesome, made with real ingredients and deeply satisfying. She likes using plants, and plants alone to pile up flavours and colours.
Sarah's been serving her own distinct brand of houmous for 12 years now and likes to think that there are children out there who have grown up on Smorl's.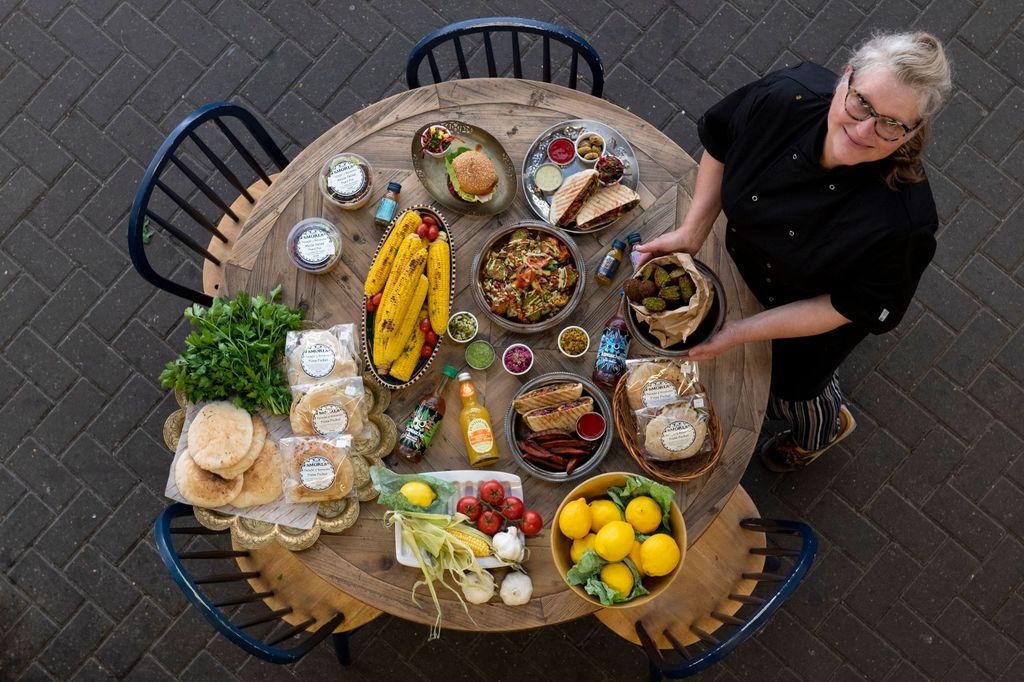 Faking it?
The growth in the popularity of veganism has brought with it a great swell in meat substitutes. Burgers that practically moo when you bite them are all the rage it seems. Sarah prefers to keep it clean and simple with a wholefood, falafel based burger which is baked rather than fried.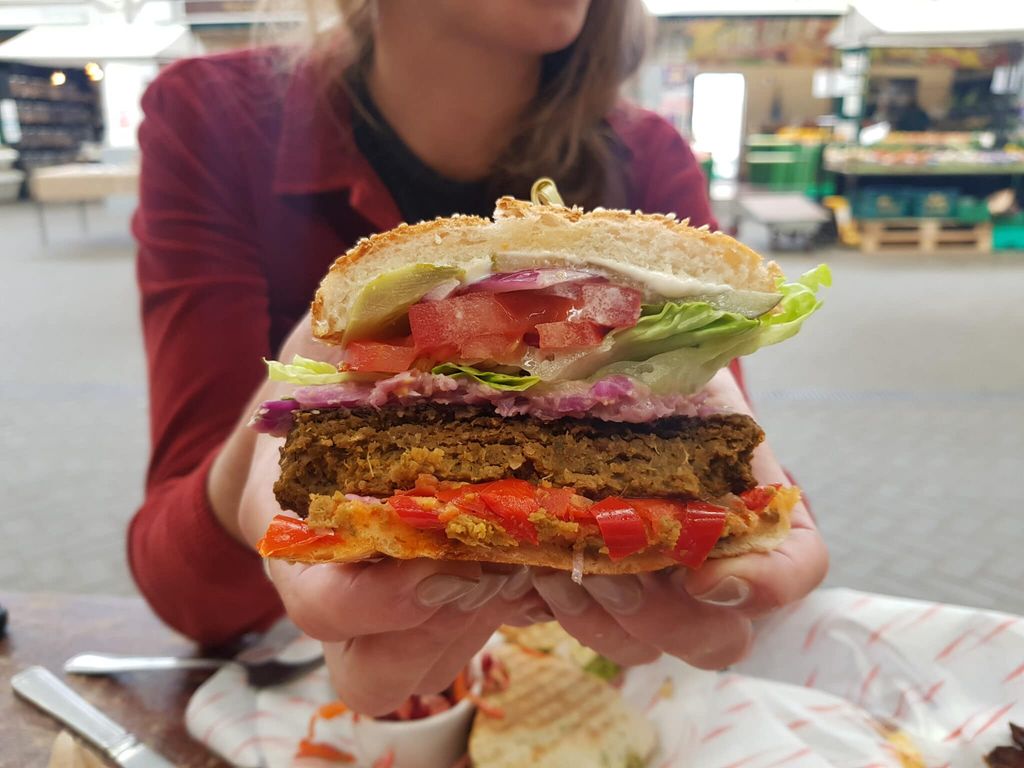 Now those of you familiar with old-school vegan burgers may have memories similar to mine. Patties that were a sort of vegetable pulp that's been breaded and fried and held together by its own viscosity. The Smorl's burger is a million lightyears away from this.
The burger's texture is excellent. The patty holds together and has a satisfying solidness which is a welcome surprise. Aubergine puree, sundried tomatoes and strong herbs like rosemary, give flavoursome depth that keeps going and evolving long after the first bite.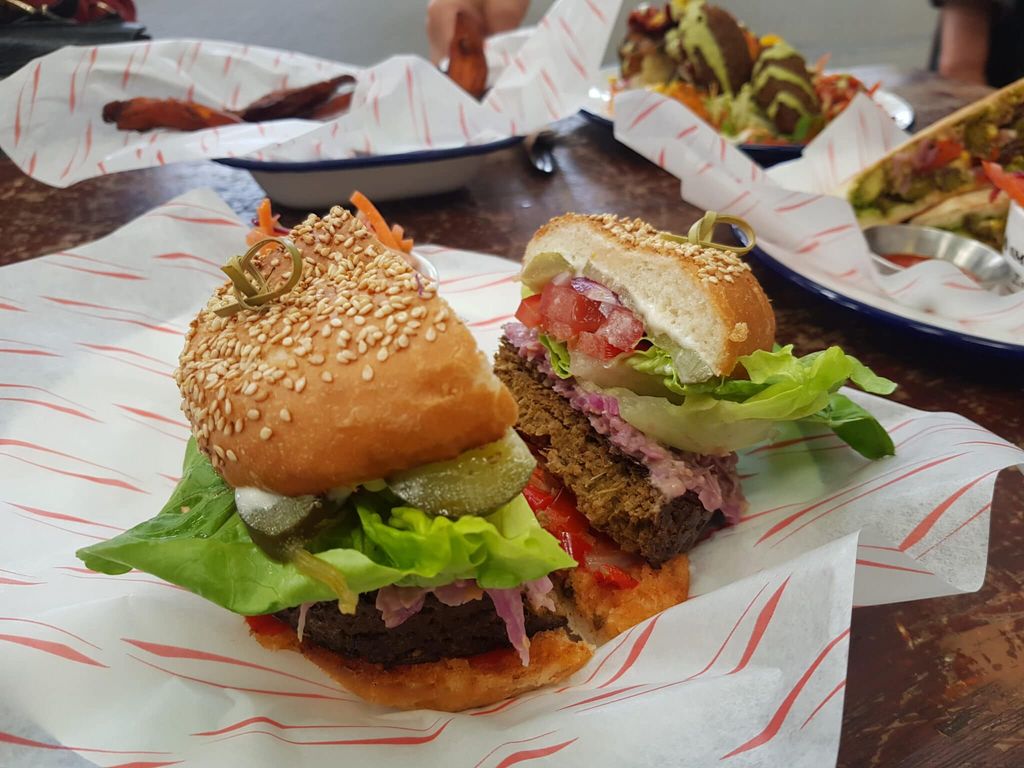 The sweet potato fries were wedges and had that caramelised edge that went perfectly with the zhoug spiced vegan mayo. Incidentally, Smorl's make their own mayo out of aquafaba (chickpea water) which is leftover from cooking their chickpeas. Nothing is wasted if it can be helped.

Anyone need PPE?
During 2020 we all learnt what furlough meant and what PPE was (so school wasn't completely out). Smorl's Pitta Panini Experience is a nod to those crazy times and might possibly be my new favourite thing on the menu.
The pitta is stuffed with grilled vegetables, creating layers of charred flavours. Panelle is used in place of a cheese substitute, it's a Sicilian street food made from fried chickpea flour and adds a wonderfully rich creamy extra. This came with a side of fresh slaw and chilli and lime dressing.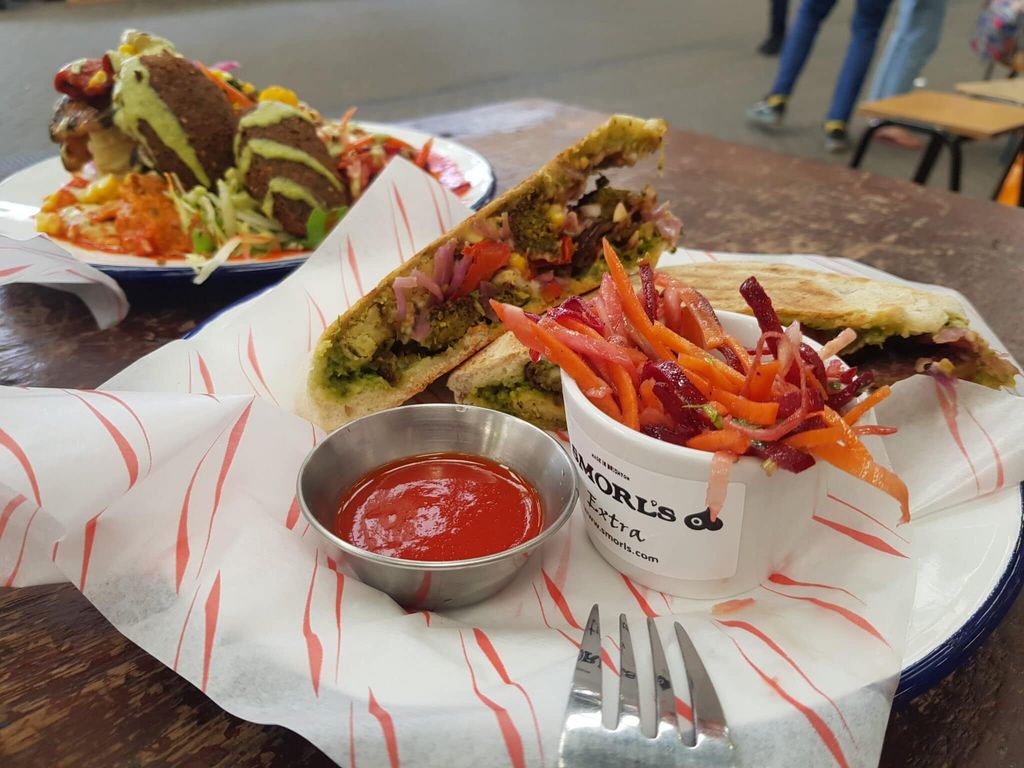 The Smorl's falafel salad is a staple for me throughout the year. The mix of textures and flavours changes with every mouthful because there are so many different components. The ingredient list reads like a veg box for a family of six. Seasonal salad greens, roasted vegetables, puy and lentil salad, crispy pickled cabbage, toasted seeds, creamy dauphinoise potatoes and freshly cooked spicy falafel. It satisfies on every level, you're full but not overloaded, you're being hugged by food that is as delicious as it is wholesome.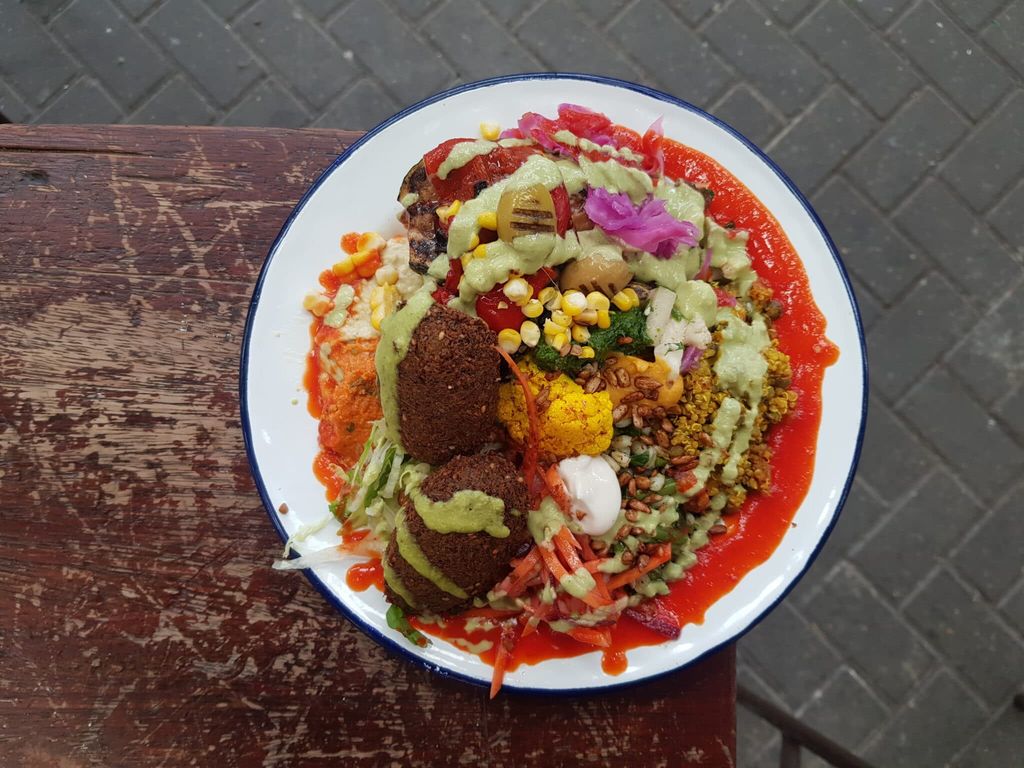 A happy loser
Between the two of us, we shared the Biggie Smorl's burger, the Pitta Pannini Experience, sweet potato fries and a classic falafel salad. Sarah was at it again trying to make us OD on food. In the battle of man versus plant, did plant win for a second time? Well, maybe – but if this is what being a loser feels like then you can sign me up for life.
You can order your Smorl's on Deliveroo.