A restaurant for all occasions
Overlooking my favourite Brighton landmark, the West Pier, is one of Brighton's most well known and loved seafood restaurants, The Salt Room. A relative newcomer to Brighton, the restaurant has already cemented itself as one of the best in town and I am a huge fan. Usually I save my Salt Room experience for a champagne filled night out with my girls, or an anniversary dinner, so when I was invited to try their afternoon tea I was intrigued and decided to take my whole family.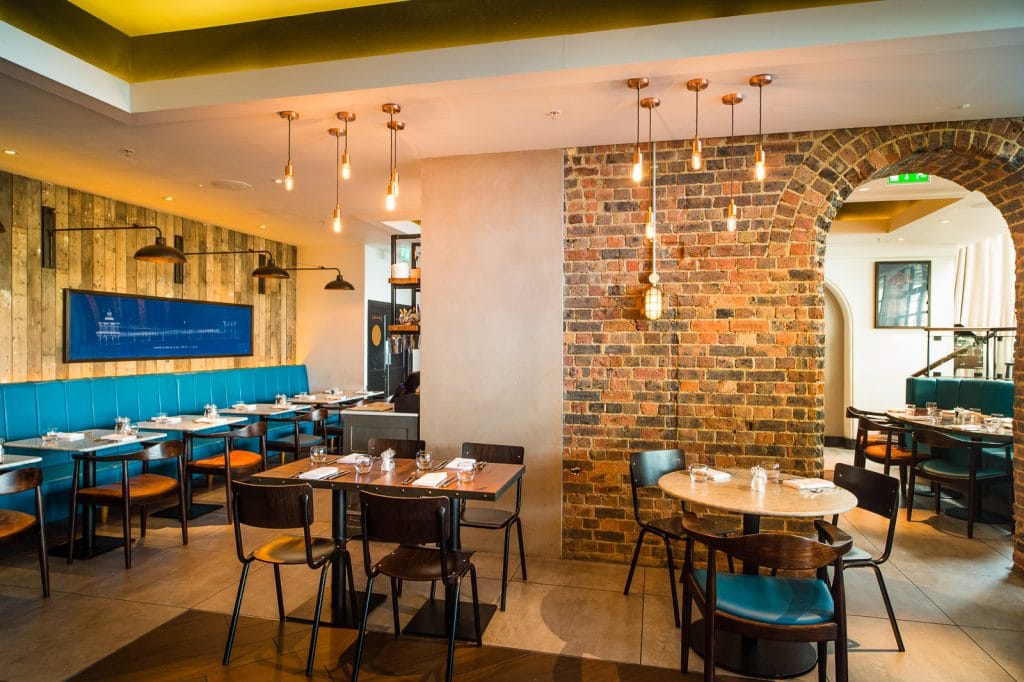 An elegant afternoon tea
What a perfect opportunity to introduce my son to the culinary world of casual fine dining and elegant afternoon tea. Aven, my one year old, was of course ecstatic at the news that he would be joining us on our champagne filled afternoon, but sadly became so worked up at the thought of macaroons and mackerel pate that he slept through the whole thing…what a shame! We couldn't let the afternoon go to waste so we forced ourselves to drink champagne in total peace and quiet, it was the least we could do.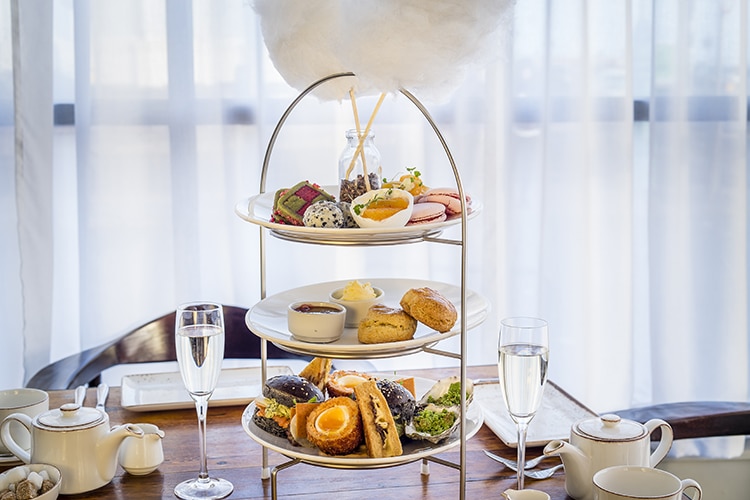 With our child happily unconscious, we were able to admire in the views, chat about the extensive wine list and really take in the gorgeous restaurant. With wall to wall windows and a stunning terrace overlooking the sea they have clearly made the seafront the focal point of their open plan restaurant. With room for large parties or quiet couples, the Salt Room is an ideal place day or night if you are looking for a bit of decadence or have a reason to celebrate, and the afternoon tea is no exception.
Handcrafted delicacies
Afternoon tea can be prepared for a group of up to six people and must be pre-booked as all the delicious delights are made on site. Also if you have any food allergies or requirements they will be able to accommodate you with enough notice. The menu is set, and you are free to order whichever drinks you desire. They have an extensive tea, coffee, specialty gin and tonic, and champagne list to choose from, so whether you are keen for a tipple or tea they are happy to oblige. As Aven was down for the count we decided to stretch out the afternoon and enjoy the quiet time by starting with champagne and then finish with a flowering tea.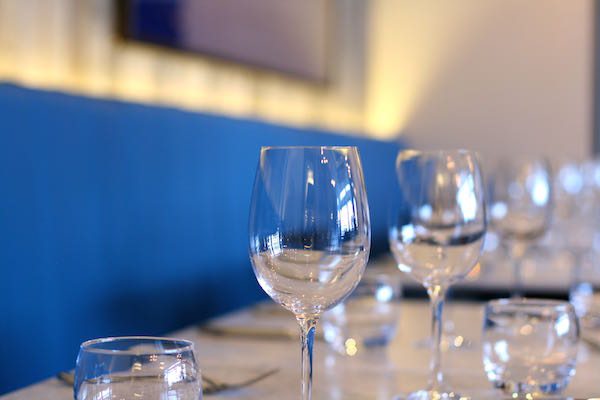 Pomp and circumstance
I think my favourite part of an afternoon tea is when it arrives. I love the pomp and circumstance of the tiered plates, and the wonderful tea-centric ritual of this quintessential British tradition. Even after living in the UK for almost ten years I still feel so American when I sit down for afternoon tea, it's just so lovely.
When our tower arrived our waitress walked us through all the decadent delights, and it was enough to make your head spin. Each item was beautifully presented and carefully created to be as tasty as they were beautiful.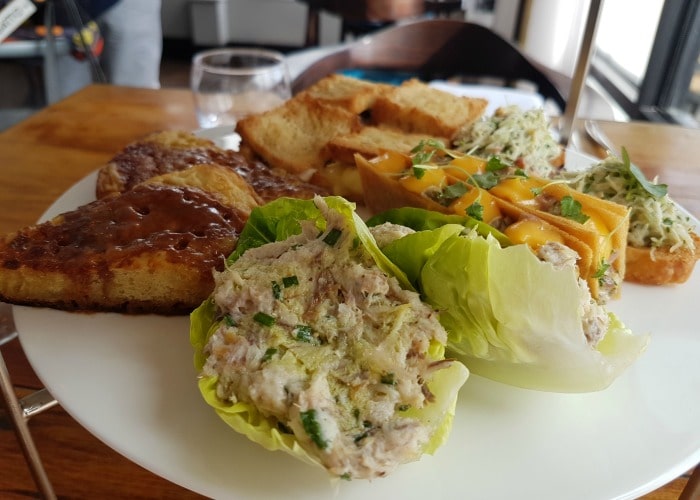 After clinking a cheers with our Herbert 1er Cru champagne, we decided to start savoury and work our way up. My first bite was of generous helping  of smoked mackerel pate served on baby gem, the perfect crisp and flavoursome start. Next was a homemade crumpet topped with marmite butter, which made me a marmite believer. Apparently it's a love it or hate it kind of thing, and the idea of eating yeast did initially make me cautious, but I am definitely in the 'love it' camp after trying the marmite butter. So even if you aren't a marmite fan, you may just love this tasty take.
Truffled cheese anyone?
Next was my Hubby's favourite, the truffle and bacon jam grilled cheese. I mean what is not to love?!
Ooey gooey melted brie on home-made toasted bread, and topped with a sweet and savoury jam…this was a close your eyes and take it all in kind of bite.
I actually had two favourites, the crab and cucumber with squid ink crouton, and the beef tartare and egg yolk sandwich. The crab was so fresh and the flavours were so delicate that you could taste each ingredient, and the beef with egg yolks was sinfully rich and creamy. They had two totally different flavour profiles but were both equally delicious.
Jam first, or cream?
On to the next tier of tastiness; a simple yet absolutely essential item for any afternoon tea, the humble and and buttery scone served with clotted cream and strawberry jam. The Salt Room add a bit of elderflower flare to their jam and and their scones were warm buttery delights. Of course husband and I spent the entire time we were eating them arguing over the importance of cream or jam first, which I think is actually in the etiquette books as the only correct topic of conversation while eating scones.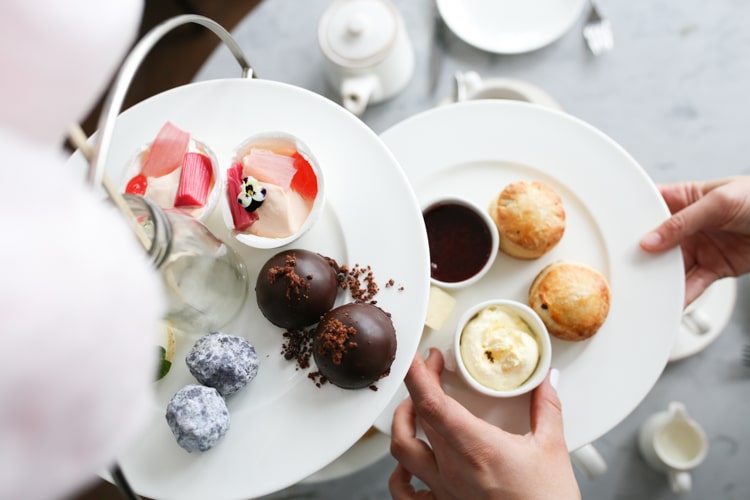 As our little fluff was still fast asleep we decided to have a bit of a break and order our flowering tea, which I absolutely recommend.
As I mentioned before I am a sucker for spectacle, so when they dropped this sad dry little bundle into my hot water I was a bit suspicious, but after a few minutes of steeping all was revealed. It really does flower!
I know the clue is in the name, but I wasn't expecting an actual flower! Needless to say I was a big fan and I think it would be a lovely little surprise for a day out with Nanna.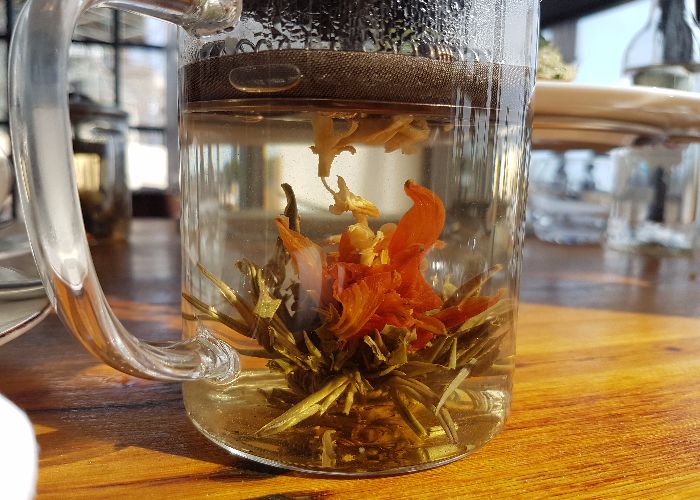 Onwards and upwards!
The top tier is a sensation of succulent scrumptious scintillating sweets and each one was more decadent than the next. Light as air macaroons, lemon meringue pie bites, glorious dark chocolate pebbles, even homespun candy floss! It truly was a smorgasbord of sweet sensations and there was something for every type of sweet tooth.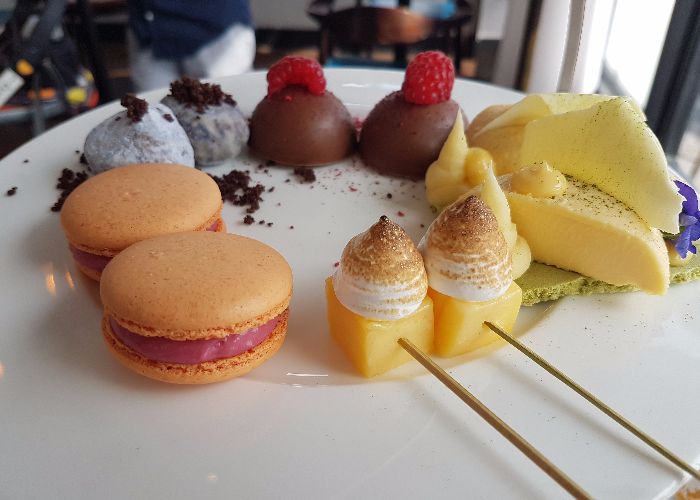 From the moment we arrived to the last bite of our tea cakes the whole experience was relaxed, fun, decadent and delicious. For anyone looking for a lovely afternoon tea filled with beautiful food and casual elegance I can highly recommend a visit to the Salt Room, you will not be disappointed.
Check availability and make a booking online at The Salt Room
Reviews of The Salt Room
You can also call The Salt Room on 01273 929488