Sophisticated and sustainable dining at The Salt Room
A beacon of light as we walk along past the storm-tossed sea; The Salt Room, a modern British restaurant focussing on sustainably sourced Josper-grilled fish and meat, resting just below the glowering red-brick Hilton Metropole. Owner and restaurant entrepreneur Raz Helalat was handed the then dormant hotel bar in 2015 to reinvent it as a sibling to The Coal Shed – its slightly more senior and carnivorous sister restaurant which is known for its more turf than surf menu.
The Salt Room arrived with gusto to transform the parade of Regency restaurants which were once regal, but are now somewhat inferior to the gastronomic action bustling in the background of those colourful and spirited Brighton Laines.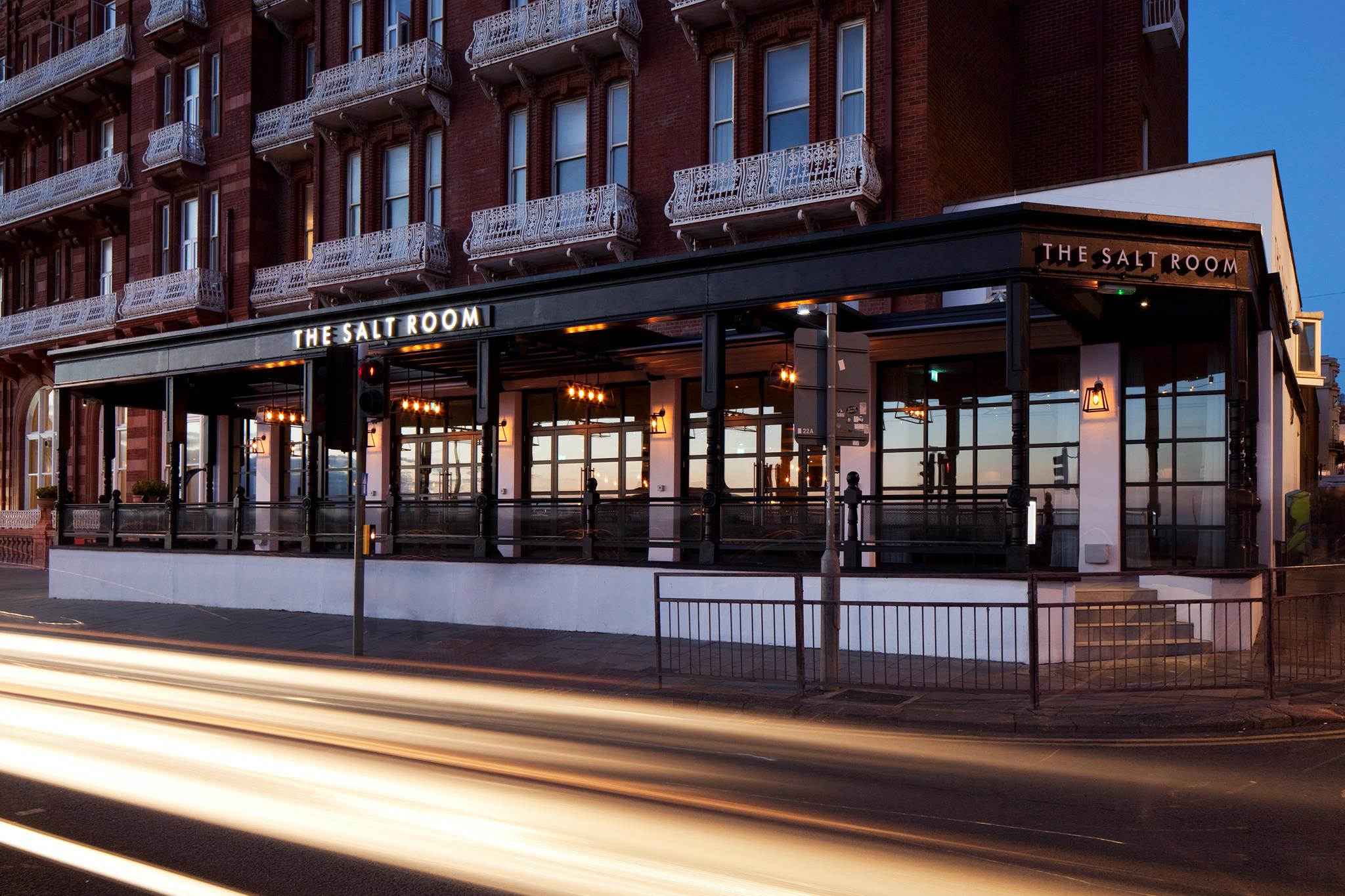 Scandi-esque Interiors and a Bustling Ambience
Despite being a dark, autumnal October evening, we still had seaside views worth admiring with that trail of ornate Victorian kiosks and light-green street lamps shining over the promenade. I was pleasantly surprised by how spacious the restaurant was – perhaps it's because the exterior displays only the corner of the entire building and the Summer terrace? But given its peculiar shape this really doesn't compromise an opportunity for warm, cosy dining.
The interiors have a contemporary, refined look with a medley of whitewashed, bare-brick and wood-slatted walls which are hung with framed blueprints of the West Pier, along with marble and wood-topped bistro style tables. Every one of these tables was taken which produced a lively atmosphere, and given this was a Thursday night, it reaffirmed that we really were in for a culinary treat.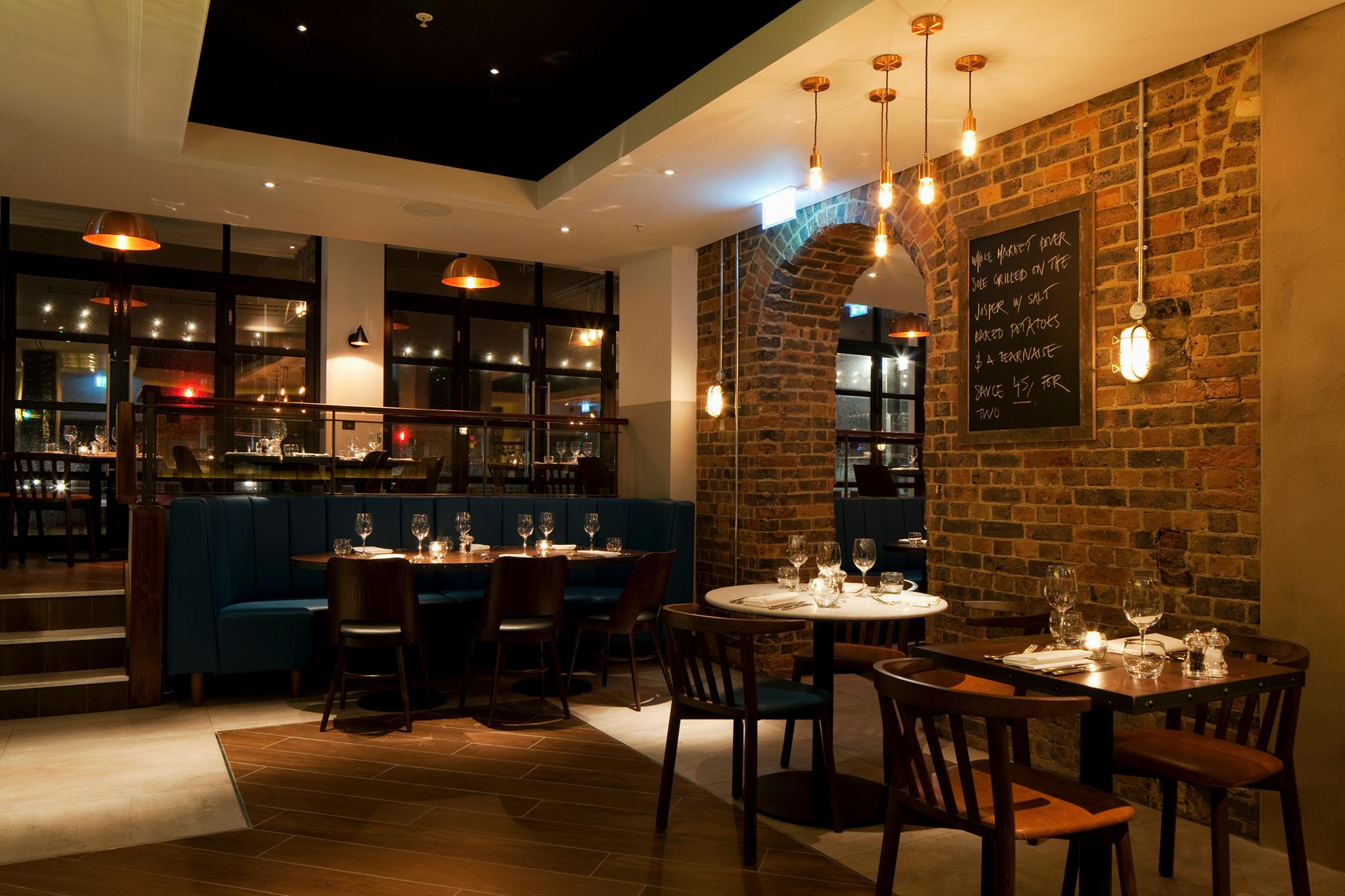 Sustainable dining
As we were seated we were introduced to our waiter, Gaetano, who greeted us with two glasses of archetypical English fizz (brownie points already for this man). We were both taken aback that this was produced just down the road in Goring! I noticed that all of the staff were dressed smartly but informally with pressed shirts and denim aprons, which indicates the smart-casual vibe here.
Before I continue, it must be noted that this is the restaurant which won the 2017 Seafish Restaurant of the Year award. I say this because Seafish is the public body set up to improve standards across the fishing industry across the UK – mirroring The Salt Room ethos and sustainability policies which promise to source seafood from only certified and responsible suppliers.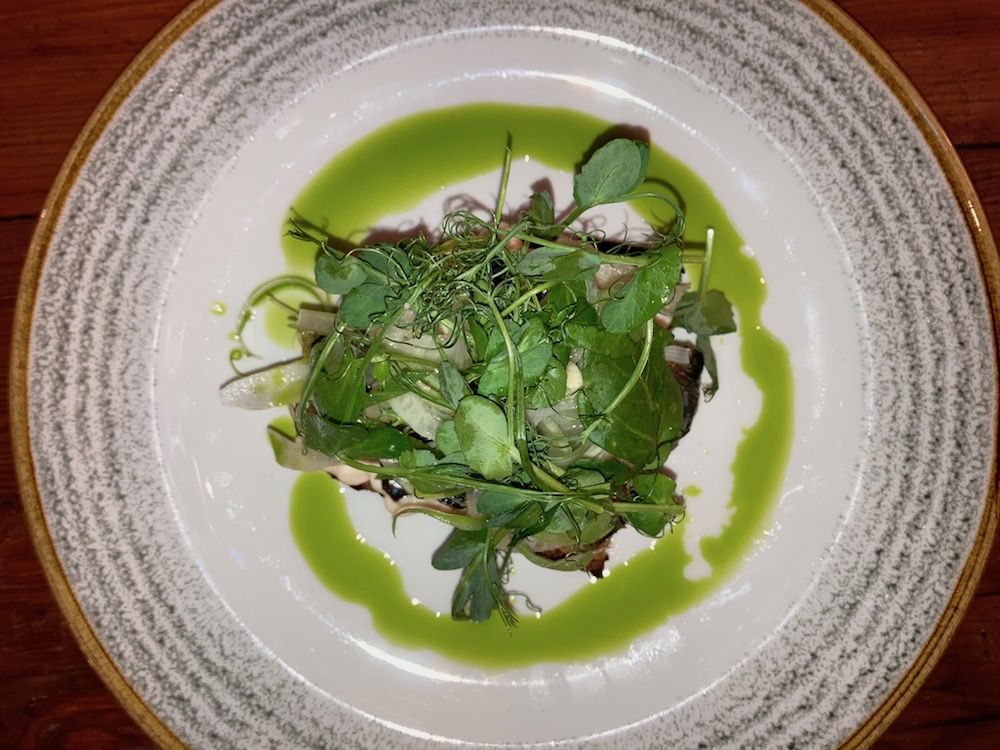 An option for everyone
The menu is neatly divided into clear sections; Snacks, Starters, Mains, Sharing Plates and Sides, with dishes named simply and to the point. But this is not reflective of the artfully-plated creations you will be presented with! Think platters of locally sourced shellfish, Charred Scallops, Dry Aged Porterhouse steak for the meat loyalist, or even Miso Glazed Aubergine with black garlic and Indian-spiced courgettes as a vegetarian offering.
Being at a seafood restaurant, of course we had to try the Maldon Oysters, served in their traditional way on ice with shallot vinaigrette, Tabasco and plenty of lemon for squeezing. This was a handsome way to start our meal.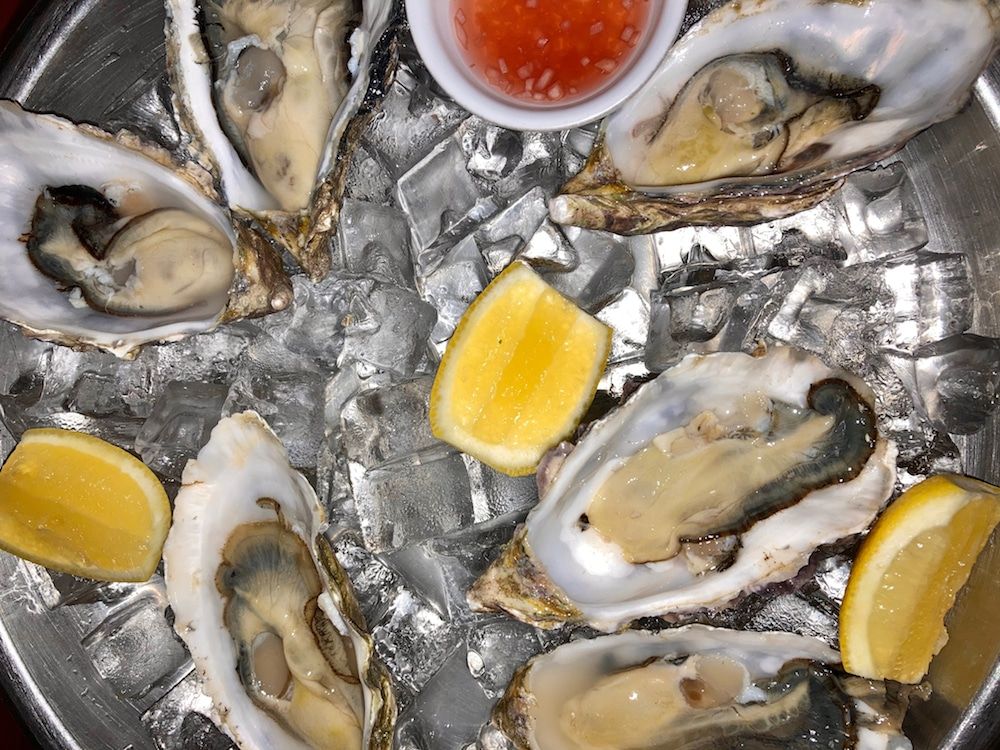 To start
We went for the Sticky Glazed Pig's Cheek paired with parsnip purée, pickled baby carrots and pickled walnut, which washed down well with the bottle of Argentinian Malbec we had on the table.
The meat was superbly tender and generous in its portion, with the pickled walnut enacting a savoury cherry on top of a fine plate of food.
Our second starter, the Sardines on Toast, was from the specials board and arrived with a salty tapenade and smooth taramasalata – proving how The Salt Room's innovative British menu borrows inspiration from across the world.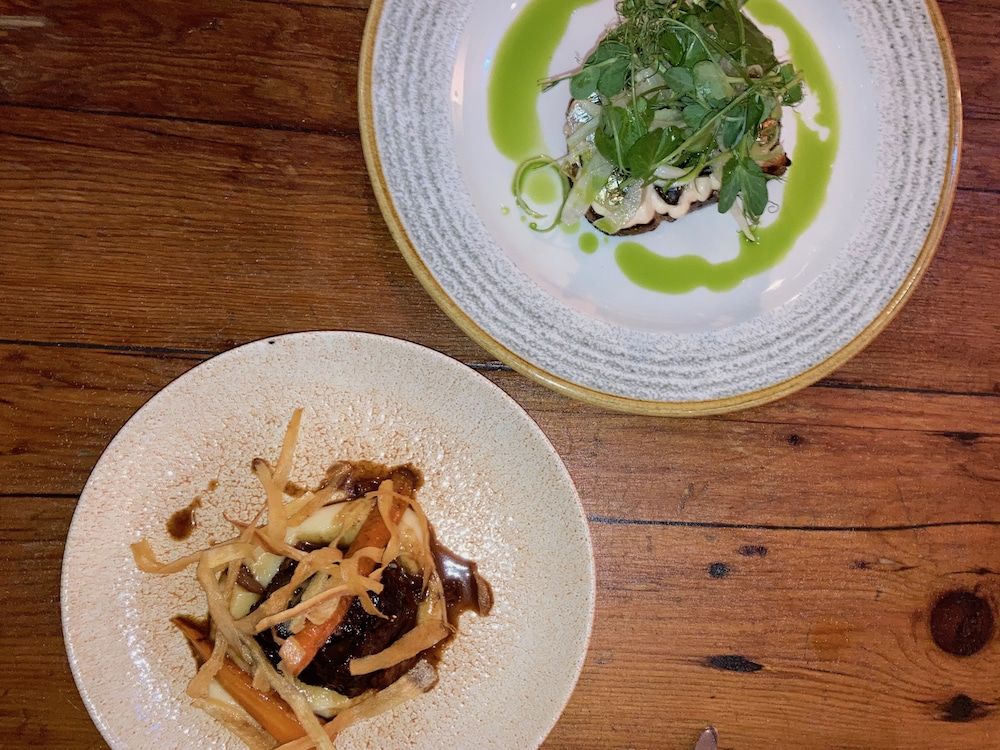 Main dishes
It was the accompaniment of orange butter which sold me on choosing the Lemon Sole as my main. This had a hint of garlic which paired beautifully with the delicate fish which fell off the bone, grilled leeks, potatoes and tarragon, giving it an Anglo-French flavour.
My friend ordered the BBQ Monkfish which had a robust, smokey flavour alongside 'Nduja white beans, samphire and capers, evoking more Mediterranean flavours. Side dishes such as Charred Broccoli with preserved lemon, and French Fries with herb salt, are intentionally simple to allow the mains to truly shine.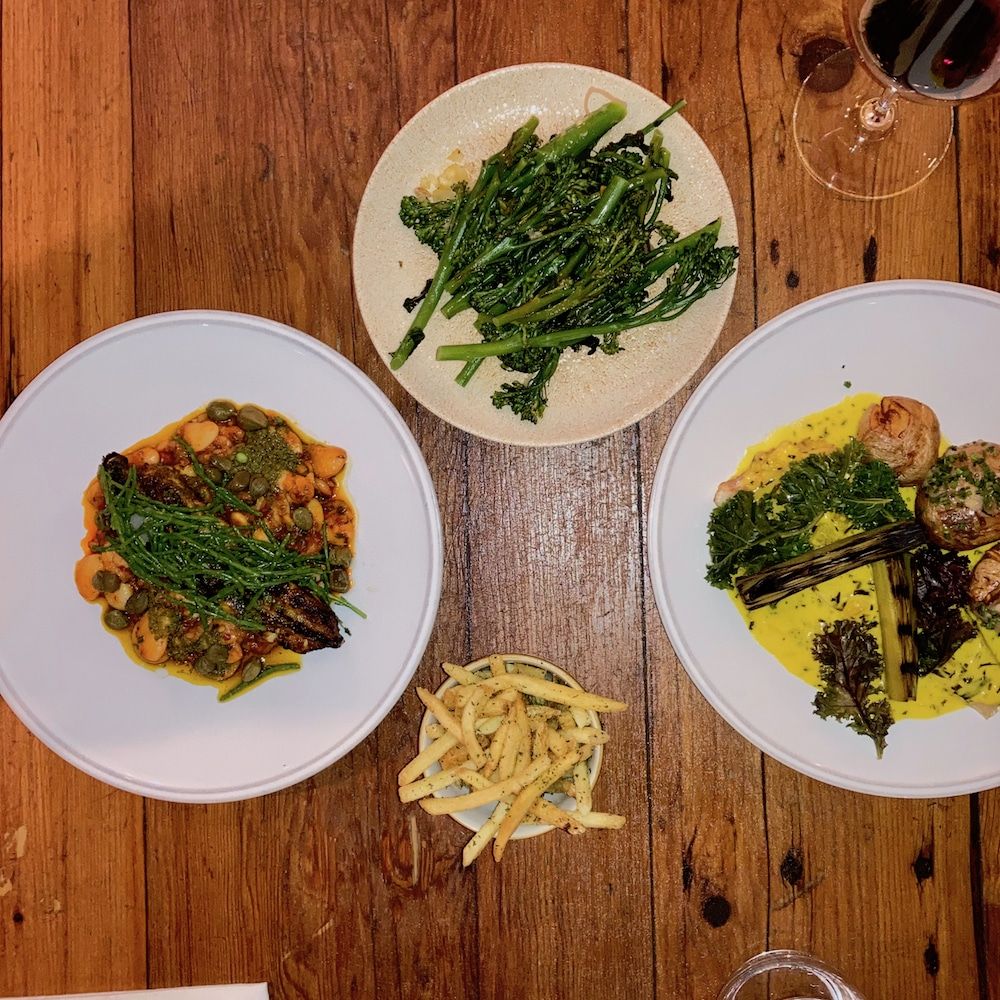 Delicious Desserts
To top off what was already a delightful evening, our desserts were clean and sumptuous. 'The Salt Room Sweets' arrived as a platter of four bite-sized confectionery which playfully alluded to elements of the seaside. These were roasted marshmallow ice cream; sweetly perched in a mini-wafer cone, a warm caramelised doughnut reminiscent of the less sinful kind that you will find in a greasy paper bag on the Palace Pier, hibiscus macaroon filled with garden jam, and lastly the rich chocolate truffle which was cleverly presented to look like a pebble.
Our final plate, the cherry on top of a wonderful meal; the Chocolate Bar with salted peanut caramel and milk ice cream. Splendid.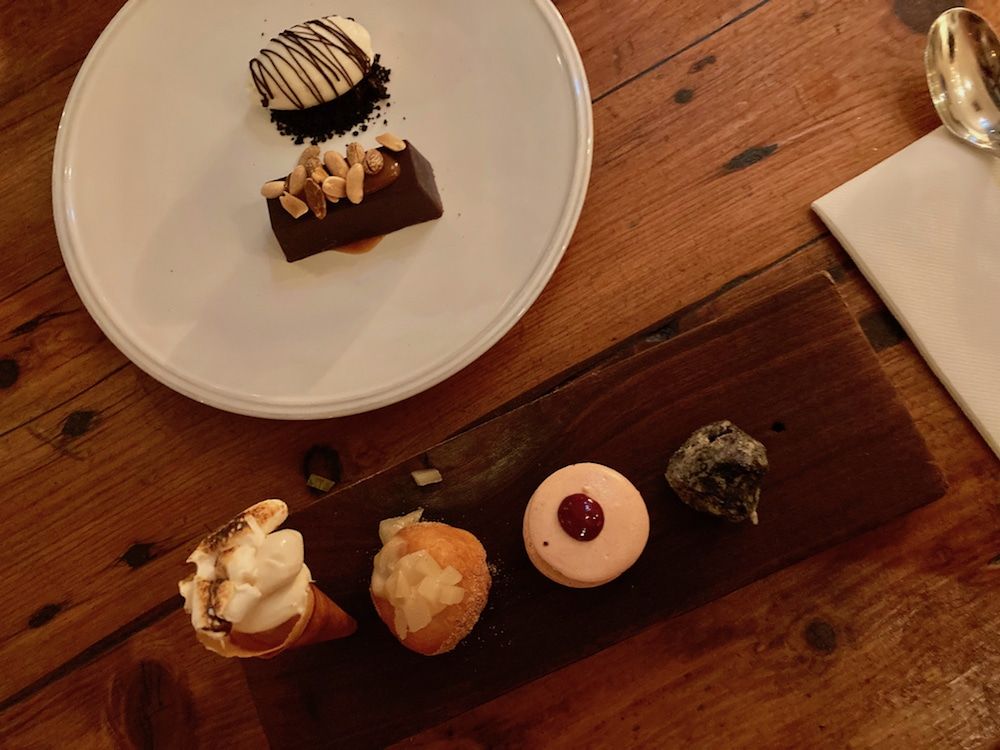 Concluding thoughts
It's fair to say that the food here demands to be appreciated before it's eaten, but The Salt Room has accomplished so much more than just feeding our eyes. Staff deliver great service with nothing feeling forced or rushed, food is dazzling to both the palette and to the eye, and the imagination of its chefs make it stay true to Brighton in every way. This really is a destination restaurant with quite a catch (excuse the pun). I can't wait to come back.