During October, the acclaimed and Michelin-recognised The Tasting Room at Rathfinny is closed while the estate is galvanised into action for harvest. During this time, the marquee at The Flint Barns hosts lunches with views over the vineyard. In the evening, when it's just a bit too cold to be outside, dinner is moved to the snug interiors of the Flint Barns.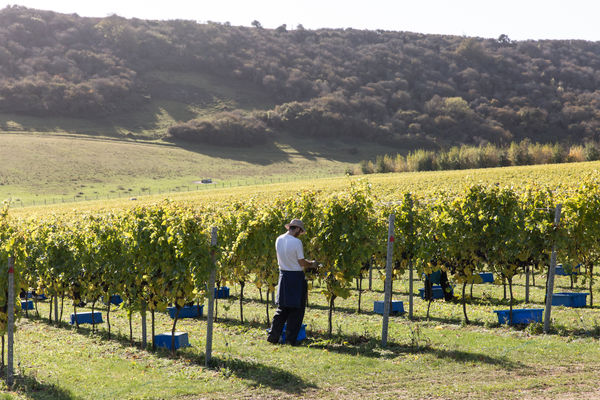 Visiting the Rathfinny Estate at Harvest
We visited for lunch, a small plates menu, ideal for sharing (dinner is a set menu). Head Chef Chris Bailey has created a menu that combines the signature elements that marry the ethos of the estate and his own cooking. Provenance, quality and skill create a seemingly simple menu that celebrates the flavours of the season and the region.
The Rathfinny Estate is a quick train journey to Seaford and a taxi away (about £15), it would be a shame to designate a driver when you're visiting somewhere where every wine is vintage. The third option is to drive and stay over at the Flint Barns for a mini break that's big on luxury.
As our taxi pulled into the estate, we were awestruck by the views over the vineyards out to the south coast.
Rathfinny is well situated in a valley that receives a sea breeze. This salt air both staves off infections and keeps the frost off the vines, making it naturally perfectly situated for growing with minimal intervention. That, coupled with the fact that the conditions in Sussex are the same as they were in Champagne some thirty years ago, explains why Sussex Sparkling and this Sussex Vineyard has acquired such a superb global reputation.
Rathfinny, unlike most wine estates, built its hospitality element at the same time as its production element. Which is probably why it took only a moment after arriving to feel as though we were on holiday (the arrival glass of Sussex wine in the new alfresco bar, The Hut might have helped). After an exploration of the vineyard and the picturesque surroundings, we settled in for lunch.
The harvest small plates menu
The small plates menu is divided into snacks and starters, main dishes, sides and desserts. For two people sharing, you'll want about eight or nine dishes, which will give you a nicely rounded experience of the harvest menu, without an overly rounded belly at the end.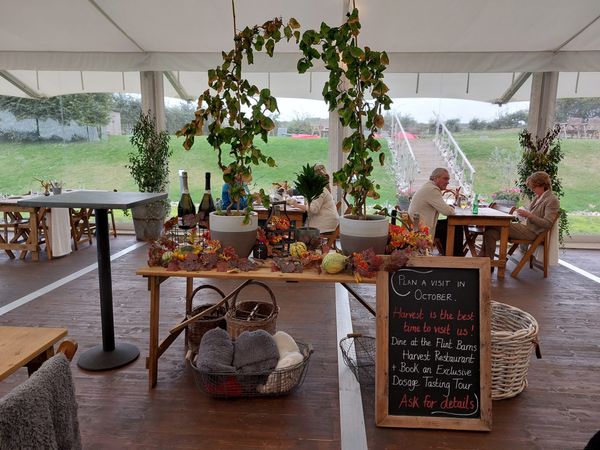 For our snacks, we had some sourdough from Lewes-based Flint Owl Bakery with dishes of olive oil and whipped onion and charcoal butter. Whipped butter gives the butter more surface to contact your tastebuds, which means you taste more of the butter – you just need to think about that for a minute, sit with it. Jude had some gluten-free bread, the soft mini loaves were some of the finest she's ever had.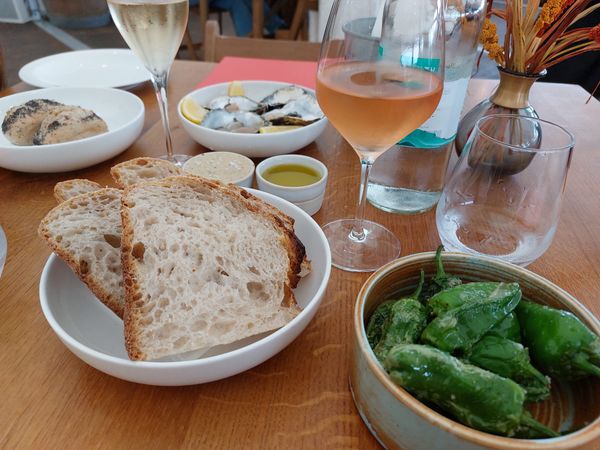 Padron peppers, for me, and oysters, for Jude, followed. The peppers had just enough crunch to give a satisfying bite, and the flavour mixed the fruit of the pepper with a little salt, good olive oil and a hint of smoke. Jude's oysters were simple and fresh; four hedonistic spoonfuls of the ocean, mingled with a glass of that famous Sussex Sparkling.
Jerusalem artichokes with winter truffle, cavolo nero and pickled pear, and chicory with braised fennel in vermouth with little segments of orange both stood out as dishes that celebrate seasonal and plant potential in the hands of a skilled chef.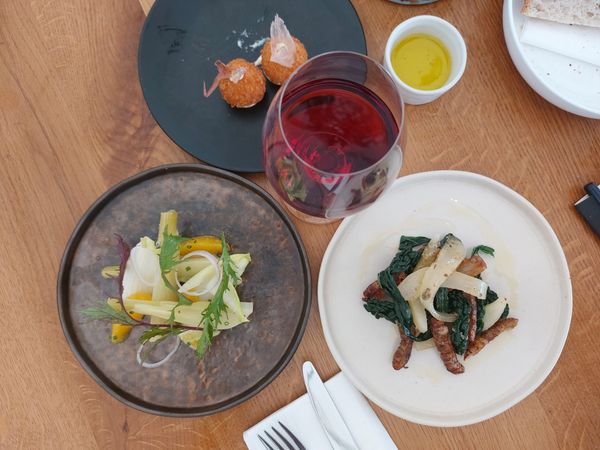 Cold outside, cosy inside
Next, we had Cornish crab arancini with kalamansi. The three balls were crunchy on the outside, giving way to moist crab meat and the kalamansi cut in with a fresh edge that complemented perfectly. Coal-roasted Namayasai beets with quince and sorrel was possibly one of the most beautiful dishes presented at our table.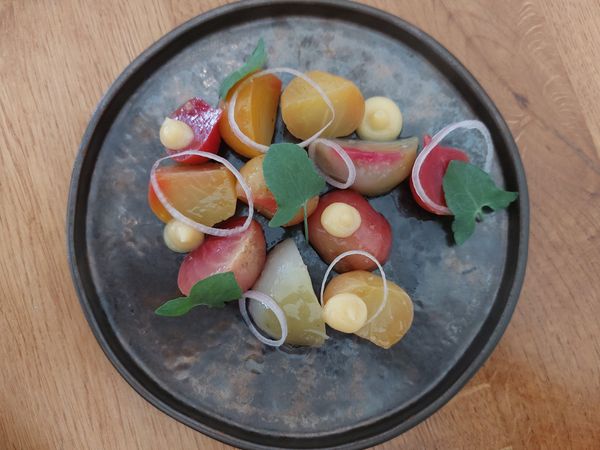 The pink, peach and yellow beets were spotted with jewels of quince, and the smoke flavour (using burnt dried grape vines from the estate) ran through to the core of the beets without detracting from their earthy sweetness. Sat here in a marquee overlooking the vineyard as a bit of a storm began to whip up, I felt immensely comforted by this dish and wondered how something served cold can feel so warming.
By this time, we'd moved on to the Cradle Valley Pinot Noir, which was a beautiful garnet colour with a light body full of cherry and fruit flavours. It felt extra delicious to be slipping on our wine jackets as the weather outside the marquee turned stormy.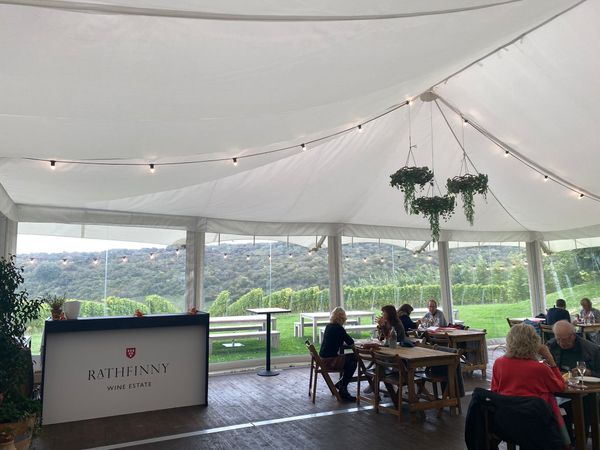 Our main dishes arrive; roasted Crown Prince squash with a creamy massaman cashew curry sauce, full of the warming flavours of chilli and ginger that marry so well with seasonal squash. On the side, we had roasted new potatoes with black garlic puree to dip them in (and dip them in, and dip them in, and dip them in) and a dish of kale, that kept a satisfying bite, with sesame furikake giving the super greens a sweet, nutty note.
Dessert and home
We finished off with dessert and another glass of that fabulous Pinot Noir. Jude's warm chocolate mousse with baked apple and honeycomb didn't stand a chance under her eager spoon, poor thing. And my rice pudding with roasted plums and toasted almonds was wonderfully nostalgic, just like how granny would have made it (if granny was a Michelin acclaimed chef).
Full and content after the harvest, a taxi carried us back to Seaford train station, leaving the stormy views and the exquisite food behind us; and both of us ruined forever for any other Pinot Noir.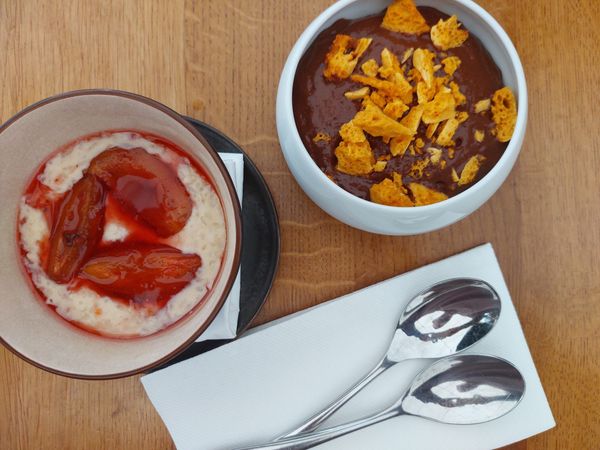 For more information about Sussex wine tours and tastings visit our Sussex Wine Tasting guide.
Want to know more about Rathfinny Wine Estate – Tasting Room?
Find Out More