HarBAR Cocktail Masterclass
The conversation goes something like this:
RB: Would you like to review cocktail making at the Brighton Harbour Hotel, HarBar? We're doing a photo shoot too.
Me: Yes, but I don't want to be photographed, a camera lens in my face has the same effect as nerve gas.
RB: Really?
Me: Really.
RB: Okay, we can make you blurry, would that work?
Me: Yes, but really blurry, like four cocktails in blurry, or on the run from Interpol blurry – okay?
RB: Sure… Rhys?
Me: What?
RB: Are you on the run from Interpol?
Me: I'll see you tomorrow.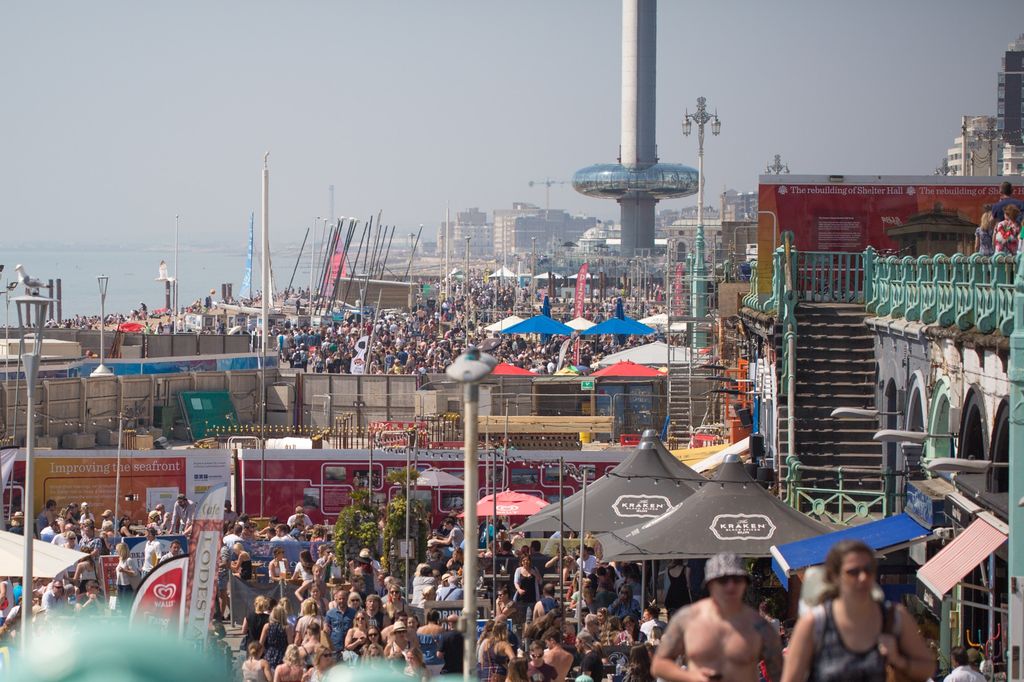 On the run
I arrive late having once again underestimated how far away anything is and how much extra time must be added to a journey through Brighton centre or seafront on sunny days (FYI it is: weekdays 10 minutes, weekends 25 minutes, bank holiday weekends, consider all other routes).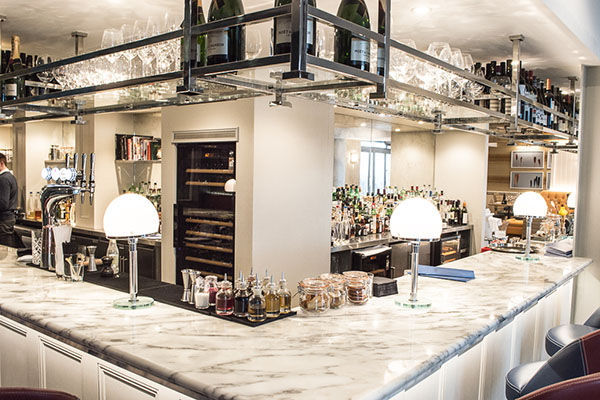 Finding sanctuary in Brighton Harbour Hotel
Hot and a little flustered, it is quite a relief stepping into the cool, calm HarBAR, the bar element of the Brighton Harbour Hotel. Light coloured marble, low seating and big windows makes for an airy space and the nautical theme, whilst very much present, does not extend itself to framed examples of fisherman's knots. There's some live jazz playing away at just the right level to facilitate rather than hinder conversation.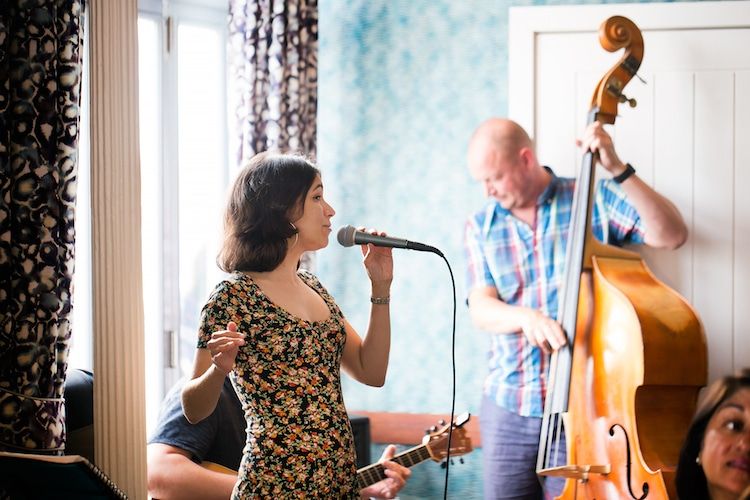 We get straight into our Masterclass with our personal mixologist Jamie, our first cocktail is a Raspberry Spritz, a twist on the Strawberry Spritz. This is a long fruity cocktail, a good starter especially as I'm rather parched after battling my way through the crowds around the Palace Pier. Jamie makes one first and we all get a taste to know what we're aiming for.
Cocktail one, Raspberry Spritz
Combine double measures of Aperol, lemon juice and sugar syrup (I used half as I'm not too fond of sweet drinks) a single measure of Grenadine, 3-4 fresh raspberries, add some cubed ice and shake vigorously, strain into a Coppa Glass (like a gin goblet), add crushed ice, top with Prosecco and decorative garnish of mint leaves and a few raspberries.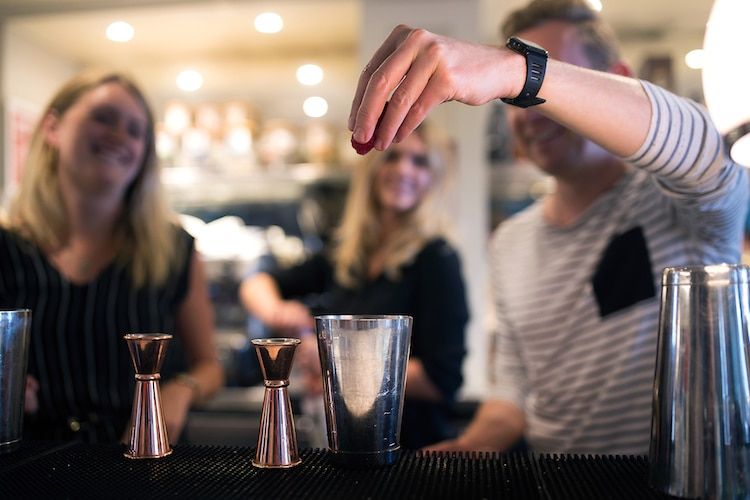 These go down very nicely. Whilst supping away I come to think that the relationship between jazz music and cocktails might be because the beat of the music seems to keep time with the sound of ice being shaken in shakers, clearly the first cocktail is working.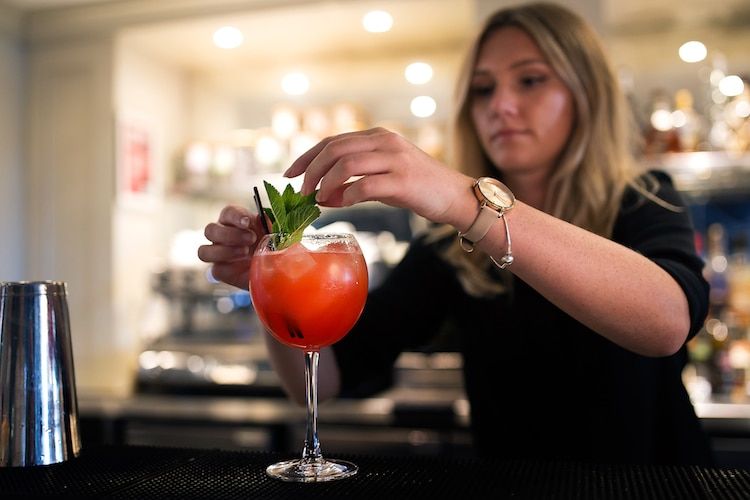 Cocktail two, Hedgerow Sling.
This is another tall cocktail, gin based this time – I'm beginning to feel like I'm in my element.
Combine 1 measure slow gin, 1 regular gin, 1 shot lemon juice, 1 shot sugar syrup, shake with aforementioned vigour and pour over a glass half full of cubed ice top with spritz, some crushed ice and a little Crème de Mûre on top with a wedge of lemon and some blackberries to garnish.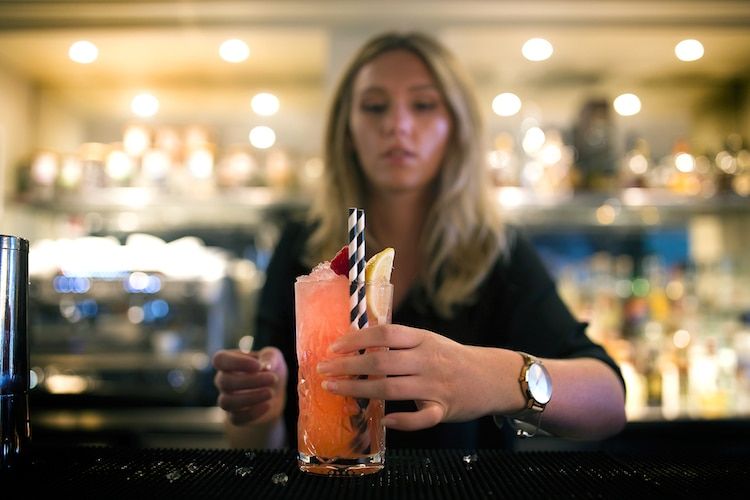 As our group is quite small we're working at a cordoned off section of the main bar, Jamie explains for larger groups a bar is set up in the adjoining function room. The Brighton Harbour hotel has a selection of private hire rooms, the one adjoining the HarBAR is the snug.
Personally I quite like going behind the proper bar. It reminds me of my job in the students union, although the HarBAR is infinitely nicer, and I don't know what I would have done if confronted with this many types of gin as a student, but graduating probably wouldn't have been one of them.
I seem to have hit the reminiscing stage of cocktail drinking.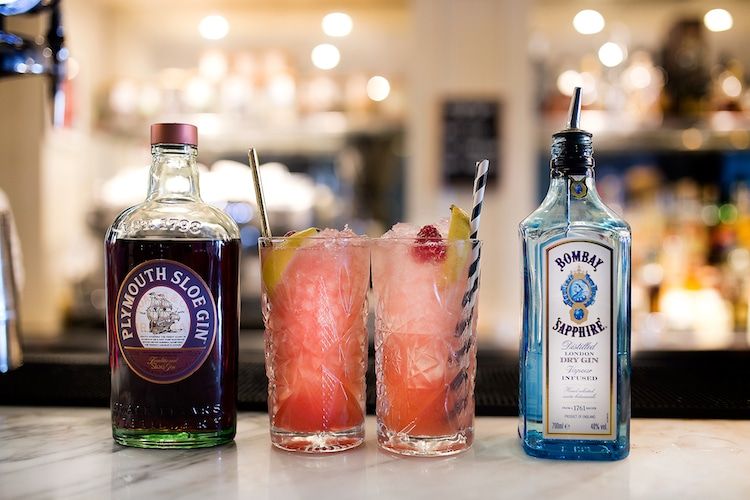 Some nibbles are brought out for us, salvation 'the canapéd crusader'. There's smoked salmon and cream cheese belinis, blue cheese and clotted cream on cucumber and some Japanese vegetable dumplings, we gobble away feeling a little revived.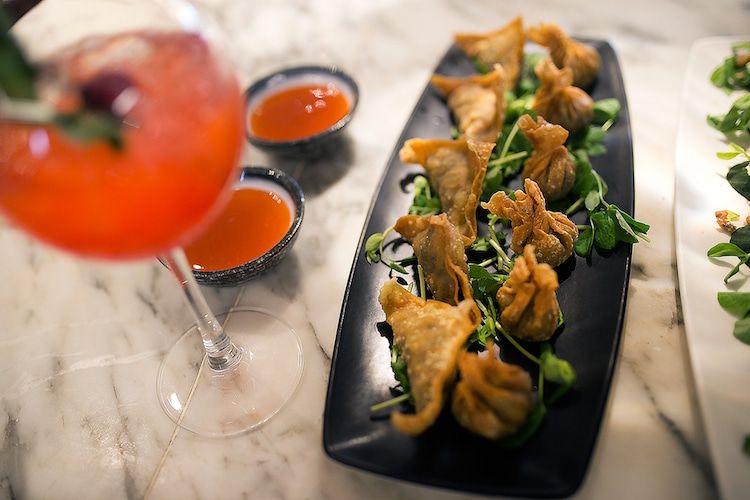 Our third cocktail was due to be an Espresso Martini but a little discussion and it seems we're all interested in a Negroni now. Personally I far prefer drinks that are short, intense and a little bitter (there's a joke in there for people who know me, something like 'you are what you drink').
Cocktail Three, Negroni
We fill a big cocktail mixing jug with lots of cubed ice and add equal measures of dry vermouth, gin and Campari, this gets whizzed around with one of those long twiddly spoons.
You have to use a lot of cubed ice for this, we are told, because that means it doesn't melt as much and dilute the spirits.
This we strain into an old fashioned glass over crushed ice, some fresh orange peel is given a twist to release its oils and wiped round the rim. To garnish there's some lovely dried orange and fresh thyme.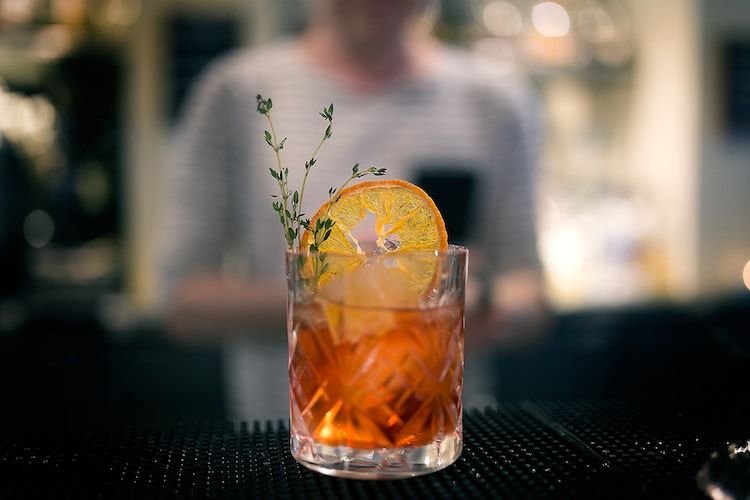 This is just the ticket for me, although I'm glad it wasn't what we started with when I was thirsty. After all the work is done, we decide to stick around for one more, a gin martini made with Fillers' Oude Graanjenevere. RB goes for dirty, I go for dry. They're served in bottles over ice, so they can be decanted at leisure and enjoyed super-chilled. The Fillers' has a slight bourbon and citrus hint to it, and a bit oaky, bringing in hints of my other favourite cocktail the Manhattan, and a very pleasurable end to the evening it is.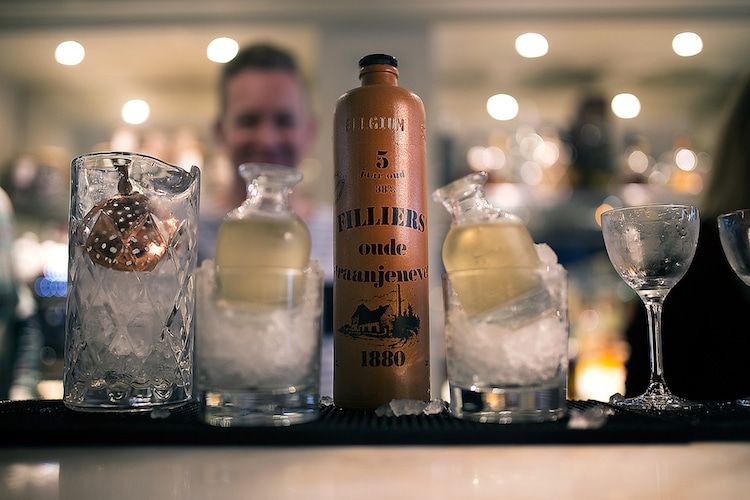 A cocktail making masterclass at Brighton Harbour Hotel is a great way to share some cocktails in a slightly different way, and at £30 per head for three cocktails including the nibbles it's not really very expensive. Upon reflection I do not think I have become the master of anything, but it was very good fun, I learned a thing or two too, and most importantly I got to be four cocktails blurry.