Good Honest Pub Grub
Brighton Food Reviewer, Laura Stevens, August 2016
Cosy Decor
Located four miles west of Brighton and Hove, on the Southwick section of the coast road, is The Schooner Inn, a laid-back gastro pub serving good value pub classics.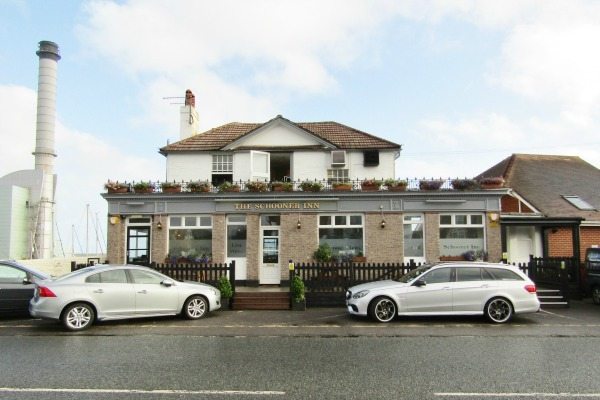 The modern exterior belies the traditional pub atmosphere that you'll find inside. There are dark wooden floors, tables and chairs, the odd spot of oak panelling for good measure, and a sweet little ceramic-tiled fireplace. There is a striking dark grey theme throughout with grey walls highlighted by bright white detailing and grey upholstery on the comfortable chairs. However, despite the brooding colour scheme, it still manages to feel bright and airy because of the natural light flooding through the large bay windows and the fact that the tables are generously spaced.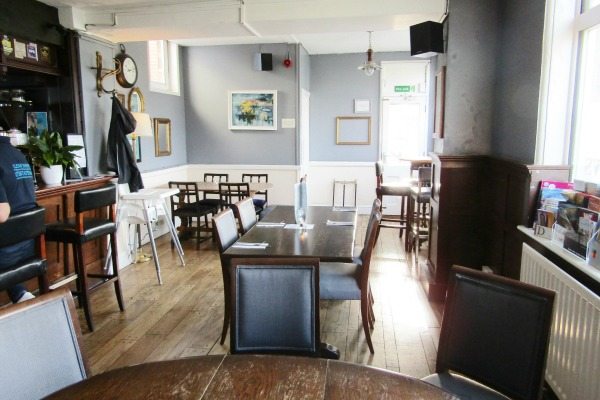 Peaceful Atmosphere
The overwhelming impression, as we settled in, was one of peacefulness, just what we needed at the end of a long hectic week and quite remarkable given the pub's position next to such a busy road. Frosted glass at the front of the pub cleverly blocks the view of passing cars and if you're lucky enough to sit at the back of the pub you will be treated to a view of pretty little boats bobbing about on the glittering sea in Lady Bee Marina. There is even a novel little narrow gallery secreted away at the side of the pub where you can sit on a bar stool nursing a pint and ponder the meaning of life while gazing out over the water. The serene atmosphere was rounded off with a selection of chilled Motown classics playing quietly in the background.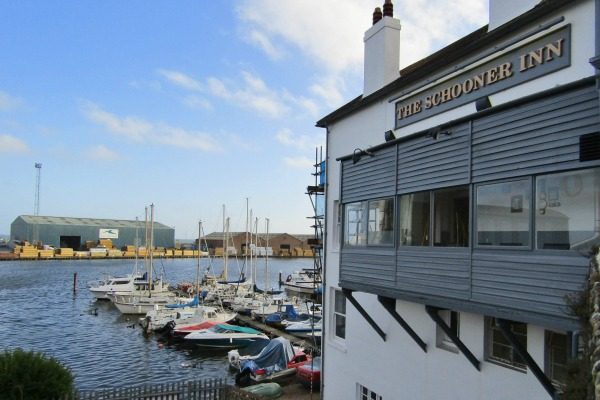 Lots of Choice
The kitchen is open 7 days a week from noon to 9.30pm and alongside pub staples, like fish and chips and bangers and mash, there are a couple of more unusual options like loaded nachos and baked thyme-infused camembert. There are a few vegetarian and gluten-free options and a dedicated kids' menu. You can get 2 courses for £11.95 Monday to Friday and Wednesday is 2-4-1 burger night, bargain! The Sunday roasts are very popular (booking advised) and they also serve a selection of sandwiches between noon and 6pm Mondays to Saturdays. They have craft ales on constant rotation and a modest but lovingly created wine menu as well as a good selection of spirits. Coffee is provided by Brighton's own Small Batch Coffee Roasters.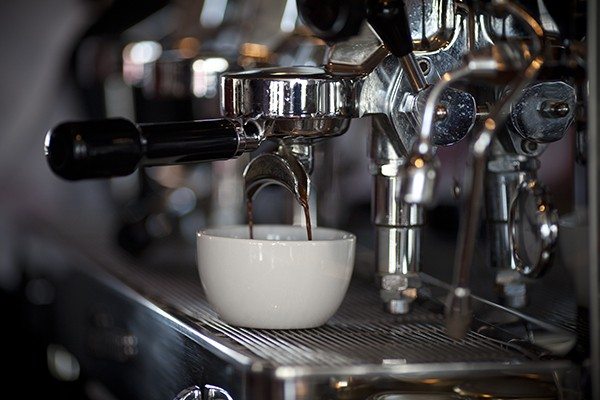 Friendly Team
We were greeted by co-owner Fiona, who exudes genuine warmth and hospitality and heads up a young, friendly team of waiting staff who are attentive and helpful. The pub is sensibly divided into dog friendly and dog-free zones with dogs allowed in the main bar area but not downstairs where there is a second, clean, modern dining area decorated with nautical paintings and knick knacks, great for those with young families.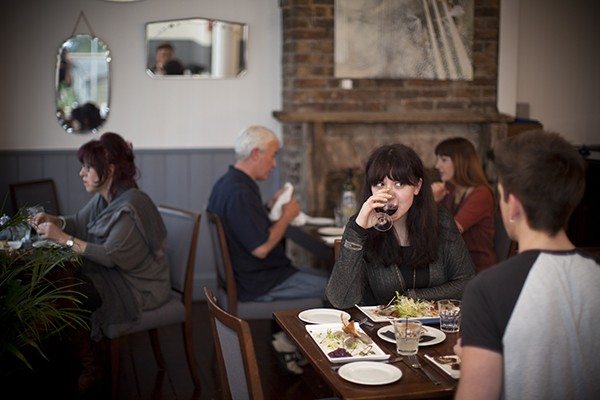 Great Views
We visited for an early evening meal and just as we arrived the skies cleared showing off the sweet little harbour at it's very best. We were lucky enough to get a parking space directly outside but be aware that the on-site parking is quite limited. However, with bus stops and Southwick Station nearby why not leave the car behind and have a tipple, or several, instead?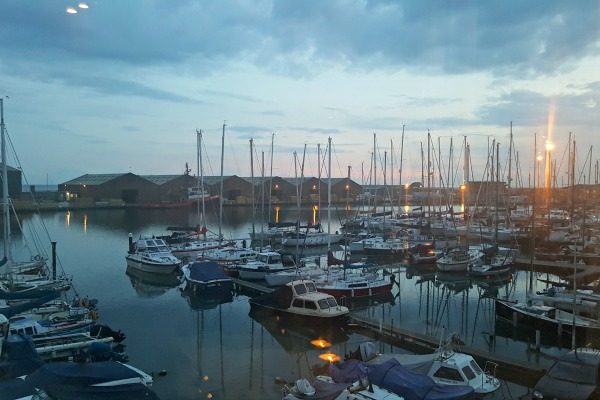 We took our two dogs and were given a large table with plenty of space, which was really handy. The mutts were immediately offered treats and brought a huge, gratefully received, bowl of water.
Once we had wrangled the dogs and relaxed into our seats we ordered drinks. I chose a glass of the Vignabaldo Umbria Pinot Grigio, a refreshing dry but fruity little number and Andrew went for a pint of 1066 a cool, light, golden ale. Then it was time to order food, and we were hungry!
Tasty Starters
Andrew started with the chicken liver pate which was rich and smooth with a light, almost moussey, texture and came with lovely crunchy slices of toast, a generous dollop of sweet, juicy red onion marmalade and handful of salad leaves.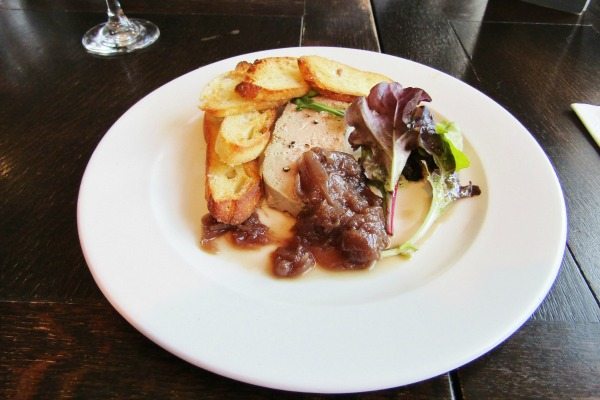 I opted for the salt and chilli calamari, which came with a little pot of soured cream, topped with freshly chopped chives, and a wedge of lemon decorated with a dusting of paprika. The calamari were perfectly cooked with a slight bite but not at all rubbery and the batter was light and crunchy with not a hint of grease. The subtle saltiness and the slow build of heat from the chilli flakes was nicely offset by the cool, smooth soured cream and a squeeze of lemon gave the dish a refreshing zing.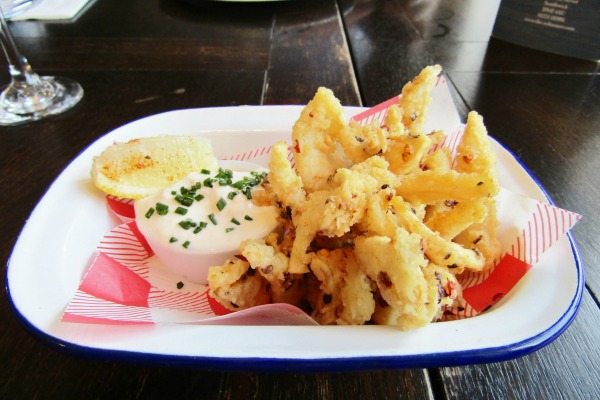 Hearty Mains
For his main Andrew chose the monkfish "scampi" and chips. Bite-sized chunks of flaky, meaty, white fish in a thick, golden, real ale batter served with a sweet, fresh, minted pea puree, crunchy hand-cut chips and a smooth, creamy tartar sauce.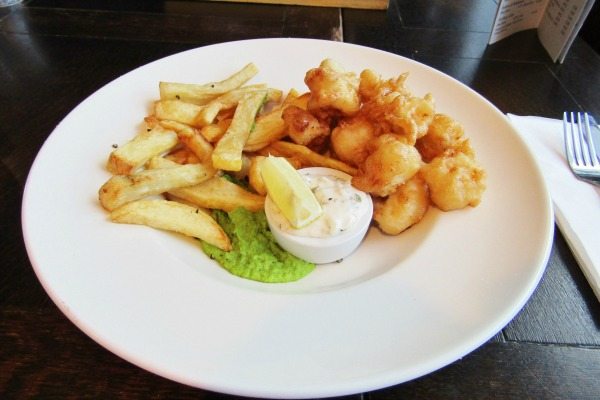 I went for a chicken burger. A moist succulent well-seasoned butterflied chicken breast served in a lovely, toasted, floury white roll, with lettuce, tomato and a dollop of mayonnaise. I could have added any of a tempting selection of extra toppings, like mature cheddar, jalapenos or crispy pancetta, for an extra 95p each.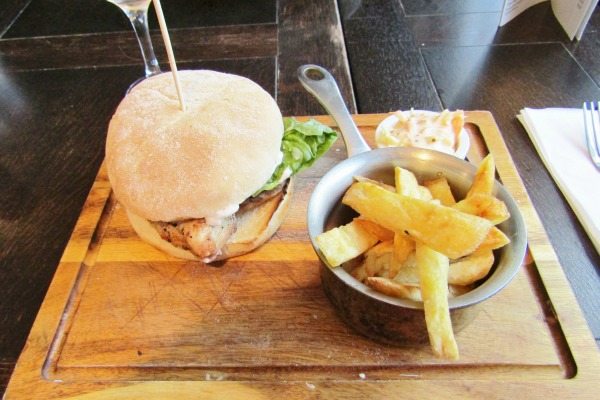 I was also served a dinky little pot of rich, crunchy, creamy, tangy coleslaw and a miniature saucepan full of chips, which I dutifully drowned in salt and vinegar, much to Andrew's visible disapproval 😉
We had hoped to squeeze in a pud but, sadly, had already stuffed ourselves to the gills (no nautical pun intended).

Good honest simple grub in lovely peaceful surroundings.