The Schooner, Southwick
It had been a miserable and manic Monday. The sky a few shades darker than it had been, and a fine drizzle all day. Not to mention the usual feeling the first day of another working week can bring. Of all the days of the week, Monday is the one where I am least in the mood for cooking. The weekends are usually filled with home cooking from Friday night to the Sunday. Curries made from scratch, healthy cooked breakfasts and a proper Sunday roast. So, Monday I like to take a break.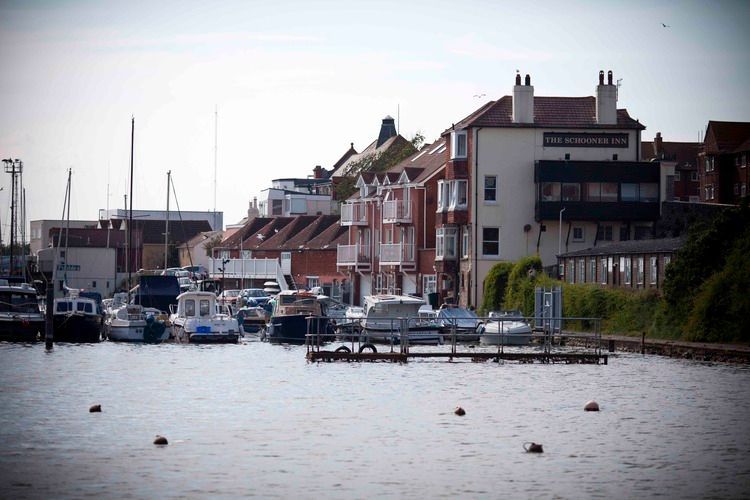 This particular Monday, my husband Tommy and I decided to cheer ourselves up and go out to eat rather than the usual quick and easy omelette or left over roast. Due to the weather we didn't fancy trekking too far into town and away from our West Sussex village, so we thought we'd give the Schooner Southwick a go, just 4 miles west of Brighton.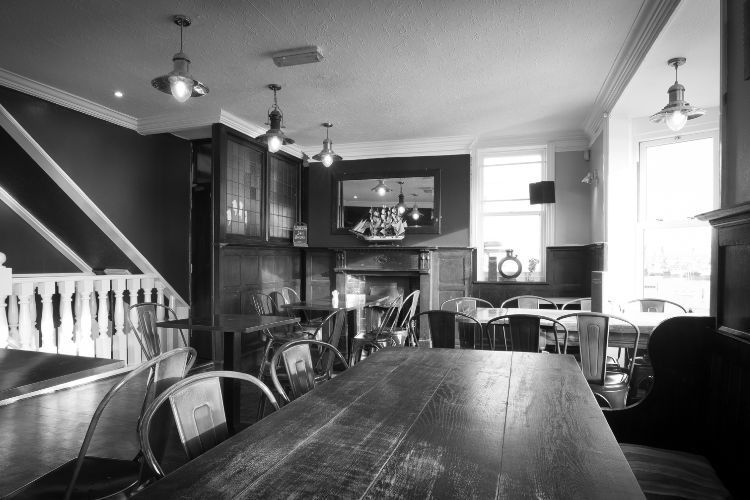 A change of pace just a short trip from Brighton
Just next to Shoreham on the seafront, it sits looking out to the Lady Bee Marina.
Taking shelter from the rain we made a beeline for a lovely table by the window. Now pitch black and the rain trickling down the windows, you could still make out the harbour: boats bobbing up and down and the moonlight pouring onto the water like glitter.
A Warm welcome from The Schooner Southwick
We were also sat by a radiator which was on and gave it a lovely, cozy feel. Although, as you'd expect there weren't too many people in on a rainy Monday, there was still a lovely atmosphere. The barmaid gave us a warm smile and came straight over to see what we wanted to drink.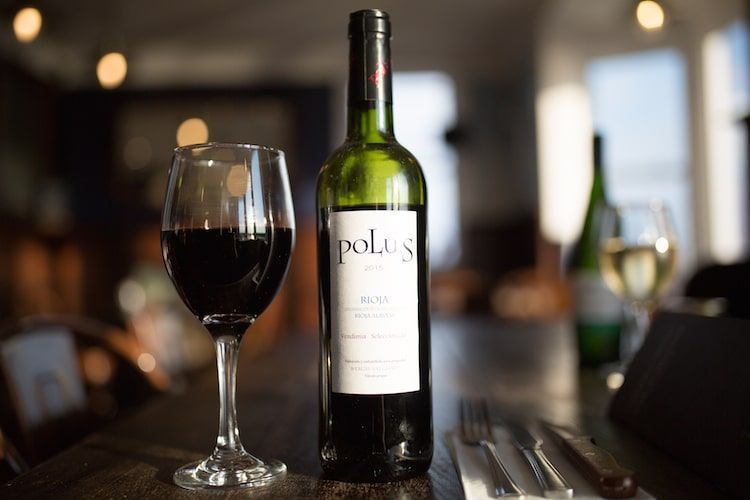 Tommy went for a gluten free Peroni, just out of curiosity rather than any intolerance. He said it tasted very nice, and wasn't sure he could tell the difference. I went for a warming glass of Malbec. It was beautiful. I was surprised by the drinks menu. There was a well selected wine list, and a great list of G&T's – about 10 different Gin's with carefully paired Fevertree Tonics.
Traditional pub fare with a unique twist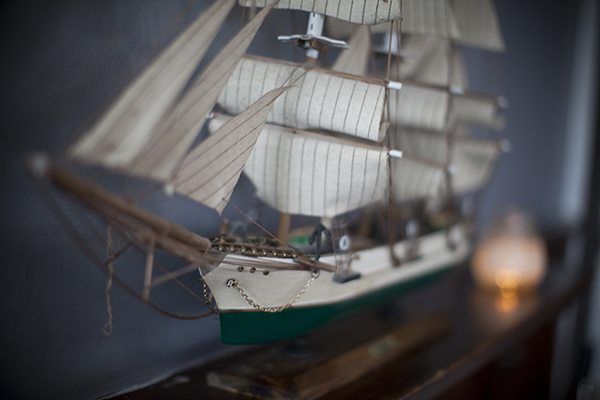 Like the interior, the menu was simple but well thought through. Proper home-cooked pub classics, with a couple of unique twists. The 'Monkfish Scampi' for example. The owner took the time to come over and say hello and told us that they source a lot of their produce locally. She told us they get their lamb from Lancing college up the road, and their fish from the nearby boats.
We both noted what a fortunate position they were in to have access to so much local produce: fresh, locally caught fish 'in their back garden' so to speak, and fresh, local meat and game practically on their doorstep with the South Downs just a few minutes up the road.
Tommy decided on a bowl of the warming 'Chef's Soup of the Day: Tomato and Basil' followed by the cooked to order 'Schooner Burger with mature cheddar.' We noticed that there seemed to be a lot of options for those who were Gluten Free. Many of the dishes could be made Gluten Free Adapted (GFA).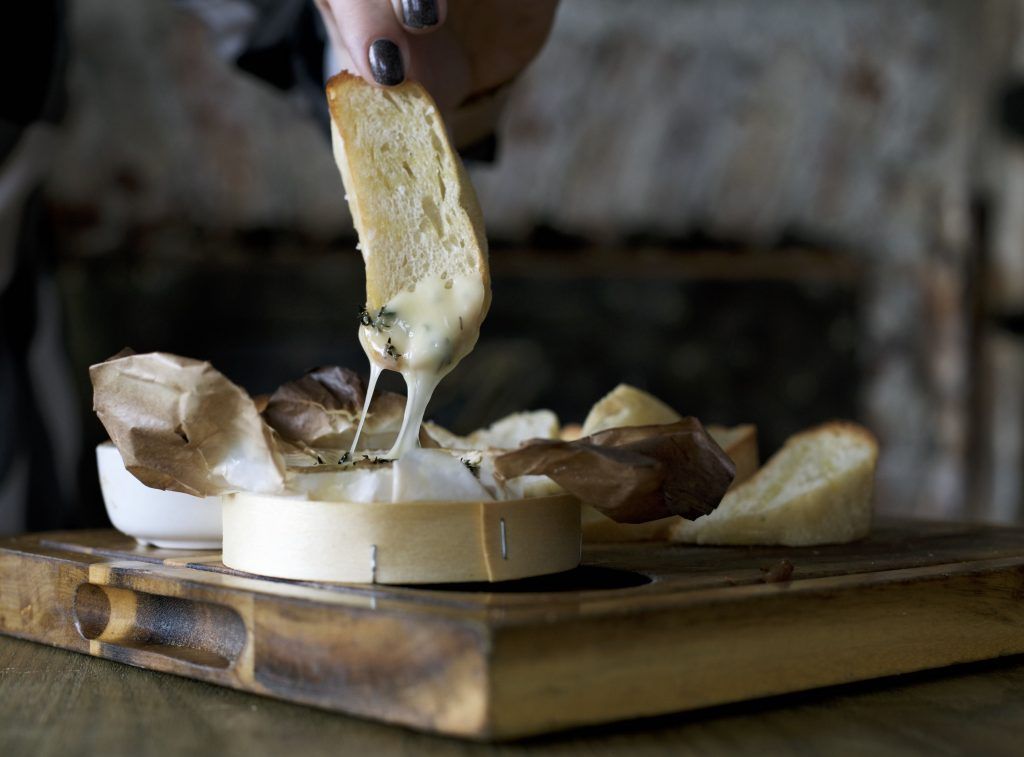 I was stuck between the 'Baked Garlic and Thyme Infused Mini Camembert with toasted ciabatta and red onion marmalade' and the 'Monkfish Scampi in a real ale batter with pea puree and tartar sauce.' Although, I really fancied trying the Monkfish (which you could also order as a main), I decided on the Camembert which I'm a bit of a sucker for. For my main, I wanted something really warm and comforting, so I went for the 'Pie of the Day: Lamb and Rosemary, with spring onion mash and a roasted parsnip.' Nothing says warm and comforting more than Pie and Mash in my book. The ultimate wintery dish.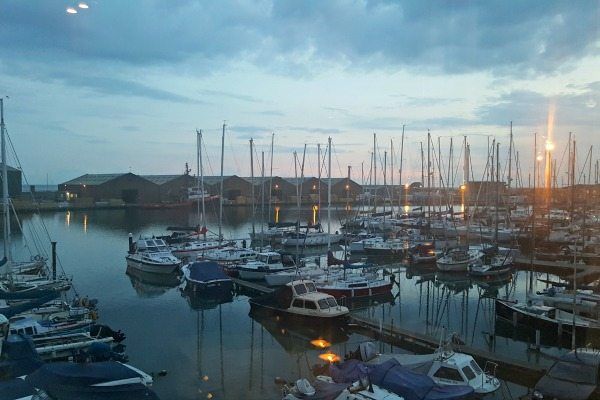 A few minutes after we ordered, the waitress came over to tell us that unfortunately, she had just been told by Chef that he was out of the Camembert. She looked genuinely disappointed for me, but I was actually quite excited that I would now get to try the Monkfish Scampi.
We sat back with our drinks, took in the view of the glittery, nighttime harbour, and listened to the soulful music playing whilst we waited. All thoughts of my miserable Monday were starting to fade.
Starters full of freshness
The food came quickly. Tommy's soup was a big generous bowl with two slices of french bread on the side and piping hot. Clearly homemade, it was fresh, sweet and tangy just as tomato soup should be. My Monkfish that I nearly didn't have was really special. I was so glad the Camembert had been popular that weekend.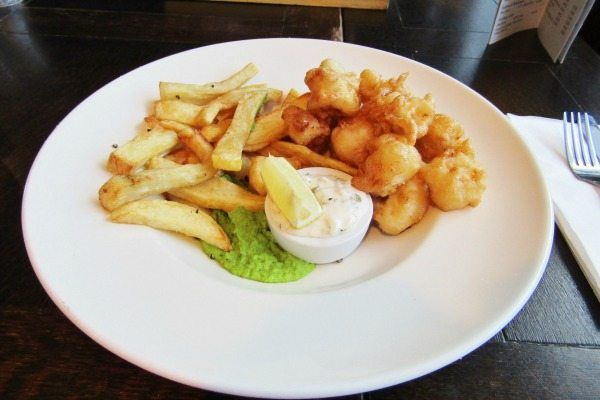 The Monkfish was so soft and fresh tasting, it was ridiculous. The beer batter had a lovely crunch to it and was not too greasy or thick as some batter can be. It was served on what I'd call 'crushed peas' rather than puree (much more to my liking), and a beautiful homemade tartar sauce with big chunks of both gherkins and capers in it. A beautiful starter, and something I would definitely choose as a main also.
Satisfying home cooked food
Feeling warmer, we looked forward to our mains. Both meals were what I would call 'proper home cooking.' Tommy's burger was pink and juicy, and oozing with melter cheddar between a lovely, golden toasted brioche. Beautiful hand cut, chunky chips too. I couldn't get many words out from him other than an 'Mmmm' but his silence and look of contentment on his face said it all!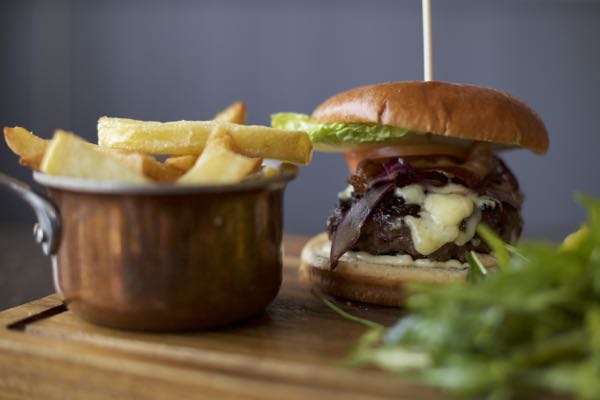 The Lamb and Rosemary pie came in a small ceramic dish that it had been cooked in, a generous dollop of creamy, spring onion flecked mash and a giant, roasted golden parsnip. The pastry had a lovely buttery sheen to it, a perfect touch.
The buttery pastry combined with the rich, burgundy sauce was absolutely delicious. The lamb was perfectly tender, practically melting in my mouth. It was one of those meals where you carry on eating despite being stuffed, just because it tastes so damn nice.
A little more of a good thing
Although, we were both completely satiated, we weren't quite ready to leave the cozy atmosphere of the Schooner and face the elements again, so decided to squeeze in a dessert. Tommy went for his obligatory 'Brownie' and I decided to try the 'Lemon Posset.' Both well made desserts and prettily presented, they were a lovely end to the meal.
I left the Schooner warm and comforted, and with the view that it is not just a pub to drive by, but definitely one to stop and spend some time. For the good quality local produce; home-cooked, affordable dishes and the relaxing warm atmosphere with beautiful harbour views. Well worth venturing out of town for on any day of the week, whatever the weather.
The Schooner in Southwick
You may also like