Happy Summer Everyone! My favourite time of year in Brighton, sundresses, sunshine, and sexy food everywhere! Lunch date anyone? Yes please! So on a particularly sunny lunchtime I found myself strolling through the lanes towards the seafront and popped into the bright and colourful Curry Leaf Cafe for a tasty bite and a catch up with a dear friend.
Smiley, friendly welcomes
Before I even crossed the threshhold I was already greeted by smiling waitress through the window. Big smiles even before I actually came in, how many places are this friendly in Brighton? This was an excellent sign. As I came in I received chirpy hello's and smiles from all the staff and asked to sit up in the sunlit area in the back looking out over the restaurant for a bit of people watching.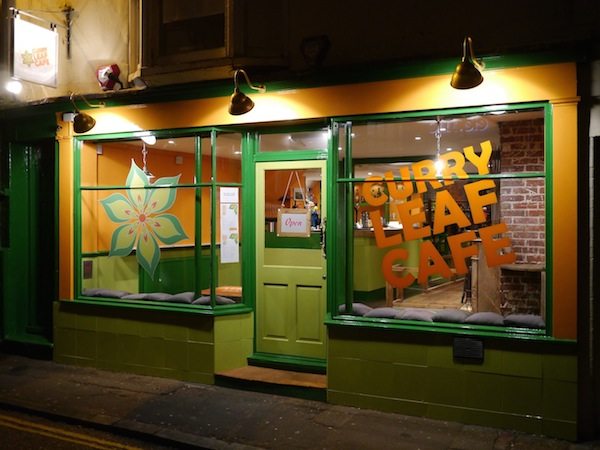 Intoxicating aromas
The first thing I noticed when I came in was the intoxicating smell; fresh lemon, mint, coriander, and of course home-made curry, my mouth was watering before I'd even sat down. The room was so light and open, and I loved all the colours. Bright orange, green, blue, yellow, painted walls that made the space inviting and friendly.
My favourite feature was right in the middle of the restaurant a tiny little garden filled with herbs and their mascot a baby curry leaf tree, such a sweet touch.

Impressive cocktail menu
Once seated I started looking through their extensive drinks list and was really impressed. They have something for everyone, great wine, lovely ales and beers, unique Curry Leaf Cocktails and even a few signature cocktails made just for them from The Cocktail Shack.
I was spoiled for choice, but because I am currently 6 months pregnant I could only but imagine how lush they would all be. (Don't worry Curry Leaf I'll be back with the ladies for a night of cocktails and curry in September, save me a Bloody Meera!)
Unique mocktails
Lucky for me our lovely waitress was more than accommodating and she and I created a sexy little mocktail, the virgin Curry Leaf Collins. Fresh Lemon, syrup de somme, muddled with fresh curry leaves and topped with soda water, it was so refreshing and delicious I barely missed the gin. I had never had a cocktail with curry leaves before and I loved it.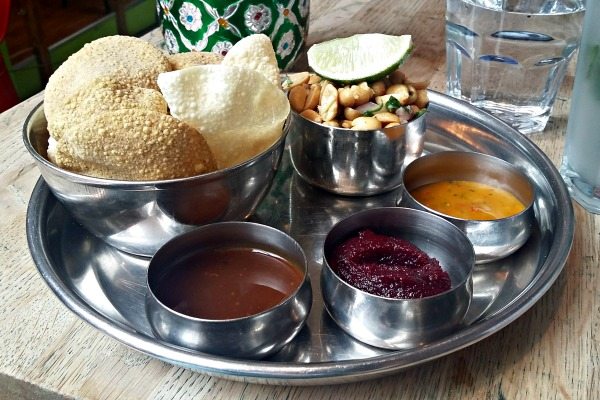 Fresh ideas and innovation
My friend indulged a bit and went for the Hyderabadi Mojito which looked amazing, rum muddled with orange slices, coriander, and syrup de gomme. Again neither of us had ever really thought of coriander in a cocktail but it absolutely worked and had us both asking for refills. These drinks were the perfect example of the Curry Leafs' fresh ideas and taste innovations that are giving it such a great reputation in Brighton.
We hadn't even had one bite of food yet and we were singing their praises already.
Nibbles to share
To start the meal we decided to get the mixed nibble platter to share, which came with mini popadams and masala roasted peanuts, along with home-made chutneys and dips. The popadams were freshly made and crispy, and the peanuts were spicy and sweet with a squeeze of fresh lime. I had never thought of peanuts as a starter but these were ideal especially for lunch.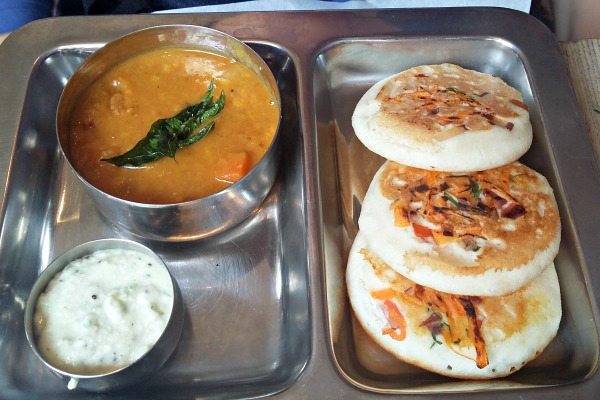 Gluten free options
As always I am a big fan of sharing so for our second starter we ordered the Vegetable Sambar Mini Uttapams, which are naturally gluten free lentil and rice pancakes. They were thick and fluffy and reminded me of savoury cross between an american pancake and a crumpet, I loved them. The batter was filled with carrot, onion, tomato and chilli, and they had a lovely texture especially when dipped in the spicy lentil stew and topped with a dollop of the coconut chutney, a delicious little bite and a perfect example of how simple street food can be downright delicious.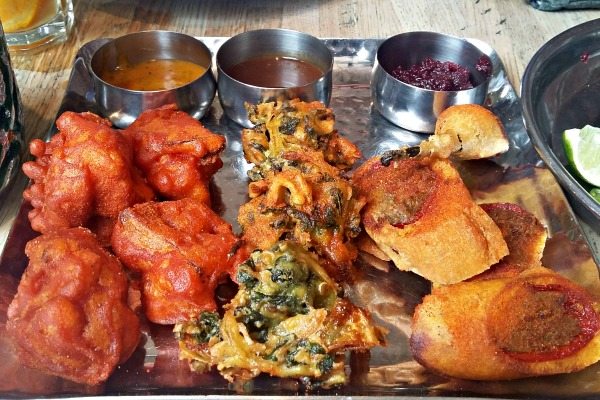 Street food platter
Next up was our street food platter, which was as pretty to look at as it was to eat! Bright red spicy cauliflower gobi, which was dusted in rice flour and fried to a crisp perfection. Orange chilli bhajis stuffed with spiced potato and made with gram flour. They had a proper kick which I loved, and went so well with the tamarind dipping sauce. And finally the yellow and green vegetable pakoras which are an classic roadside bite that are full of fennel flavour and had a delightful crunch. Again another perfect sharing plate with tons of texture and tastes, and just enough spice to make the baby start kicking.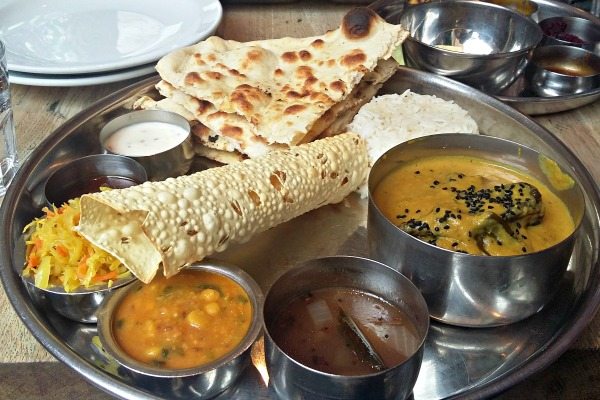 Vegetarian thali platter
For our final sharing plate we opted for the Vegetarian Thali Platter, which has so many lovely elements that it would almost be a shame to list them all, just go and try it yourself! Crispy popadams, soft naan bread, several dips and chutneys, creamy lentil daal, and of course a savoury curried thali with all the flavours of India at its centre. Sweet, spicy, crunchy, fresh, and colourful, everything that you would hope for an exciting lunch.
Always room for dessert
Once we were well and truly stuffed, our friendly waitress came round with that ominous question…do you fancy dessert? I of course wanted to refuse with every fibre of my being, I was completely full after all and there was no way I could possibly eat another bite, however the baby had other ideas.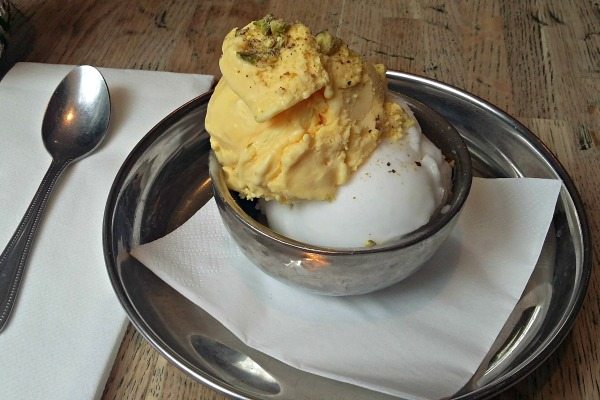 As soon as she said the words Mango Ice Cream and Coconut Lime Sorbet, there was nothing I could do. I have to say the baby was right it was the perfect finish to a lovely meal refreshing and palette cleansing, just delicious.
All in all a lovely day out and I am very much looking forward to sampling their wares at their other location at the Brighton Station, as I have already hear great things.
What Next?
Make a reservation on 01273 207070
Want to know more about Curry Leaf Cafe Brighton Lanes?
Find Out More