It was a wet, dark, autumnal evening and, as my friend Danni and I trudged through the rain, The Basketmakers Arms appeared, glowing on the street corner like a lighthouse in a storm.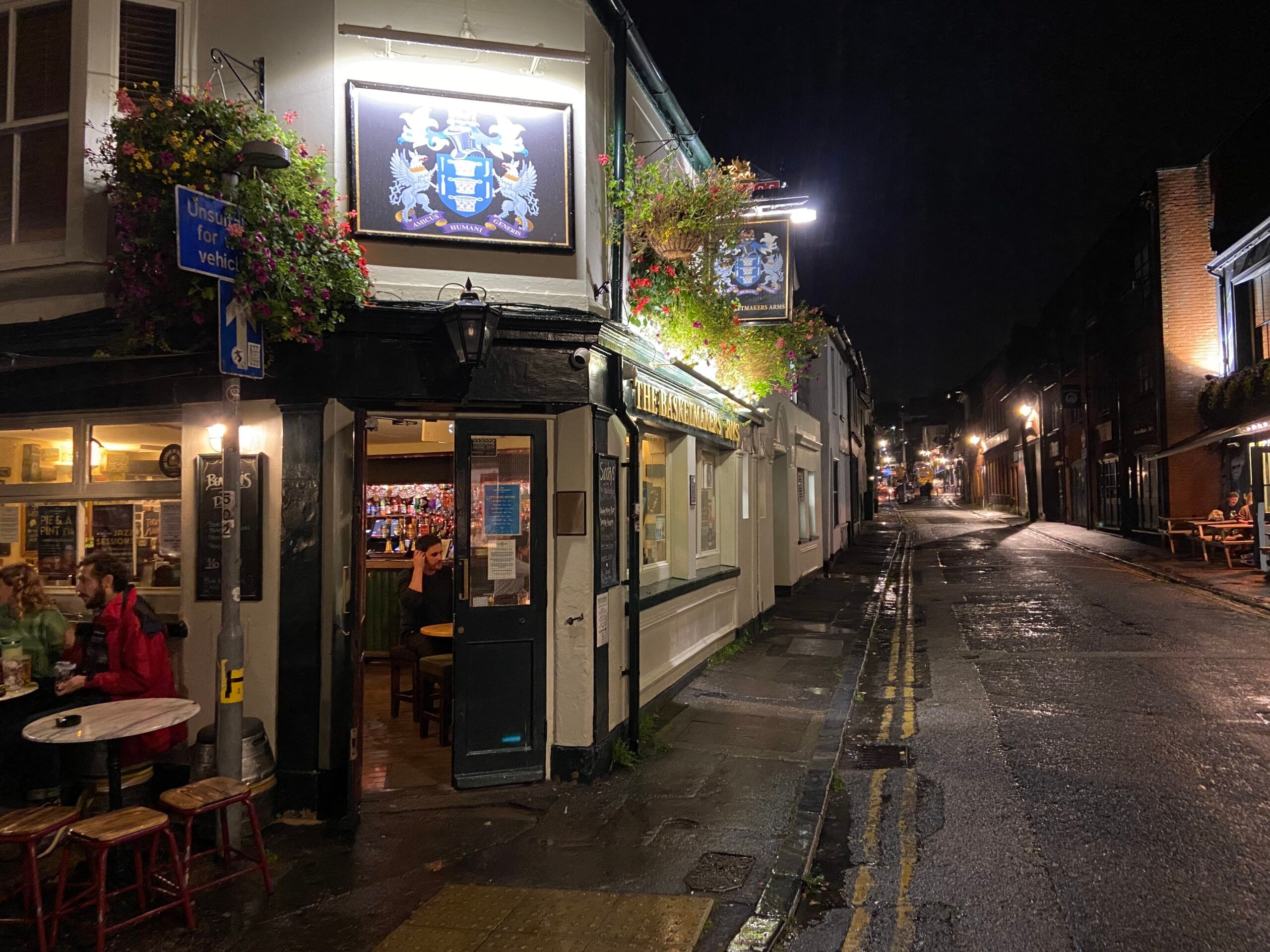 As soon as we stepped through the door we were welcomed in by the friendly staff who ushered us into a snug corner of this Brighton pub. Whilst we shed our drenched coats, I looked around, and was greeted by a heart-warming sight; locals, huddled around tables, deep in conversation. A good pub atmosphere is a special type of magic that's hard to define, and maybe even harder to achieve, yet The Basketmakers Arms has it in spades.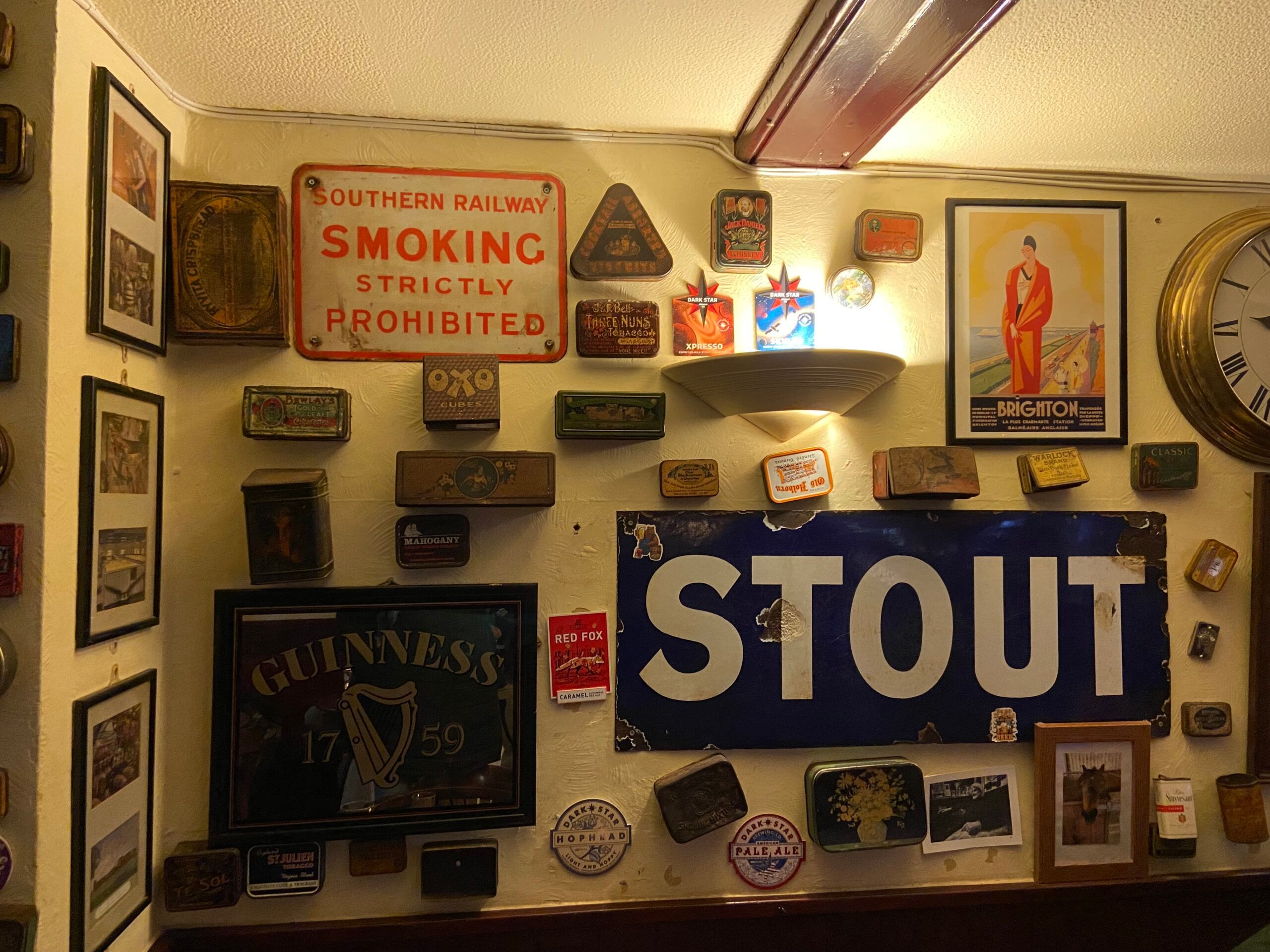 A stalwart of the Brighton pub scene, it's a well-known, popular boozer, and deservedly so. It's the type of pub where you could imagine yourself sitting on a bar stool, chatting away to the staff, or striking up conversation with the locals next to you. With its low ceilings and cosy corners, it feels like the perfect pub to settle in for a relaxed evening with friends. 
Small Plates and Pub Classics
Not long after we'd sat down, a waitress came to take our order. As I scanned the menu, several pub classics jumped out at me: pie and mash, fish and chips, toad-in-the-hole. I knew straight away we were in safe hands. Then I spotted the small plates section and was intrigued to discover dishes you wouldn't usually expect on a traditional pub menu, like the Cauliflower and Courgette Bhajis and Thai Chicken Satay Skewers. 
As for drinks, there was an impressive range of beers on offer. Craving something light and refreshing, I opted for a crisp pint of Asahi, and after much deliberation, we ordered our dinner.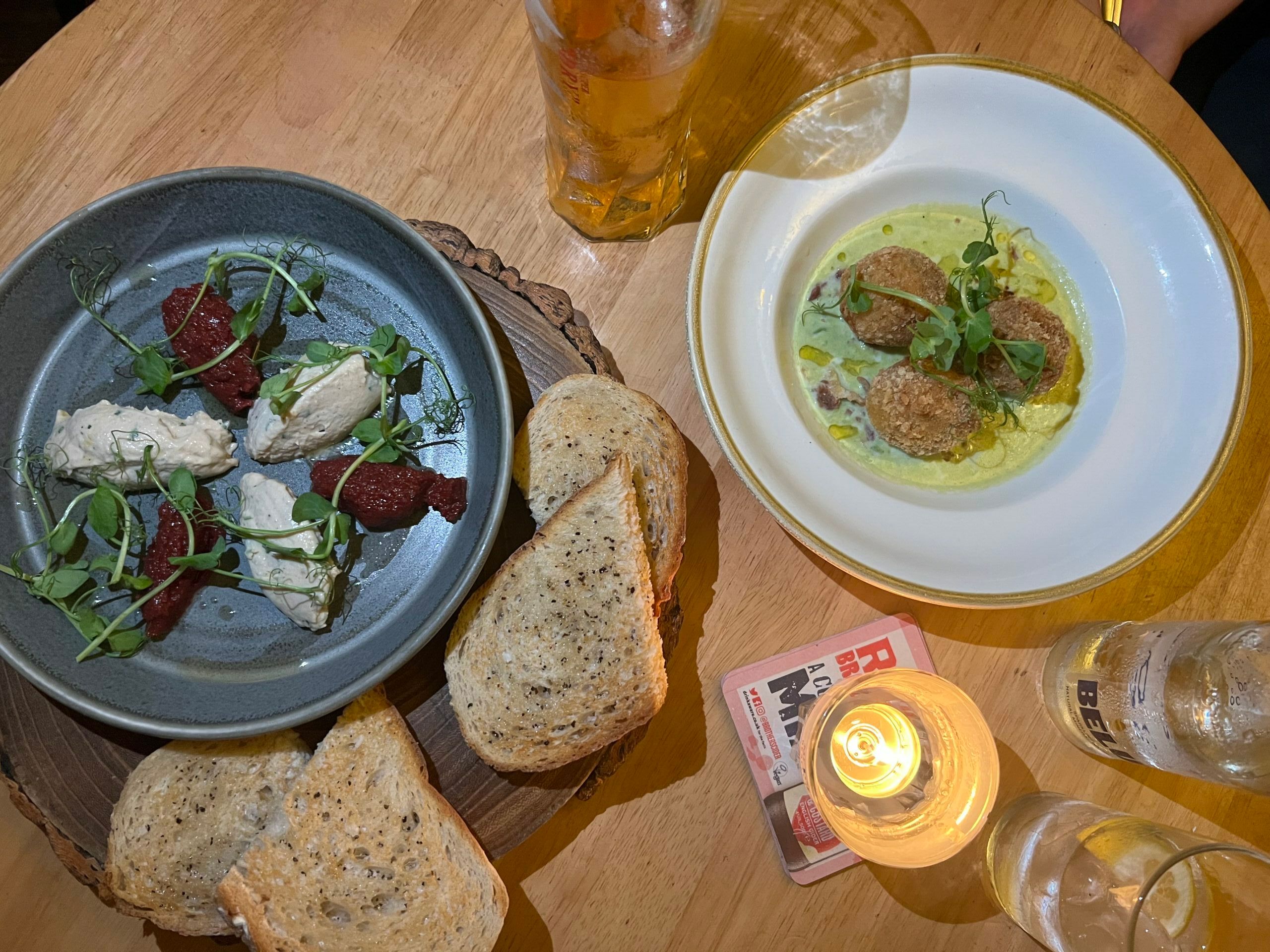 We kicked things off with two small plates – the Pancetta and Roquefort Arancini and the Smoked Mackerel Pâté. The arancini arrived piping hot, surrounded by a moat of pea veloute, studded with delightful little morsels of pancetta.
The arancini themselves were perfection; smokey and cheesy with a chunk of pancetta hidden in the middle. The combination of the salty arancini and the sweet, creamy veloute was irresistibly moreish.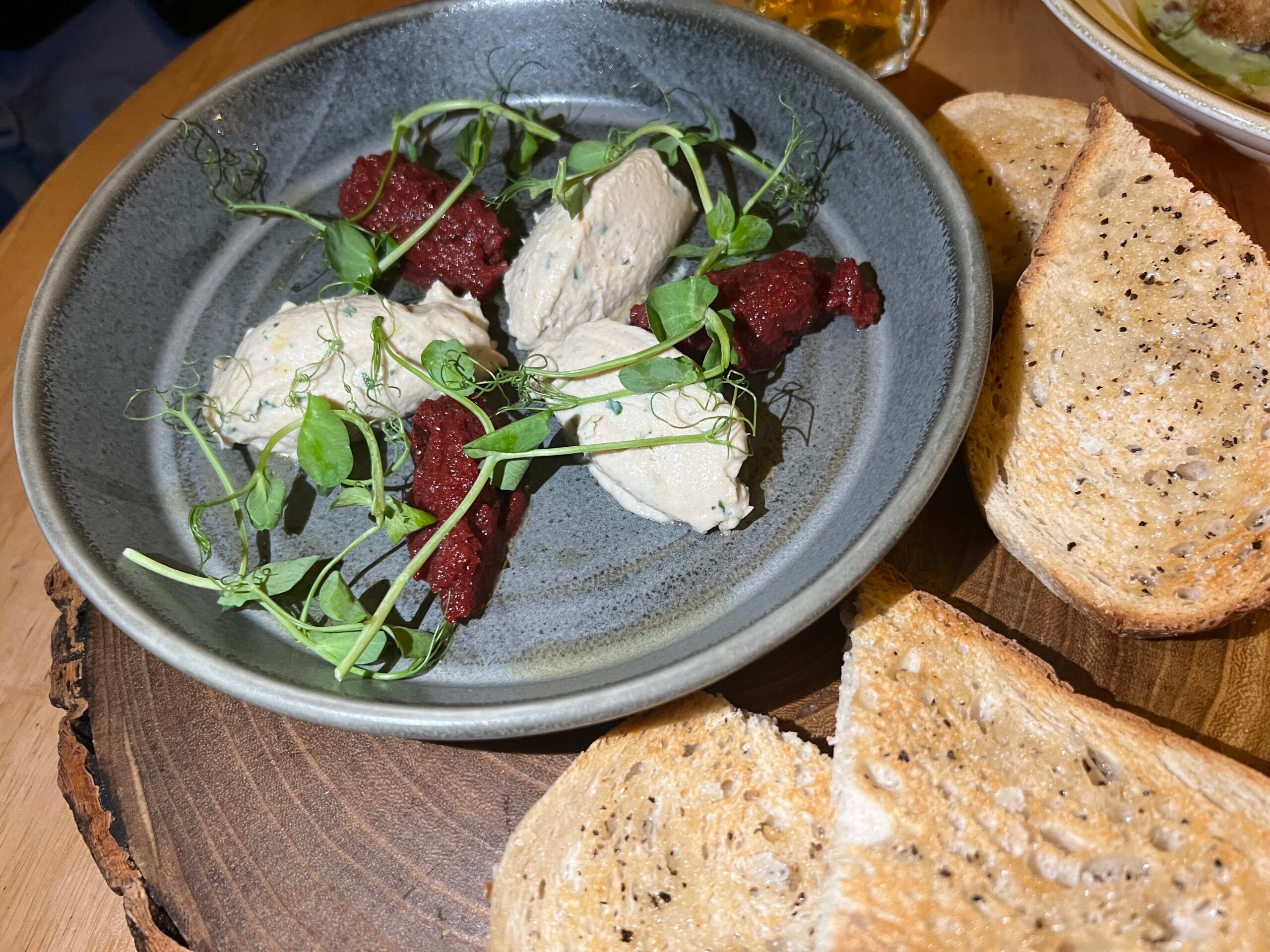 Then we moved on to the mackerel pâté. Dollops of creamy pâté and vibrant red blobs of beetroot were dotted across a stylish stoneware plate, sitting on a rustic wooden platter, surrounded by hunks of sourdough bread. The mackerel pâté tasted freshly whipped, with a lovely subtle smokiness. The beetroot was sweet and tangy, not too earthy. As Danni put it, beetroot for people who think they don't like beetroot. The sourdough was toasted to perfection and liberally buttered. I loved the arancini, but it was the mackerel pâté which had us fighting over the last mouthful.
Pub Classics – But Better!
Next up, our mains – I went for a traditional pub favourite – toad-in-the-hole – swapping the buttered jersey royals for mash, and Danni opted for plaice goujons and chips from the specials board.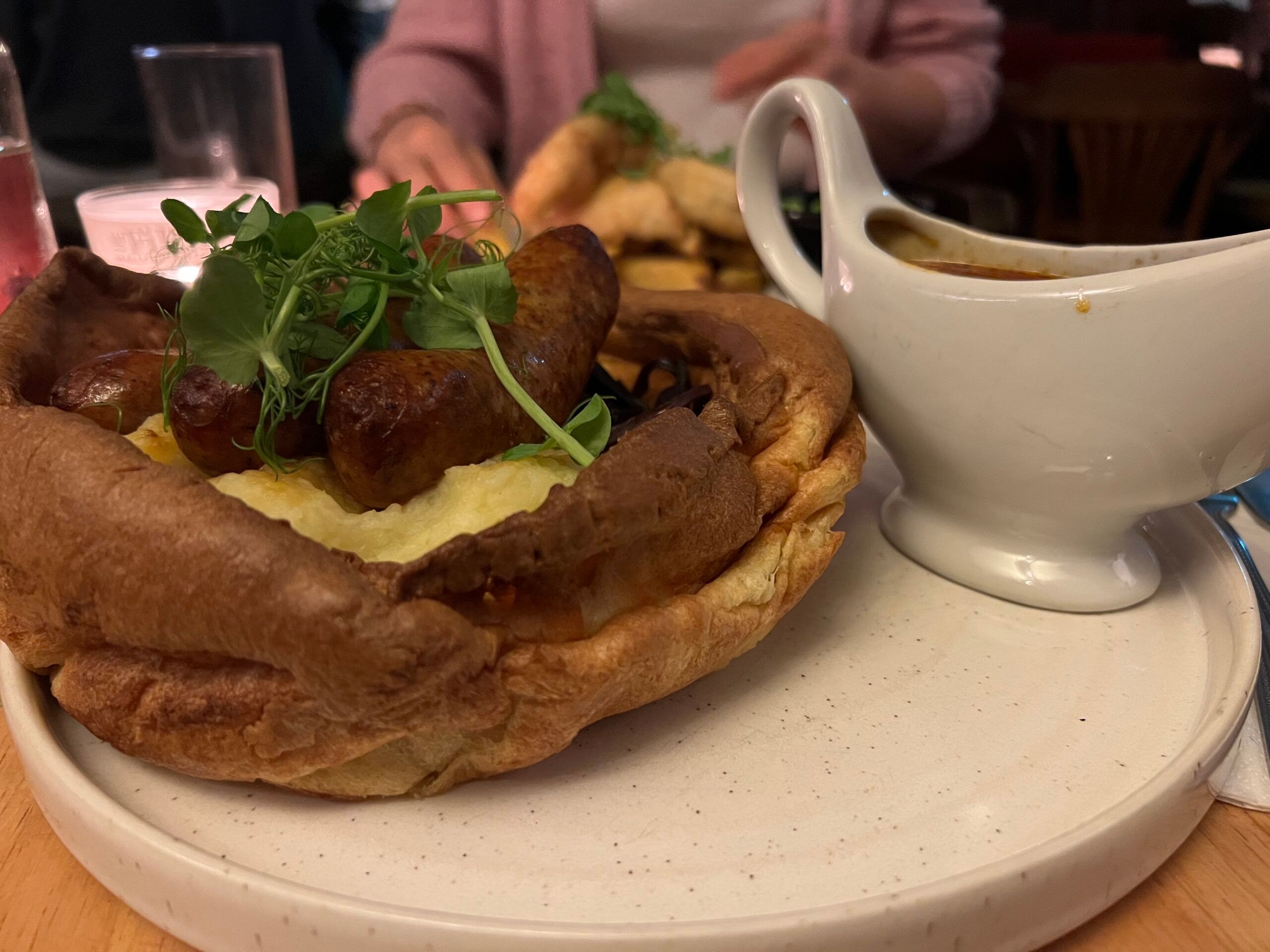 The toad-in-the-hole was absolutely enormous. Three sausages sat in a giant Yorkshire pudding, brimming with mash and red cabbage. A jug of rich, dark gravy sat alongside. It looked like enough for two. Did I still attempt to eat it all? Absolutely. I felt pretty smug about my decision to swap the potatoes for the mash which was buttery, creamy, salty and delightfully decadent, everything a good mash should be. The red cabbage was cinnamon-y and sweet.
The Yorkshire pudding was crisp and fluffy and provided the perfect bowl for drenching the sausage and mash with the delightfully rich gravy. As I took my first bite, it was clear the sausages were butcher-quality bangers. We checked with the waitress who confirmed they were made by the Brighton Sausage Company who have a shop just up the road in the North Laine. You'd be hard-pressed to find sausages with a shorter commute from butcher to kitchen.
Despite the fact I already had far too much to eat on my own plate, I snuck a bite of Danni's plaice goujons and chips. The goujons were light and perfectly crisp, the chips chunky and fluffy, and the peas doused in golden, salty butter. Danni described it as like posh fish and chips, but better. She wasn't wrong.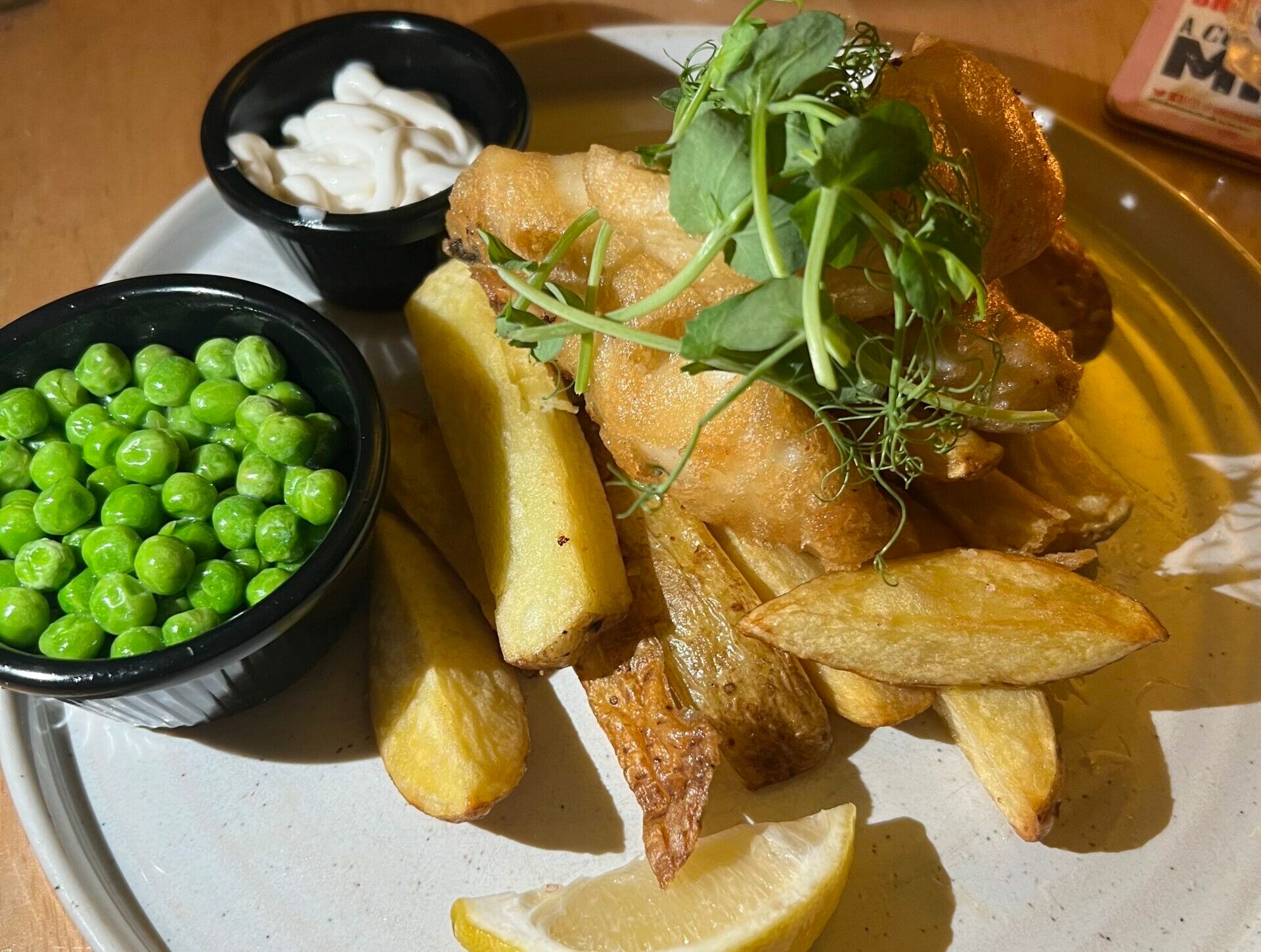 Ginger Spice and Hot Toffee
We were stuffed, but couldn't resist ordering dessert. We went for the Lime and Ginger Baked Cheesecake and the Sticky Toffee Pudding. The cheesecake was surrounded by a scattering of little flowers and was as tasty as it was pretty; creamy and perfectly balanced with the heat of the ginger humming in the background.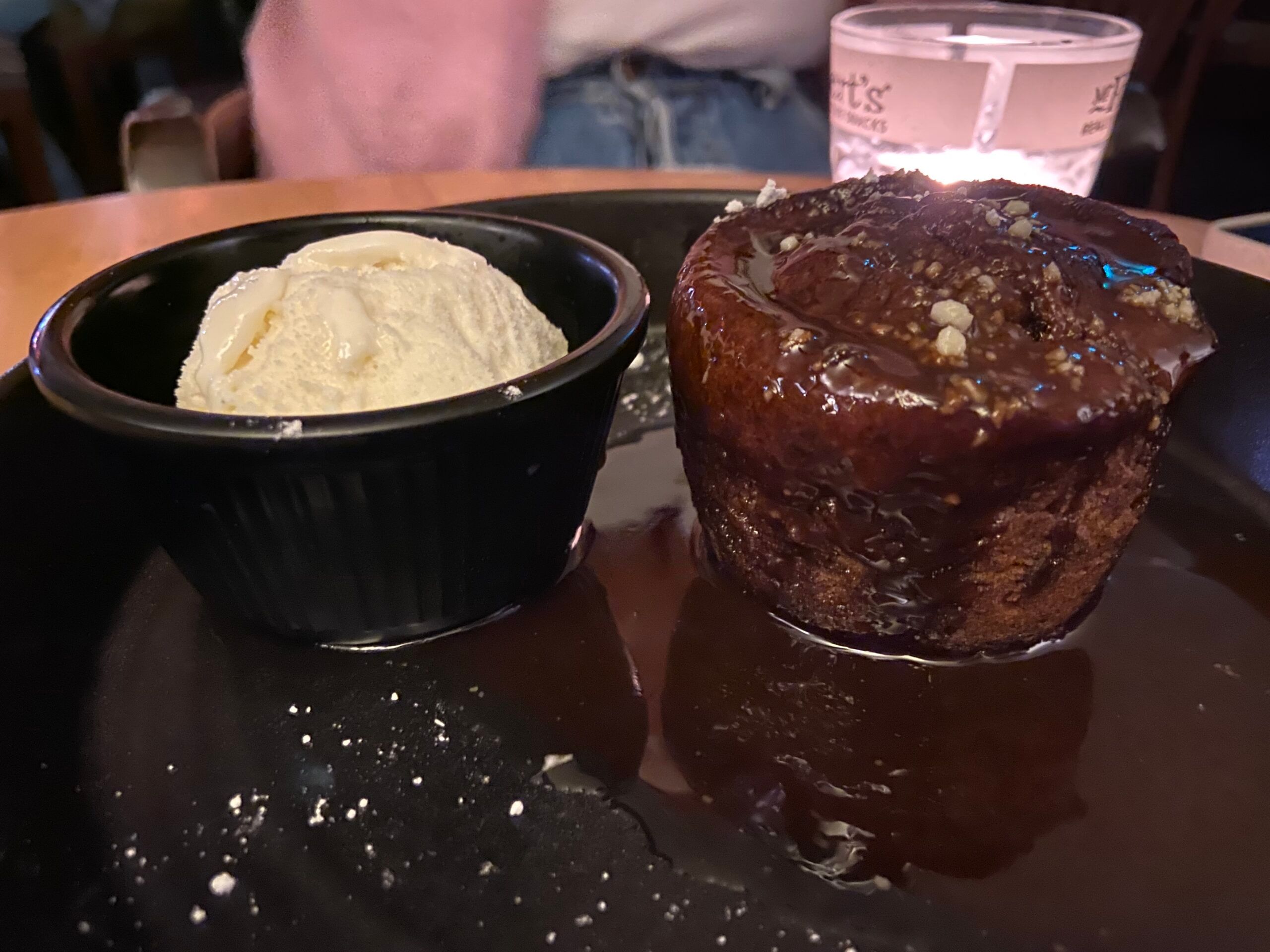 The Sticky Toffee Pudding was rich, gooey, date-y and everything I'd hoped for. It was served with a little bowl of vanilla ice cream, which was refreshingly cold next to the hot pudding. The toffee sauce was so delicious, I almost wanted to ask for a jugful more just so I could eat spoonfuls of it. 
 A Charming, Characterful Pub
As we slipped in and out of a food coma, we looked around the pub and spotted the walls were dotted with little tins. I remembered that a friend had told me they were filled with secret hand-written notes. I opened one up, and sure enough, a note fell out. We went through a few, laughing as we read messages, which ranged from the absurd to the strangely poetic. Yet another example of what makes The Basketmakers Arms such a charming, characterful pub, filled with community spirit.
All-in-all we had the perfect, cosy evening. It's easy to see why The Basketmakers Arms is regarded as a much-loved Brighton institution. It's got the full package: great food, great drinks, and a great atmosphere. Thank you for having us, you lifted our spirits on a wet, dreary autumn evening. We'll be back again soon.