Nestled Napoli
Set just a stone's throw away from the Kemptown seafront, you'll find Woodbox Pizzeria nestled in between the terraced flats. The vibrant blue of the exterior punches through the neutral surroundings, a real focal point on Paston Place, tempting you to take a peek inside.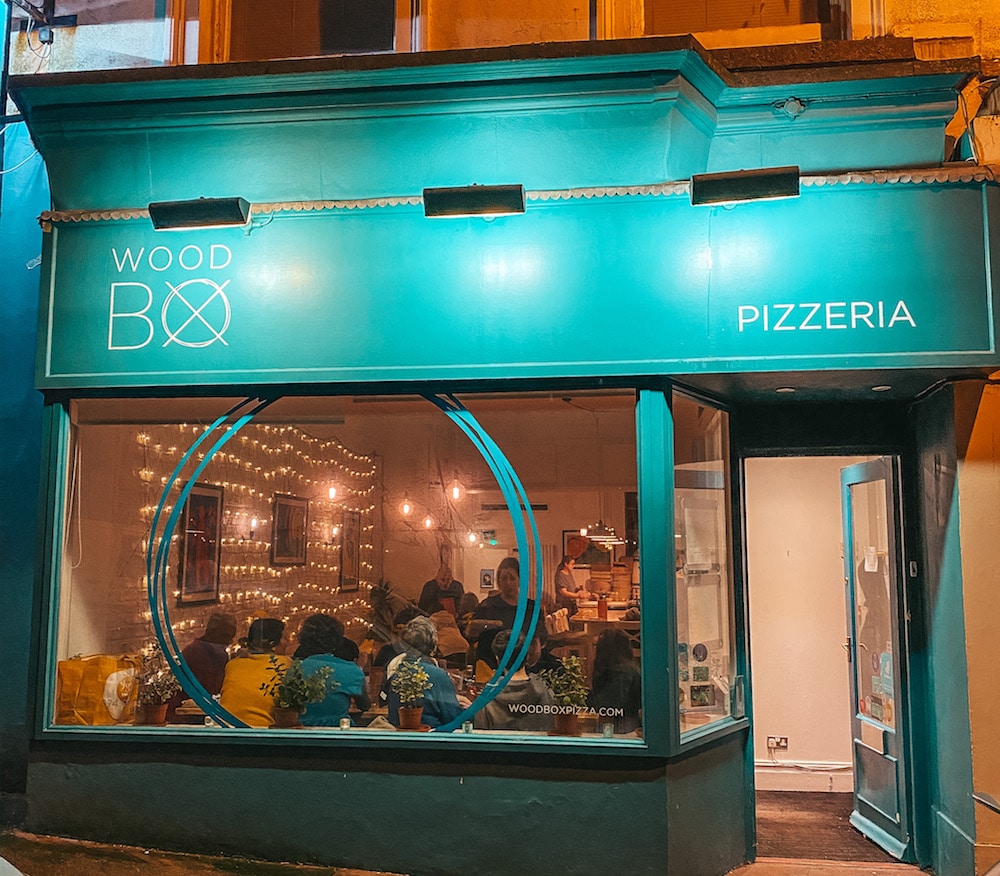 Since 2017, Neil and the team at Woodbox have been offering Napoli style pizzas using the finest ingredients all sourced locally. As we entered we noticed one of their larger dining benches seated a group of Italians and we knew this was a great sign of things to come.
It very much felt like a hot spot for the locals.
The interiors were clean and crisp, with rustic elements throughout. The menus are served on wooden clipboards and the specials menu on brown paper; food is served on textured cream dining plates and the chairs are old school. The warm hue of the fairy lights add to the golden glow from the pizza oven, making the interior a very cosy environment.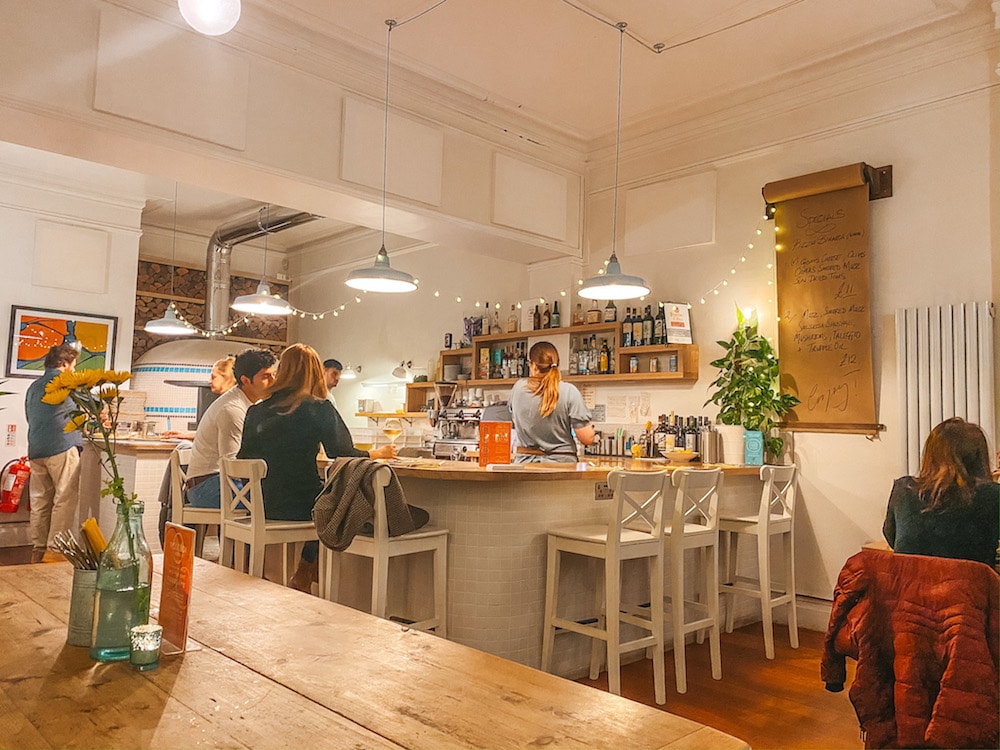 To accompany our meals we opted for 2 glasses of the New Zealand sauvignon blanc Apello, which was zesty with hints of gooseberry, grapefruit and passionfruit.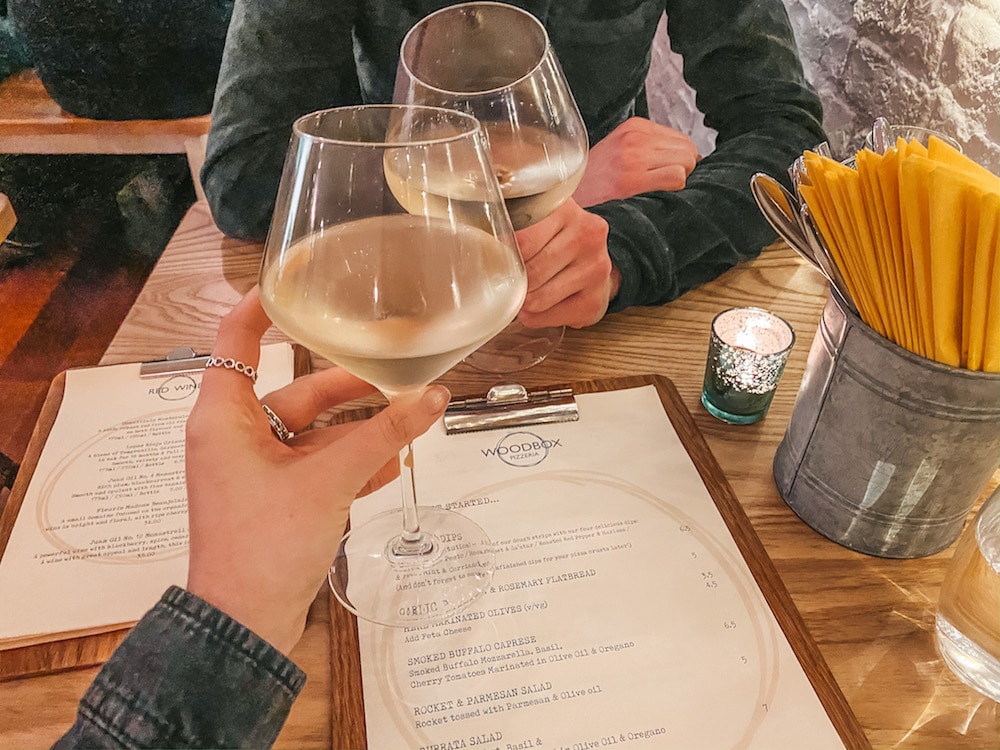 A Woodbox institution
Really there was only one way to start our dining experience, 'Strips and Dips'. Known as a Woodbox institution, we were served a pile of dough strips with a selection of dips – lemon and basil pesto, roasted beetroot and za'atar, mint and coriander, roasted red pepper and harissa. All delicious and complementary in their own way, the roasted beetroot trumped the others for us, we had to ask for more!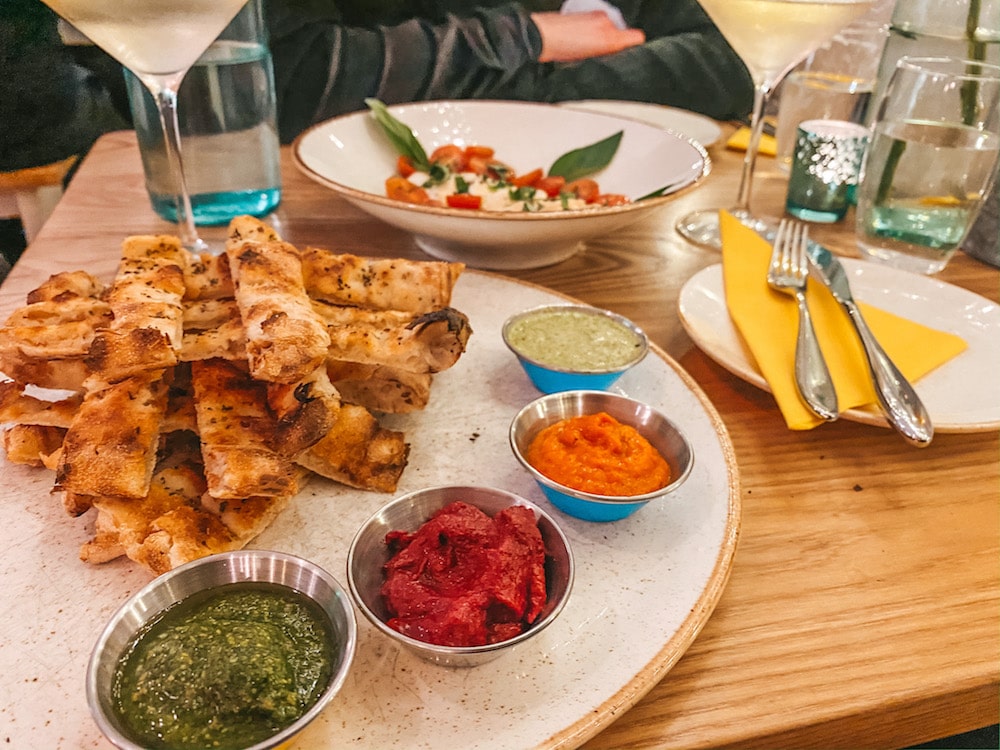 In addition to the Strips and Dips, we chose the Smoked Buffalo Caprese – smoked buffalo mozzarella, basil & cherry tomatoes marinated in olive oil & oregano. The portion sizes of both starters were generous for the prices, and you certainly need a big appetite if you plan to tackle 3 courses here.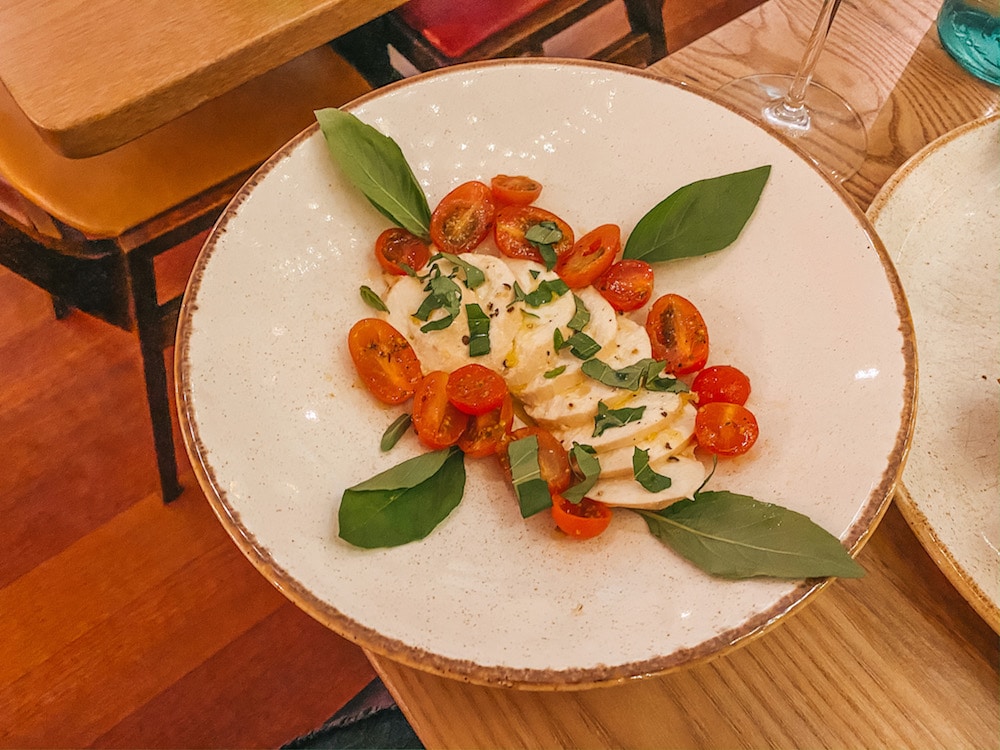 Pizza to perfection
Nico, the Pizzaiolo is a member of the Associazione Verace Pizza Napoletana, which essentially means that your pizza is going to be bloody amazing!
All of the pizza dough is subject to a 36 hour prove and when ready, the pizzas are cooked in their roaring oven right in front of you.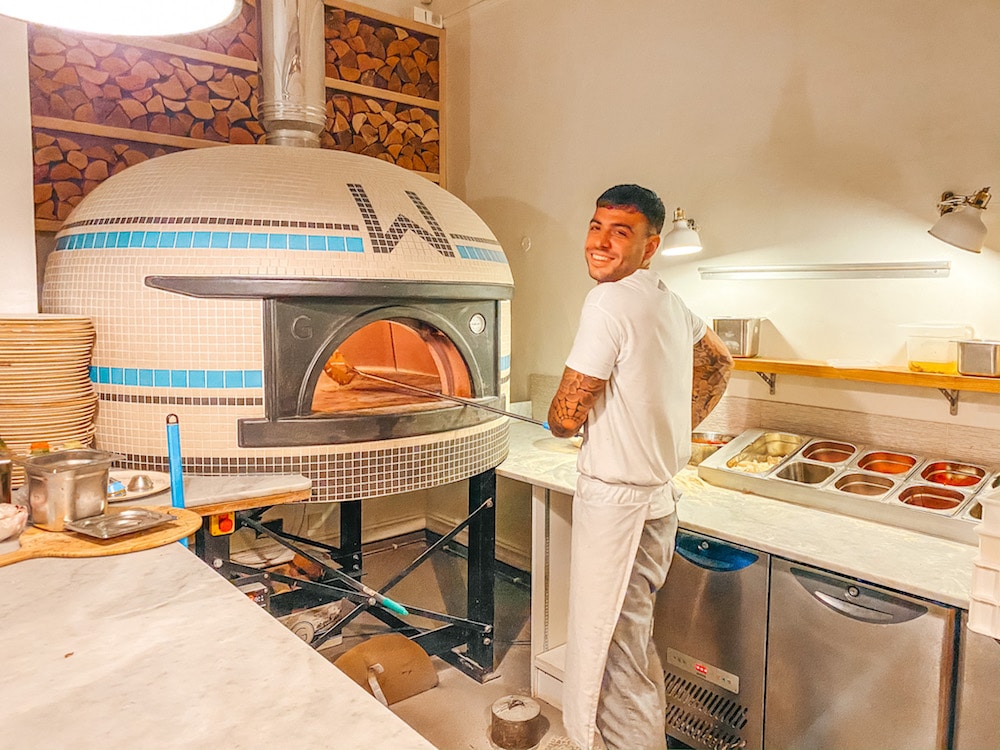 When we visited, they had 2 specials on which had our mouths watering as our waitress explained all the ingredients. I opted for the Pizza Bianca, a creamy white base pizza with goats cheese, olives, capers, smoked mozzarella and sundried tomatoes.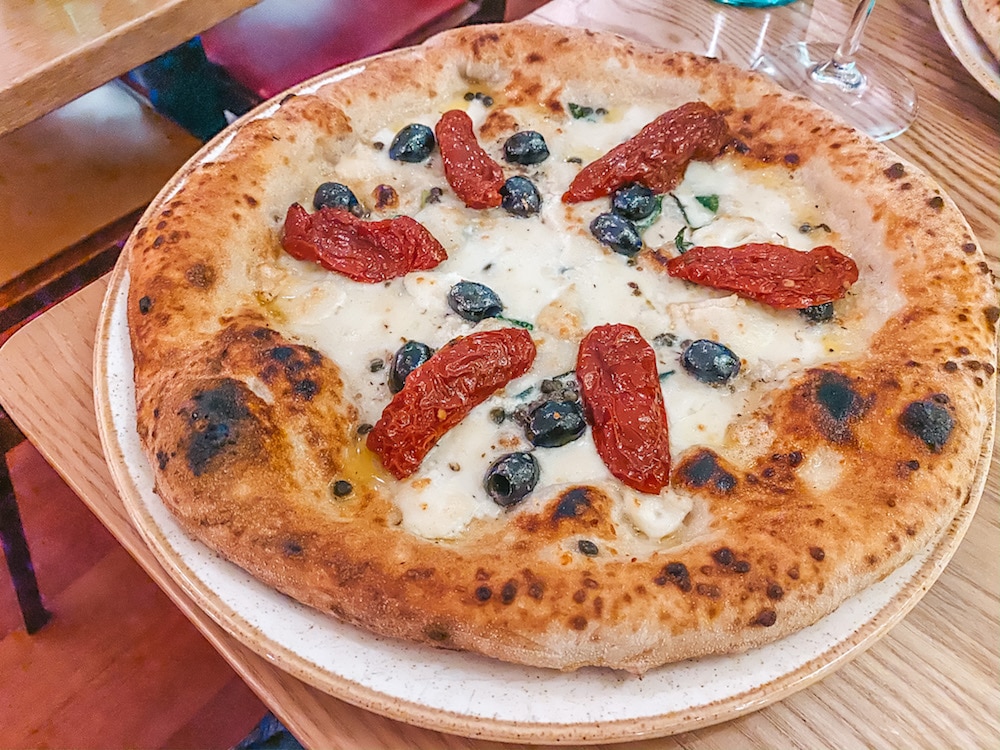 My boyfriend opted for the other option, a tomato based pizza with smoked mozzarella, salsiccia sausage, mushrooms, taleggio and truffle oil. Both pizzas were light, fresh and balanced in flavour.
Every ingredient had been thought about, from the tang of the taleggio cheese to the smoky sausage and the crumbled goats cheese to the salty flavour of the black olives.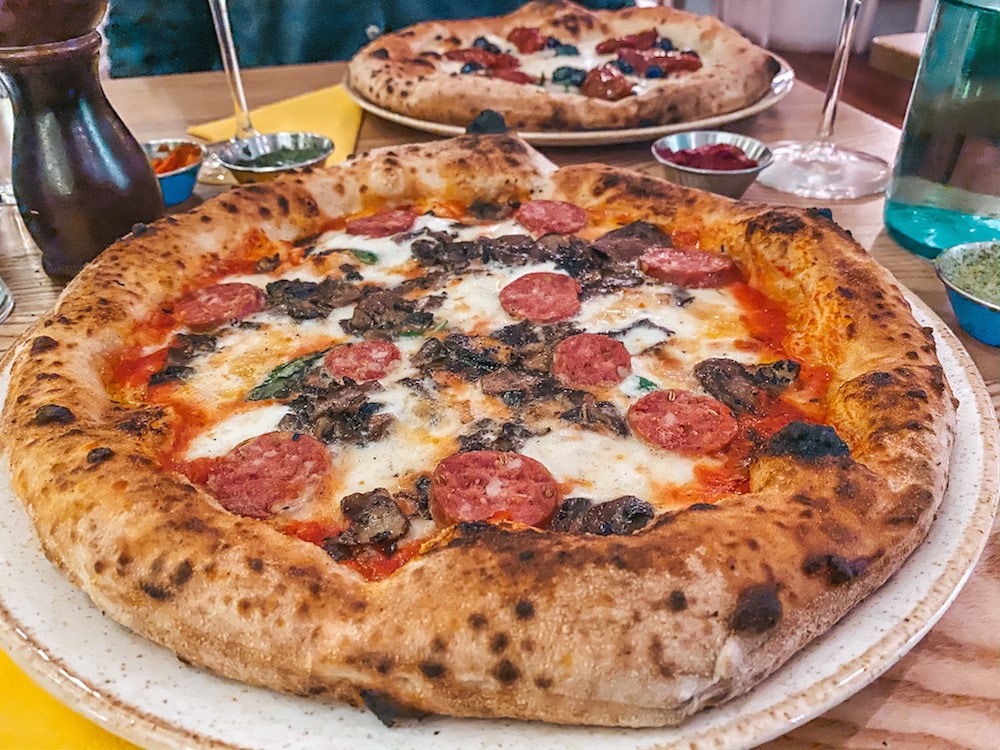 Top tip: make sure you save your dips leftover from your starters to dip the crusts from your pizza in!
Gluttonous but glorious
After all of that, you wouldn't think there would be room for a third course, but we accepted the challenge. Chocolate bar calzone – yes, you read that right – seemed to be the only option really for dessert. A choice of a Mars, Bounty or Wispa bar enveloped in soft, light fluffy dough, baked in the oven and served with lashings of chocolate sauce and a side of salted caramel Boho Gelato.
Gluttonous but glorious!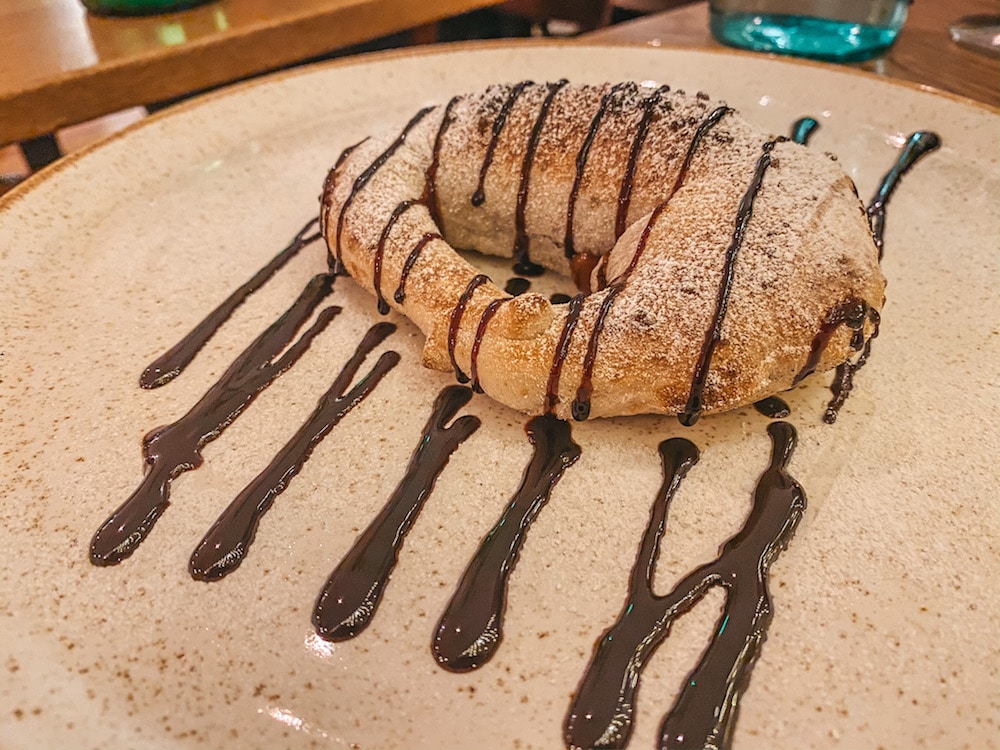 Every mouthful simply melted away in our mouths, I'm sure it will become a guilty pleasure of ours going forward, and a Woodbox signature dish.
Wondrous Woodbox
From the moment we walked into Woodbox, we felt welcomed by Neil and his team. It's clear this isn't just another pizzeria, it's packed full of Napoli passion, mouth-watering flavours, knowledgeable staff a thirst to bring the real Napoli dining experience to those of Kemptown and the surrounding areas.
Want to know more about Woodbox Pizzeria, Brighton, Kemptown?
Find Out More