Memories to Savour From the Punsab Continent
A few minutes on the bus, east of the city centre is the Brighton Marina complex.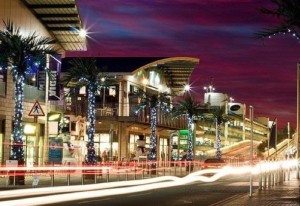 It's soaked up a lot of investment over the years and as a result there's something here for everyone.
Should the cinema, casino, bowlplex, health club and numerous boutiques fail to float your boat there's always the thrill of a 24hr Asda.
Or more likely you could take advantage of one of the many places to eat and drink, which brings us to Memories of India.
Like most of the marina restaurants it occupies a large open plan space in a modern setting.
What marks it out from the crowd is that it's not part of a larger chain.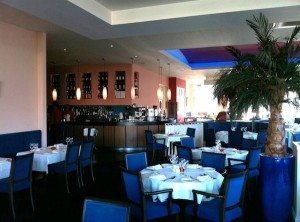 As we arrived, subdued lighting and warm welcomes from the waiter set a nice tone, no rush, take your time.
The menu is nearly as big as the restaurant; 6 pages in total and in many respects similar to a traditional curry house but offering a greater variety of house specials and some more exclusive seafood dishes that you wouldn't see too frequently in similar surroundings.
While we happily snapped popadums', precariously topping them, with either lime pickle, mango chutney or a cooling garam marsala yoghurt we made a start on navigating the menu and requested a couple of Tiger beers to help see us through.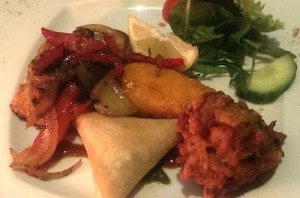 On with the starters; a vegetarian Paneer Shashlik; paneer with green chillies, ginger and coriander, my friend choosing the Mixed Platter – covertly billed as a selection of various meat and vegetable starters.
There were several elements to the platter, but the tender chunks of spiced lamb and an exceptionally crisp onion bhaji, devoid of any grease, well seasoned with a light inner texture really shone out.
I'm not sure a vegetable rissole, perfectly amicable though it was, should've made the line up, whereas the vegetable samosa was again crisp and pleasantly fragrant.
I had imagined the Paneer Shashlik to be a kebab, but in fact it had more in common with a semi-dry vegetable curry.
Fiery bites of paneer combining with onions, chillies and coriander coated in a light sauce that had a sweet and sour quality, and which provided some moisture to the dish.
Though it wasn't quite what I was expecting it was nonetheless tasty and not shy of some chilly fuelled heat, tempering the tanginess of the sauce.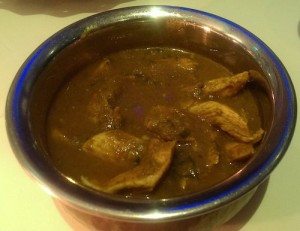 The two main curries and dahl had the hallmarks of great (and unpretentious) home cooking.
Don't interpret home cooking as playing second fiddle to 'restaurant' cooking, the best Indian cuisine I've eaten has been at a family friends house who hail from the Punjab, or take a day trip to Southall, Middlesex to get a taste of things.
We had a Goan chicken green curry and a Dakshini lamb curry to contend with, both from the house specials.
Some lemon and ginger rice with sides of Tarka Dhall, Bhindi Bhaji and a Peswari naan.
Spicing of the chicken curry was delicate; the aromas of fresh ginger and coriander wafting out of the bowl were fresh and vibrant.
The lamb, cooked in stone ground spices, mustard and red chilly was, like the starter, tender and marginally hotter than the chicken.
Comfort food with a spicy kick, the sauce had a great earthy quality, possibly from the addition of some gram flour in its preparation.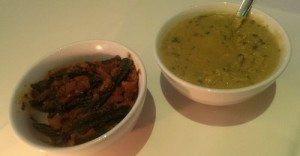 In terms of spiciness, the lamb was reasonably hot; both mains would be manageable for the vast majority of curry fans.
There are plenty of milder dishes available on the menu too.
The lemon and ginger rice with curry leaves was cooked to perfection, proving light and distinctly aromatic as one would hope for.
The consistency of the dhall was just right too, the rich scent and toasty notes from the roasted garlic gratifyingly pungent.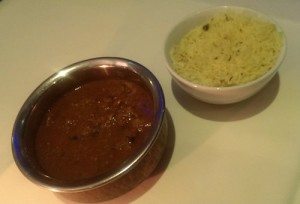 With some Indian breads to accompany, I could have dined out on this alone.
The Peswari naan, savoury yet coconut sweet, contrasted well with the other dishes, though if you don't have a sweet tooth then other options might be better suited.
Finally the Okra, bathed in a spicy tomato based paste added some crunch and nourishment.
All in all, a thoroughly satisfying meal with several stand-out dishes.
Prices are pretty much the same as most takeaways in town, so when you consider this is for a sit down meal and some good service from an attentive waiting team, it is extremely well priced.
My only regret, due to the more than generous portions was that between us we didn't do it justice and eat more.
If you're searching for Indian cuisine, be it traditional or perhaps something less well known then this restaurant should definitely be on your shortlist.