Welcome to Dosa World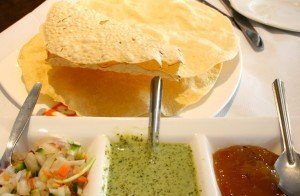 Great food, whatever the genre being experienced, has the ability to make the eater sit back and briefly contemplate whether this possibly is as good as it gets.
This fleeting notion took place just after my first bite of a vegetable dosa at the Eastern Eye restaurant.
A few friends had insinuated as much, but when a mixed platter of starters was served the focus shifted to the spice fuelled meaty aromas of chicken, lamb kebabs and lightly fried chunks of crumbed fish. It wasn't until halfway through that the dosa stopped me in my tracks.
To set the scene, it was mid week and two of us had popped in to this London Road eatery, renowned by locals, for a light supper.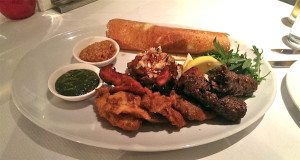 We asked for a selection of starters and a curry to share – chefs choice.
Prior to the actual meal our studious server had brought out the requisite poppadum's and chutneys, where amongst the sharpness of lime pickle and sweet mango a revitalising mint and coriander dip, bursting with equal degrees of warmth and freshness, stood out.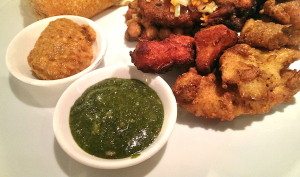 A cold Kingfisher beer later (on draught) and with the spacious restaurant steadily getting busier our platter of starters shamelessly took centre stage; where to start was the question that sprung to mind.
My word it looked good and indeed there were lot of things to savour here.
Tandoori style chicken pieces, tender and peppery, with crisp charred edges increasing their moreishness level.
Lamb sheekh kebabs were hearty and garlic driven.
Of particular note were some tender morsels of crumbed fish, fried to a light golden brown, enveloped in a mellow spice mix that didn't over power the fish. In amongst these delights was a ragada patty, which is a crisp potato cake, or tikki, sat upon a bed of lightly dressed chickpeas.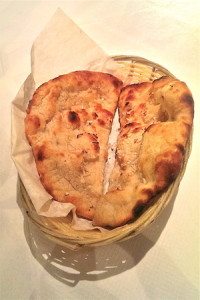 Now if you haven't had a dosa before it's essentially a stuffed and rolled pancake, traditionally eaten for breakfast.
The pancake batter though is usually made from a mixture of rice and black lentils, left to ferment and then ground to a batter.
Fillings range from chicken, lamb and prawn; in this instance the vegetable filling was largely made up of soft potato chunks pervaded with toasty black mustard seeds rich in aroma. Fresh ginger and coriander sprung forth prominently too.
It's hard to do a dosa justice with words as it amounts to far more than the sum of its parts. Suffice to say when the batter, vegetables, fresh herbs and spices commune the end result is immensely satisfying, not just in flavour but texturally too.
Worthy of mentions as well were the chutneys, a lively peanut based number and a second featuring green coriander and coconut, delivering a sugary tamarind inspired acidity.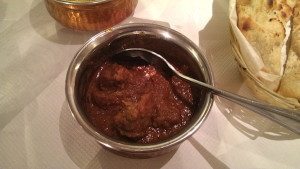 Our waiter explained that they purposely leave a sensible amount of time between the starters exiting the table and bringing out the main courses. In light of the heady starter I suspect we were granted an extension in order to achieve some sort of semblance for the curry.
Compared to the starters the curry seemed like the lesser of the two dishes but by no means did it fail to deliver on flavour.
This was a lamb Gulafi, which on enquiring I was told is similar in some respects to a Rogan Josh.
Tender chunks of lamb were coated in a soothing dark brown sauce, displaying a rich depth of flavour and providing heat to the dish too.
The pilau rice was cooked well, the fragrances of green cardamom and clove wafting out of the bowl. Our naan, lightly topped with coconut, was crisp and toasty, free from any grease and not too sweet or cloying as is all too often the case with a Peshwari.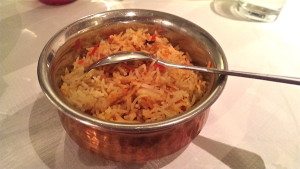 As expected, these three elements more than adequately complimented each other.
There's nothing to grumble about here, the foods damn good and considering the quality, prices offer excellent value. Starters hover around the 3 – £4 mark, the lamb curry was just over £8 and the vegetable dosa really is a snip at £6.50. Without doubt this is one of the best Indian restaurants in town.
Next time I'd trim down on the appetizers in order to try some more curries and sides as the lamb dish was jolly good indeed.
As one would hope for, especially in the context of Indian cuisine, there's also plenty to relish for the vegetarian diner too, which brings us back to the dosa and the final section of the menu.
Here you'll find a place entitled Dosa World, a world worth paying a visit too.
I'm planning on buying a season ticket.
Make a Booking on 01273 685151