The Food of India, Not Just Indian Food.
Normally we hold off until the weekend for a curry and then it's more likely a takeaway, but after a stressful week we decided that we would venture out on Thursday night – to try Chaula's in Brighton town centre. Steve and I both love a curry so we were grinning in anticipation.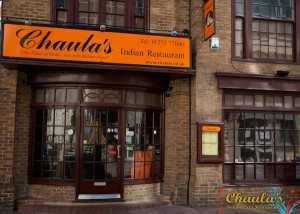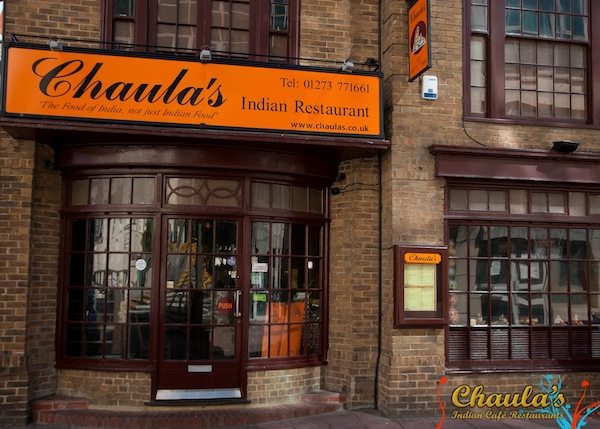 After all, it's not every week that you get locked in the bathroom with your two young sons (3 & 5 years) and rest assured; this could have put those of weaker composition into a straight jacket!! Lets just say that our little angels have more energy than most, sometimes we wonder if the last homeowners (we've just moved house) have left a stash of  amphetamines and the kids think its candy!! Seriously, you need to meet them to truly understand 🙂
Anyway back to Chaula's: located on little East Street – it is located opposite the side entrance of the Thistle and the Town Hall. So very central and easy to get to.
We hear that Chaula's is one of the best in the city, a successful Indian restaurant which began with  humble beginnings, with their first Indian restaurant in Lewes.
A real plus for this type of Indian restaurant is the fact that everything is cooked from scratch and it is very typical of the cuisine you would expect to find on the North West Coast of India .
As Chaula likes to describe her cuisine 'The Food of India, Not Just Indian Food.'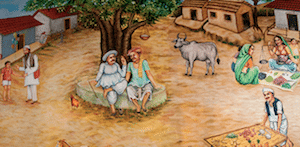 On entering you are greeted with a small bar, that has the edge of a straw hut; this is trimmed with multicoloured fairy lights and continues down the centre of the restaurant.
There's a mural that runs the entire back wall, with painted scenes from a typical indian village and the lighting gives off a really relaxed feel.
Looking around, all the customers are happily chatting and eating and overall there's a really nice ambiance.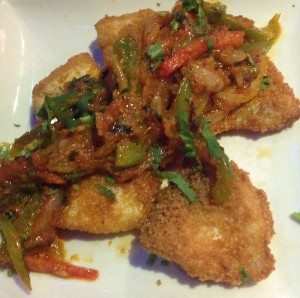 We are shown to a round table in the window where we quickly decide on 'Crispy Fish and King Prawn Puri' for starters. For mains we took a little longer but our waiter recommended 'Hydrabadi Chicken' and 'Lamb Rajasthani', as (his words) these are different to the more obvious choices; such as Tikka Masala or Jalfrezi!
Our starters arrive in good time and are well presented..
I'll begin with the Crispy Fish. This is made with tilapia; a lean white fish with a mild flavour. The batter is thin and crispy, and over the top there is a mixture of white onions, green and red peppers. Tilapia is the common name for nearly a hundred species of cichlid fish; Tilapia are mainly freshwater fish, inhabiting shallow streams, ponds, rivers and lakes.
The combination of spices, non greasy fried vegetables and crispy fish make a delicious starter and one I will certainly have again and again!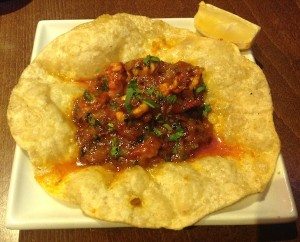 Steve's King Prawn Puri were well presented, with the king prawn tomato mixture, resting on the non greasy puri.
Again a delicious combination of flavours and textures that we would certainly have next time – all washed down with a cold Tiger beer – YUM!
After a short rest our mains arrive, along with a couple of glasses of Merlot. The wine is medium bodied, smooth and already going down far too easily. I'm blaming the bathroom incident – gulp!
Looking at the mains, you can already tell they're different to other curries in taste and texture.. all too often a curry dish can appear sloppy, a watery slush with a thin layer of oil resting on the surface!
At Chaula's the sauces are thick, packed with fine fresh ingredients and there's not a drop of oil in sight!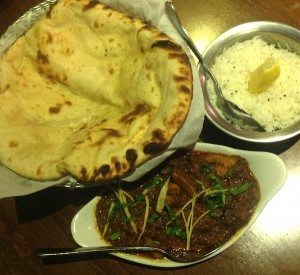 Each mixture has real substance and is condensed with lots of ingredients, my Hydrabadi Chicken is packed with flavour as the combination of onions, garlic, ginger, tomatoes and medium spices work the beautifully cooked chicken.
The dish is medium spicy and has a real kick, although my mouth is still burning slightly from our starters!
Steve can cope with hotter dishes, which is just as well as his Lamb Rajasthani is even spicier but he's loving it.
The blended cashew nuts and fresh spices work beautifully with the lamb, which is cooked really well. The rice is perfect –  my lemon rice is subtle, with poppy seeds running through it and works wonderfully with my main.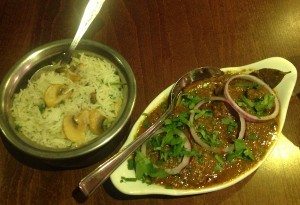 Steve had mushroom rice, which again was perfectly cooked with fresh mushrooms. Our Peshawari Naan was cooked well and great for mopping up the tasty sauces.
Now we have to try a dessert, it's all for a good cause – YOU, the reader need our feedback and we can't let you down!
We also can't have one each as we are t00 full, so decide on Gulab Jamun as it sounds like a good one to share…
When this dish arrives we are happy to see that it's not that big. It is however very tasty and we always like to finish on something sweet and were not disappointed.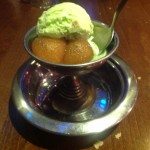 There are 2 balls which are full cream milk powder, with a hint of semolina, fried and soaked in saffron syrup. This is a very sweet dessert, where the hot sticky balls work well with the ice cream.
If you want to have an Indian but do not want to feel like your in a typical glorified takeaway, then certainly try Chaula's. You will not be disappointed as this is up there with the best Indian food in Brighton & Hove.
By Leigh Carrington.
 Make a Booking on 01273 771661
See the listing for Chaula's Brighton