East Beach Café
Visit Littlehampton's official tourism website and you won't find a single mention of its most famous attraction apart from a coy reference to 'stunning architecture' and an image or two. Perhaps it a measure of how deeply the East Beach Café has divided public opinion in the town, that the council isn't shouting from the rooftops about the iconic building which has won it a hatful of accolades, including Vogue's "coolest seaside resort" award.
It's hard to believe that the Vogue judging panel has actually paid a visit to Littlehampton, because lovely as it is, it couldn't be labelled 'cool'. That honour must surely go to the landmark building gracing its windswept East Beach, the brainchild of owner Jane Wood and designed by architect Thomas Heatherwick, dubbed by The Times 'the most creative mind in Britain'.
The inspiration for the design was a piece of driftwood and it references many nautical shapes – sand dunes, waves and rocks. And the interior feels like the kind of snug cave you might stumble upon at the side of a windswept beach. Made from mild steel, rusted and coated in a special oil to protect it from the elements, it is a giant jigsaw of hundreds of flat ribbons of steel, built over nine months by two men. Like the hull of a ship it is a self-supporting structure and is an extremely complicated piece of engineering. It was made in Littlehampton in four separate pieces, then brought on site and welded together. The whole process from commissioning the architect to completion took 18 months.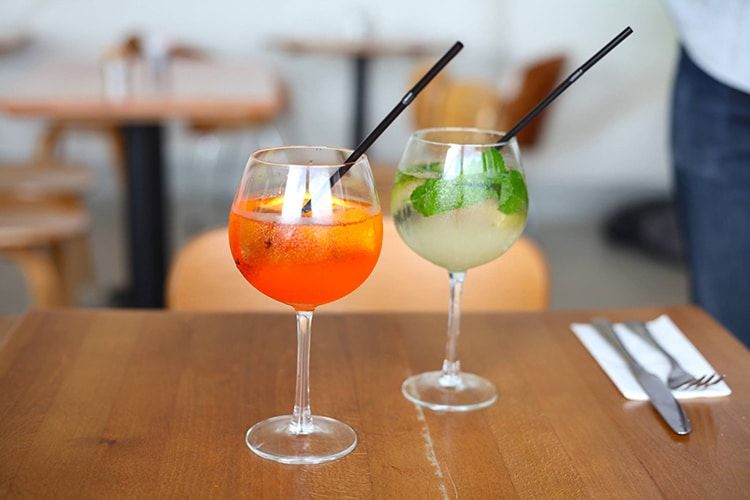 Although the East Beach Café has been open since the building's completion in 2007, somehow I have managed not to pay it a visit before now and perhaps it's because I have been wondering if a simple lunch can possibly live up to the hype. The day I finally made it to Littlehampton was a typically blustery early spring day, with the sun popping in and out and whitecaps on the waves. And yet, the shape of the building and the interplay of light and shadow on its rust-coloured curves was much more striking than I had anticipated. Indeed, local writer and digital artist, Gary Marlowe, calls it his muse and I can see what he means. It almost reminds of another famous monolith, Ayers Rock in Australia, which changes colour according to the season and time of day.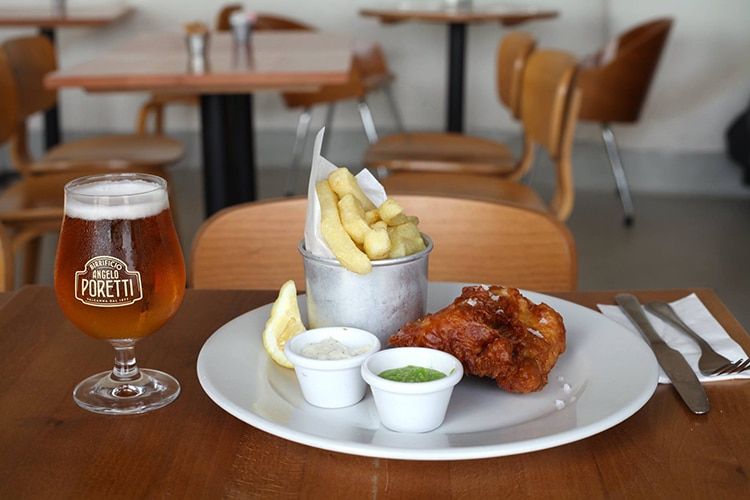 Rather brilliantly, the waves of the building are replicated inside and the management has been brave enough to leave it unadorned, letting the magnificent view speak for itself. And so to the food. Can one meal possibly stand up to such architectural grandeur? The menu is mercifully brief – six starters, mains and desserts and some imaginative specials on the board – and the emphasis on fresh fish and locally sourced produce shines through. I'm delighted to see new season asparagus given pride of place on the specials menu as well as wild garlic and a fillet of river trout, contrasting nicely with the pollock, seabass and coley on show elsewhere.
I dally briefly with the mussel, saffron & salmon chowder and the cockle, bacon & cider linguine is tempting, but in the end, I can't go past the salt and pepper squid with chilli. Meltingly tender with the kind of crunchy coating which indicates some special ingredient (Panko breadcrumbs apparently), the perfectly balanced kick of chilli comes at the end. My companion's potted crab is pronounced 'really crabby' – I assume in a good way, and we get stuck into our more traditional main courses of Moules Marinieres and beer-battered fish and crabs.
Before I even taste my moules, I'm powerless to resist stealing a chip. They are golden wonders – light, fluffy and no doubt double-cooked in the manner of Heston Blumenthal. Perfect for dunking in the broth of my moules in fact. It's a lovely broth; so creamy and savoury that in less polite company I would certainly have picked up the bowl and drunk straight from it.
Suffice to say, we polished off the lot and would have started again at the beginning if not for the arrival of charming and elegant owner, Jane Wood. Rather amazingly, Jane has never run a restaurant before and bought the café in its previous incarnation to make sure that its redevelopment would do justice to the wonderful natural setting. She's passionate about service and about detail – to get a feel for her potential clientele she spent a year working in the old café before it was torn down – and her personal style is such that she undoubtedly has an innate feel for creating a stylish space and making it comfortable. The friendly front-of-house team are a testament to this.
Astutely, she realised from the beginning that a building like this would need serious talent in the kitchen and that serious talent, in this case Ritz-trained, is expensive. Like any other destination restaurant, the café is open seven days a week and stays open throughout the winter. It's a strategy that's obviously paid off because even though the rest of the Littlehampton's boardwalk is deserted, the East Beach Café is bustling and that's on a chilly May afternoon. Although I've probably come late to the party, the opportunity to eat the best of the British seaside inside a piece of modern art, will have me returning again and again this summer.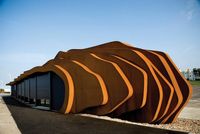 Want to know more about East Beach Café Littlehampton?
Find Out More