A Sunday in Sussex
Last Sunday was a perfect day for a foray into the country, so we jumped in the car from Brighton and headed in the direction of Sayers Common to The Duke.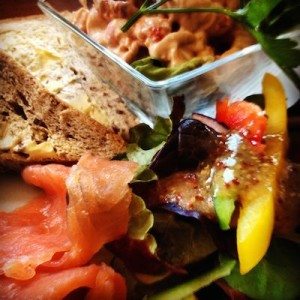 The Duke is just off the A23 and around the corner from Hickstead; the pub is actually sat on the old London Road.
We often get away from the crowds in Brighton during the weekend and head into the Sussex countryside. Our dog loves a good run around and we get to stroll around in the green loveliness the South Downs.
We arrived at The Duke in Sayers Common mid afternoon on a beautiful sunny day.
We'd had quite a late start and then spent ages enjoying a walk from Devil's Dyke so we were looking for some Sunday lunching with all the trimmings and our appetites ready to go.
Just incase you didn't know, the Duke is named after a renowned bare knuckle fighter called Tom Sawyer, once a local hero in a bygone area and his legend still lives on today.
On arrival it was a little bit like stepping back in time.
There was a picture post card horse drawn cart in the pub car park where both horses and owners were all enjoying a drink in the sunshine.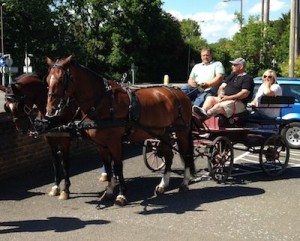 Everything was lush and green and the immediate impression we got from the venue was that it was homely, it had a great locals crowd propping up corner of the bar and instantly we were greeted with a big warm welcome from their one of the hosts.
The Duke in Sayers Common is as traditional as pubs get; a wood panel style interior,  and a nice open fire place.
It reminded me a bit of my parents' drinking pubs back home in the Derbyshire Dales where the banter provides a lot of character to the venues.
It was also refreshing to see a really warm welcome; water was offered at our table without being asked.
I don't know if it is just me but some pubs seem to race through their Sunday lunches without pausing for a bit of a natter with the punters. I really liked that about the Duke, they took the time to say hello and then to see how we were getting on.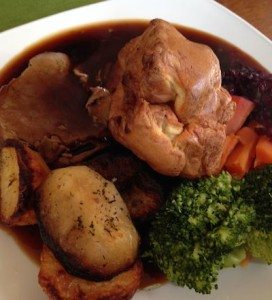 Today we went for a Prawn, Smoked Salmon and Crayfish Cocktail starter to share – and we were quite glad we did as it was rather a generous portion.
Accompanied with a medium sized doorstep from a fresh crusty loaf the dish was quite an old school dish, served with a zingy lemon mayonnaise and a mixture of fresh salad leaves.
The dish was reasonably light (well, it felt light!), refreshing, full of goodness, and it was perfectly matched with a pint of Harvey's Ale – well I thought so anyway!
For our main course we had the beef and the pork.
Both plates were laden with lovely veg, roast potatoes and a nice Yorkshire pud and plenty of proper gravy.
All the veg was well cooked and we especially liked the way the red cabbage was prepared – sweet but a little bit tangy.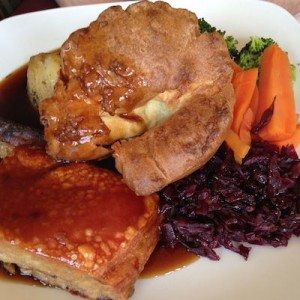 The meat itself was a pleasure and the crackling on the pork was golden and crunchy and we were supplied with horseradish and with plenty of apple sauce which went down very well with Mr RB.
Did I mention how good the roasties were? Very soft and fluffy on the inside and nice and crispy on the outside.
Overall, this was a lovely lunch. Well cooked, tasty, and served up in a friendly atmosphere in a pub with attentive service and some entertaining locals.
Did we go for pudding? No, there just wasn't enough room, but there was a trifle that looked pretty delicious as it went by!
Reviewer: Mrs RB, June 2014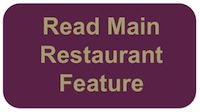 Make A Booking on 01273 832262