Latest addition to thriving city pub scene
Located in a prime position on Western Road at the Brighton/Hove border is the latest addition to Brighton's thriving pub scene. Being on the main drag and just a short walk from the sea front, The Revelator is dead convenient to get to on foot or by bus.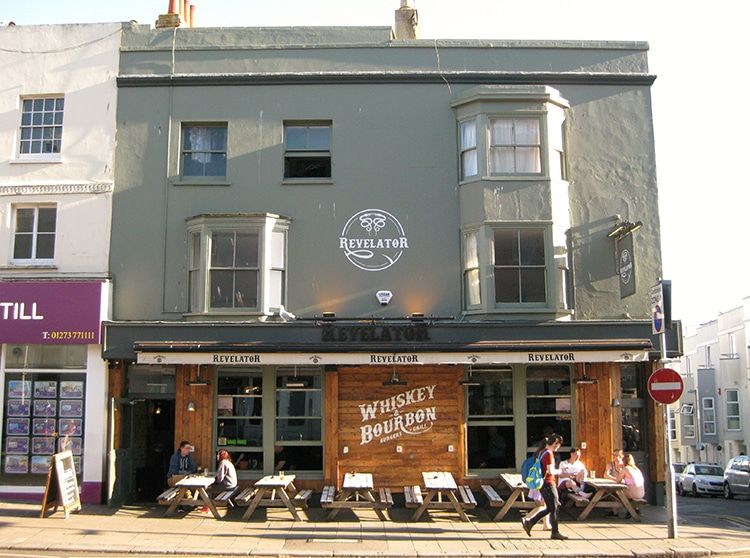 Young & friendly bunch
The pub is run by a young, friendly bunch, and instantly snapped me back to my university days. With Nirvana and Rage Against the Machine playing in the background, the illusion was complete and I was nineteen again, bunking lectures and whiling away sunny afternoons with similarly inclined mates at our favourite local …
Sunny window seat
Reminiscing about my misspent youth aside, we were here on a mission and we couldn't have chosen a better day for it. The weekend was nigh, the sun was blazing and we were hungry! We took a seat by the window, where we could enjoy the blissful breeze, and checked out the menu.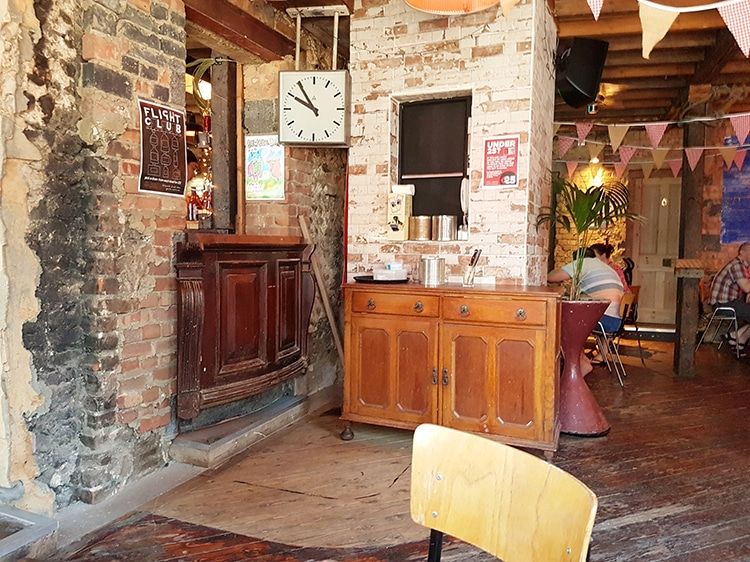 The offbeat look
Inside there is a raw, unfinished feel with roughly stripped wood and jagged bare brickwork. There are a couple of striking murals painted directly onto the bricks, including an image of the Four Horsemen of the Apocalypse, and there is a random selection of wacky memorabilia, not least a brilliant, rusty old petrol pump and a classic, coin-operated, arcade game table.
Rickety, mismatched furniture and a smattering of neon religious iconography complete the offbeat look.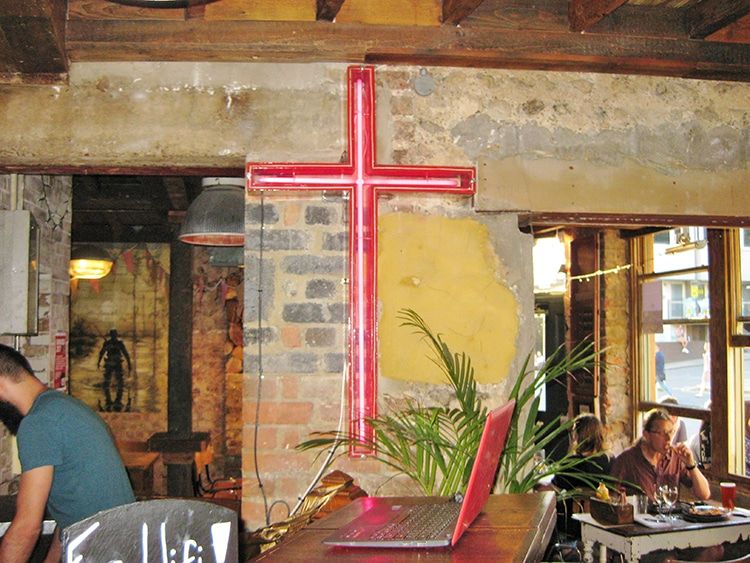 Outside, there are traditional beer garden tables and benches set up on the pavement offering perfect people watching opportunities. Even if you are sitting inside, large sash windows allow you to enjoy the view and the cooling sea breeze, with lazy, slow-moving celling fans circulating the air throughout.
A deep South, American dive bar
In both the décor and the menu there is more than a passing nod to the deep South, small-town, American dive bar. The menu is dominated by meat, centring around but not limited to burgers, with sides of classic American staples like corn bread and maple bacon. However, there are veggie and vegan options and don't forget to check out the specials board.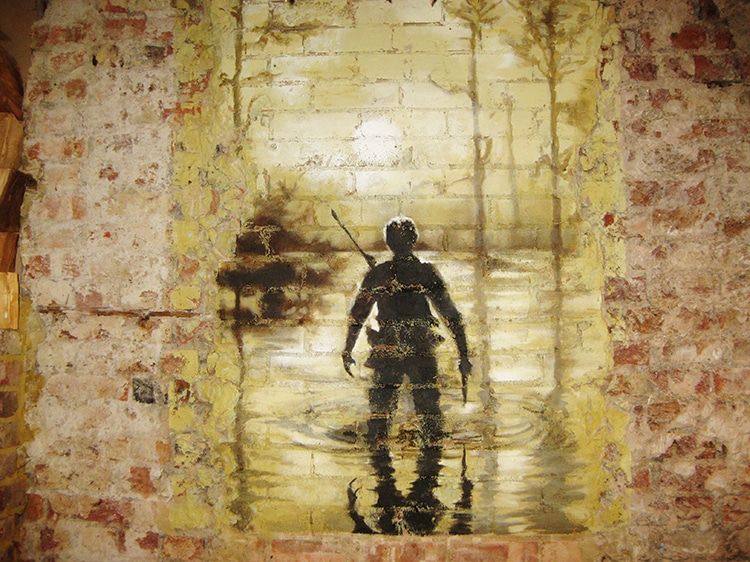 Local & American booze selection
Booze-wise they champion American craft beers and whiskeys with a couple of local choices thrown in for good measure. Andrew had a pint of Sussex-based, Laine Brew Co.'s Bestest Bitter, a delightful biscuity, hoppy bitter and, I had a glass of my "go to" tipple, Pinot Grigio (note to self, must branch out) a lovely light, refreshing wine, perfect for a balmy summer's evening.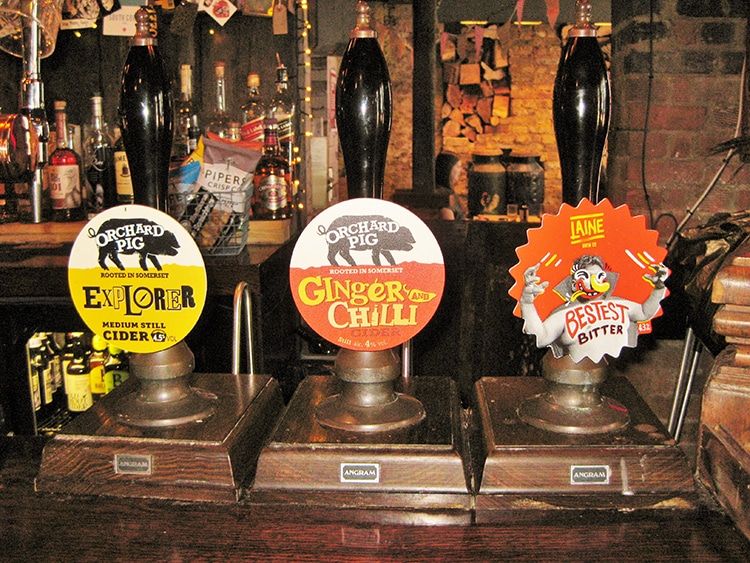 Fall off the bone ribs
For his starter, Andrew went straight for the Weber Rib, a 5-hour slow-cooked, coffee-rubbed, beef short rib with a rich bbq glaze. It was served in a paper-lined plastic basket and came with a little bowlful of crunchy, creamy coleslaw and a handful of lettuce leaves and sliced tomato, drizzled with a lovely herby dressing.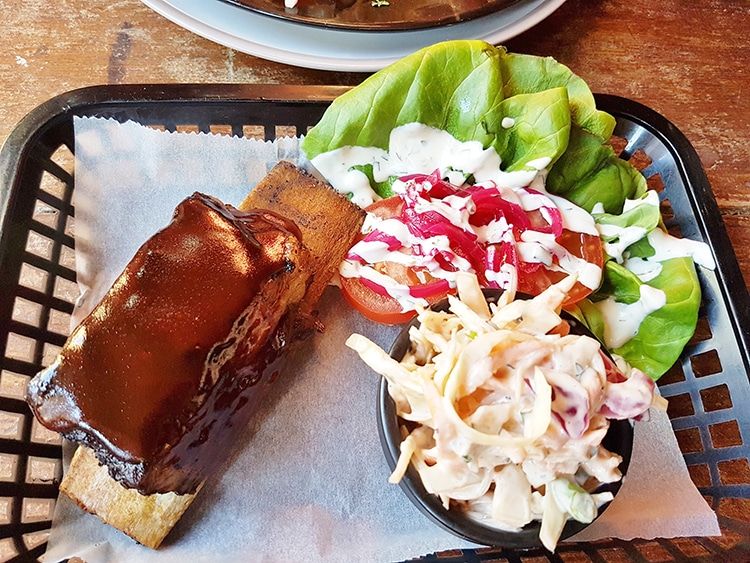 The meat itself was fall off the bone tender and was thickly coated in a sweet, fruity, sticky barbecue sauce. Andrew was in his element, it was just the delicious meaty hit he was after.
A big scrummy plate of nachos
I had campfire nachos, homemade campfire beans, nachos, fire cheese, sour cream and salsa. My plate arrived piled high with crisp moreish nachos, topped with a scrummy combination of impressively spicy goodies including earthy beans, fresh juicy tomato, red onion and coriander salsa, tangy melted cheese and a great dollop of cooling soured cream. Yum!
It was a huge portion, easily enough for two people as a sharing starter or more as table nibbles.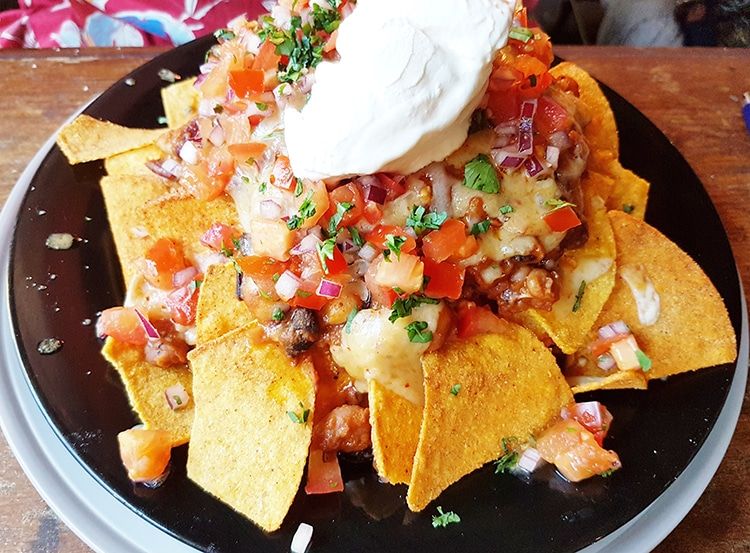 As it was, even with assistance from Andrew, I ate far too much and a substantial pause was needed, before the next course, to recover. Fortunately, the lovely bartender was very understanding, almost like he'd seen it all before…
Boozy apple pork with all the trimmings
When we were capable, we asked for our mains. Andrew had the Boston butt, 8-hour slow cooked pork with boozy apple, creamy slaw, potato gems and corn bread. He received a healthy pile of shredded, meltingly succulent meat with a large dollop of sweet, tangy apple sauce, a slice of fried corn bread, golden, crispy potato croquettes and more of that trademark coleslaw.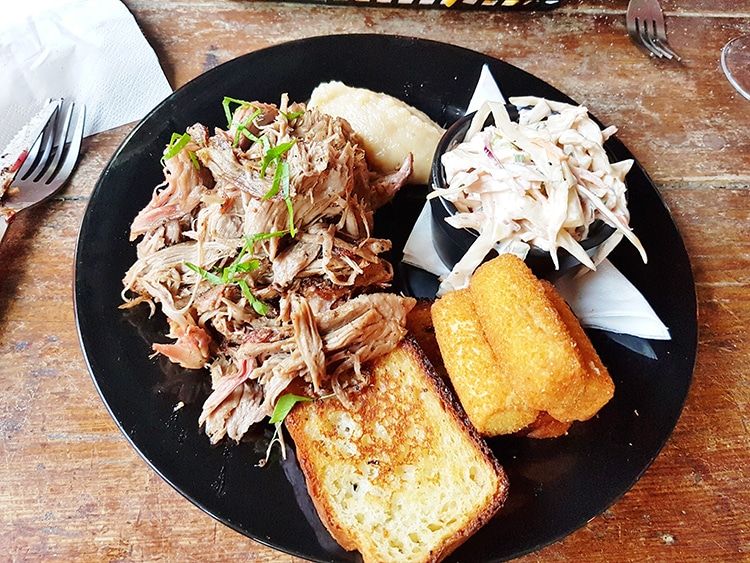 He really enjoyed it and together with his starter it properly satisfied his meat craving.
Tasty beanburger, watch out for the temperature!
I am certainly not vegetarian but I do have a weakness for a good bean burger so I opted for the Huckleberry, a homemade spicy bean burger with cayenne pepper mayo, swiss cheese, jalapenos and slaw, all crammed into a brioche bun with a side of lovely, crisp, golden fries. It looked very appealing so I wasted no time going in for a bite. Now I don't know how they'd cooked that burger, perhaps a nuclear furnace, but that first mouthful thoroughly burnt my tongue, leaving it pretty much numb, and I was left grazing on the chips and watching Andrew polish off his plate while I waited for it to cool down enough to eat.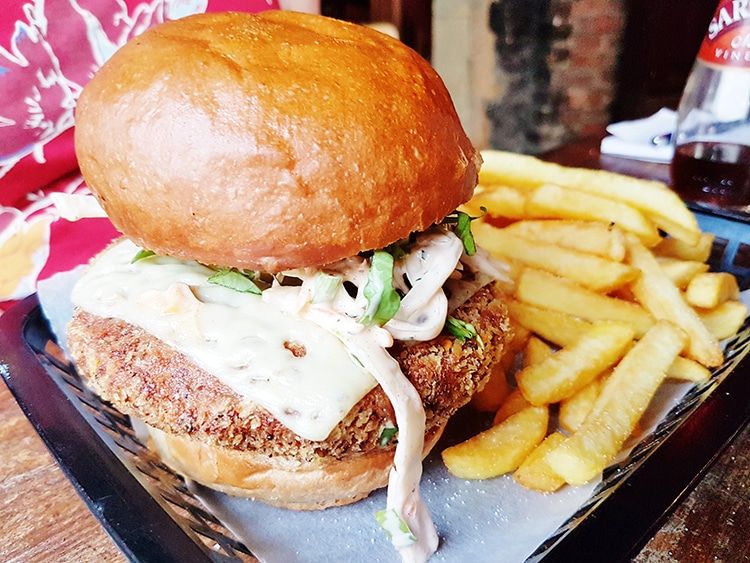 Amazingly it was still too hot to easily handle by the time Andrew had finished his main but with lots of huffing and puffing we managed to cool small pieces down enough to finally make a dent. Unfortunately, my taste buds were somewhat compromised but I did pick up on the spicy, tangy, cayenne mayo, which was fab and Andrew said it was really tasty. So, don't let me put you off, just let it cool a bit first!
All in all, it was good hearty fare.
What's on at The Revelator
Mondays are quiz night, Tuesday is live music night, Wednesday is Flight Club, when you can enjoy a flight of the best whiskeys and have a chance to win a bottle, Thursdays – open mic, Fridays – DJ's and apparently, Saturday is Mardi Gras every week.
Recognising the invaluable work hospital staff do to keep us all alive NHS staff enjoy a discount every day, which is a jolly decent touch.
What Next?