Fine Dining Venues in Brighton, Hove & Sussex
Finding a fine dining or classic dining restaurant in Brighton or Hove is a rather simple task.
There is so much to choose from as Brighton has a wonderful restaurant scene and there are plenty of fine dining restaurants in this broad category which may include classic dining and good quality fine cooking. Fine Dining may also be used alongside modern European, British Fusion and modern British.
Fine dining restaurants are full service restaurants with specific dedicated meal courses – however this is often an over used word in the Restaurant world so please research each venue individually depending on what you are looking for.
Décor of such fine dining restaurants feature higher quality materials with an eye towards the "atmosphere" desired by the restaurateur, so quite often they can be led by a certain theme or a certain type of 'boutiqueness'.
The waiting staff are usually highly trained and they often wear the more formal attire – As Brighton and Hove are such relaxed places though, it may be a little less stuffy and formal.
Fine-dining restaurants are frequently small businesses and they are generally either single-location operations or have just a few locations.
Good examples in Brighton would be the multi award winning Restaurant at Drakes, Graze, Bistro Du Vin and Sam's of Brighton.
Food portions are often smaller but are more visually appealing.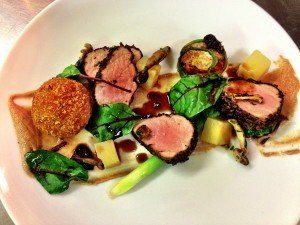 The Jolly Poacher, Browns Restaurant, 24 St Georges, The Jolly Sportsman and Pelham House also feature broadly into this category, providing a more classic and modern British style of cuisine – with elements of fine dining.
We would also like to include Gars Restaurant and The Chilli Pickle too within this category too for their exemplary take on  Chinese Fine Dining and Indian Fine Dining respectively..
All our fine dining venues are listed just here with full details and photography available for each venue. Please give us your feedback on what you think and what you find, your feedback is very valuable to the Restaurants Brighton website.