On a blustery autumn evening, my girlfriends and I descended on The Brighton Cocktail Company to celebrate a belated birthday, and have a sneak peek at their tantalising new Festive Menu. The vibe is warm, contemporary and relaxed, with the rattle of cocktail shakers filling the air and 90s-00s tunes bringing up the tempo.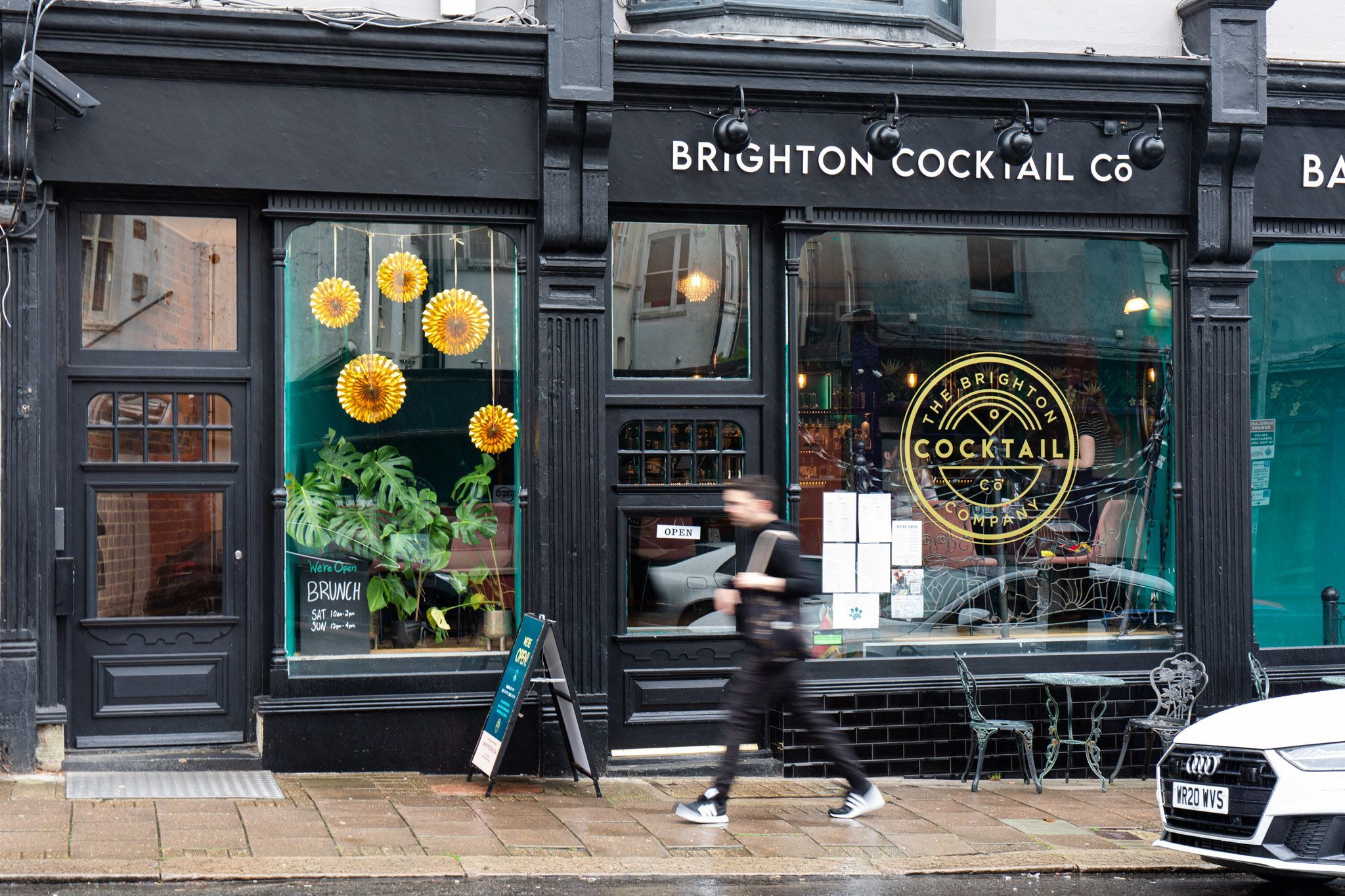 The style is chic and sophisticated, but also accessible. It's a space where you feel welcome to rock up in your best blouse and boots, or just jeans and a jumper. As a Mum of two young boys, I don't get out much with my ladies, so we decided to get dolled up, throw on the red lippy and take advantage of this unique cocktail treat. 
Cocktails and Canapes for Christmas? Yes, please!
Now on to the reason we had been invited – to sample their Festive Canape and Cocktails for the holiday season! Is there anything better than a gathering of friends around the holidays? Add in some sexy cocktails and tasty treats and you've got yourself a party! 
For our first festive round, Alanna ordered the Brighton 75; a local twist on the classic French 75 with Brighton Gin, English Sparkling Wine, and fresh lemon juice with just a splash of sweetness. Elegant and delightful just as it should be.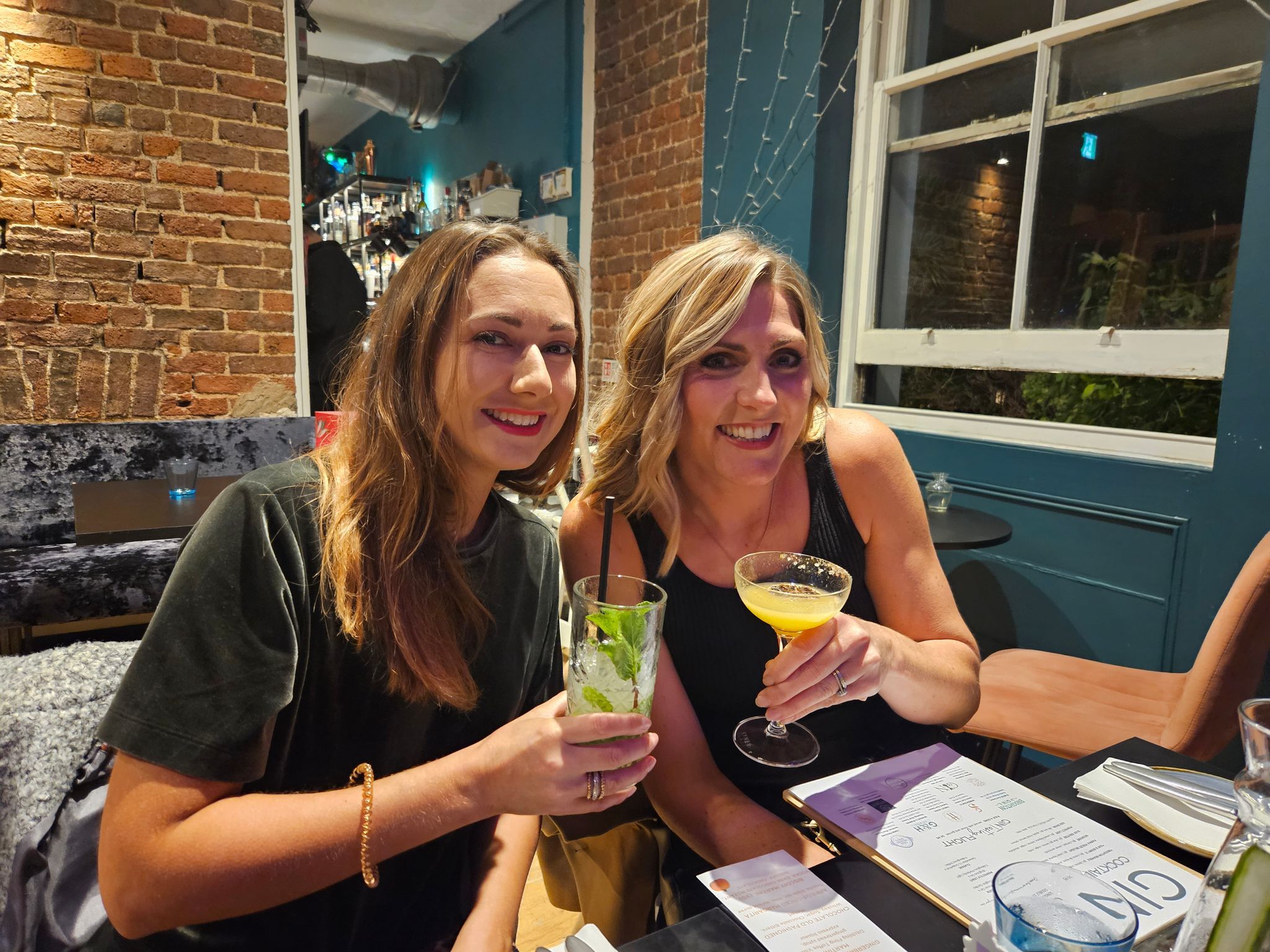 My sweet friend Elaine went for the cranberry Cosmopolitan, very on trend for Christmas, and perfectly tart with just the right amount of sass. 
I have a newly resurrected love of tequila and am currently obsessed with tasting every margarita available. With little encouragement, the lovely Lucy and I both ordered the Apricot-Spiced Margarita. Sweet, spiced, strong and smooth, it's everything you want from a festive holiday tipple. 
An ideal space for intimate gatherings
As we sipped our cocktails and the rain began to pelt it down, we chatted about how lush the space would be for a party. Although tonight we shared the private dining space with other couples, we could easily see how this would be an ideal space for a large celebration, holiday party, or work do.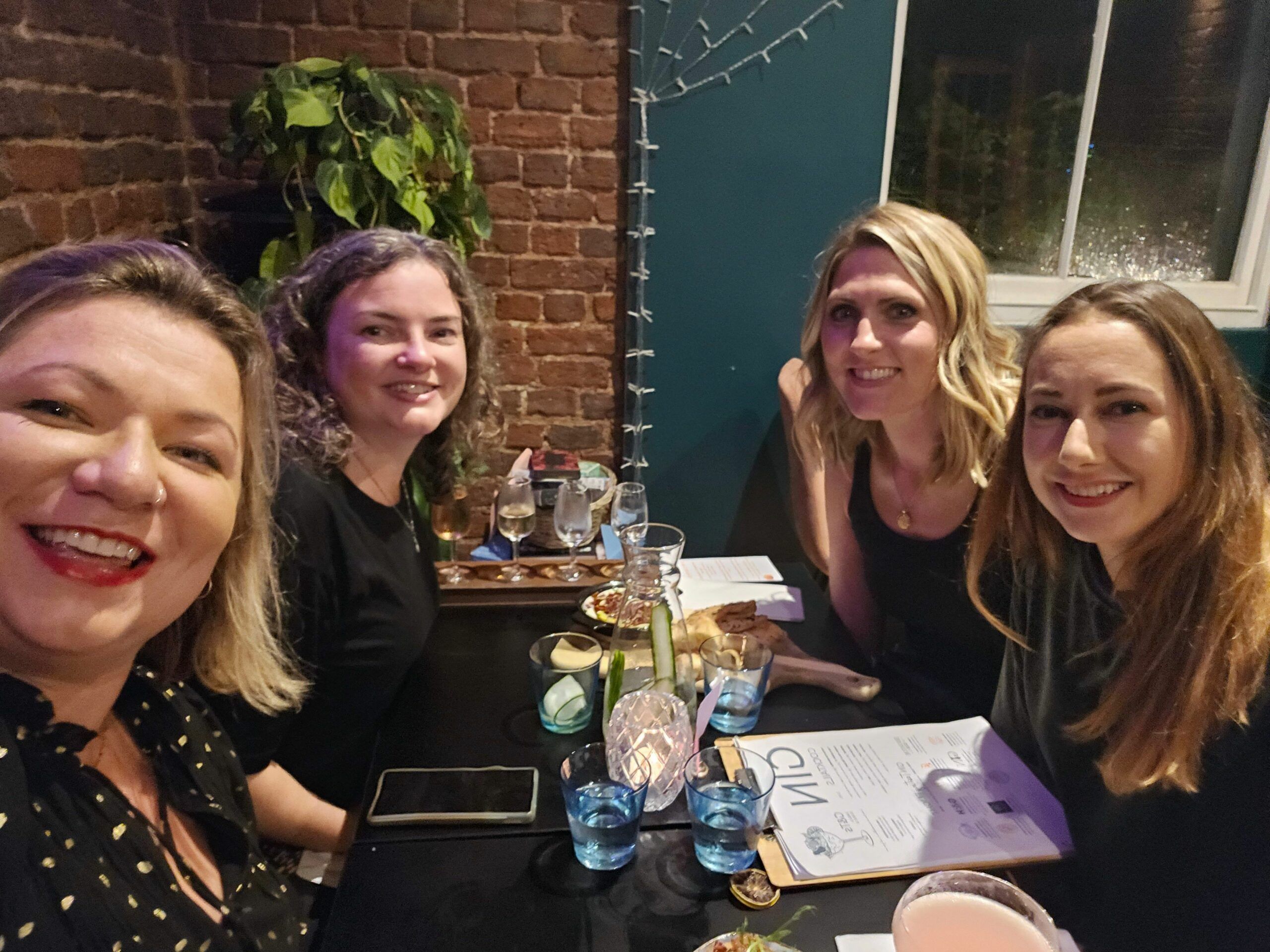 Whether your invitees are calm or raucous you would have your own space to celebrate, adjacent to the bar, and only steps away from the outdoor patio, ideal.
The Brighton Cocktail Company also hires out their entire venue for large celebrations, and will often waive the hire fee if the booking falls on a Monday or Tuesday. Definitely something to keep in mind as we get closer to Chrimbo.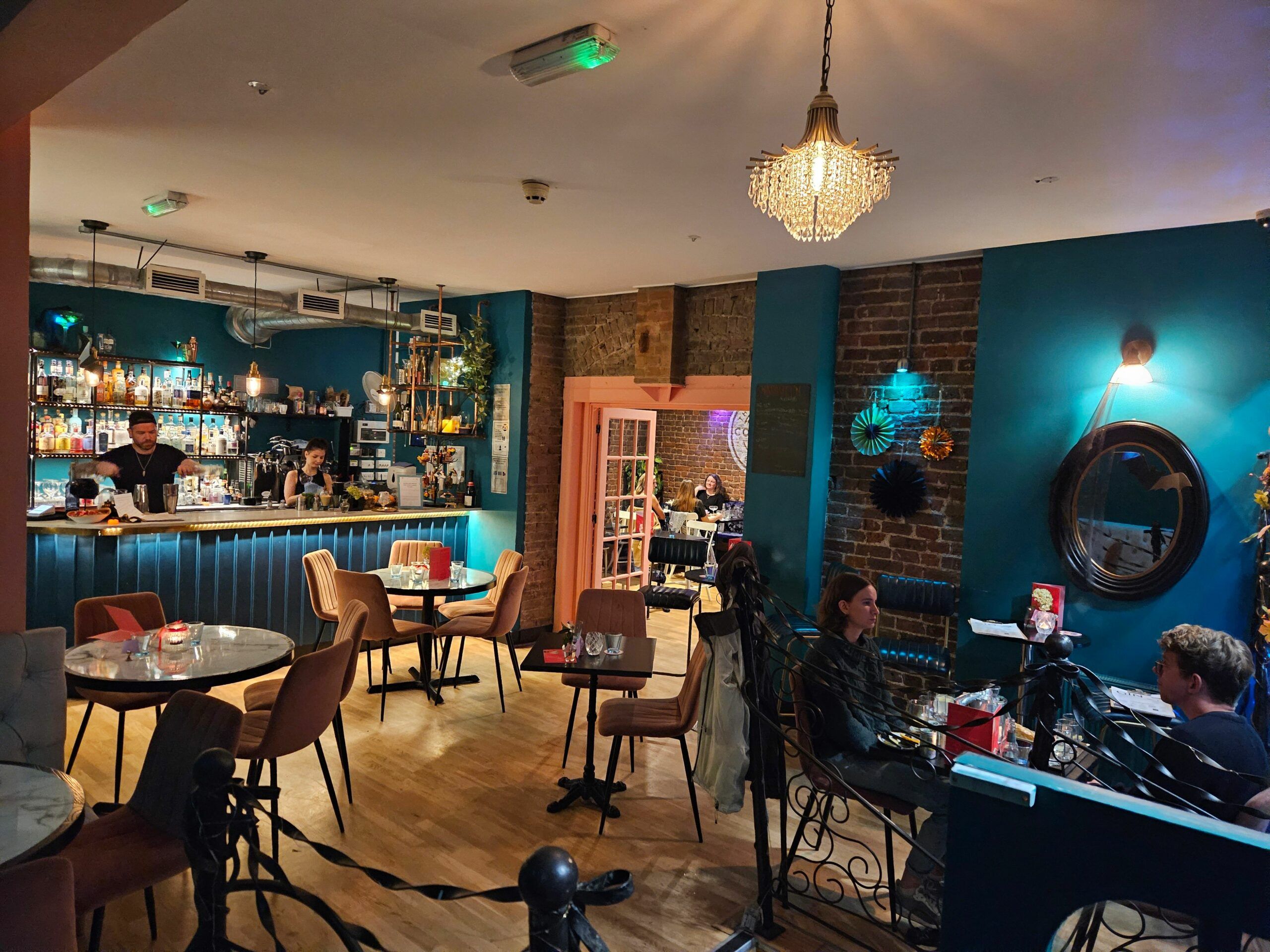 A Veritable Festive Feast
As we chatted and sipped our beautiful bevvies, our lovely waiter and BCC events manager Tyler delivered our first round of festive bites, and they looked absolutely divine.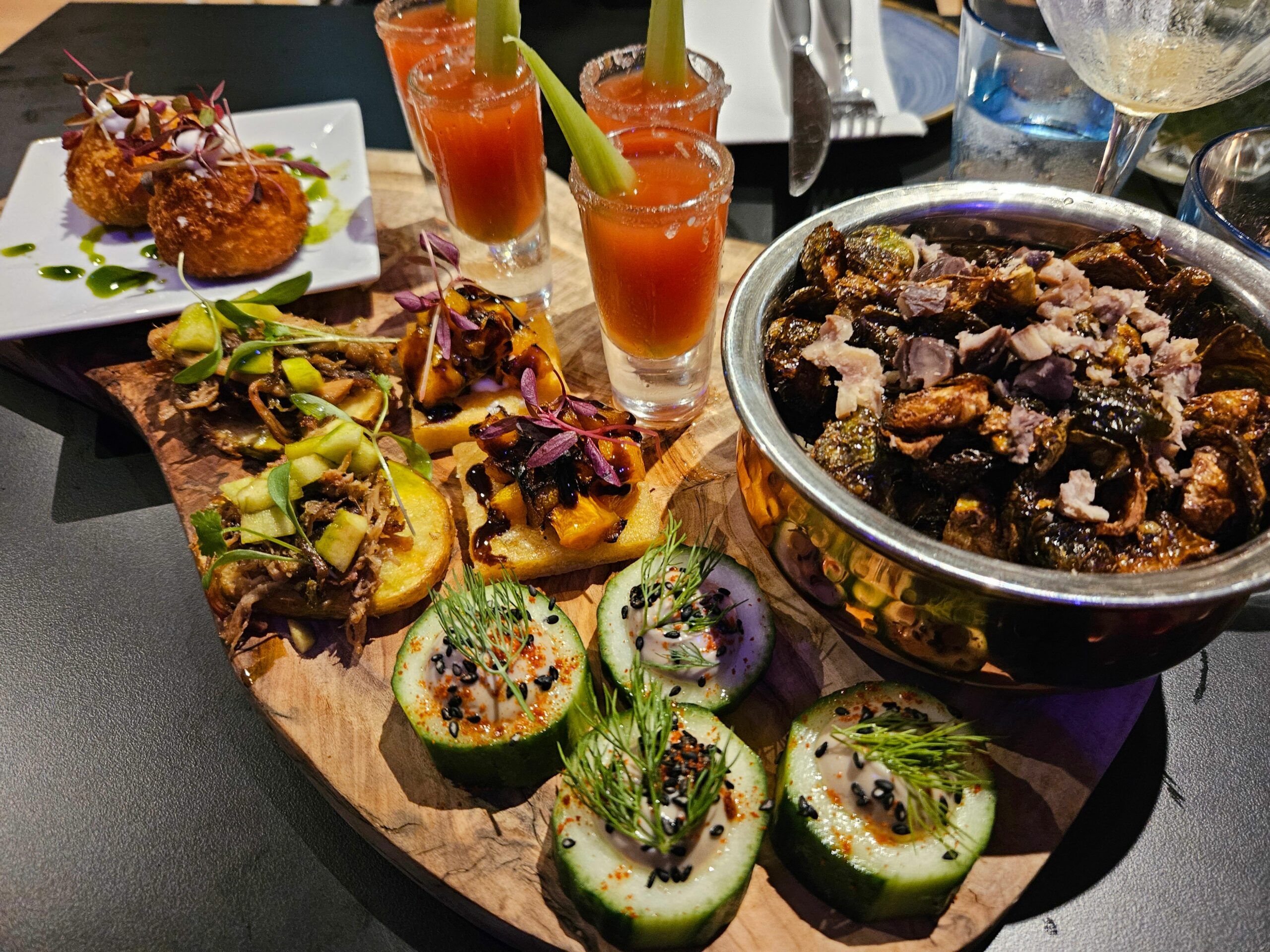 There were crispy arancini balls, served with herbaceous oil and topped with micro herbs, crisp potato rounds topped with pulled pork and pickled apple slaw, vegan polenta squares filled with roasted squash and caramelised onion, and refreshing cucumber rounds filled with savoury mousse and topped with dill and sesame seeds. As we were a party of four, Tyler brought extra on a separate plate to be sure everyone got a taste. On the side, a bowl of orange glazed brussel sprouts arrived, sweet and savoury with a delightful crunch. To wash it down we had mini Bloody Mary shots that were bright and zingy with just a hint of spice.
Wine and Gin Flights…it would be rude not to!
After our first round of canapés, we ordered our next round of drinks. Alanna and Lucy decided to share the Wine Flight, a mini wine tasting on a tray, which looked fantastic. We took Tyler's suggestions and ended up with a mix of white and rosé wines to sample, all chosen for their exceptional taste and ethical nature. A mix of Sussex and French wines, all with a similar passion for sustainability, and each and every one crisp, complex, and delicious.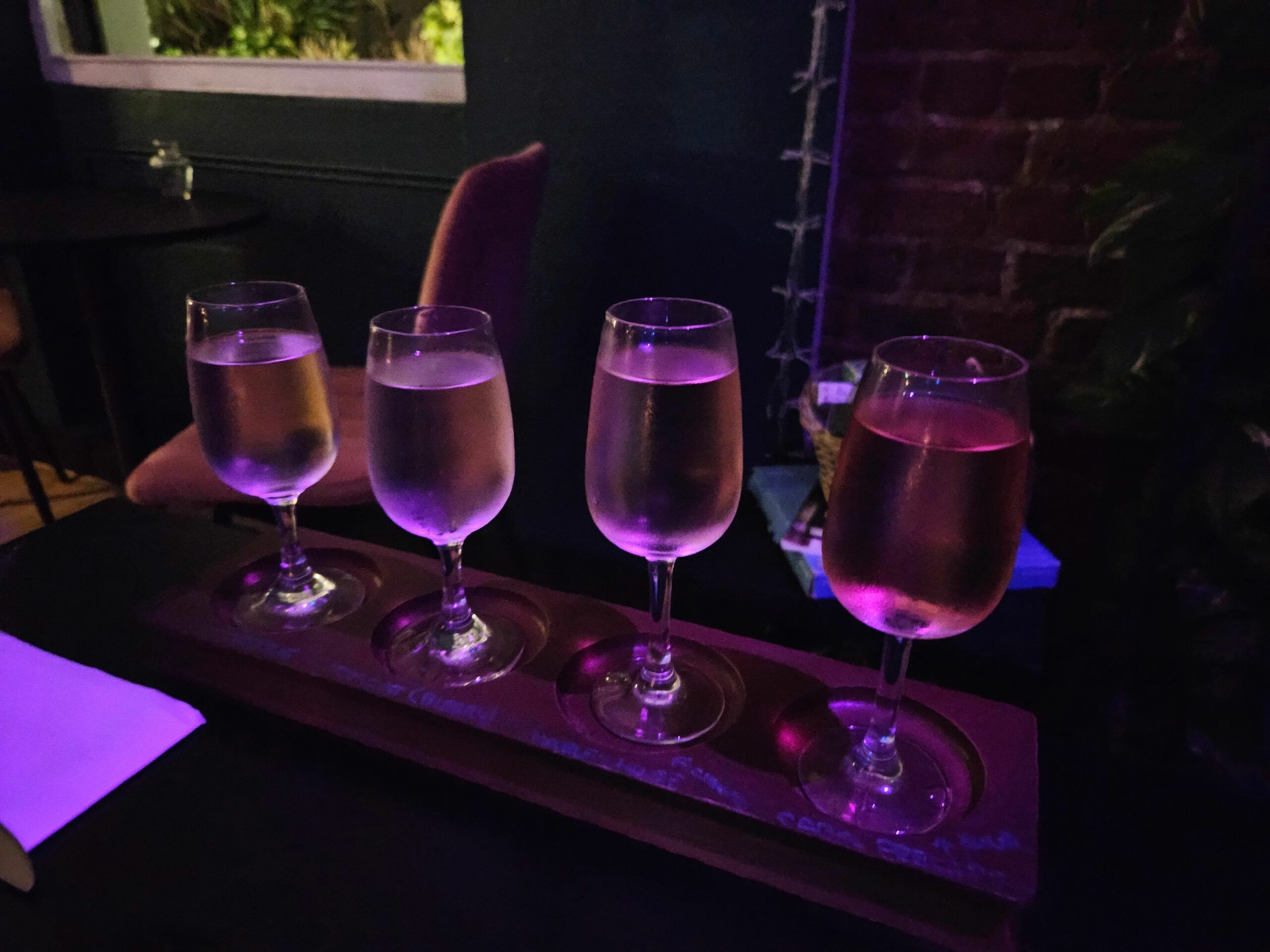 I was still on the tequila and ordered an El Diablo – tequila, creme de cassis, lime and a zing of ginger beer. The aromatic ginger beer gave the drink a devilish kick, with just the right amount of sweetness followed by a zest of fresh lime juice.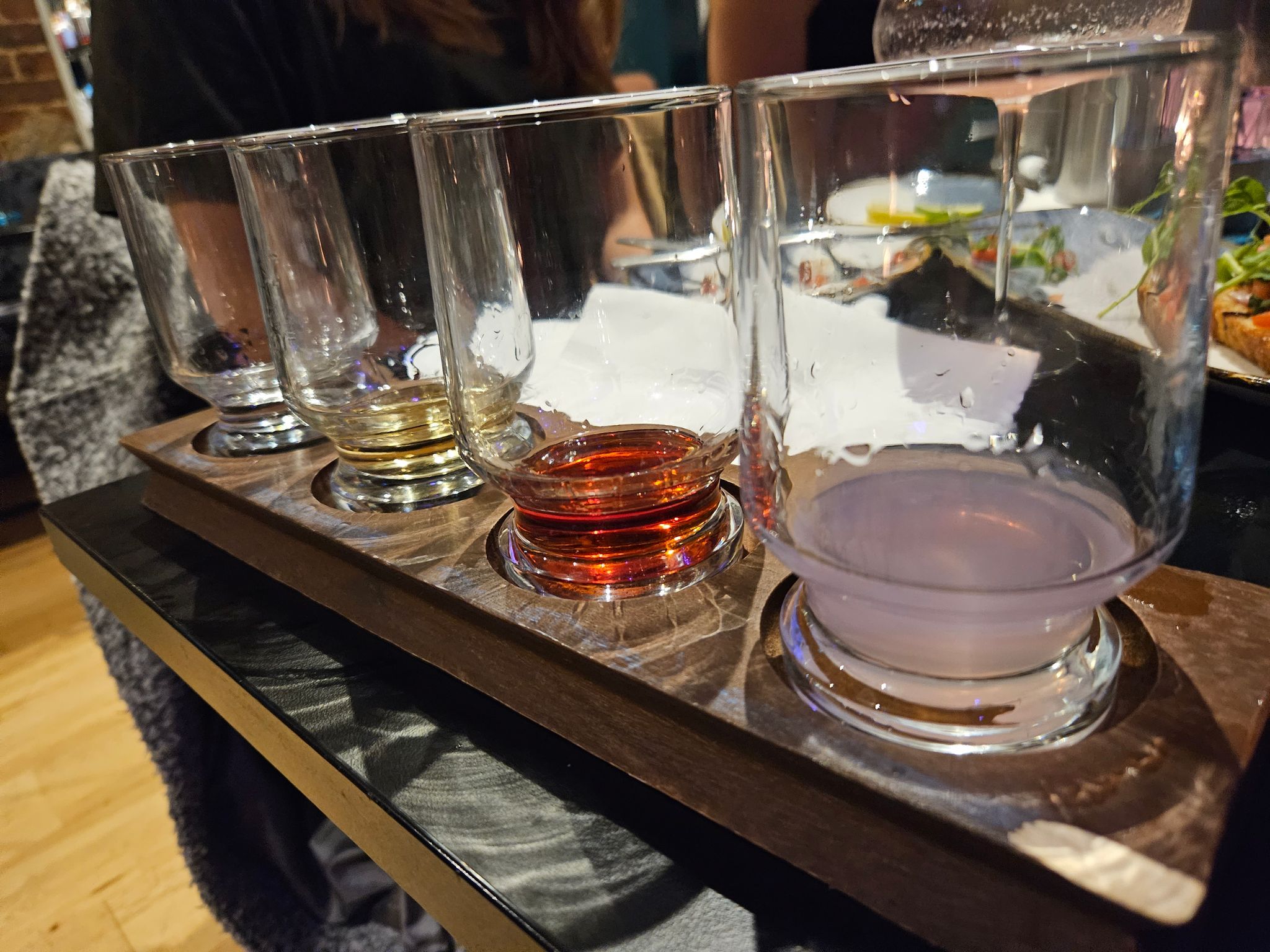 Elaine, the dark horse, ordered the Gin Flight and was guided again by Tyler. Four completely unique and interesting Gin flavours, served separately with Fever Tree tonic, a plate of fresh lime and lemon slices, and a tiny jug of lemon juice. The idea is to mix and match the flavours to your content and find the perfect pairing for your palate; fun, flavourful, and a great conversation starter. 
Freshly made morsels that are downright delicious.
Next up for the canapes and sharing bites was a gorgeous grilled chicken skewer, topped with capers and served on a smooth cauliflower cream. Tender and juicy with slightly charred edges, the chicken was succulent and more-ish, and there was plenty to go around.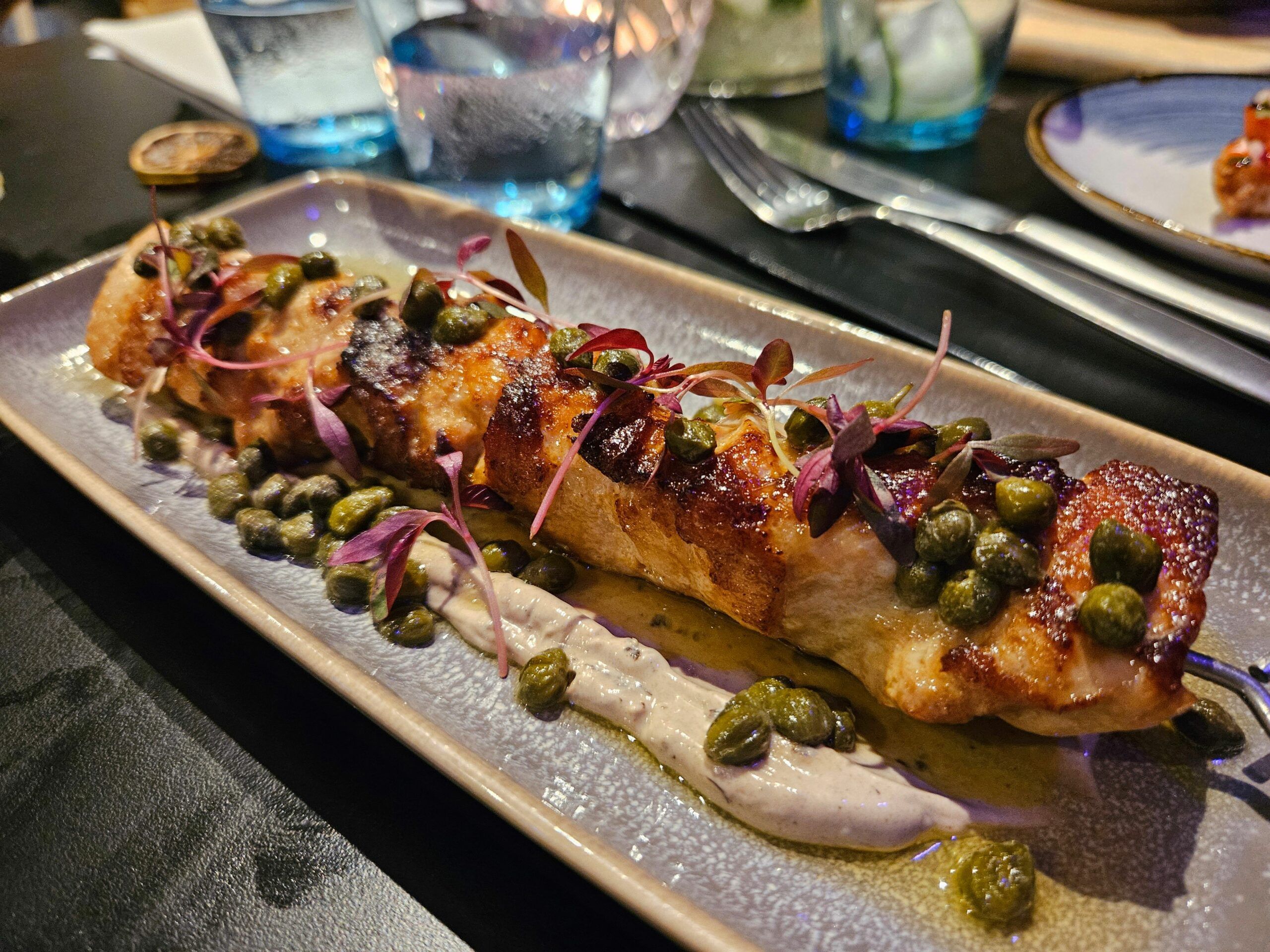 Served alongside the chicken was a bright, fresh vegetarian bruschetta drizzled with sweet balsamic glaze. The bread was golden and crunchy with a great pile of fresh tomato topped with micro herbs. A refreshing light bite, and a real crowd-pleaser.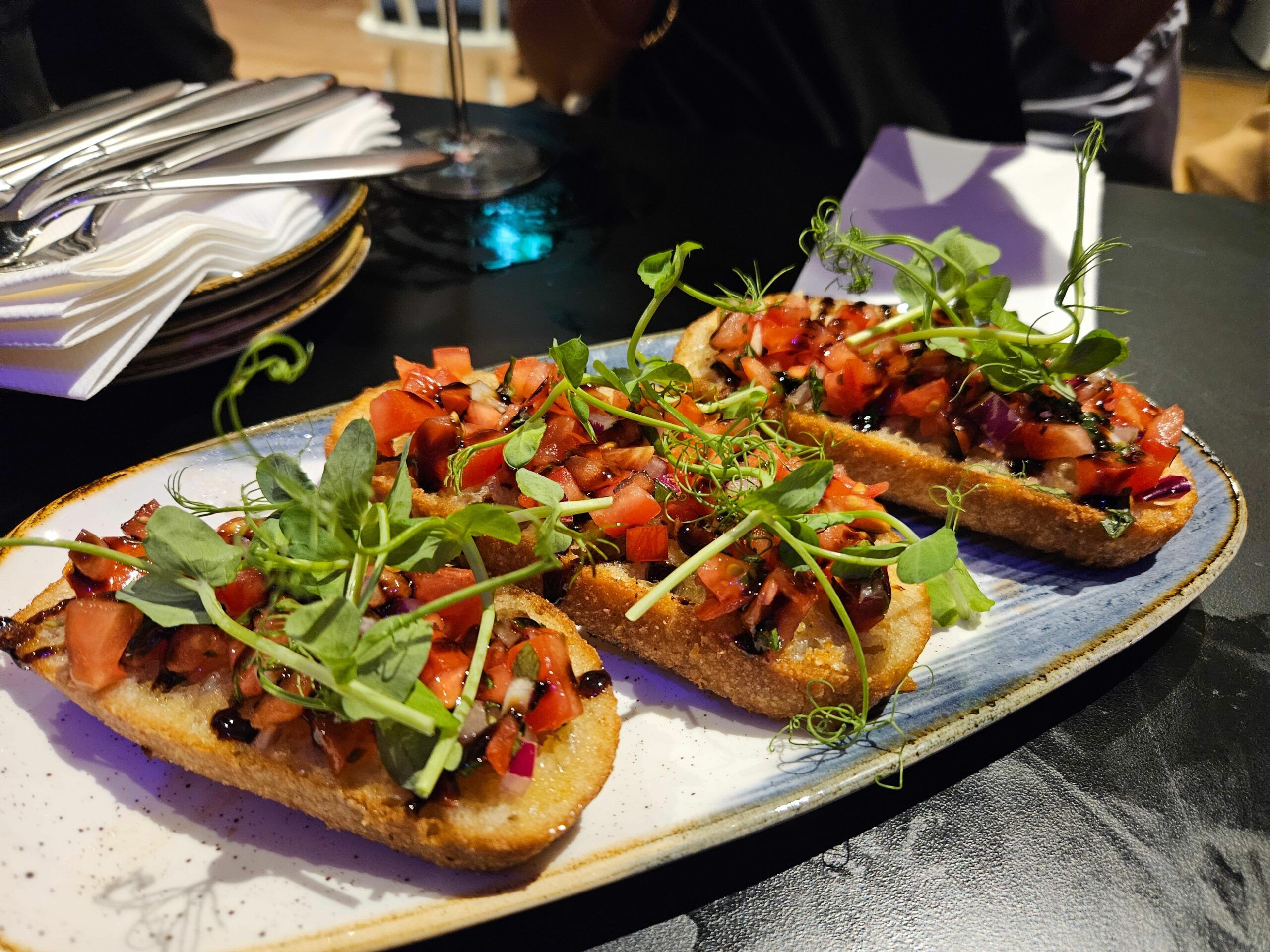 Is it even Christmas without Brie?
Saving our favourite for last, the melted brie dip. Gorgeously melted ooey-gooey cheese dip topped with pomegranate, pecans, herb oil, and served with homemade focaccia and pita strips. Say 'Hello' to Christmas in a mouthful! For what is Christmas without cheesy decadence I ask you?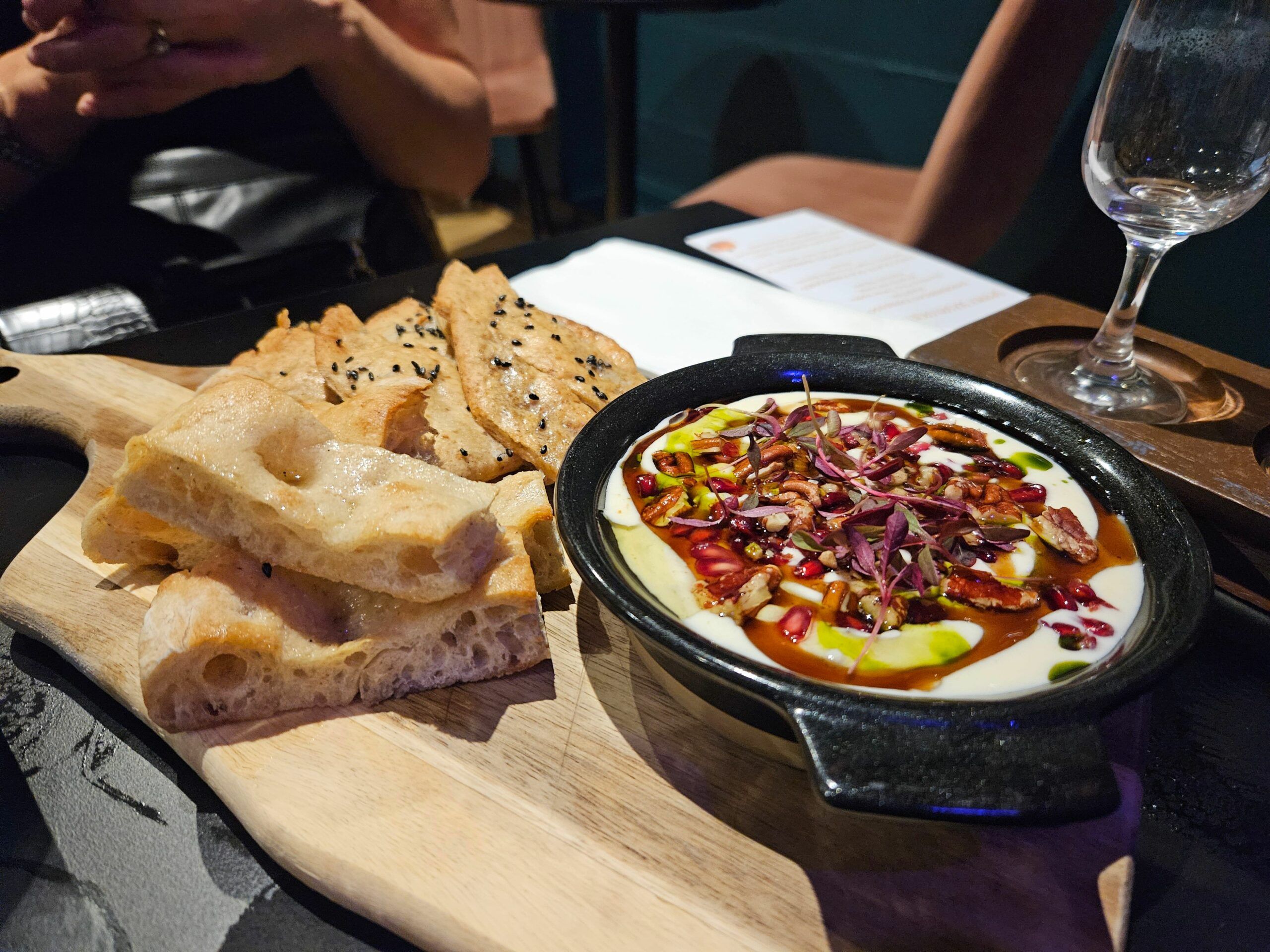 After our second round of nibbles, we sipped our many plentiful beverages and talked over our own Christmas plans. It feels like each year the planning gets earlier and earlier, and for good reason… Brilliant places like the Brighton Cocktail Company get booked up fast, so it's best to get in early if you have a large group to cater for. 
But wait there's more!
After our canapes, I was still in the mood for something savoury so ordered the BCC charcuterie board with focaccia on the side. A healthy portion of beautifully cured meats served with chutney, cornichon, pickled onions, and some of the best focaccia I have had in a very long time. Delicately crisp on the outside, porous and fluffy in the middle, with the perfect amount of sea salt and rosemary – dreamy.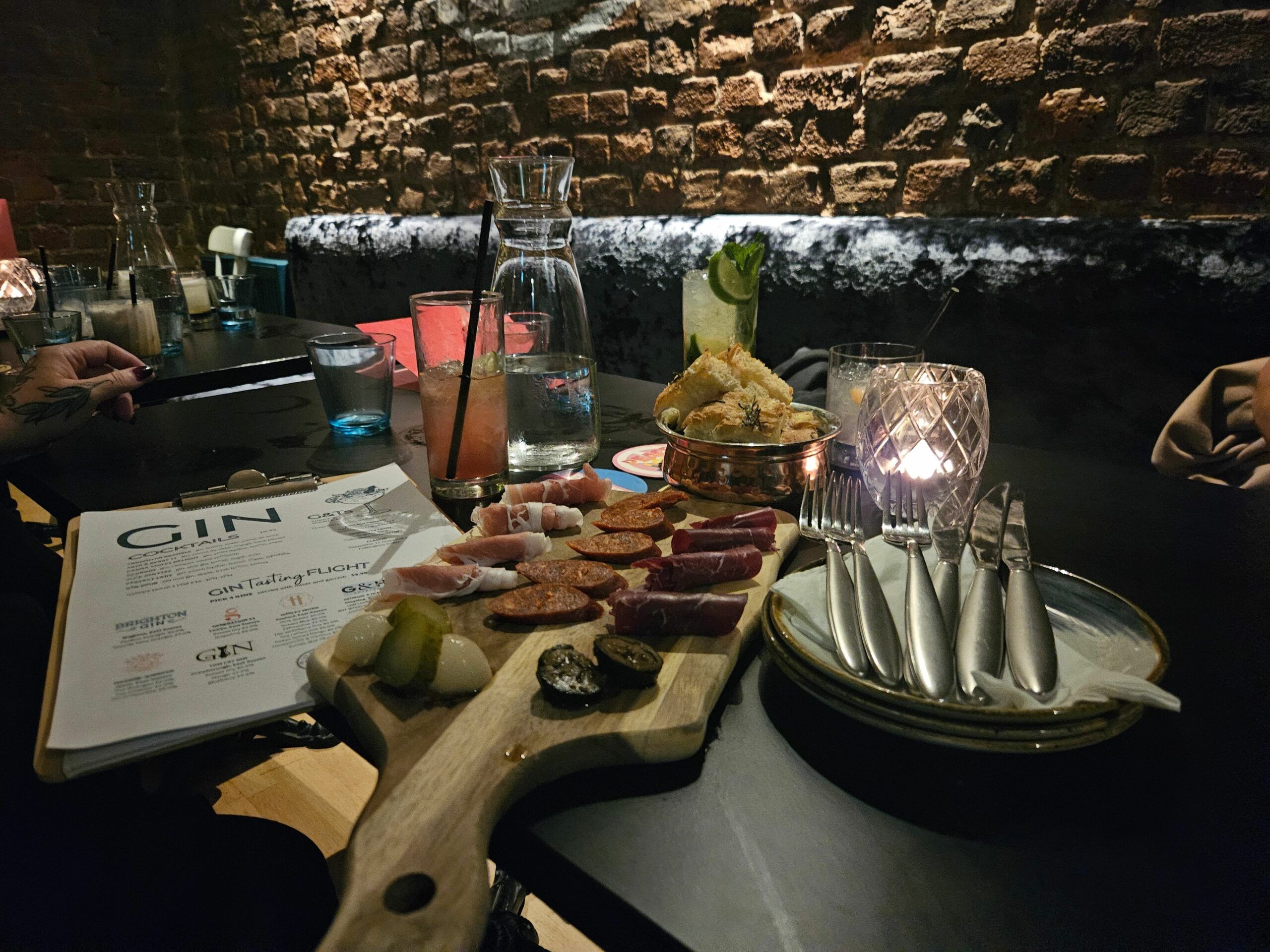 My lovely Lucy is all about sweets and decided to order the sinfully sweet Biscoff dessert cocktail. Dipped with a caramel rim and topped with a Lotus biscuit, this decadent, creamy after-dinner cocktail is the perfect pick me up when you need a taste of something sweet to finish a fabulous dinner.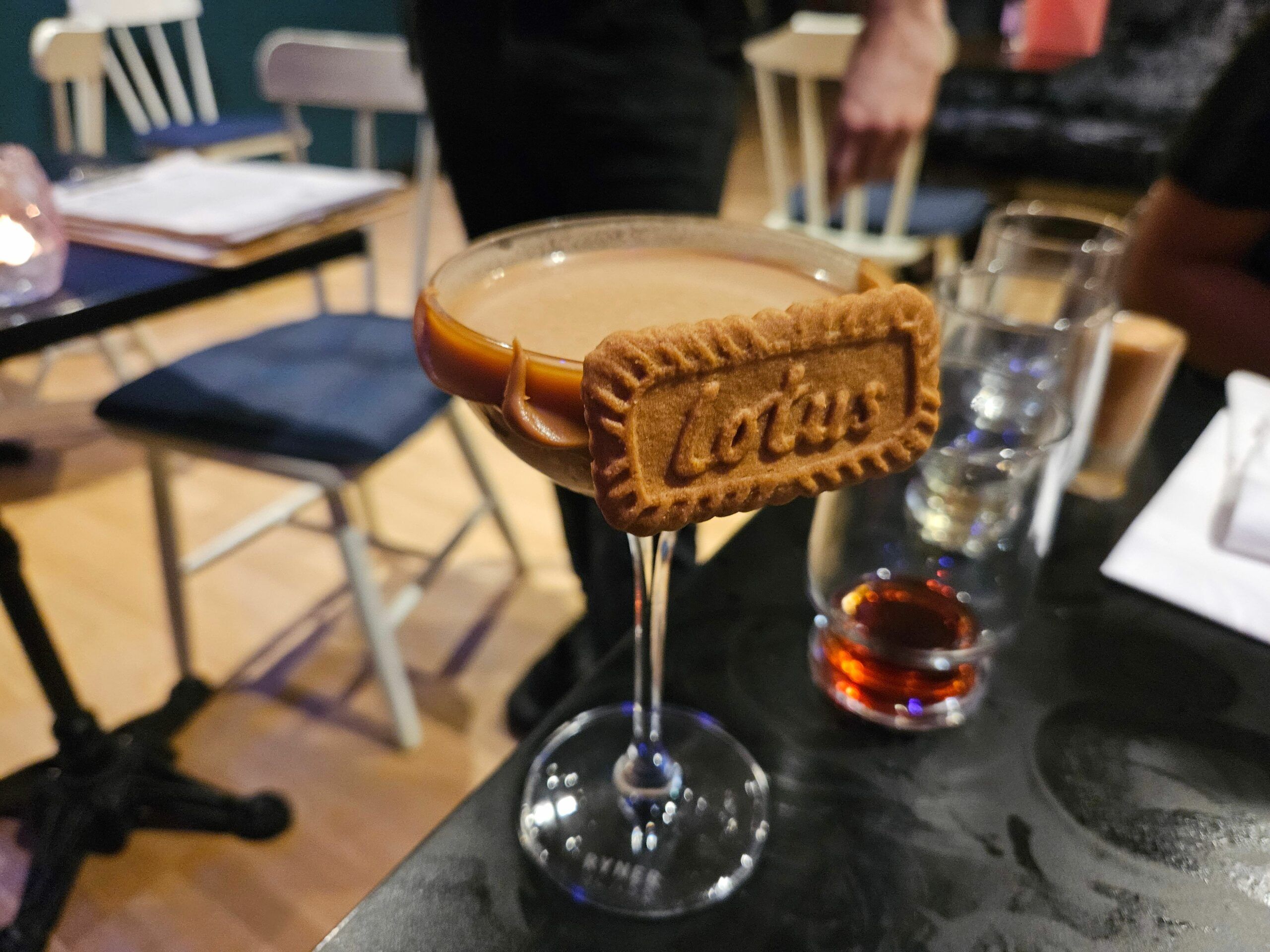 BCC loves to celebrate! 
Brighton Cocktail Company is all about celebrating the fun in life from magic shows to burlesque, they love a bit of spectacle- and they clearly go all out for the holidays. Although we were there to sample the Christmas Festive Menu, the venue was decked out and ready for the spooky season and I have to say they absolutely nailed it. I am American, and for me, Halloween is even bigger than Christmas! I love the spooky and sinister just as much as the silly side of my fav holiday, and BCC clearly got the memo. Decorated with low-lit candles, witches hats, bats, and spiderwebs, they even had a resident skeleton in the garden guarding their smoking cauldron. In the spirit of Halloween, their talented mixologist offered to make me a poison apple cocktail, which came with a syringe of 'blood' to add to the effect. Absolutely spooktacular Halloween effort BCC, well played!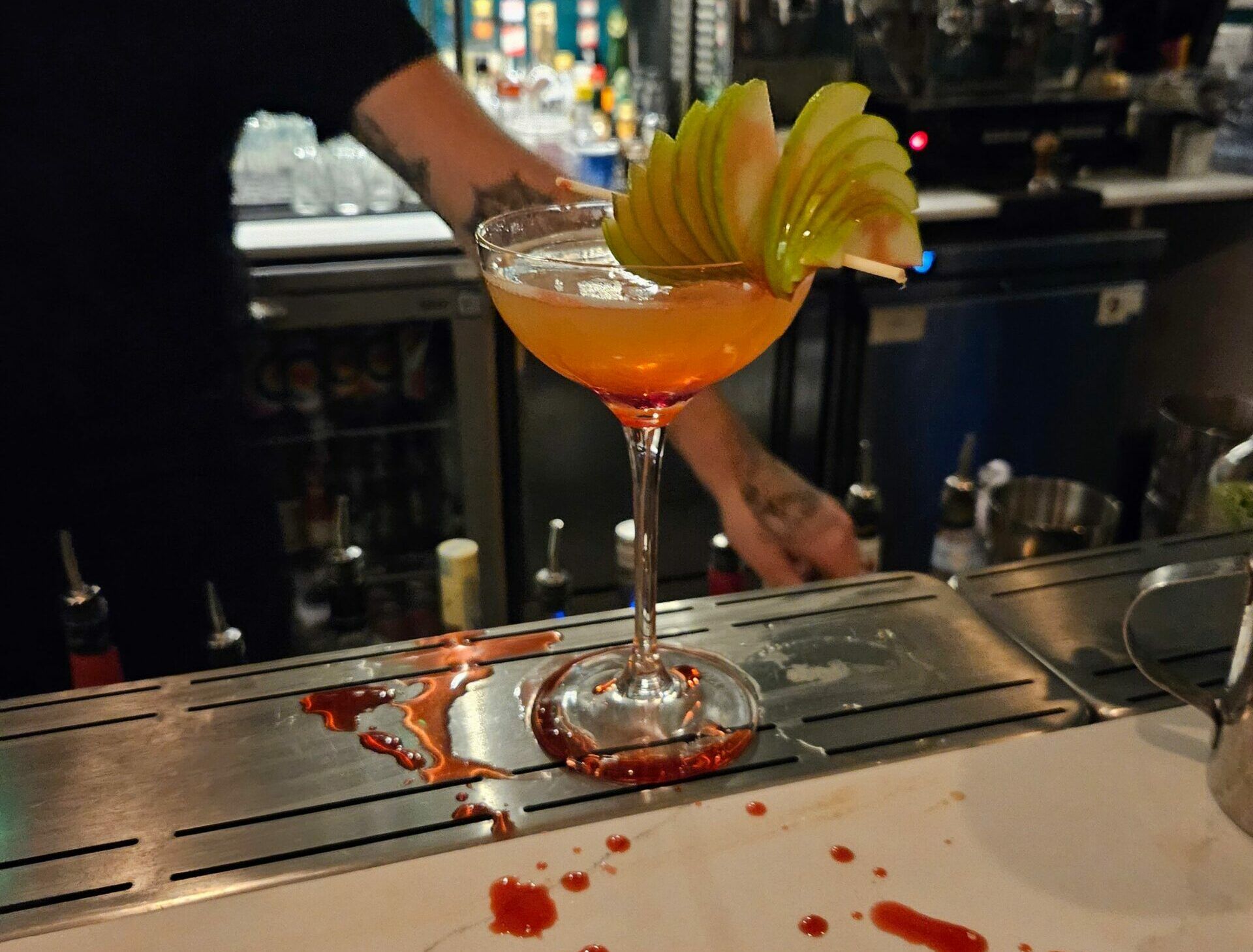 Fabulous from start to finish
From start to finish the Brighton Cocktail Company's Festive Menu was a total hit! It was everything we could have wanted in a festive girls' night out; glitz and glam, welcoming and cosy, great tunes, plenty of laughs, expertly made cocktails, and enough delicious canapes and charcuterie to go around. In fact, I already have reservations to see you again on Saturday for 2-4-1 cocktails, and I cannot wait.
My crew and I would absolutely recommend Brighton Cocktail Company to anyone looking for space to have your holiday party, intimate event, or just a quiet catch-up with your besties – and we will see you again very soon!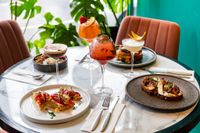 Want to know more about Brighton Cocktail Company, Seven Dials?
Find Out More