Where do you find the best Sunday Roasts in Brighton, Hove and Sussex?

Here is the Restaurants Brighton guide to Sunday Lunches in Brighton and wider Sussex. Let us know if you have any restaurants to add and please feel free to leave your comments on the site.
The listed food pubs/ gastro pubs and restaurants are in no particular order and we hope to see the list grow over time:
Brighton Restaurants and Food Pubs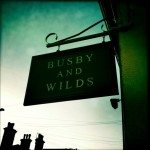 Busby and Wilds, 9 Rock Street, Brighton
Traditional homemade roasts are available each Sunday & include roast top side of Dexter British beef, slow roasted shoulder of Sussex lamb, roast Kentish hop pork belly and walnut, hazlenut & a chestnut vegetarian roast. Full menu just here. Great to combine with a stroll along the seafront to this quaint area of Kemptown village.
Sunday Roast Rating: 9/10
Sam's of Kemptown, 1 Paston Place, Kemptown
Sam Metcalfe has been delivering fine classical dishes for some years now. Sample mains include Chargrilled leg of lamb steak, Roast Scotch beef or Aubergine wrapped ricotta gnocchi with butternut squash, pumpkin seeds & sage butter. Great looking venue, doesn't get much better than this for a touch of class and sophistication.
Sunday Roast Rating: 9/10
The House restaurant, East Street, South Lanes
Fitting in seamlessly with The House British Bistro ethos is their fabulous Sunday roast option with a choice of prime cut "Englands Rose" roasting joints, home-made Yorkshire puddings, seasonal vegetables, roasted potatoes cooked in goose fat and in-house gravy. The full A La Carte menu is also available.
Sunday Roast Rating: 9/10
NEW 64degrees, South Lanes, Meeting House La
Join 64degrees for the Sunday Gathering, a sociable and relaxing lunch. Emphasis is on roasts, served on sharing boards. Expertly cooked accompaniments, washed down with hangover curing bloody Marys. Sunday papers and some cool tunes. Break free and join them for the most important meal of the week.
Sunday Roast Rating: 9/10
The Preston Park Tavern, 88 Havelock Rd
'Voted The UK's Most Sustainable Pub of the Year' – the Preston Park Tavern gets very busy on a Sunday so get in quick. Sample Sunday lunches include roast topside of Barcombe beef, slow roast shoulder of Sussex pork.  Just a short walk from Preston Park and Fiveways. Comes highly recommended.
Sunday Roast Rating: 9/10
Le Brunch at Hotel Du Vin, Ship Street, Brighton
An irresistible option. A place to escape from the hustle and bustle of Brighton and a Sunday lunch option offering great value for money – four courses £19.95. Roast Du Vin offers a rib of beef or Normandy chicken (with all the trimmings, vegeatbles and proper Yorkshires). Grilled plaice and bistro burgers are other options.
Sunday Roast Rating: 9/10
GB1 Restaurant, Grand Hotel - Seafront, Kings Road
Enjoy traditional hospitality with Sunday lunch in GB1. Enjoy a classic Sunday roast with the choice of locally sourced meats from the carvery and of course a delicious fish option too. All are served with all the trimmings, exceptional service and stunning views.  Two delicious courses from £15.95. Every Sunday 1pm – 4pm.
Sunday Roast Rating: 9.5/10
Sussex Yeoman, Gastro Pub, Brighton, Nr Brighton Station
The Sussex Yeoman has a reputation for excellent food. It is one of those food pubs that sits in between being a pub and a restaurant and their roasts are some of the best in Brighton. Serving Sussex lamb/ top side of beef/ Wild Sussex Venison (when available), free range chicken.
Sunday Roast Rating: 9/10
The Chimney House Upper Hamilton Road, Nr 7 Dials
Formerly the Marquess of Exeter, The Chimney House serves a very good selection of Sunday Roasts. Situated just north of the Seven Dials and the Old Shoreham Rd and east of Dyke road. A great relaxing boozer with a different slant on its delivery. Very locally sourced and foraged produce. Highly recommended.
Sunday Roast Rating: 9/10
The Coach House Brighton, Middle Street
Serving you a modern take on what a restaurant and pub should be, this intimate and friendly venue has been part of our 'Brighton' for quite some time and serves a great Sunday Roast menu. Get there early to get in their beautiful courtyard – or snuggle around their indoor fire. Spacious, sociable and super friendly.
Sunday Roast Rating: 8.5/10
The Jolly Poacher, Ditchling Road
A 2012/ 2013 addition to Sunday pub dining and definitely one to try if you if you want a menu with a difference. Try their roast duck breast, braised oxtail ragu or char grilled sirloin steak. The Jolly Poacher are also equipped with a child menu and a daily changing specials board. Near The Level/ Preston Park.
Sunday Roast Rating: 9/10
The Cricketers, Black Lion Street
Situated in the thick of the South Lanes, this venue attracts a real mix of people, it has a warren of different rooms, each with their own feel and it is one of those places that is so convenient that you just have to pop in for one. Great atmosphere & lively. Very traditional Brighton and a great spot to people watch.
Sunday Roast Rating: 8/10
The Cuthbert Pub & Kitchen- Queens Park Area
The Cuthbert is a new venue for 2012 and a great food pub which is making all the right noises. Offering a well executed front of house service, combined with a relaxing contemporary warm feel – this newly renovated venue is hosted by a team with a  background in food and it comes highly recommended. Here is their Sunday Menu
Sunday Roast Rating: 9.5/10
The Coal Shed Restaurant, Boyce Street
A unique alternative to the traditional Sunday Roast. Try different cuts of excellent quality meat, carefully prepared on their unique Josper oven. 500g 35 day dry-aged roast sirloin or their whole roast chicken with stuffing? Both for 2 to share. Their menu.  The Coal Shed remains one of the top restaurants in Brighton at the moment with a number of rave national reviews..
Sunday Roast Rating: 9/10
Waterhouse Bar 'Sunday Jazz' – Kings Road
Sit, savour and finish the weekend in style whilst appreciating the sounds of the Jazz Band. Be greeted with either a Sunday staple Bloody Mary or Bucks Fizz before being shown to your table. Hors d'oeuvres, succulent roasts and all the trimmings. Book in advance. A setting of grandeur in this newly refurbished space.
Sunday Roast Rating: 8/10
Hove Restaurants and Food Pubs
L'Eglise French Restaurant, New Church Road
Sunday lunches at L'Eglise are absolutely divine and are fast becoming one of the destination venues for a classic french interpretation of a Sunday dinner. Roasts available include Pork Belly, South Downs rolled shoulder of lamb (£12) – all served with an incredible signature jus. On the other hand, why not try their Cote de Boeuf?
Sunday Roast Rating: 9.5
The Little Fish Restaurant, Upper Market Street
A relative newcomer to the Hove restaurant dining experience and an eagerly awaited arrival. This fish restaurant is all about simplicity, food of the highest order and customer service to match. Head Chef Duncan Ray has worked at a number of AA Rosetted and Michelin starred venues.
Sunday Roast Rating: 9/10
The Iron Duke Pub, Waterloo Street
Known for its great Thai food during the week. The Iron Duke serves you great home cooked Sunday roasts each weekend. Serving a great selection of ale and a warm welcome, this no frills venue is  a place to kick back and maybe grab a bit of sport on the TV. 
Sunday Roast Rating: 8.5/10
Hove Place Pub and Gardens, First Ave
Hove place is a traditional Hove pub that has recently undergone a great transformation with a tasteful refurb and a great new menu. With lots of space under shelter in their large gardens this is a traditional setting with a good selection of ales and wines – a good locals venue. 
Sunday Roast Rating: 8/10
Graze Restaurant, Western Road, nr Brunswick Sq.
From strip loins of beef to pork belly, nut roasts to pan fried 8oz steaks. Graze gives you 2 fabulous courses for just £18 using the best quality local produce in their Good Food Guide rated restaurant in central Hove. Here is their full British Sunday Lunch menu.
Sunday Roast Rating: 8.5/10
Sussex Restaurants and Food Pubs
The Jolly Sportsman , East Chiltington.
Sunday Roasts at the Jolly Sportsman restaurant and public house is somewhat of a Sussex institution when it comes to a quality country dining experience. An excellent day out to the country will be had by all and one which will see you returning back to for more. Great for kids and walkers.
Sunday Roast Rating 9/10
Chambers Bistro, Shoreham By Sea
Sunday at Chambers Bistro includes a choice of prime cut "Englands Rose" roasting joints, home-made chambers yorkshire puddings, seasonal vegetables, roasted potatoes cooked in goose fat and an in-house gravy.  Just a short drive along the coast from Brighton why not combine it with a day of exploration to this coastal village? Sunday Roast Rating – 8.5/10
Stanmer House Restaurant, Stanmer Park
A new addition to our list of Sunday options and we love it. Combine it with a walk in the country and a visit to a period manor house. Only ten minutes from Brighton and the roasts are very nice indeed. Dogs welcome in certain areas of their house.
Sunday Roast Rating: 8.5/10
The Plough Inn, Rottingdean
Just ten minutes east of Brighton one will find the exquisite village of Rottingdean nestled on the Sussex coastline, and it is here you will find the vibrant local pub, the Plough Inn. Offering a classic pub menu along with a innovative Gastro Menu this venue caters for everybody.
Sunday Roast Rating 8.5/10

Sylvan Oak, Findon Village
Situated on the South Downs north of Worthing, this venue serves all of its Sunday lunch options perfectly cooked and with a bit of a variation on the British Roast. Wonderful, wonderful service and we particularly enjoyed the outdoor space under the vines. A great trip to the country!
Sunday Roast Rating: 8.5/10
Duke of York, Hassocks
The Duke is a great country pub to visit and only fifteen minutes or so outside of Brighton. Ideally located if you are planning a trip to the Sussex countryside and the South Downs, this venue is just around the corner from Hickstead Showground with lots of country walks in the area. Great for families and animals welcome. Serving all the classic roasts with all the trimmings. Cosy and traditional.  Roast rating 8.5
Sunday Roast Alternatives.

Pizza 7 – Artisan Produce & Beer, Italian Restaurant
Secret dough recipes and organic wood fired pizza ovens, fueled by organic Italian wood. Pizza 7 have spent many days & nights tasting and testing the best of local and international beers, purely for your benefit. Arguably the best Pizza and beer in town.
Sunday Lunch Rating 9/10
Oki-Nami – Japanese and Sushi – New Road
Authentic oriental dining and drinking and a great roast equivalent. Why not try Chashu Pork Bento at £11.95. Slow roasted pork shoulder marinated with chilli miso and served with sesame spinach, steamed rice, salad and miso soup. Located in central Brighton and arguably our best Japanese venue.
Sunday Lunch Rating 8.5/10
Chaula's Indian Restaurant - Central Brighton & Lewes
Curry on a Sunday and why not? Try the food of India and not just Indian food here at Chaulas in Brighton or Lewes.  Enjoy a starter free with every main course on a Sunday 11 til 3 then 5 to 10.30pm. The offer excludes their King prawn and salmon dishes. Available in both their Brighton and Lewes restaurants.
Sunday Lunch Rating 8.5/10
The Bali Brasserie – First Avenue, Hove
Open LUNCH 12.00 to 14.00 and DINNER 18.30 to 23.00, why not try something completely different this Sunday and try TC's Malaysian Indonesian cuisine? Special Offers include 3 courses for £12.95.  If you're looking for exceptional food, excellent service and exotic cuisine- then give the Bali Brasserie a try.
Sunday Lunch Rating 8.5/10
Smokeys of Brighton – American Restaurant – Kings Road
Smokeys is great Sunday roast alternative as it provides you with some classic American dishes that will satisfy the most demanding of appetites. Think slabs of spare ribs, BBQ pulled pork, burgers, chilli dogs, T Bone steaks, New York Cheesecake and more. Close to the seafront, without outdoor space too.
Sunday Lunch Rating: 9/10
Brighton Pagoda – Brighton Marina
Do something completely different this weekend and go along and visit the South Coasts only floating Chinese restaurant on Brighton Marina. Choose from their set and special menus just here and experience a lunch overlooking all those gorgeous yachts with the back drop of the harbour walls.
Sunday Lunch Rating: 8.5/10
Bellota – Spanish Restaurant – Tapas y Bar
Bellota is a relatively new Spanish restaurant in Brighton and it serves a superb Sunday paella at £9.95 as a great Sunday dining alternative. This is as traditional as it gets in Spain and this particular Spanish restaurant will have all the Iberian extras. This venue also specialises in Cava too so if you want a bit of the sparkly stuff then this is the place to come.
Sunday Lunch Rating: 8.5/10
Terraces Bar and Grill, Marine Parade
Terraces Bar and Grill is the stunning looking, glass fronted building which sits overlooking Madeira Drive, the Brighton Wheel and sits just behind the Brighton Sealife Centre. Why not go and try their 'Mediterranean full grill menu. ' Comes with an amazing view along Brighton and Hove for free.
Sunday Lunch Rating 8/10
Fishy Fishy, East Street
Fishy Fishy provides great fish and none fish options – for a Sunday meal with a difference. From seasonal lobster to crab, dover sole to local cod. Fishy Fishy is relaxed and informal dining, with great service. A thoroughly good time was had by all.
Sunday Lunch Rating: 9/10
 Riddle and Finns, Meeting House Lane
A great place to pop into on a Sunday whether for brunch/ lunch or dinner. We actually made the brunch thing and the Riddles team do a surprisingly good choice of dishes but offering scallops, mussels and lobster as alternatives. Definitely worth a look for an alternative type of Sunday  
Sunday Lunch Rating: 9/10 
Ague Dulce Spanish Restaurant, Kings Rd
Agua Dulce typifies Spanish cuisines and Agua Dulce has positioned itself as the authentic Spanish restaurant in Brighton. Why not try a range of tapas, seafood and paellas. Carlo and his team also show all the spanish football games in a private function space. A taste of Spain without the plane!
Sunday Lunch Rating: 8.5/10 for the Spanish experience!

Yum Yum Ninja -Dim Sum Sundays, Meeting House La.
Not everyone wants a Sunday roast so Yum Yum Ninja offer an 'all you can eat' dim sum menu. Yum Yum Ninja is Brighton's newest and informal dining experience offering a modern style of Pan Asian cuisine. A concept brought together from the team at Due South and Riddle and Finns. More details can be found here.
Sunday Lunch Rating: 8.5/ 10
The Eastern Eye Indian Restaurant, London Rd
Delivering some of the best southern Indian Cuisine we have tasted, this restaurant attracts many of Brighton's Indian residents and you won't find modified 'English versions' of Indian dishes here  – just a great quality authentic Indian restaurant. 2 courses on a Sunday £11.99 served 12-2.30 and 5.30 to 10.30. Any main course dish off the menu.
Sunday Lunch Rating 9/10
Indian Summer, Indian Restaurant, East Street, Brighton
Tandoori roast Sunday lunches are the order of the day here at Indian Summer and the different Sunday Tandoori dishes on offer are Murgh Makhni, Lamb Zafrani and Goan Rump- Sunday menu. Dishes are served with chutneys and sauces and jeer aloo, roast parsnips and bean and asparagus thoran.
Sunday Lunch Rating: Currently ungraded
And For Dessert?
The Julien Plumart Boutique Salon du Thé. Why not try something completely different and transport yourself into a modern Parisian patisserie? Allow us to introduce an exquisite and unique collection of patisserie, from the simply sublime to the exotic. Open for a French breakfast, a light lunch, or a little slice of patisserie heaven. Great to pop into after your Sunday roast for some 'take out' or eat in macarons.
Need a Breakfast or Lunch?
Why not have a look at our suggestions for a superb breakfast or brunch in Brighton, Hove and Sussex. Here we have central Brighton favourites, options towards Hove and Shoreham, seafront views and much more.
Here the emphasis is all on quality in the ingredients, delivery, service and location.
Which is your favourite spot for a Sussex breakfast?
TestA definitive guide to the best Sunday Roasts,  Sunday lunches, Sunday dinners in Brighton, Hove and wider Sussex. Best roast beef, vegetarian, pork. A definitive guide to the best Sunday Roasts,  Sunday lunches, Sunday dinners in Brighton, Hove and wider Sussex. Best roast beef, vegetarian, pork. A definitive guide to the best Sunday Roasts,  Sunday lunches, Sunday dinners in Brighton, Hove and wider Sussex. Best roast beef, vegetarian, pork. A definitive guide to the best Sunday Roasts,  Sunday lunches, Sunday dinners in Brighton, Hove and wider Sussex. Best roast beef, vegetarian, pork.