Restaurant Brighton's guide to
Brighton is known for its hedonistic, bohemian and creative spirit, all of which is reflected in the independent Brighton restaurants scene. From award-winning fine dining to international eats, from sensational street food to down to earth sustainably-led dining Brighton has it all.
To help you go exploring we've divided Brighton restaurants into Casual, Modern, Fine Dining, International and European, some fit into more than one category so we've tried to organise them by what they are best known for. 
Listed here are just Brighton restaurants, you can find Hove restaurants here, Brighton Food pubs here and Brighton cafes here.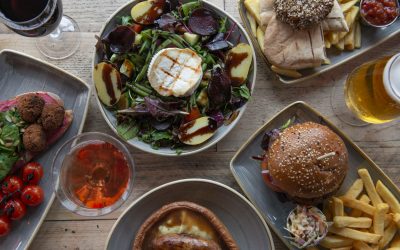 Beachfront all-day dining for the whole family. If you're looking for a quintessential day out in Brighton then OhSo can keep you fueled from breakfast to sundown with a menu of seaside classics. Located next to the Palace Pier and right on the beach, you're perfectly located to punctuate your day's activity with reasonably priced, good quality food. Or park yourself on one of the benches for a whole day of sun, drinks and food all in one place.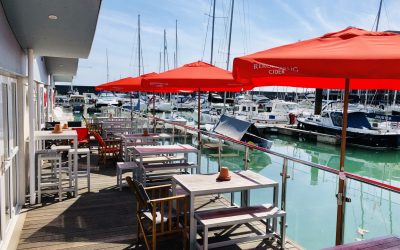 Head over to the Brighton Marina, follow the boardwalk past all the generic national chains and head down the western jetty to The Watershed (look out for the bright red parasols as an indicator of where to go). The Watershed feels exclusive with a mix of New England and luxurious living aesthetics but is really a relaxed and inclusive venue. The menu serves from lunch until early evening, with social sharing platters and Sunday roasts a big feature, and a waterfront terrace right on the marina with a west-facing aspect for sundowners.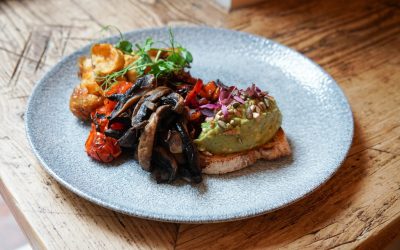 Lost in the Lanes is an oasis tucked away in the busy shopping area. A grand place to punctuate your day be it for morning coffee, brunch, or lunch. Lost focuses on fresh ingredients sourced locally. As well as showcasing everything you'd expect from a high-end deli-café you'll also find a seasonal menu of restaurant style meals and small plates. Here chef James Flavell, gets to stretch his culinary prowess. Keep an eye on Lost in the Lanes' social media activity for updates of their evening supper clubs too.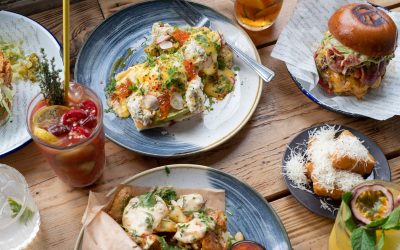 Lucky Beach, situated on the seafront promenade between the two piers is one of the UK's most sustainable restaurants according to the Sustainable Restaurants Association. They have also won national awards for their burgers and brunch and serve award-winning Redroaster coffee. Are all the awards down to luck? Nope, these guys are committed to quality and integrity through and through.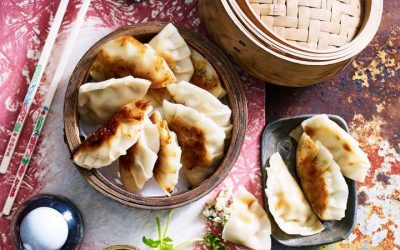 Brighton Cookery School is a fun way to mix up your normal food-based get-together where you can learn professional cookery skills, socialise and feat on the results of your labours. Meet up, skill up and cook up at Brighton Cookery School with either a private group or by joining one of their regular classes. Party packages include everything you need, including drinks, for a restaurant experience from both sides of the kitchen.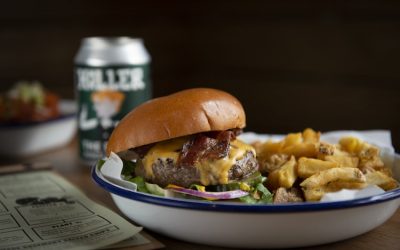 Born in Brighton, Honest Burgers established itself in the hippest parts of London and beyond before returning home in 2018. Honest Burgers serve a cracking range of burgers, all made with meat from their own butchers, as well as having great vegan and vegetarian options. All burgers come served with their signature salt and rosemary fries. They use local produce as well as set up partnerships with other local businesses making this small 'chain' really independently focussed.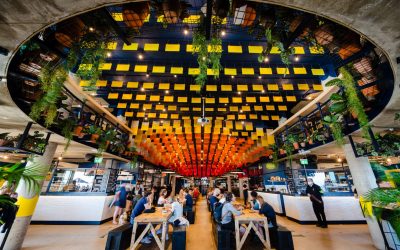 Guests can enjoy a medley of all the seven caterers housed at Shelter Hall, or tailor their table spread to their heart's desire. Meat options are headed by the award winning chef Kenny Tutt's Robata grill kitchen experience with Ox Block. Fruits of the sea are served by the renowned Worthing based Crab Shack owner who presents the oceans jewels with Caught. The acclaimed Lost Boys Chicken launch Pan and keep their prize winning chicken wings as saucy as ever. VIP Pizza is Amalfi and remains true to their authentic Italian pizza dishes. Whilst the fresh flavours of Vietnamese street food are delivered by Zest, expect beautiful salads, noodle boxes and smoothies. Sweets are served by Tart who have found fame in Brighton under their mothership, Sugardough. Down on the beach, oozing with social and bustling energy, entertainment and unbeatable views of the seafront. Mark Shelter Hall as a must-see on your map of culinary escapades.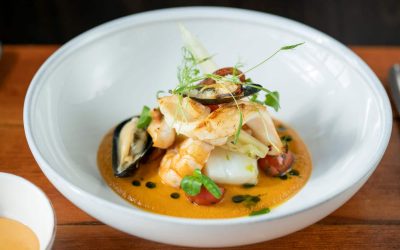 Annexed on to The Hilton Hotel on the seafront, The Salt Room offers stylish modern dining and spectacular sea views that attract local foodie residents as well as holidaying visitors. The grill restaurant is seafood led, but not exclusively so, with sustainable, locally sourced top-quality produce at its heart. The Salt Room offers an exceptional quality dining experience with an a la carte menu and award-winning Sunday Lunch sharing platters.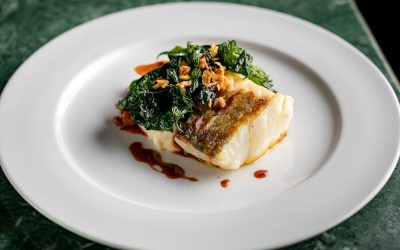 Tucked away in the lanes on Boyce's street is a gem of a restaurant you might easily miss. Sister restaurant to The Salt Room, The Coal Shed focusses around seasonality and locality and cooks with the Josper Grill, considered the industries finest. The Coal shed is a good all-rounder for lovers of quality, suited to families and parties as much as intimate dinners. Although predominantly a meat and fish restaurant vegetarians will enjoy well thought out and creative dishes.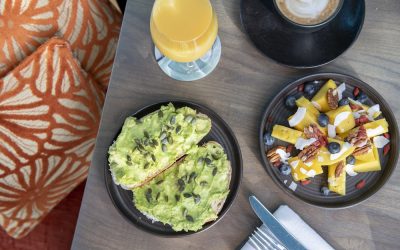 Cyan is a fresh new look for the iconic old lady, The Grand. This all-day eatery takes its inspiration from the bounty of the sea and the Sussex countryside (the colour cyan is a mix of blue, the sea, and green, the land). Cyan offers an all-day dining menu, a two and three-course set menu, has a special kids menu and serves up roasts on Sunday. All delivered with the standard and quality you would expect from The Grand Hotel.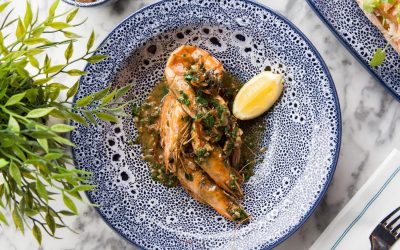 Coppa Club is located in the Lanes taking up one entire side of Brighton square and the courtyard, where, during the winter its igloos provide a popular alternative dining experience. Inside there is a spacious dining area and lounge making it an ideal venue for drinks and nibbles or a full family meal. The all-day menu is extensive, giving something for everyone. Brunch is an extra feature added weekends and bank holidays.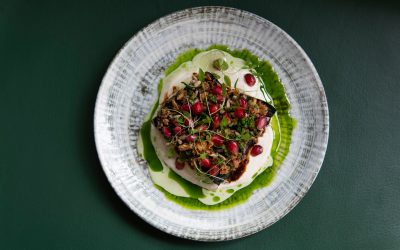 Newly opened in June 2021, Burnt Orange is the newest member of the Coal Shed and Salt Room family of local fame. Expect a little more fun from this younger sibling, but the same exemplary quality. Seasonal small plates are creative and perfect for sharing. The cocktails are expertly mixed and the wine list well-curated. Add a seductively comfortable and relaxed setting and a carefully pitched playlist for afternoons that melt into evenings and evenings that meander into nights.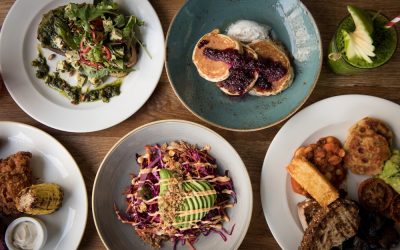 Taking its style from gritty New York eateries, The New Club at the bottom of Preston Street has possibly the best view of the West Pier you can get. Here you can enjoy big brunches, lunches and late serving Sunday lunches, cocktails and craft beers. It's cool, but not pretentious. Looks good, tastes good and has something for all diets. Try it and you'll be a regular subscriber to The New Club in no time.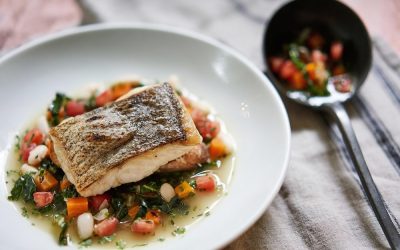 The Hotel Du Vin brand is a mark of excellence well known throughout the UK. The modern bistro at Hotel Du Vin Brighton is just a stone's throw from the seafront in the Gothic style hotel. The cuisine is French-English fusion, sourcing locally. The bistro is open for breakfast, lunch and dinner, welcoming residents and non-residents alike.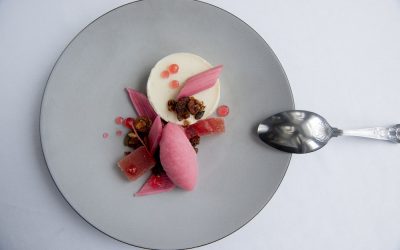 Located downstairs in seafront hotel, The Old Ship, is The Wardroom restaurant. The modern British menu has a hint of world inspiration to it, as though you were taking a world cruise and picking up flavours along the way. This makes for some very pleasant revisions to established favourites. This is good quality food at a price that won't require you to push the boat out.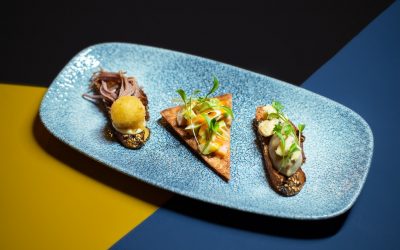 Amarillo is brought to us by top Chef Ian Swainson who has worked at and help lead many top restaurants to Michelin stardom. Amarillo is Spanish inspired small plate dining, intended for sharing. The menu is simple, divided into meat, fish and plant and it is recommended that build up around six dishes between two. Located in the boutique Drakes Hotel Amarillo is a high-end dining experience at a more affordable price point and one for which we have hopes as high as the stars.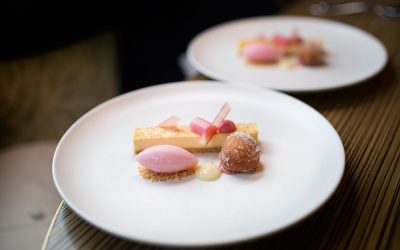 Steven Edward's restaurant Etch is the MasterChef winners first restaurant and voted Brighton's Best Restaurant in the 2018 and 19 BRAVO awards, as well as being featured in the National Restaurant Association top 100 for the past two years. Steven's style is unique, each plate in the tasting menu has only two primary ingredients and no spices, not even pepper are used in their preparation. Instead, cheffing skill and sensitivity are used to finesses ingredients for a dining experience that is practically flawless.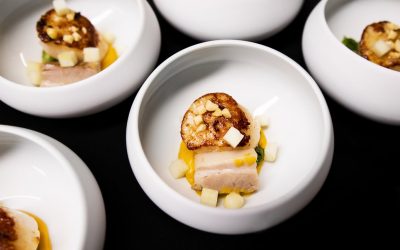 Duncan Ray runs a tight ship at the multi-award-winning Little Fish Market. The intimate 20 cover restaurant has a predominantly seafood based tasting menu, with a small passionate team at the Front of House and Duncan and one sous chef in the kitchen. Precision is everything here and pays off with The Little Fish Market making waves nationally as well as locally. Notably, the restaurant only does one serving a night with diners being encouraged to take their time, lingering over wine even after the last perfect morsel is devoured.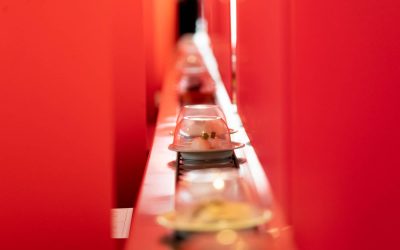 Moshimo is a stylish sushi restaurant with an iconic Shoji style building in the Lanes. They serve authentically prepared sushi using only fish that are sustainable. Moshimo's commitment to sustainable fishing led to their incredibly successful Fish Love campaign and Brighton's Vegan Challenge. The menu is suitable for all dietary types, with excellent vegan sushi options.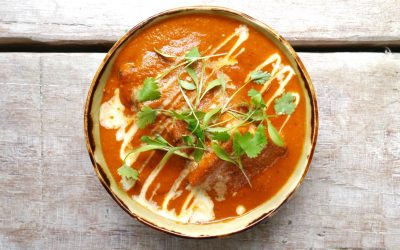 Curry leaf in the Lanes is a brightly coloured South Indian Street Food cafe with an extensive menu of craft beers. They have won numerous awards for both the quality of cuisine and the range of offerings for all dietary requirements. A child friendly menu is also served, with more familiar dishes but authentic enough to start a young palate's voyage of discovery.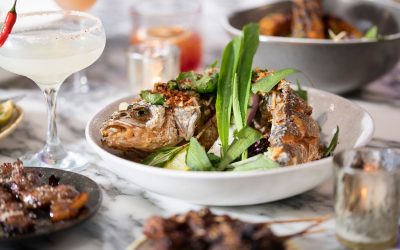 Most Thai food you'll find in the UK is Southern Thai, but Northern Thai, as served at Lucky Khao is dryer and more robust and therefore better suited to the British climate. Lucky Khao are big on sustainability, sourcing locally and growing many of their exotic herbs themselves. They also cook with a green egg barberque for superb charred taste and veggie and vegan options that are really different to standard fare. Add to your dining some inventive cocktails and you've got Thai food the likes of which you won't have had in the UK before.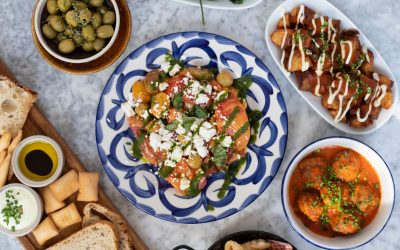 Tapas Revolution on North Street is about as central a location as one could want when out and about in Brighton. The menu of authentically home-cooked Spanish dishes is as vibrant and colourful as our fair city itself. Cocktails and bubbles top up the menu turning almost any occasion into a fiesta. During the warmer months, there's plenty of outdoor seating, tucked off the busy road with views of the Pavillion Gardens for a surprisingly relaxed alfresco experience in the busy heart of the city.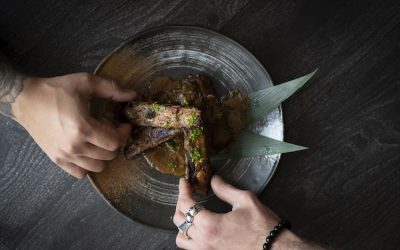 Kujira on Brighton's Restaurant Street (Preston Street) is an ultra sleek super stylish Robatayaki grill. Here meats and vegetables are marinaded then cooked using hot coals (without flame) heat level is controlled by moving skewers nearer or further away from the grill and requires great skill. Pair a meal with signature cocktails and share a selection of small plates of perfectly dishes bursting with unique flavour, intensified by the dry heat of coals.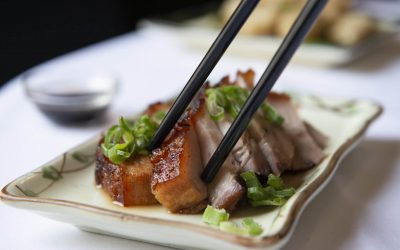 Chinese Restaurant, Gars, is another city institution having been running for over 30 years. This is authentic top-quality Chinese food cooked traditionally and perfectly. Good for banquet dining celebrations or lunch time Dim Sum in the Lanes. The private hire karaoke adds a level of guilty pleasure fun to the offering.  The menu is clearly marked out for dietary requirements and tolerances with a good range of meat and vegetable dishes.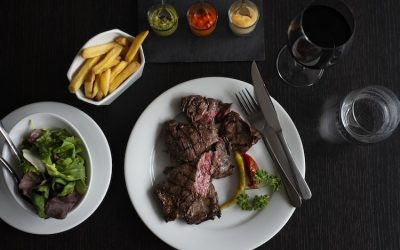 Baqueano is an Argentinian steak restaurant run by wife and husband team Adriana and Jorge. Adriana runs the front of house with irresistible warmth while Jorge works the kitchen. They offer a range of cuts you won't find in other Argentinian restaurants and will pair these with fruity full bodied wines. You will leave vowing to return soon to this charming top-quality restaurant.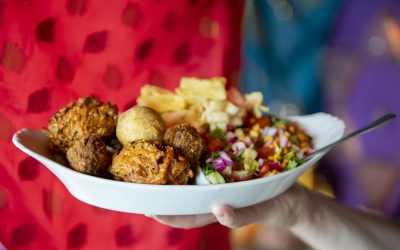 Planet India is an institution in the city. Low key, relaxed and homely, serving authentic pure vegetarian food with a dash of heartfelt good humour. Entering Planet India is like being welcomed into a family member's living room, and luckily you were expected! Food is wholesome, good mood food, it can edge a little on the spicy side, that's also part of the attraction.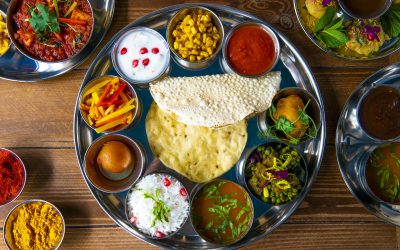 Manju's Indian restaurant is a heartwarming story in itself. Manju, now in her 80s was given a restaurant by her sons, thus achieving her life-long dream. But there's more to Manju's than a happy ending and a head chef whose infectious joy is captivating. Manju's serves seriously good, pure vegetarian Gujarati food from the recipes Manju has been perfecting her whole life.