Vegetarian restaurants and dining in Brighton
Brighton boasts some of the most reputable and award winning vegetarian restaurants in the entire country. Here at Restaurants Brighton we thought it would be useful to put together a guide to vegetarian dining including vegetarian restaurants, vegetarian food pubs, and vegetarian cafés.
Vegetarian and vegan restaurants
Named after the year the Vegetarian Society was formed, 1847 Brighton specialises in high quality, locally produced vegetarian, vegan & gluten free dining within their North Laine restaurant.   The basement also houses a super-chic bar area, named Dandelion, serving botanically-based cocktails where clientèle can have an aperitif before dinner or just drop in for a drink or two. Matty Bowling has now joined the 1847 team with a range of new and exciting menus.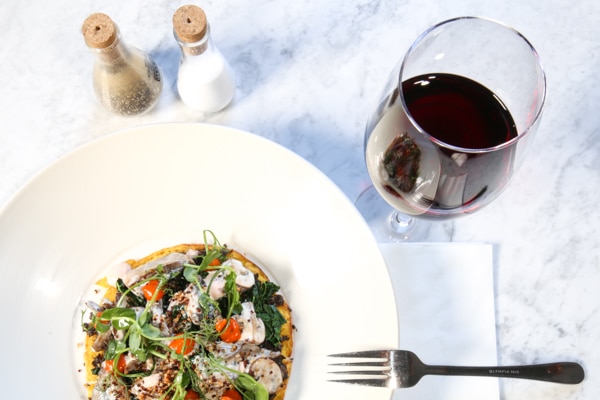 Terre à Terre, Brighton's iconic acclaimed restaurant where vegetarianism is more about indulgence than abstinence. Situated in the historic lanes, Terre à Terre has been feeding its loyal customers and international visitors for over 20 years. The Terre à Terre menu offers vegan and gluten free choices. Dining at Terre à Terre is a culinary experience like no other, with intense flavours, sublime textures and a combination of ingredients that few have the imagination or daring to put together.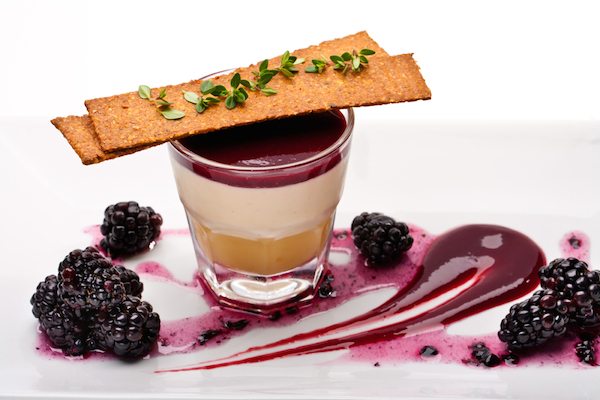 Rootcandi is a concept created by Steve Billam, the founder of our local and much-loved vegetarian institution, Iydea, and celebrates vegan and gluten-free dining with style. Steve's love of food and restaurants spans over a decade and his passion was recently driven into new territories when he met Reuben Waller – a classically-trained award-winning chef from Michelin-starred restaurants. Offering set menus and tapas style dining.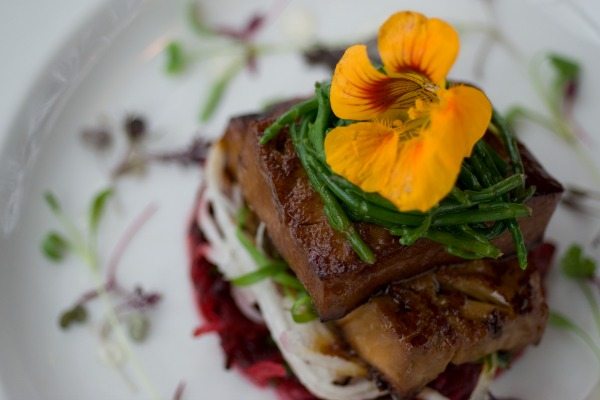 Purezza (purity) was formed by Stefania Evangelisti and Tim Barclay in 2015, setting out with the aim of providing a range of exciting Italian plant based, vegan pizzas to the UK. It's a fantastic place to go for vegetarians and vegans alike as you can choose anything from the menu, safe in the knowledge that no animal products are used!
Clean Eats and Protein Treats. Eat Naked are set in the heart of Brighton's Lanes, serving organic clean eating & vegan deli foods, cold pressed juice & nut milks, clean treats, Climpson & Sons coffee, and quintessential loose leaf tea. Eat Naked truly believe in a nutrient dense, delicious, well-balanced diet and whole foods that nourish the body and have super health benefits. An excellent choice for breakfast, lunch or dinner. Eat in or takeaway. Brought to you via previous chef Masterchef finalist Stacie  Stewart.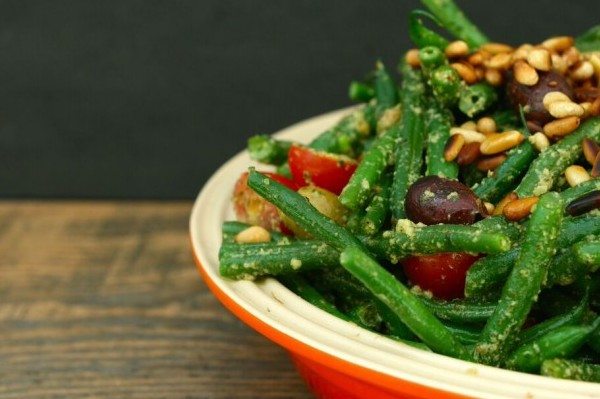 Food For Friends specialise in the art of cooking delicious vegetarian dishes, using fresh and locally sourced ingredients and they have been doing this since 1981. Featured in the Good Food Guide, the well known vegetarian restaurant is located in Brighton's cosmopolitan and vibrant Lanes, close to the cities main attractions in a delightful glass fronted building almost sea facing. Food For Friends also caters for people with special dietary needs, and have vegan and gluten-free options.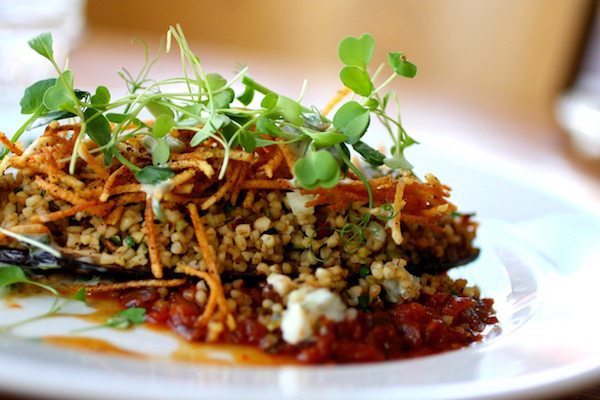 Described as a Vegan café and vegan shop, then made famous by Heather Mills several years back. VBites offers you a tailored selection of vegan goodies including their very own brand of vegan meats, fish, cheeses, deli pots and their own vegan sauces in a bright and airy venue spread over two floors. Located in the Lanes this vegan venue offers you a great selection of vegan food to eat in or takeaway; popular dishes include their hearty breakfast, Hickory Chick burger and much more..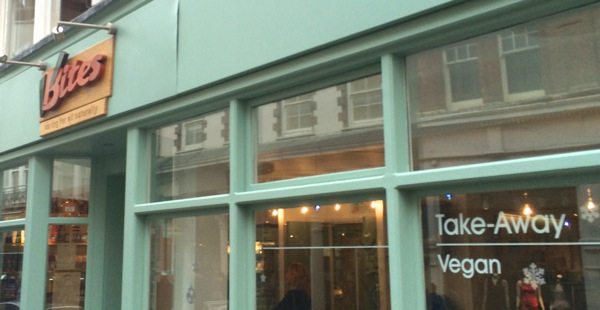 Iydea is making all the right noises and has fast become a vegetarian favourite in Brighton and Hove according to the voters at the local food awards. The restaurant can be described as modern, but rustic, with lots of wood, evoking a feeling of nature and good honest grub, which is basically what Iydea is all about. iydea has also won the Vegetarian Society's National Best Eating Out Award as well as winning the best Cafe in recent Brighton & Hove Foodie Awards!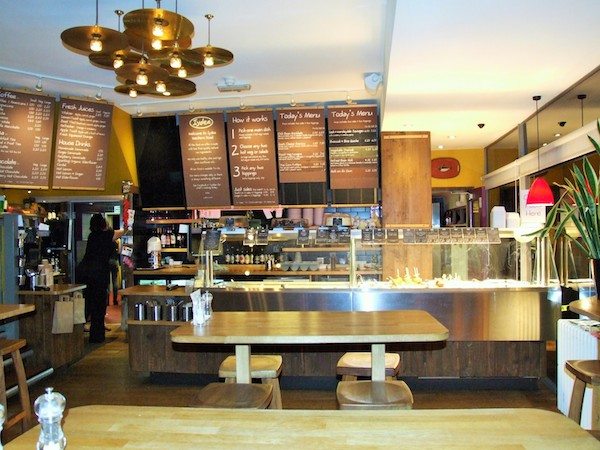 The Prince George, a firm vegetarian favourite is a good old fashioned boozer, with homely nooks and crannies, a little garden, and it is quite famous for its vegetarian menu. Located on Trafalgar Street this charismatic vegetarian stalwart has large oak wooden tables, lots of cosy snugs for group bookings, as well as a heated rear garden. Well known for their delightful Sunday Roasts and of an evening they have been known for their vegetarian street food.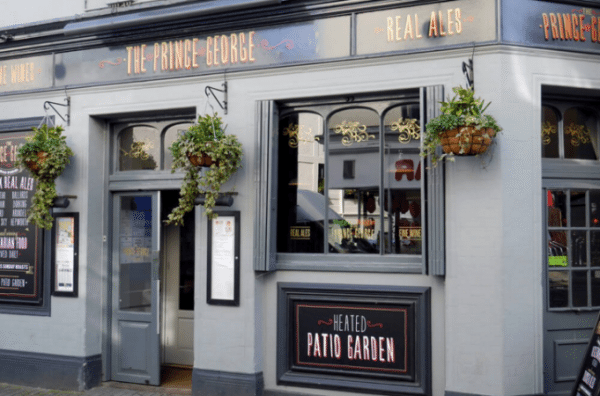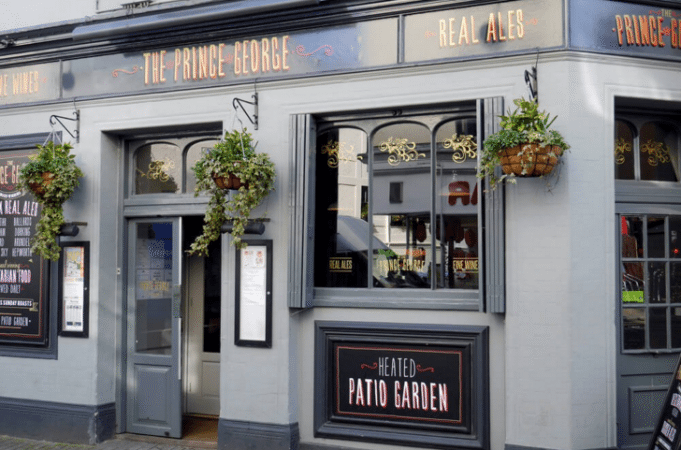 Natural Sustainable Food is paramount to the Infinity Ethos and it is something you will see throughout their business models. Infinity Foods Kitchen offers a wide range of delicious, fresh and organic vegetarian food inspired by the seasons. Chefs prepare soups and salads daily using natural and locally sourced suppliers in a bright and airy setting. Food available to eat in or takeaway. Part of Infinity Foods market. Vegetarian, vegan and organic.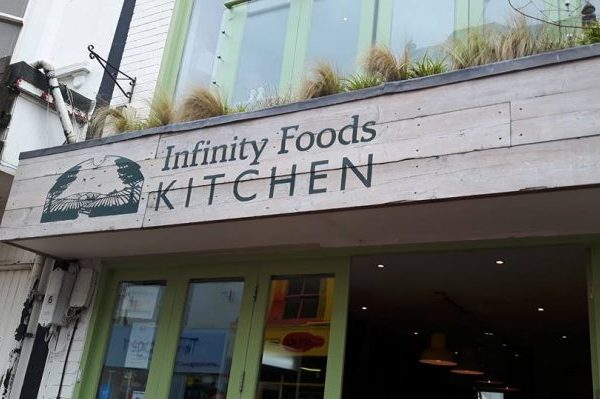 The home of the healthy indulgence and located in the heart of the North Laine in trendy Kensington Gardens, Brighton. A café inspired with flavours from around the world, Wai Kika Moo Kau specialises in Vegan and vegetarian food. All food is cooked fresh to order and everything is sourced and prepared locally in their kitchen. Serves breakfast and lunches and also offer a great choice on their organic and vegan wines. Comes with speciality coffees and vegan cakes.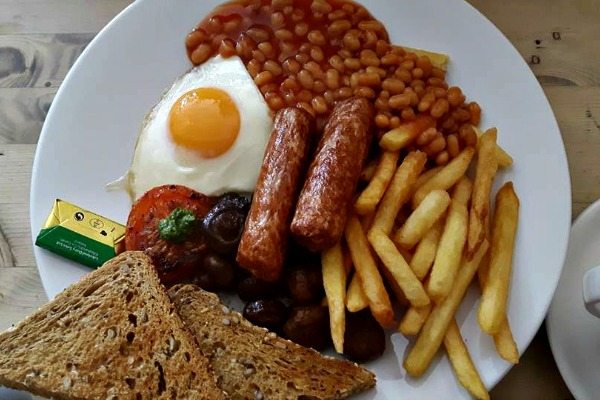 Planet India uniquely positions itself as an Indian vegetarian restaurant and the venue makes you feel like you have just walked into the friendly owner's home and he has lots of people round for dinner. The ceilings are draped with colourful, sequined Indian Sari's, and the walls are covered in family photographs in brightly coloured frames in front of pastel coloured walls. This place definitely has a lot of character, and certainly makes you want to keep coming back.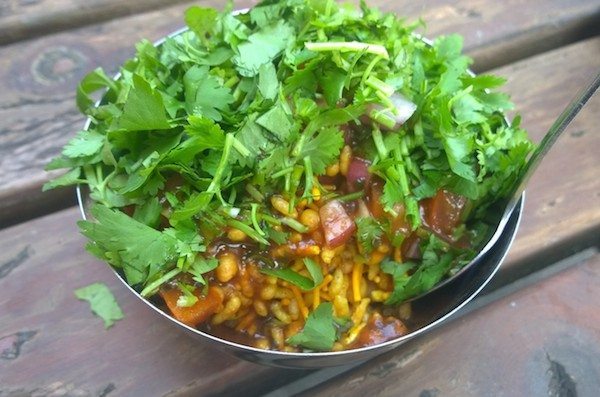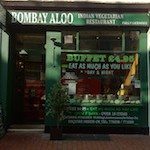 Bombay Aloo has been around for absolutely ages and I think we have all tried it before haven't we? This is the all-you-can-eat vegetarian Indian buffet which features a selection of spiced vegetables and the odd raw food items. The buffet includes five different regional inspired curries and you can eat as much as you like for £4.95, which is ridiculous value for money. Chick Peas Aloo, Tarka Dall, Swede and Mushroom curry are popular favourites on their vegetarian menu.
Brighton & Sussex venues with a strong vegetarian offering
(not just a goats cheese tart!)
The Jetty Restaurant is new to Brighton's seafront and focus on serving high quality, local seafood, however they do have a specific vegetarian and vegan menu on offer with plenty of options for those who don't eat fish, meat, gluten and dairy. Sample vegetarian dishes include Moroccan chick pea and date salad with wilted kale and orange dressing, and twice baked cheese soufflé.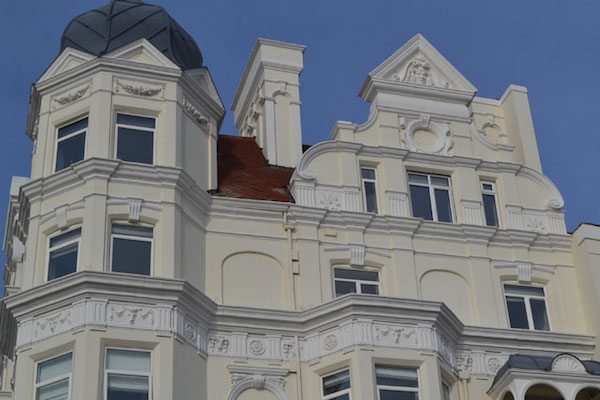 The 'Moonstone Sri Lankan' Restaurant on Church Road in Hove is the only Sri Lankan restaurant on the south coast, offering a huge selection of vegetarian dishes as well as fish and meat dishes – All freshly prepared by Sri Lankan born chefs. Sri lankan food has Ayurvedic qualities, this means that as well as the food being tasty, the food is also healthy too. So you can have mild, spicy, very spicy, vegan, vegetarian, fish and meat dishes – And much more. A popular venue and well worth the visit to Hove.
On the second Thursday of every month, Head Chef, Patcharee, holds a gluten free vegetarian feasting night at Limes of Lindfield. Serving no less than eleven tasting dishes inspired by her home country of Thailand, with accompanying wines, the menu is completely vegan. Here is further information about the vegetarian feast night or subscribe to the Limes newsletter. Situated on the Linden tree lined high street and nestled amongst an eclectic mix of independent shops and stores in the charming village of Lindfield.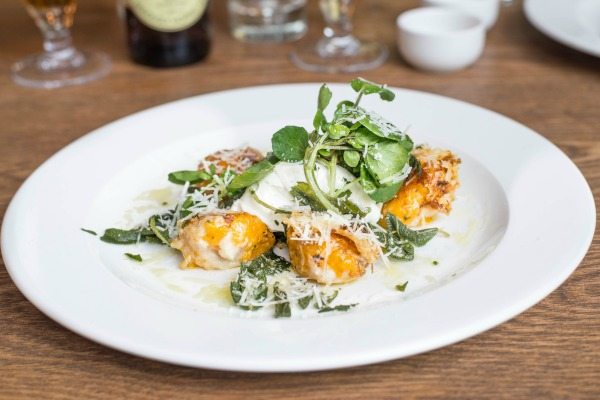 Silo is Brighton's multi-award winning zero-waste restaurant. Loved by critics and by diners it has quickly become the choice for people looking for amazing food in a relaxed setting. Silo is a Restaurant, Bakery, Coffee House & Brewery which believes in food purity. Everything is created from its whole form, cutting out food miles and over-processing whilst preserving nutrients and the integrity of the ingredients in the process. Serving breakfast, lunch and dinner there's a fantastic vegetarian section at Silo so nobody's missing out!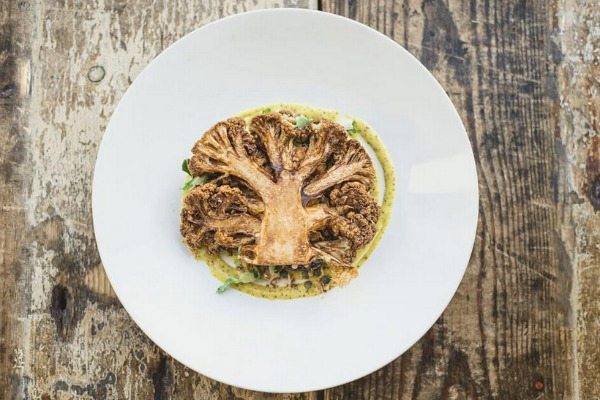 Located just north of Henfield, this traditional style pub welcomes the whole family (including the dog!). With plenty of space and a delicious menu specialising in freshly baked pizza we think this is a venue that will please the kids and adults alike! The Bull is popular for it's freshly made to order pizzas that are stone baked in a traditional oven. With over 20 different toppings to choose from, you can mix and match to your heart's content! If pizza isn't your thing then you could go for a pasta dish or one of their salads… or maybe skip straight to dessert!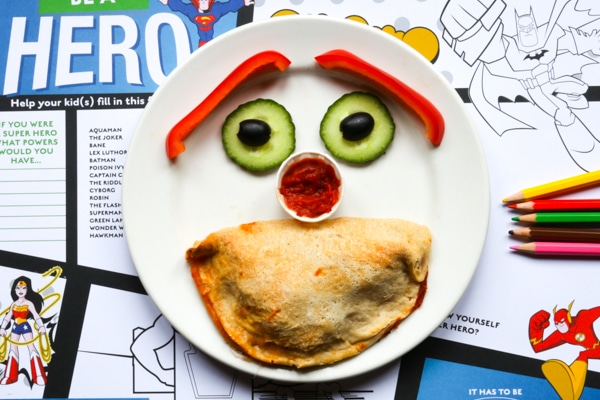 Joe's Cafe is a hidden away, locally run cafe in the Seven Dials area of Brighton. Now under new owners, they have become increasingly popular as more and more people are finding out about their delicious food. In 2014, Joe's won best breakfast in Brighton (Brighton and Hove Independant), and are now short listed for the best breakfast and best in Cafe in Brighton in 2015 (Brighton Foodie Awards 2015). Not a vegetarian venue, but certainly offers vegetarian options.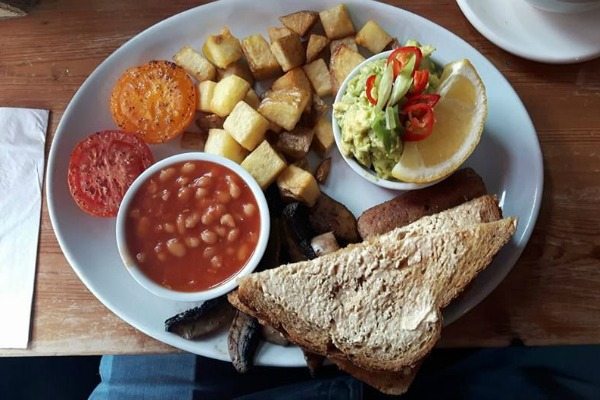 Situated on York Place, central Brighton, LangeLee's source the best possible, free range and local ingredients for their menu, which is influenced by classic British breakfast dishes, alongside authentic South African lunch and breakfasts to throw in a unique twist. There's a great selection of vegetarian options at LangeLee's for breakfast, lunch & dinner. From their Vegan Breakfast, to the Induna Salad for lunch, or for some authentic South African street food try the Traditional Bunny Chow.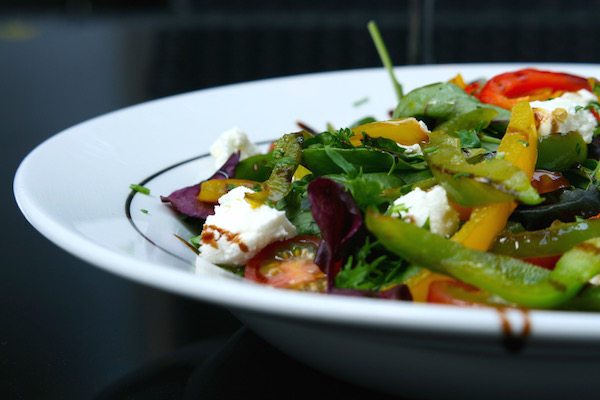 back to top