A Gluten Free Burger-Lovers Dream!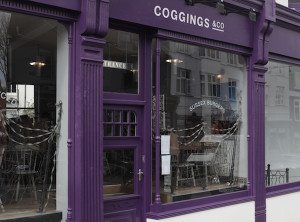 One thing I miss the most about eating gluten free, is clamping my mouth over a decent bun with a proper juicy beef burger in between.
There's nothing better than the combination of smoky, grilled juicy beef, with melted tasty cheese, a delicious sauce, and a soft, well structured bun.
Is your mouth watering yet? Mine is.
Coggings and Co have made all my dreams come true, by providing everything I have mentioned above and more.
Andrew Coggings, former owner of the most Sustainable Pub of the year winner, the Preston Park Tavern, is passionate about keeping things simple, sourcing everything as locally as possible, and providing excellent customer service with a fine eye for important detail.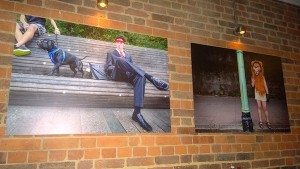 From recycled wooden table tops, to filtering his own water on-site, the attention to detail at Coggings and Co does not go unnoticed.
The bare brick walls give the restaurant a comfortable feel, with large floor to ceiling windows, allowing plenty of natural light to come in.
There is a beautiful courtyard out the back with half a dozen tables, for a bit of Alfresco Dining in the warm summer months. A cool glass of wine and a burger would be perfect out there on a sunny afternoon!
I have been here a few times now, and each time the service has been excellent.
We are greeted straight away, and given the house filtered water as soon as we sit down. Drinks orders are taken immediately, (so make sure you're ready) and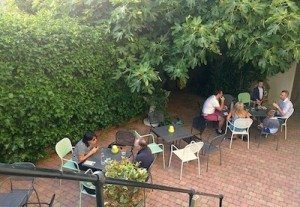 then the wait for food is never too long, even when they have been busy. You can tell that the staff really care.
There was no exception to this visit. Within 5 minutes we had our wine, and we were happily sipping away while deciding which tasty burger to choose.
I chose a Spanish Organic Sauvignon Blanc, that was crisp and refreshing with notes of green apple.
My boyfriend had the Rose, which was sweet and fruity, but had a reasonable amount of dryness at the same time. The wine list is either local, or organic and all of the beers now stocked are from Sussex. The coffee is roasted locally, and the teas are from Kent, and even the spirits are from Sussex with locally sourced mixers.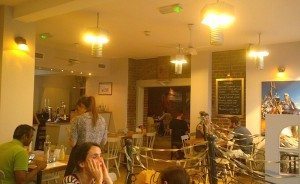 The menu includes a good range of burgers, with vegetarian options too, and a selection of homemade snacks to start with, and a small list of sides. They usually have a couple of specials to choose from, one vegetarian, and the other meat. The kids menu is thoughtful, consisting of mini burgers, or macaroni and peas, and they get a small drink and an ice cream cone all for just £6.50.
Most of the burgers on the menu are made to be gluten free, so you shouldn't miss out on any of the combinations. They have even made the rarebit gluten free in one of the burgers which is very exciting!
This time I went for one of the specials on that evening – 6oz beef, sauerkraut, Applewood smoked cheddar and BBQ sauce with triple cooked, beef dripping chips.
When you order you can choose for your chips to be cooked in beef dripping or organic vegetable oil.
My boyfriend chose his favourite, the chicken burger – 6oz free range chicken breast, with bacon, avocado and chipotle mayo. He also ordered the beef dripping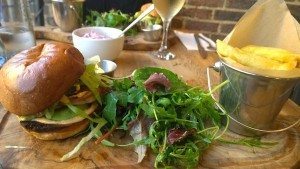 chips. We also ordered a side of homemade coleslaw to share as we were particularly hungry that night!
After not much of a wait at all, our burgers were delivered. Served on lovely wooden boards, the burgers look spectacular, and you always end up peering over them in admiration before tucking in.
I started on the chips as I didn't want to burn my mouth on my burger, and ruin what was going to be a wonderful experience.
The chips were thick and crispy on the outside, with a soft and fluffy centre. The beef dripping flavour was delightful, and they were well seasoned with sea salt and had a touch of rosemary scattered about. The homemade mayonnaise on the side was super delicious.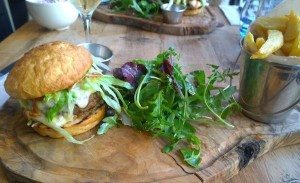 I next moved to the salad, which I thoroughly enjoyed. The leaves were almost sweet, they were packed with so much natural flavour and were lightly dressed with a simple dressing.
It's not often that a salad accompaniment gets touched when served with a burger, but this was so tasty that we both ate it all.
Now for the star of the show – my burger.
The gluten free bun was the best I have tried yet, it was light and airy, but it stood up to the fillings really well and didn't crumble into pieces when you tried to eat it.
They source their gluten free buns from Sussex Bread Company, who specialise in gluten free baking and boy do they do it well!
The beef had a smoky, charred taste, had excellent seasoning and was cooked medium rare, so it was still was lovely and pink in the middle. The sauerkraut paired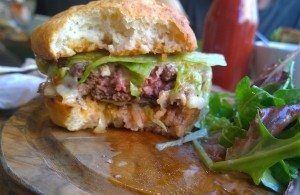 perfectly with the melted Applewood smoked cheese and the smoky burger, and the tangy BBQ sauce brought everything together.
For me it was a perfect burger, and I don't think I would've changed a thing! FYI – if you do like your burger cooked anything other than medium rare, you need to ask when you order so you won't be disappointed.
My boyfriend enjoyed his chicken burger just as much as I enjoyed mine, his slightly charred (in a good way), non gluten free bun that held together well, the creamy avocado that was well seasoned, the crispy bacon, moist chicken breast and smoky chipotle mayo.
The coleslaw was creamy, with a slight tang to it, and it complemented the burgers and chips well.
Our boards were cleared straight away and we were asked if we wanted to see the dessert menu. I had already eyed it up earlier, and I decided that even though I felt full, my 'dessert stomach' had room, so why not.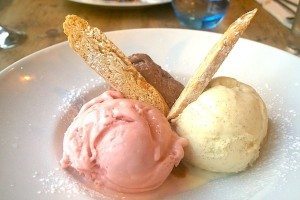 The brownie is what had caught my eye, and lucky for me it is gluten free! Made with almond flour (which I thinks makes the best brownies anyway) it was the chefs recipe that he had brought in, and coincidentally it was gluten free.
The brownie is made from organic, fair trade cocoa, and orange, and is served with Downsview Dairy vanilla ice cream and chocolate sauce.
Wow! It was rich, dense and gooey, and everything that you want a brownie to be.
The orange in it wasn't shy, and the ice cream was deliciously creamy with just the right amount of sweetness. It is something that I will go back to have again for sure!
My boyfriend had a plate of Downsview ice cream with one of each flavour – strawberry, chocolate and vanilla, and they came with a couple of crunchy biscotti pieces on top.
After another delicious evening at Coggings and Co, I can't rave about it enough.
With top notch service, local produce, and a welcoming environment to eat some of the best burgers in town, Coggings and Co is raising the standards for Brighton and I would highly recommend it to anyone that asks.
Reviewer: Chloe McKellar, August 2014
What next?
Make a Booking on 01273 220220
Go along and check it out and please let us know how you got on: @eatbrighton