Vegan Tapas in Brighton on Tuesday
This was the first time we had tried vegan tapas in Brighton.
Market is a Spanish restaurant in Hove, a short walk from town along Western Road, serving authentic tapas with a modern twist along with a carefully chosen wine list. The restaurant has been open for a fair few years and has gone from strength to strength;
…we went on a Tuesday and it was bustling with people – a good sign of things to come!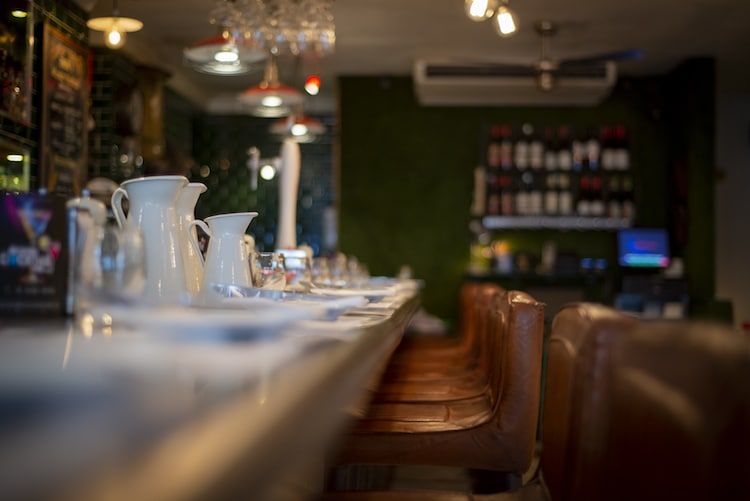 Greeted with good vibes | Vegan tapas Brighton
The venue is laid out in a casual way where you can either take a seat at the bar where you can chat to your chef and watch your dishes being carefully executed, or there are plenty of tables around this Brighton and Hove restaurant if there's a small group of you. The large window at the front of the restaurant lets in beams of natural light before the evening settles in and the lights are dimmed and ambience arrives. One thing I might mention here is not only is the decor tasteful but I enjoyed their music choices too.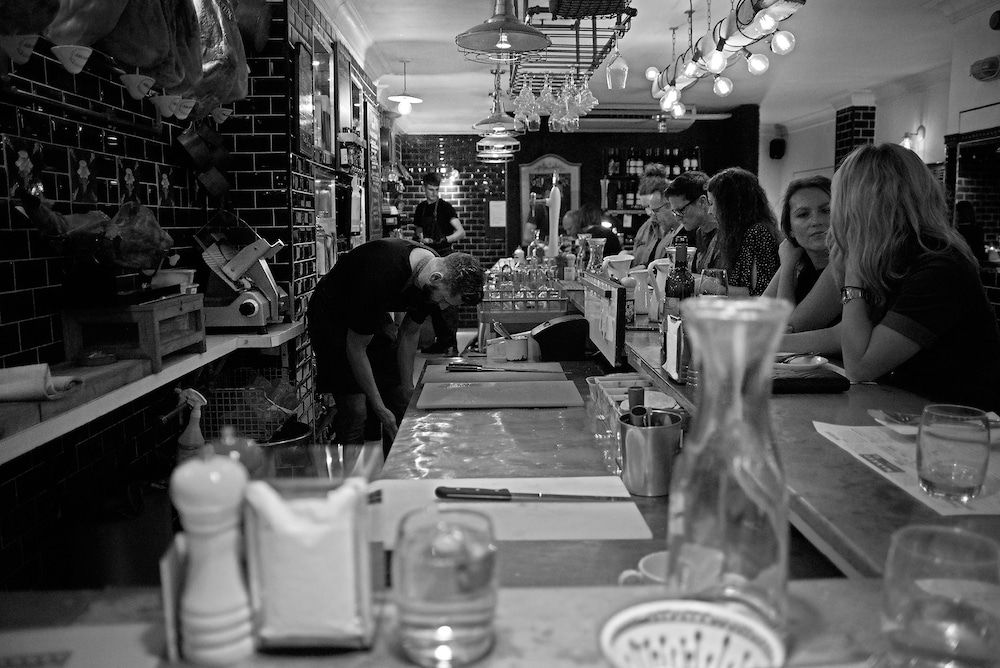 Easy to read & tasty menu
The menu is spread across one A3 sheet which is left for you while you eat in case you want to order a couple more tapas dishes. It's divided into sections such as Greengrocer, Fishmonger, Butcher and so fourth, and the wine list is also on the same page. I liked that everything was there in front of us instead of masses of pages on the menu to troll through. Kate, who was working the front of house this particular evening and was really fun, was more than willing to talk through the dishes, wines and advise for me what would be good for vegan options. We happened to arrive on the night of their Tuesday Tapas evenings which was proving very popular.
The premise of this menu is that you can choose 5 dishes each for £22 per person. Many of the vegetarian options can be made vegan so it's worth asking!
Kate was quite keen to offer a drinks pairing to accompany our dishes – we're hardly likely to say to that now, are we!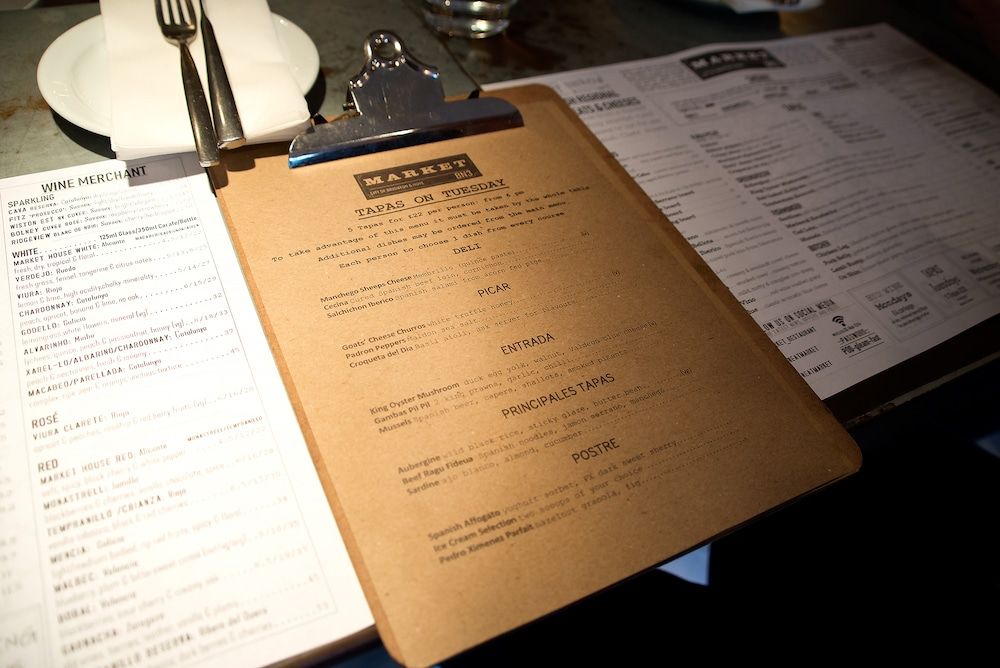 Deli
All of the dishes come out as and when for a more casual Spanish approach to your evening. I started with the Padron Peppers with Maldon Sea Salt and Dan started with the Salchichon Iberia Spanish Salami. The peppers were so green and juicy with a delicious crunch of sea salt. Paired with these dishes we had a glass of the Catalunya Cava; crisp, refreshing and a good pair with the peppers and salami.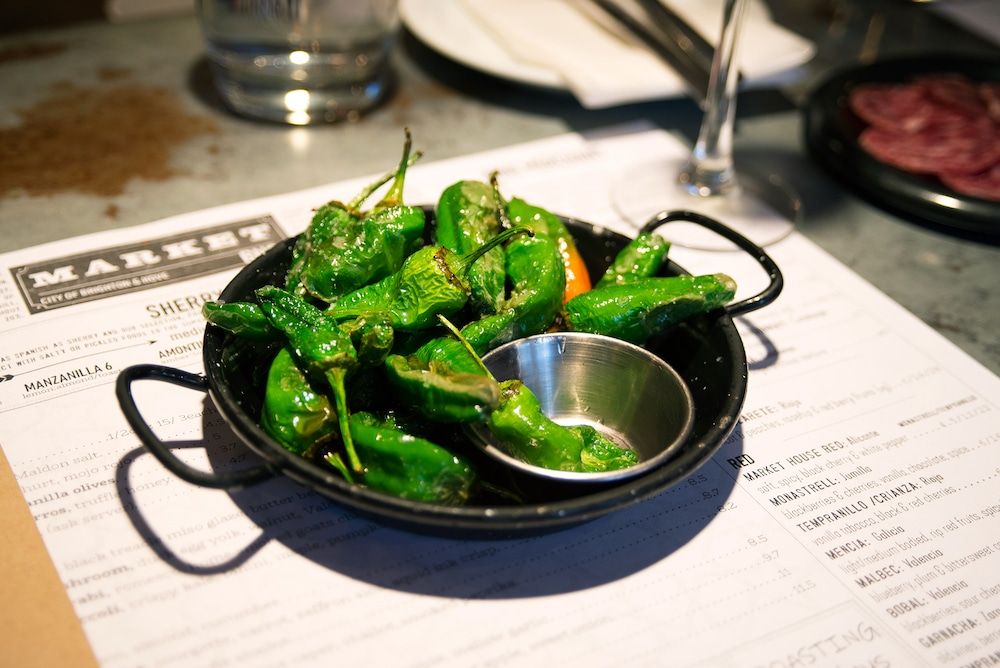 Picar
We were then given the Tenderstem Broccoli with Crispy Kale, Tahini, Maple & Pumpkin Seeds along with Dan's Croqueta del Dia and the croquettes of the day was the choice between jalapeño filled croquettes or ones with a smokey salami paste inside them, highly recommended by Kate. Dan enjoyed the salami croquettes describing them as delicious meaty-cheesy-based candy.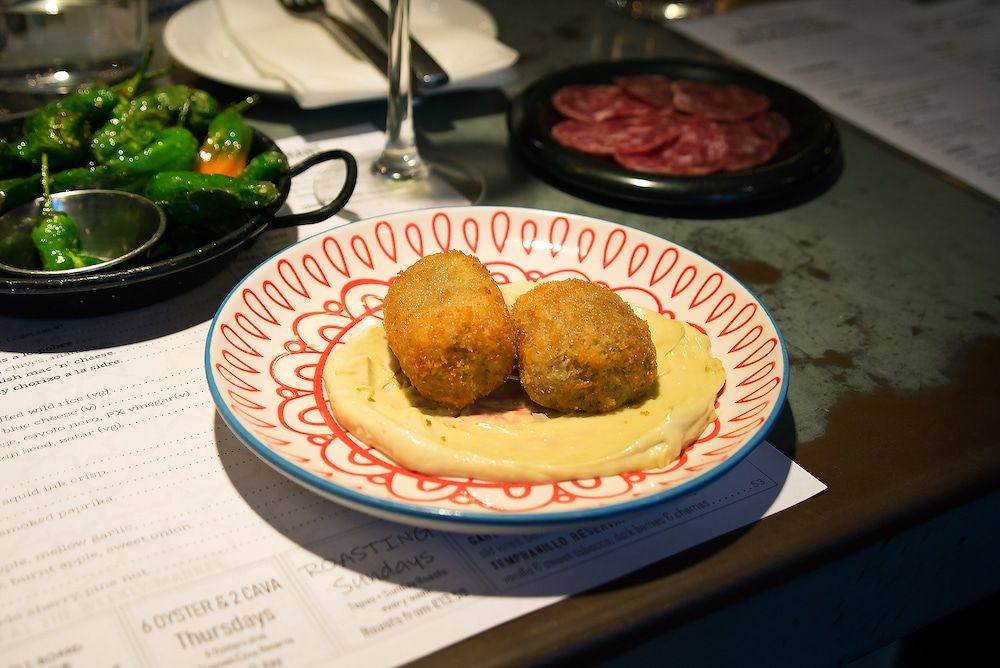 Entrada
Our next dishes were the King Oyster Mushroom for me which had been made vegan and served on a bed of the traditional Spanish almond-based creamy dish, Ajo Blanco – it was heavenly!
The garlic that came through the Ajo Blanco with the king oysters and crispy beetroot was just a match meant to be.
I thoroughly enjoyed this dish along with the Verdejo wine that had notes of fennel and fresh grass. Dan's dish was the Mussels in Spanish beer, Capers, Shallots and Smoked Pimento. He found the sauce a refreshing change to the usual Moules marinières with the white wine and cream sauce. They were plump with a delicate spice to them. He literally scraped the bowl clean of every last drop of the sauce it was so good.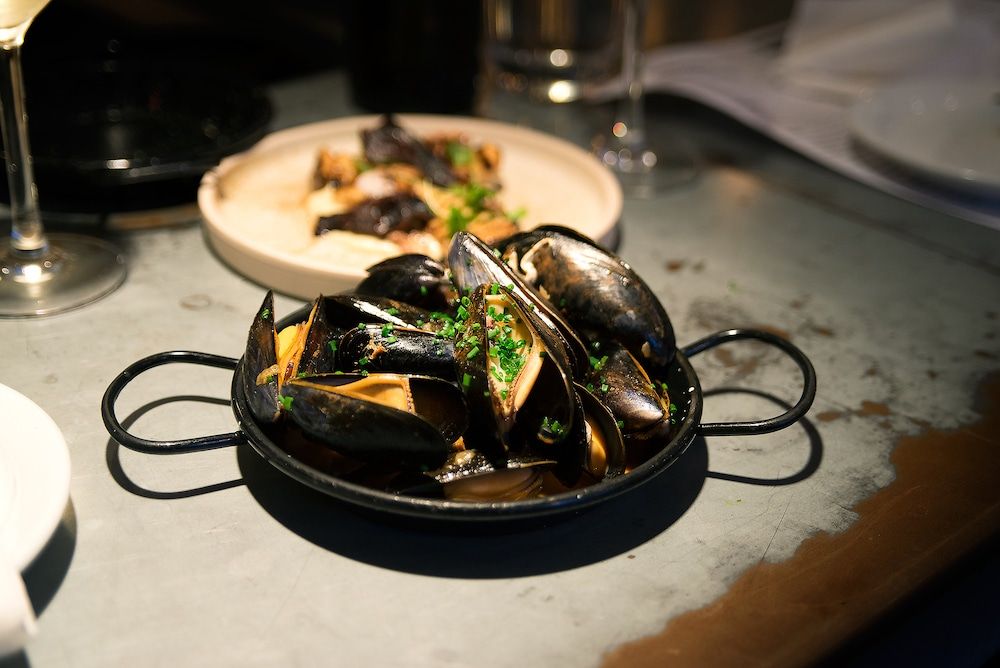 Principales | Vegan Tapas Brighton
Following our Entrada dishes came the Principales Tapas, mine being the Aubergine served with Wild Black Rice, Sticky Glaze and Butter Bean, and boy was this a dish – I could have happily devoured another! The puffed rice added a bite and flavour across the dish, and the sticky glaze and buttery aubergine meat surrounded by the perfectly toughened skin sitting on a bed of earthy butterbean soup and a couple of sprouts of micro coriander to marry the flavours.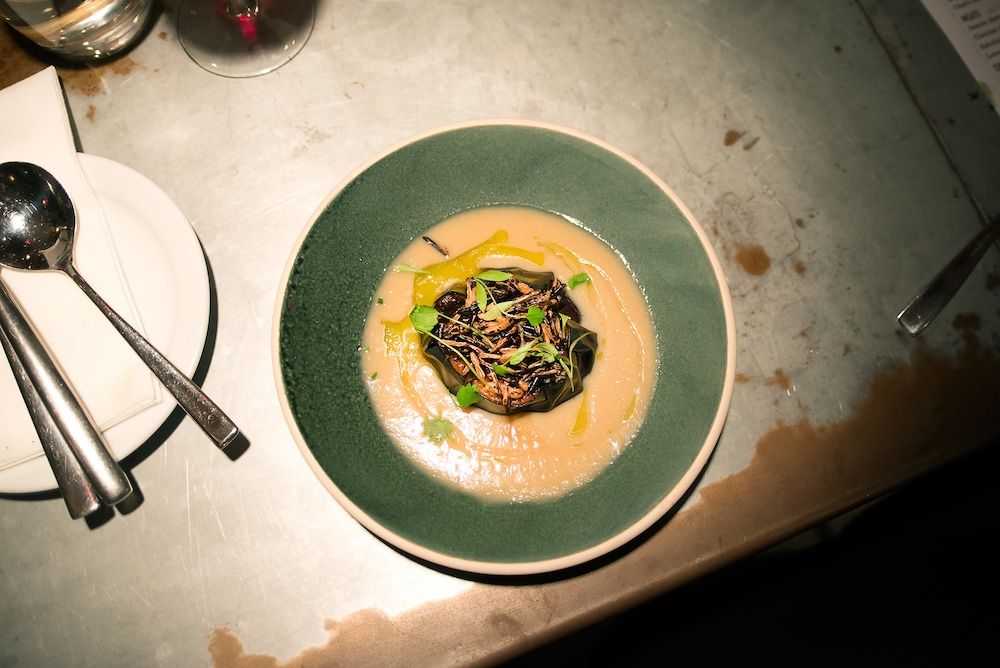 Dan's Beef Ragu Fideua of Spanish Noodles, Jamon Serrano and Manchego was described to me by him as satisfyingly chewy with a dark and strong flavour. He said that the cheese blended perfectly with the meat to the point that they tasted like one thing. The wine was a chocolatey Monastrell with hints of vanilla and spice.
It couldn't have been more chocolatey and it couldn't have gone better with both of our dishes.

Postre
To finish the meal we both went for the sorbet. Dan's was the Spanish Affogato with Yoghurt Sorbet and Dark Sherry and I had a scoop of passionfruit sorbet and scoop of the coconut. The passionfruit had such a zing to it which was we perfectly balanced by the coconut.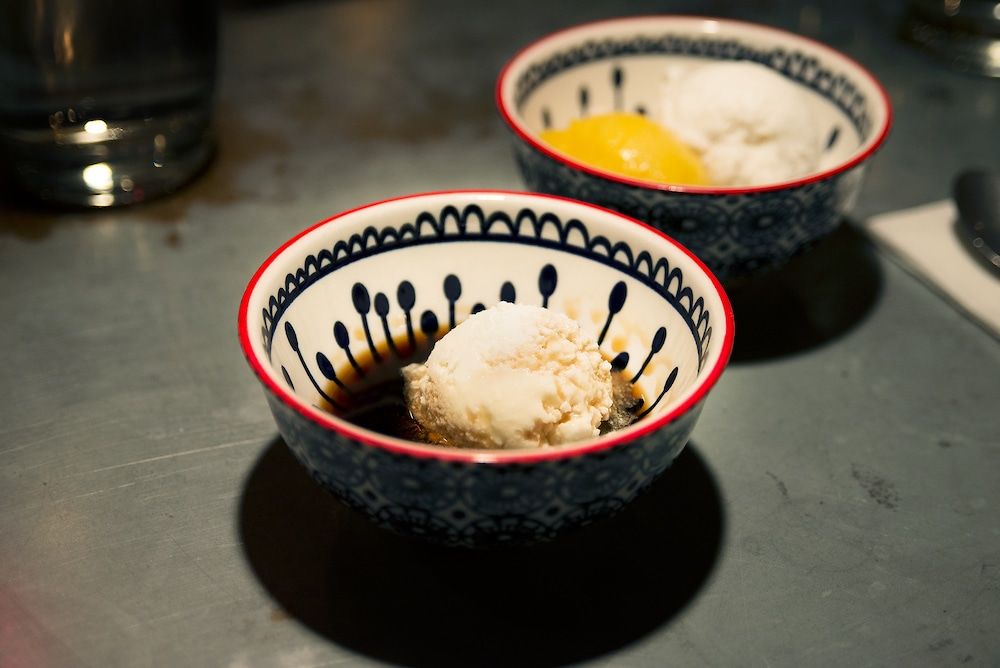 This was definitely one of the best eating experiences I've had out in Brighton for a while.
The ambience is done to a T, the food is amazing and Kate was welcoming to everyone that walked through the door and so passionate about the food and drink. This will be at the top of my list for recommendations, either for a date night or catch up with friends. And of course, I'll be going back.