All the winners in one place!
Our congratulations to each and every venue who participated in the 2018 BRAVO Awards and with 27,082 votes it is one of the biggest Brighton food events of the year.
And our heartfelt thanks to you, the public for voting! Here are all the 16 BRAVO winners in our photo gallery.
This is the second year running for Michael Bremner's 64 Degrees to scoop first place in the BRAVO awards. Voting in your thousands you demonstrated that simple and consistent commitment to quality prevails in your hearts (and stomachs).

Sponsored by ResDiary.
It's a confident move to set yourself up as almost exclusively serving shellfish and craft beer, but it would seem BRAVO voters, like Fortune, favour the bold. This year you voted in waves for The Urchin, and why not? For flavours that hit each other like titans you can't get much better than the fruits of the sea and fine amber brew.
Sponsored by
Harvey's Brewery
With low beamed rooms, large beer garden and open fires the Shepherd & Dog always frames the surrounding Sussex countryside as beautifully as the menu frames local produce. A great ale pub with a calendar of well received events the Shepherd & Dog earned your respect by a country mile.

Sponsored by Trenchmore Farm
Either the determination of the masses was high or their allure was great, either way you look at it Starfish and Coffee had to do battle with some pretty formidable hills to win your rewards. Step aside Muesli Mountain, the Brunch Beacon is here.
Sponsored by
Fleurets
Hot tipped this year, noise about the Southern Belle, formally the Iron Duke, has been heard far and wide. Many entrepid Brightonians were encouraged to trek into Hove for a Sunday afternoon, whilst many a Hovite gleefully took a gentle stroll.
Sponsored by
Great British Charcuterie.
A classic and landmark pub in central Brighton, the Basketmakers Arms has chosen not to mess with a time honoured classic formula. After all, it's classic for a reason.
Sponsored by
Ascension Cider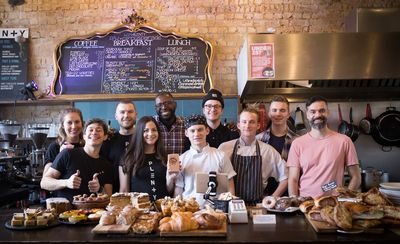 Most Family Friendly Winner - Café Plenty
Packed to the rafters with fun vibes and freshly baked goods. Cafe Plenty provides an escape from the main hustle and bustle with enough space and refreshments for the whole family.

Sponsored by Orchard Day Nursery
Green giant Terre à Terre has a well established name for itself in delivering inventive and exciting plant based cuisine. Popular to herbivores and whateveravores alike, you were over this one like it was the first time you ordered the Terre Tapas.

Sponsored by Sourced Box
With a fine dusting of shops throughout Brighton & Hove, Flour Pot Bakery is well established as the place to pick up a farmhouse bloomer or sourdough. But their fantastic selection of fresh cakes, pastries and beverages also made them destination number one for tea and cake.
Sponsored by
MW Media
The Japanese delicacy meets Latin fever in an explosion of taste, colour and character. You decided Brighton's first introduction to Latin American-Japanese fusion sushi was big on everything except price.
Sponsored by
Brighton and Hove Food Partnership
Winner for a second year running, Small Batch Coffee is a success story that shows no signs of slowing. Offering a distinct style and still roasting in small fresh batches, their success hasn't got in the way of their original ethos.
Sponsored by
Maitland Accountants
Fun filled, vegan and vibrant, words that are equally true for Happy Maki's burrito sized sushi as they are for their instagram account. You loved the bright colours and festival vibe from this fantastically ethical and delicious vegan sushi bar.

Sponsored by Printing.com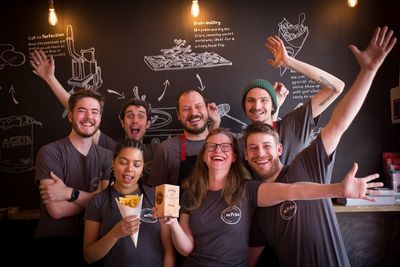 Best Welcome Winners - BeFries
Proving there's no chip on their shoulder BeFries has you singing their praises for their perfectly cooked chips, and their moreish service. This is the second year for BeFries to earn a BRAVO, winner, winner chippy dinner!

Sponsored by BitVest
Apparently the name says it all. Laughing Dog Café at the Marina is half art gallery, half cafe and a whole lot a doggy love.
Sponsored by
Designers-i
Looks like someone's been sharing Brighton's 'best kept secret'. Innovative and atmospheric these guys are so accommodating that when their fantastic cocktails made them too popular for their bar they opened up a second floor.
Sponsored by
Restaurants Brighton 
.
No newcomer to the category of Most Brighton; Marwood's eclectic mix of memorabilia, mismatched furniture, kicking coffee and killer cocktails knocked it out the park for a second year running.
Sponsored by
Visit Brighton